Posts Tagged 'Silver 5oz Coin'
Her Royal Highness Queen Elizabeth II committed herself to a life of royal duty, earning the affection of generations here in the United Kingdom, across the Commonwealth, and around the world.
To preserve her majesty's memory after her passing last year and the profound impact she made on countless lives, a breathtaking collection of memoriam coins has been unveiled – a testament to her tireless devotion to duty, and unwavering commitment to her people.
Each commemorative coin in this new collection serves as a token of remembrance – discover the intricate details and heartfelt symbolism woven into these coins.
View the key pieces below and delve into the depths of this magnificent collection.
---
Own the whole story with the In Memoriam Proof £5 Set
Introducing the 2023 British Isles 'In Memoriam' Proof £5 Set, a collection of three extraordinary coins commemorating the life and legacy of Queen Elizabeth II – featuring three £5 coins from Jersey, Guernsey, and the Isle of Man.
Strictly Limited to JUST 995 Collectors WORLDWIDE — That's a tiny number for such an important anniversary and a sell-out looks guaranteed.
Own a piece of history with this extraordinary tribute to a beloved Queen by clicking here >>
---
A touching tribute with the Silver Proof £5
Meticulously crafted from sterling silver to a stunning Proof finish, this new £5 features an original design by specialist heraldry artist, Neil Bromley.
What is so poignant about this design is the quote from the Shakespearean play Hamlet, "May flights of Angels sing thee to thy rest" which were the touching words expressed by her son King Charles in his speech on September 9th, the day after he acceded the throne.
Click here to secure a poignant reminder of Queen Elizabeth II's enduring legacy which redefined royalty >>
---
A reign to remember through the Silver Proof £5 set
In a heartfelt tribute to a reign which shaped history and touched countless lives, a British Isles Queen Elizabeth II 'In Memoriam' Silver Proof £5 Collection has been released, one year after Her Late Majesty's passing.
Each coin has been officially approved by Buckingham Palace and has been struck from Sterling Silver to a pristine Proof finish.
Featuring three unique designs, this brand-new set honours Her Late Majesty's extraordinary life, unwavering service and ever-lasting grace.
Click here to explore this limited-edition collection >>
---
A true gem for your collection – the stunning Silver 5oz
Struck from five ounces of Pure Silver, the 65mm diameter is the perfect way to show off this fantastic tribute.
Fully approved by Buckingham Palace, the Queen's funeral wreath of symbolic flowers: Rosemary, Geraniums, Dahlias, English Oak, and Roses are wonderfully depicted.
The Inscription 'In Loving and Devoted Memory' is taken directly from the handwritten card that accompanied the wreath.
Click here to secure the prestigious Silver 5oz Coin for your collection >>
Innovation is nothing new to The Royal Canadian Mint. Whether it be a shape, size or never before-seen technology, the Mint are always looking for ways to push the limits on what can be achieved next in the minting world.
And, over the last few years, the results have been some of the world's most stunning, technologically advanced coins, with sell-outs almost guaranteed.
So, you can imagine the excitement of collectors from all over the world when the latest interactive coin from Royal Canadian Mint was released earlier this month…
The Hummingbird and Bloom 5oz Pure Silver Coin
This stunning BRAND NEW release features something that has been highly revered by collectors since it was first seen back in 2018…
But when is a coin not just coin? When it's also an interactive Bloom with a moving Hummingbird – miniaturised of course!
The cutting edge gyroscopic technology used to bring this coin to life truly is outstanding as it has allowed the coin to become interactive. Whilst the coin is encapsulated inside its protective case, the Hummingbird elegantly hovers around a gorgeous Zinnia Bloom, much like it does in the wild.
Unfortunately, images can only go some way towards showing the glory of this coin, so I ask you, in fact I implore you, to please take some time to look at the below video to truly appreciate its beauty:
It is so visually impressive that words will never be able to do it justice. Nothing can compare to holding the coin struck from a full 5oz of Fine Silver in your hand and feeling the groundbreaking gyroscopic technology elegantly move a 24ct Gold-plated Hummingbird around a Rose-gold Zinnia.
It is this bloom that is even more impressive than the Royal Canadian Mints predecessors – utilizing 24ct Rose-Gold to show off the Zinnia's tear-drop petals and contrast the Proof Silver base that features even more blooms.
In 2018, the first coin to use this technology was released, and to say it was popular would be an understatement. Featuring a Bumblebee [Link to Bumble Bee blog 'Coin of 2018'] hovering around a flower, it was voted Collector's Gallery favourite coin of 2018. The coin was a world FIRST and completely SOLD-OUT within a matter of weeks at the Mint. And the same can be said for the second coin in the series, the Christmas Tree and Train,[Link to blog] which featured a classic train running the circumference of a Christmas Tree but completely SOLD-OUT before the official release date..
Not only are these sell-outs attributed to the quality, craftsmanship and uniqueness of these coins, but also to the extremely low edition limits. The BRAND NEW Hummingbird and Bloom interactive coins are strictly limited to just 1,250 collectors worldwide. When you consider the sell-out successes of the previous coins and the collectors who will want to be at the forefront in owning this enchanting new coin, demand has already proven to exceed availability.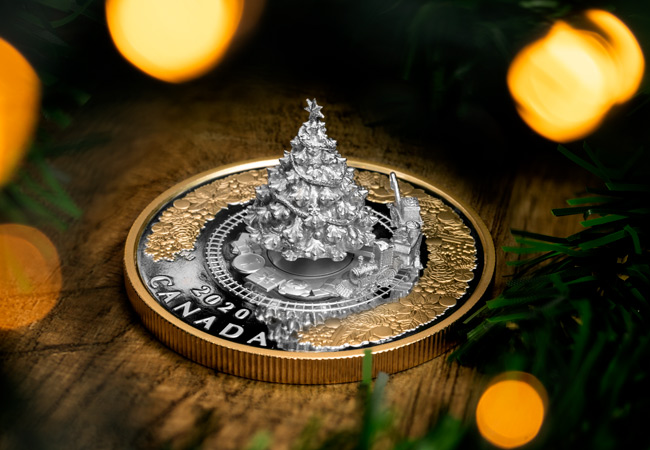 This Brand New Hummingbird and Bloom Silver 5oz Coin magnificently merges art and technology; engraving and casting; silver and gold. You really do need to see it first hand to fully appreciate all the stand-out features. It's an outstanding work of art that is visually spectacular, words will never be able to do it justice.
It is safe to say, we don't expect these coins to be around for much longer. The coins completely SOLD OUT at the mint within hours of release and we have JUST 5 coins remaining.
---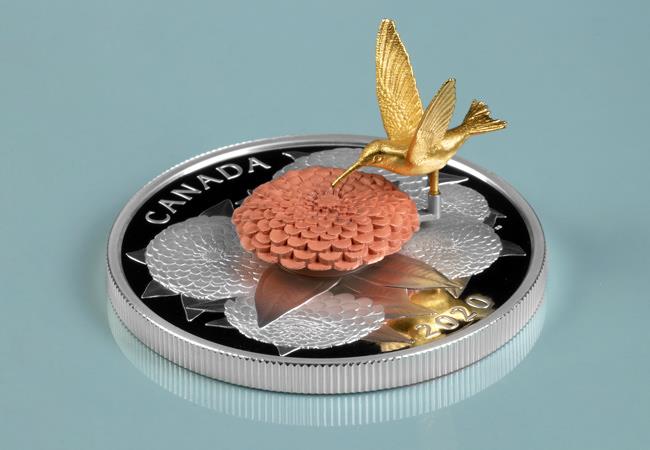 If you're interested…
If you wish to secure The Hummingbird and Bloom Interactive Silver Proof 5oz coin, please click here >>
*** BRAND NEW Battle of Britain coins – on sale now ***
This year marks the 80th Anniversary of the Battle of Britain. Fought over British skies during 1940, the battle was a turning point in WWII and ultimately saved Britain from German invasion.
In 1940, a terrifying dark shadow descended over Europe. The relentless advance of Hitler forces overwhelmed everything in their path and the world suddenly became very dark. Following the evacuation of French and British soldiers from Dunkirk and the subsequent French surrender on 22nd June 1940, Hitler believed that WWII was practically over and that Britain would quickly come to terms. However, even with a seemingly unstoppable enemy on the doorstep, Winston Churchill stepped up to become Britain's wartime leader and refused to surrender.
On 10th July 1940 a battle was fought – and won – by a courageous few; arguably one of the crucial turning points that led to British Victory in WWII.
The Battle of Britain remains one of the truly great chapters in our history, and to mark 80 years since that momentous battle, a brand new range of commemoratives have been issued. Whether you're looking for the new centrepiece for your collection, you're an avid collector, a Military enthusiast or you're looking for the perfect tribute, there's bound to be something within the range for you.
Click here to view the 2020 Battle of Britain 80th Anniversary range >>
Or, find out more about each of the stunning coins we have available below….
JUST 150 collectors can own this BRAND NEW Battle of Britain Silver 5oz Coin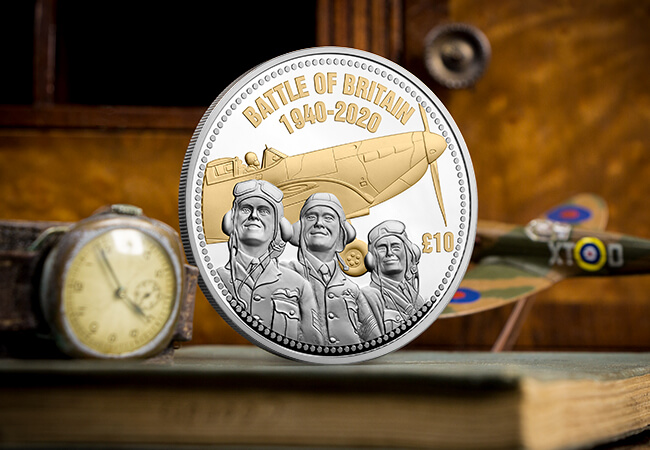 Struck in five ounces of 925/1000 solid silver, this coin barely fits in the palm of your hand. Not only is the size and weight impressive – but so is its engraving.
Approved by Her Majesty the Queen, the reverse design has been created by renowned sculptor Mike Guilfoyle and takes inspiration from an old war-time poster synonymous with the Battle of Britain. The design features three pilots in front of an aircraft with the text 'The Battle of Britain 1940-2020' to honour the heroic efforts of the RAF in changing the course of WWII and leading us to victory.
Click here to secure this Silver 5oz Coin for your collection >>
Battle of Britain 80th Anniversary Gold Proof Sovereign – 15 times RARER than the UK's recent Gold Proof Sovereign!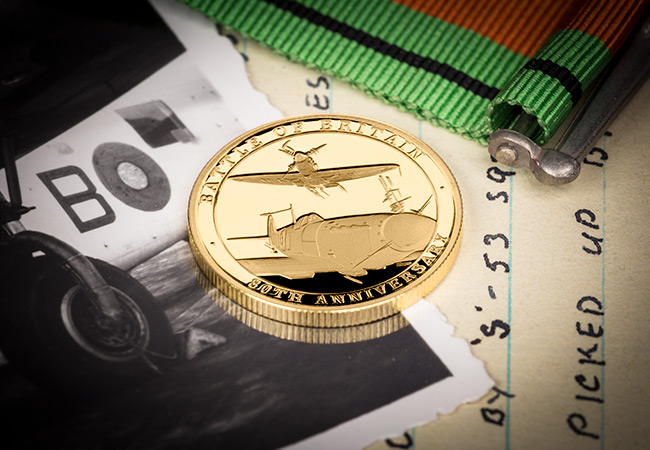 Over the years, the popularity of various coins have come and gone. But none have stayed as unrivalled as the Gold Sovereign. Quite simply, the Sovereign is without a doubt the world's premier Gold Coin. Struck from 22 Carat Gold to the exact same specification since 1817, it epitomises all that is British.
Issued in recognition of the historic Battle of Britain 80th Anniversary, this extremely limited Isle of Man Gold Proof Sovereign is limited to just 495 pieces. This is more than 15 times RARER than the UK's recent Gold Proof Sovereign. 495 coins is a tiny edition limit for a gold Sovereign-specification coin such as this.
This brand new British Isles Sovereign is the most important gold coin you can find right now. Click here to secure one for yourself >>
JUST 495 Battle of Britain 80th Anniversary Gold Proof Pennies Authorised
To mark such a historic anniversary, a special strike of 495 Solid Gold Pennies have been authorised. The release of a Gold Penny is an extremely rare event and one that collectors will look out for, especially as they are only issued to mark the most important anniversaries and are always severely limited. In fact, this is the most limited issue for some time.
The exquisite design features three Spitfire silhouettes engraved on to the coin to signify the bravery of all the RAF pilots who defended our skies In the summer of 1940. It has been struck in Solid Gold to the standard United Kingdom Penny diameter and finished in the collectors preferred finish, Proof.
Click here to secure one for you collection now >>
The Limited Edition Battle of Britain 80th Anniversary Spitfire Silver Proof £5
The £5 coin is the single most prestigious coin issued across the British Isles, reserved for the most important commemorations of the year. The Battle of Britain anniversary is certainly no exception deserving of only the very finest commemorative £5 coin.
The design features the legendary Spitfire with a Union Jack trailing from behind. Also, a notable inclusion to the edge of the design is an excerpt from Winston Churchill's famous speech 'So Much, So Many, So Few', his moving tribute to the brave pilots of the RAF.
The background fittingly displays a 'V for Victory' design which has been finished with the unique addition of Spitfire silhouettes.
Only 2,020 coins have been issued worldwide. This unprecedented decision comes as a surprise, especially when you consider the historical significance of this anniversary.
Click here to secure the brand new Silver Proof £5 Coin >>
Officially Licensed RAF Spitfire Gold-plated Coin
This Official RAF Battle of Britain 80th Anniversary Gold-Plated Coin comes highly recommended. Not only is it extremely desirable in its own right, it is a fantastic tribute to the skilled pilots both past and present who have had the honour flying in the RAF. It features a dramatic colour recreation of the legendary Supermarine Spitfire by renowned Airfix artist Adam Tooby.
Featuring 24 carat gold-plating and struck to a flawless Proof finish, this is the perfect Battle of Britian 80th Anniversary commemorative.
Click here to secure your Official Gold-Plated Coin now >>
---
Please note, extremely high demand is expected for these brand new Battle of Britain Commemorative coins. It is highly advised that you act quickly to secure your favourite pieces from the collection to avoid disappointment.
Click here to find out more about the range and order one of the BRAND NEW Battle of Britain 80th Anniversary Commemorative coins >>