Posts Tagged 'royal mail stamps'
Revealed for the first time today, Royal Mail are set to release 15 new MARVEL stamps, to celebrate 80 years since the founding of MARVEL Comics, and its irrefutable impact on British culture.
Scheduled for release on 14 March 2019, the new stamps will feature 10 of the best loved characters from Marvel's illustrious history, including Spider-Man, Iron Man, Hulk, Thor, Black Panther, and Doctor Strange, as well as an exclusive Miniature Sheet like no other – five bonus Marvel stamps that form part of a ten-panel never-before-seen comic book strip in which the Mad Titan, Thanos, launches a deadly attack on the world.
The stamps are Royal Mail's first ever MARVEL Comics stamp issue, and are likely to prove immensely popular with the British public, and collectors throughout the world!
Here's your first look at the new stamps alongside a bit of info about each one…
Spider-Man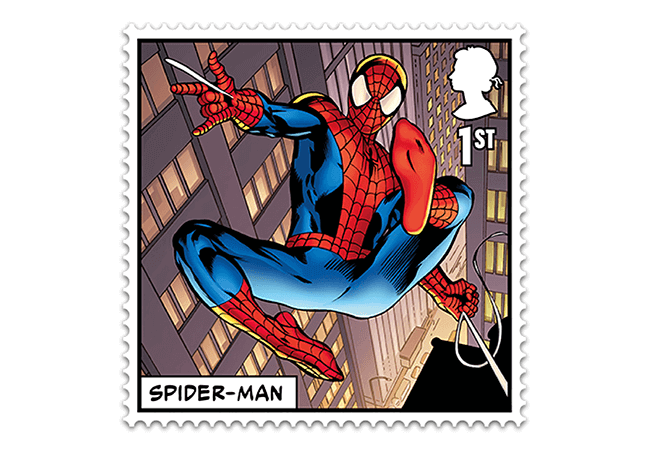 Peter Parker is Spider-Man, New York's amazing web-slinging hero. Bitten by a radioactive spider as a teenager, Peter Parker gained arachnid-like abilities and, after his Uncle Ben was murdered, swore to use his abilities to help others – having realised that with great power comes great responsibility.
Captain Marvel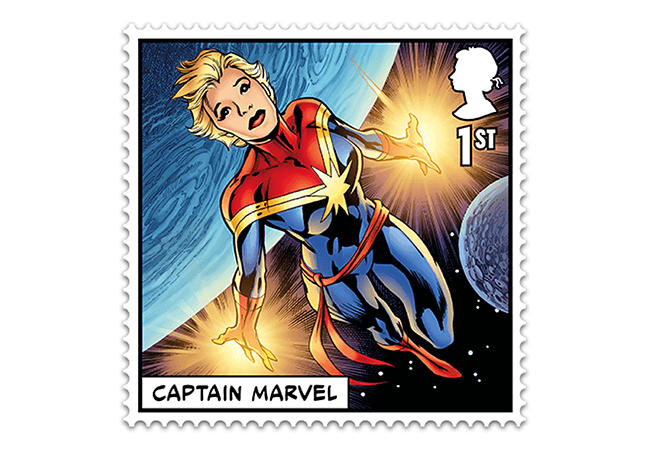 Carol Danvers was an Air Force officer when she met Kree hero Captain Mar-vell. After her DNA mixed with his during an explosion, she gained super powers and took the name Ms Marvel. Following the original's death, Carol took on the mantle of Captain Marvel to honour his legacy.
Hulk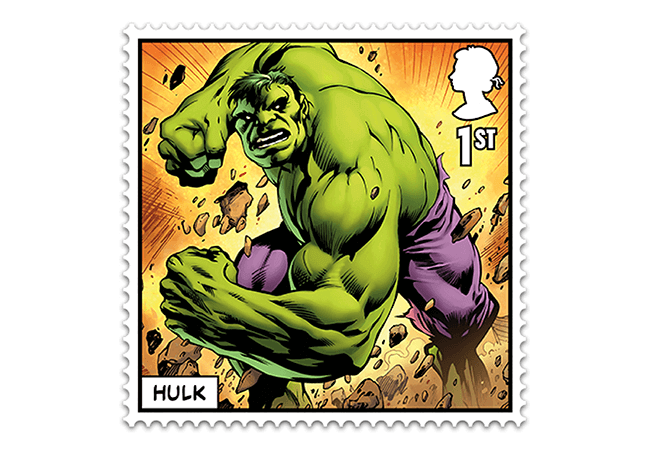 When mild-mannered scientist Bruce Banner was bombarded by radiation from a gamma bomb, he was transformed into the incredible Hulk. The green-skinned behemoth is one of the planet's most powerful and misunderstood heroes – feared by a world he has saved numerous times.
Captain Britain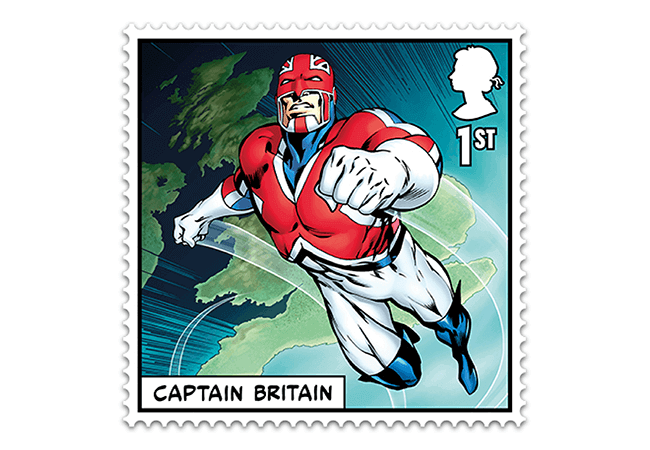 Brian Braddock was chosen by Merlyn to be Britain's greatest protector. Granted amazing powers, Brian became Captain Britain. He soon learned he was part of a multidimensional Captain Britain Corps and has fought alongside Excalibur and the Avengers to keep his country – and the world – safe from harm.
Doctor Strange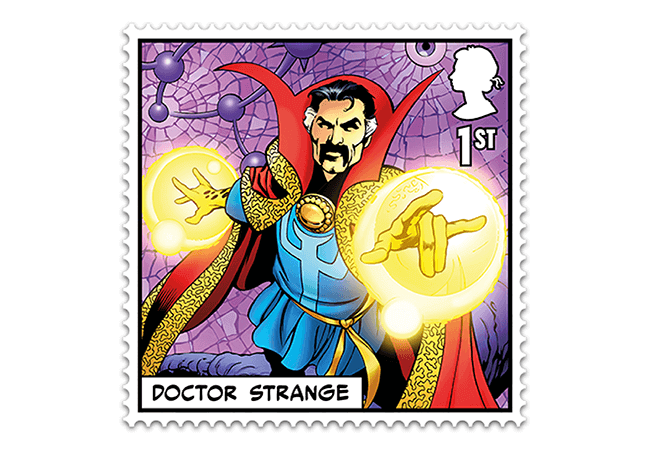 Once a brilliant yet vain surgeon, Stephen Strange sought out the help of the Ancient One when his hands were badly damaged in a car crash. Strange's path led him to become a Master of the Mystic Arts and Earth's Sorcerer Supreme, protecting the world from evil forces.
Peggy Carter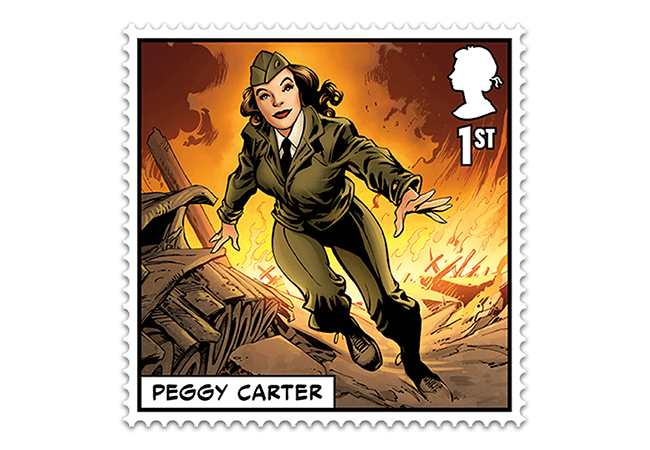 Peggy Carter was working for the French Resistance in the Second World War when she met and fell in love with Captain America. The two fought the Axis powers together before they were separated by the war. Peggy went on to become a leading agent of S.H.I.E.L.D. (Strategic Homeland Intervention, Enforcement and Logistics Division).
Iron Man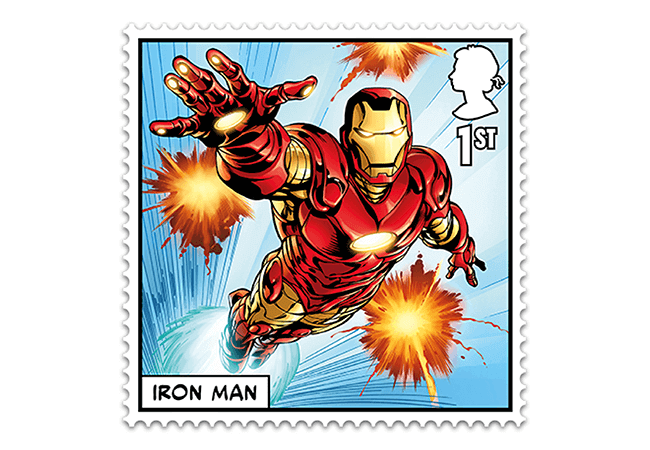 When terrorists captured billionaire inventor Tony Stark, they forced him to create weapons. With shrapnel near Stark's heart endangering his life, Stark tricked the terrorists, building a suit of powered armour to defeat them. It was the birth of the armoured Avenger – the invincible Iron Man.
Union Jack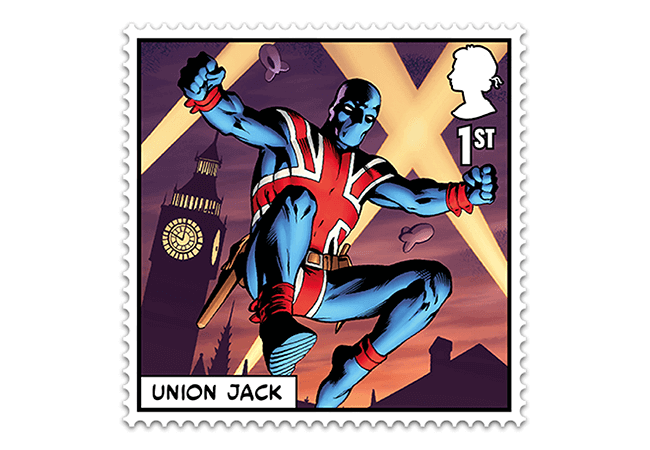 The original Union Jack was Lord James Falsworth, who fought in the First World War. When his descendant refused to take on the role, the mantle was passed to Joey Chapman, a working-class hero from Manchester, who has gone to fight alongside the Knights of Pendragon and the Invaders.
Black Panther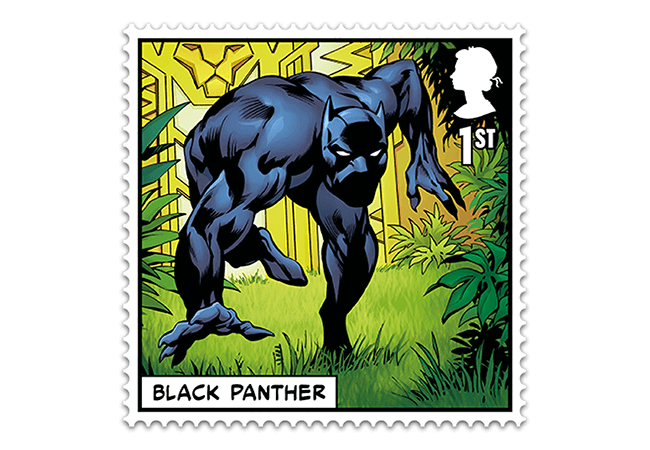 T'Challa is the Black Panther, ruler of the technologically advanced African nation of Wakanda and protector of its valuable vibranium supply. T'Challa first travelled to America to learn more about that country's heroes and soon became a leading member of the Avengers.
Thor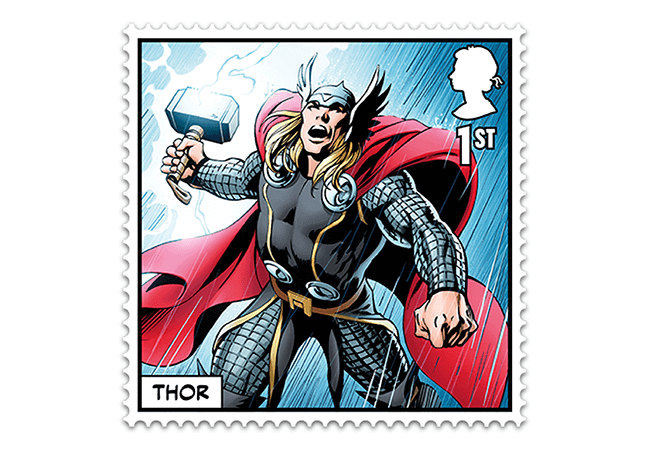 Thor is the Norse God of Thunder. Once cast out of Asgard for his pride, he was trapped on Earth as the injured doctor, Donald Blake. Thor's banishment is long ended and now he protects both Earth and Asgard as an Avenger.


The new and official UK MARVEL Stamps are sure to be a [HULK] SMASH with collectors
Generations have grown up with these timeless superheroes in comic books and more recently in hugely successful movies, and Royal Mail are celebrating this beloved pop-culture theme with original artwork by renowned British illustrator Alan Davis – long-time artist for MARVEL Comics.
Many of the classic superheroes celebrated in the new stamp issue were created in the 1960s, and in the 1970s a UK MARVEL imprint was created for British fans. 'Captain Britain Weekly' was launched in 1976, featuring the adventures of the first MARVEL UK superhero, closely followed by another British character, Union Jack. Both these take their place in the ranks of superheroes in the stamps.
This BRAND NEW set of Royal Mail Stamps are officially licensed and approved by MARVEL and feature a stunning set of 10 First Class stamps in the form of never-seen-before illustrations by renowned MARVEL Comics artist Alan Davis, including an original and exclusive comic book story contained in the miniature sheet, which is sure to be a must have for all MARVEL comic-strip fans and collectors alike.
This original, never-seen-before story with a unique British twist (look out for Trafalgar Square and the Gherkin!) has been specially written and designed by MARVEL and will only ever be available on the Miniature Sheet.
---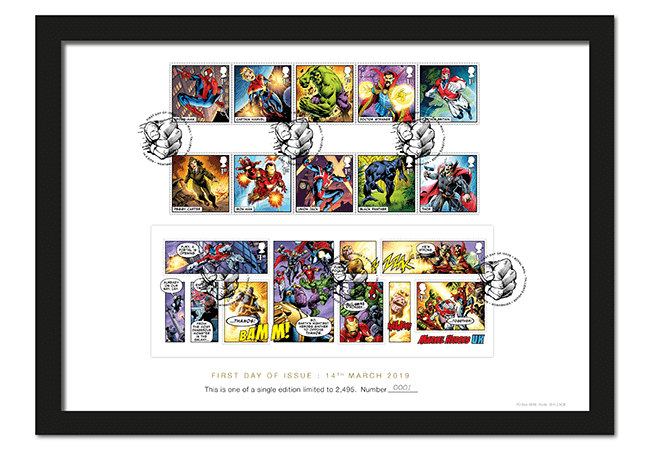 If you're interested…
You can reserve all of the new MARVEL Comics Stamps right now on a Limited Edition Collector Card – Professionally Framed and ready to hang. Click here for details>>>
This August Royal Mail will be releasing a brand new set of stamps which will undoubtedly prove popular with collectors young and old.
The stamp issue celebrates ten of the UK's most iconic and beloved 'Classic Toys' from the last 100 years – from Meccano to Action Man.
And although this brand new issue will undoubtedly evoke strong feelings of nostalgia across generations, given the variety it certainly begs the question, which was your favourite?
Take a look at the stamps above and VOTE for your favourite on the poll at the bottom of the page
Here's a little bit more about each of the stamps:
1)1st Class: Merrythought Bear
Merrythought is a toy manufacturing company established in 1930. Its most famous individual bear was arguably 'Mr Whoppit' which was based on the "Woppit" character from the Robin comic in 1956.
2) 1st Class: Sindy Doll (first appearance 1963)
Sindy was the best-selling toy in the UK in both 1968 and 1970. With her wholesome looks proving a big hit. Originally designed by Dennis Arkinstall for Pedigree Toys and Dolls, she was modelled on an adolescent girl, and new outfits were issued every six months.
3) 1st Class: Spirograph (first appearance 1965)
Spirograph employs complicated mathematical formulae to create hypotrochoids and epitrochoids, using 'rotor' and 'stator' pieces. This sounds much too complicated for a toy aimed at children, but the mathematics works unseen in the background – all a child has to do is stick a coloured pen through a hole in one of the Spirograph tools on a piece of paper, twirl it around a few times and watch a pattern emerge. Awarded 'Toy of the Year' by the British Association of Toy Retailers in 1967.
4) 1st Class: Stickle Bricks
Stickle Bricks are primarily intended for toddlers and were invented in 1969. An individual stickle brick is a colourful plastic shape which is a few centimetres long and which has a "brush" of small plastic "fingers" on one or more edges. The fingers of adjacent stickle bricks can interlock, allowing them to be joined in various ways.
5) 1st Class: W. Britain Toy Figures
The William Britain company originally produced lead soldiers but subsequently switched to plastic, acquiring a manufacturer of plastic soldiers, Herald, in 1959. The soldiers proved particularly popular in the 1970s, the key selling point being that they came ready-painted. US Cavalry, Greek warriors and cowboys and Indians were among the most popular characters.
6) 1st Class: Space Hopper
Although the origins of this concept are Italian, it was initially intended as an exercise device rather than as a toy and featured a wooden handle. The version we know and love was a British creation, from Mettoy who added the ribbed, antennae-like handles and the iconic kangaroo face, in 1969. The 'Space Hopper' name captured the imagination of children.
7) 1st Class: Fuzzy-Felt
Fuzzy-Felt was created in 1950 by Lois Allan and comprises a flocked backing board onto which a number of felt shapes – silhouettes or more detailed printed versions, it can be placed to create different pictures.
8) 1st Class: Meccano
Invented by Frank Hornby, this was originally marketed as 'Mechanics Made Easy' (1901), but the name was switched to the more familiar Meccano in 1907. Meccano retains the basic elements including the spacing on the perforations and the 5/32inch Whitworth thread on the screws, meaning that new Meccano sets can still incorporate old pieces. Meccano is one of the crown jewels of the British toy industry, although now French-owned, Meccano remains amongst the most collectable of British toy manufacturers.
9) 1st Class: Action Man
American toy firm Hasbro invented the concept of a doll that boys could play with – 1964's GI Joe, with features based on decorated war veterans. The first dolls for the UK market appeared in 1966, initially named Action Soldier. Among the most popular are footballer kits and the Red Devil parachutist, Action Man was awarded 'Toy of the Year' by the British Association of Toy Retailers in 1966. A 2004 poll of the public to find Britain's Favourite Toy placed Action Man at number 2.
10) 1st Class: Hornby Dublo
Frank Hornby first introduced the scale model train sets in 1920. Originally, sets were built on the 'O-gauge' scale (about twice the size of the current Hornby sets). Hornby's genius was to switch to the OO-gauge (known as 'Horny Dublo') from 1938, which allowed for complex layouts to be built on a smaller budget and in a smaller space, taking into account the modest size of the average British living room. Hornby trains are able to appeal to many different character types across multiple generations.
Which was your favourite? VOTE NOW in our poll below:
---
If you're interested…
Pre-order your 'Classic Toys' First Day Cover today
The 'Classic Toys' stamps are sure to be of interest to anyone who fondly remembers the iconic British toys explored in the Royal Mail issue.
You can reserve all of the new 'Classic Toys' stamps now on a limited edition First Day Cover.
4th May sees the release of Royal Mail's stunning new Songbird stamps. As soon as we heard about the release of the stamps, we discussed who we could work with to create the ultimate presentation for collectors.
It didn't take long for us to unanimously agree that Chris Packham was our man!
Chris is one of today's most highly respected television naturalists presenting BBC's Springwatch, Autumnwatch & Winterwatch. And adding further to his CV, he proudly serves as Vice President of the RSPB.
Shortly after contacting him, we were delighted to hear Chris had agreed to sign 500 framed Songbirds stamp sets for us. Here he is at home signing the first of the collector cards.
Once these arrive back with us, they'll be sent off to Royal Mail to have the stamps specially postmarked with the first day of issue postmark and then returned to us once again to have them professionally framed.
The full set of stamps features the Nightingale, Wren, Blackcap, Cuckoo, Yellowhammer, Great Tit, Goldcrest, Willow Warbler, Song Thrush and Skylark.
---
We're now taking pre-orders for the special Chris Packham Signed Edition. Just 500 will be made featuring all the Songbirds stamps on a Framed Collector Card, postmarked with their first day of issue…
So if you want one, click here for details before they sell out.