Posts Tagged 'coin and stamps'
Today, Royal Mail have revealed their brand-new Coronation stamps. Comprised of four stamps, the official Coronation Miniature Sheet pays tribute to four elements of King Charles III's legacy.
And following the insatiable demand we have already seen this week for The Royal Mint's Coronation range, collectors are desperate to pair their coin with the official Coronation stamps!
That's because, on 6th May, we will mark the biggest royal event in decades.
So, why not kick off the celebrations with an exclusive combination of numismatic and philatelic history?
Read on to learn more about the stamps themselves, and how you can secure all four in an exclusive presentation alongside some of the UK 2023 Coronation coins…
The Design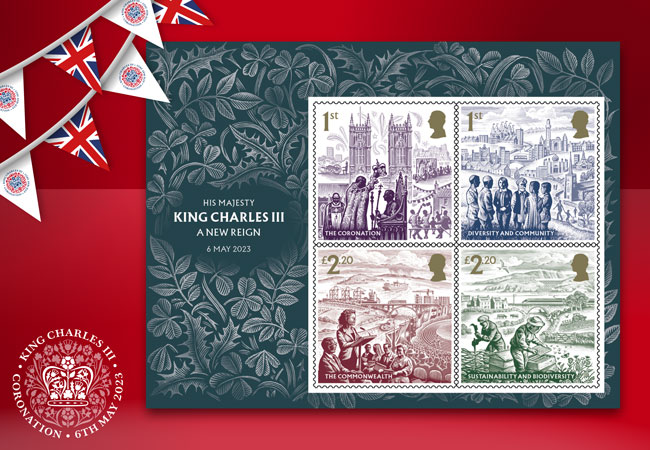 Designed by British artist, Andrew Davidson, Royal Mail's official Coronation Miniature Sheet symbolises four elements of King Charles' legacy.
Each stamp has been divided into representations of the Coronation, Diversity and Community, The Commonwealth, and Sustainability and Biodiversity. The designs embody themes of heritage, tradition, cohesion, democracy, peace, and nature – integral values to His Majesty.
These stamps have been thoughtfully set against a design of intermingling foliage, representing the union of the four UK countries: the rose, thistle, daffodil, and shamrock.
UK 2023 Coronation Covers
And today, we have been able to present all four of these official UK Coronation stamps in limited edition covers.
Paired alongside the UK 2023 Coronation 50p, £5, or both, you can secure the Coronation Miniature Sheet beside The Royal Mint's new coins in either Brilliant Uncirculated or Silver Proof!
Or, you can get your hands on the extremely sought-after UK 2022 Memorial Sovereign – the first to feature His Majesty – in an exclusive cover with these stunning new Coronation stamps.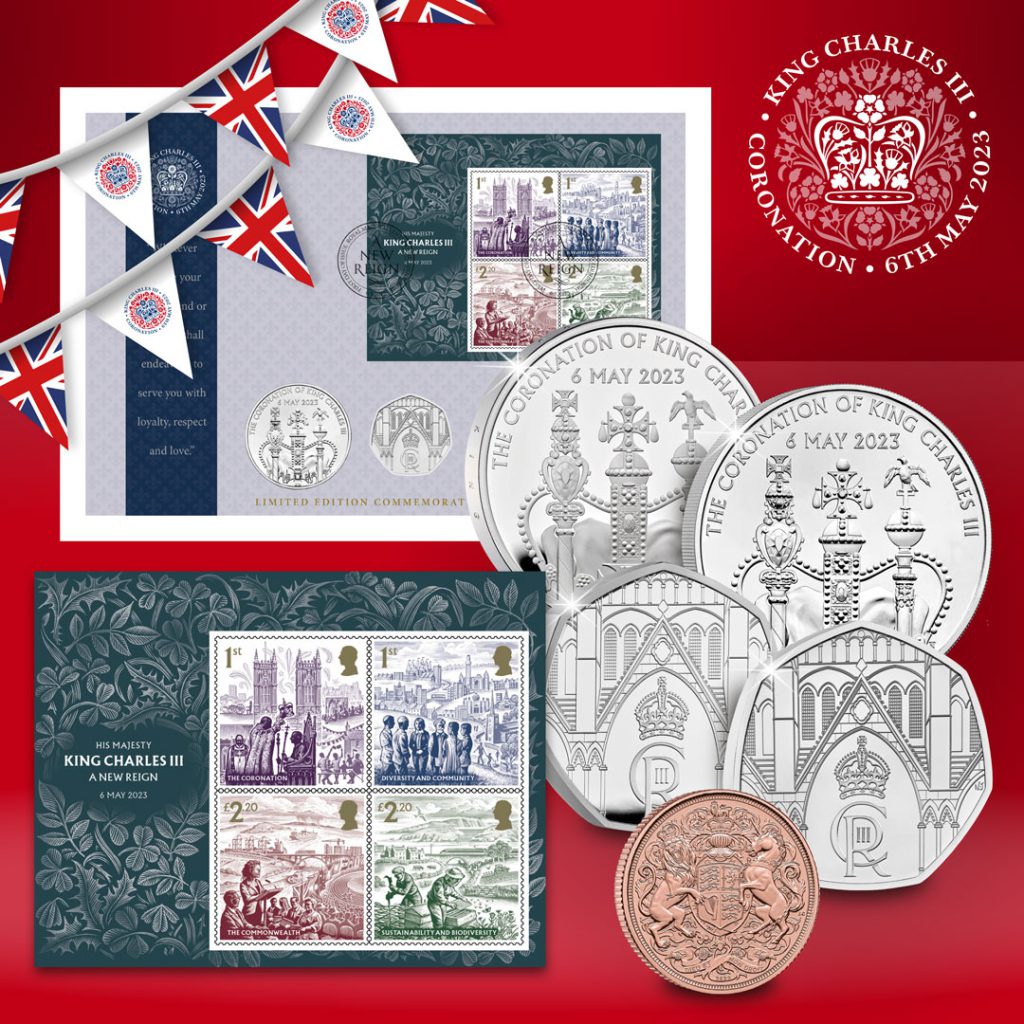 These limited edition covers are the perfect way to capture this poignant moment in history. In fact, they have all been postmarked by Royal Mail on the date of His Majesty's Coronation – 6th May – which truly preserves this extraordinary historical feat and ensures no more can ever be made…
Extreme Demand for Coronation Coins
When The Royal Mint launched the UK 2023 Coronation coin range on the 24th April, nothing could have prepared collectors for the insatiable demand…
Nearly 70,000 people queued for the launch, and the Coronation coins were being snapped up within minutes.
So considering this could be your last chance to secure a UK 2023 Coronation coin, you don't want to miss out on these exclusive coin covers.
Click here to explore the range, with prices starting from £39.99 >>