Posts Tagged 'Silver Coin'
I don't know about you, but I'm counting down the days until James Bond – or better known by his MI6 codename 007 – will be returning later this year in the hotly-anticipated 25th Bond film, No Time To Die.
But what's perhaps even more exciting is that the Royal Proclamation issued on 14th February 2020 confirmed a BRAND NEW coin series featuring the British secret agent will be issued – just in time for the release of the new movie!
Much like many of Bond's missions, the details of these coins are a closely guarded secret. But your mission, should you choose to accept it, is to register your interest below, so that when the new coins are released you'll be the first to know.
In the meantime, let's take a closer look at the Royal Proclamation to see what is in store for this exciting new series…
007 to feature on THREE coins
According to the Proclamation there will be not one, not two, but three coins issued in the series. The designs have been confirmed to feature the following:
The Bond car from Goldfinger set against the 007 logo with the inscription 'Bond, James Bond'.
The Bond car from The Spy Who Loved Me set against part of the 007 logo and the inscription 'Pay attention 007′.
A depiction of James Bond's torso in a dinner jacket and bow tie set against a part of the 007 logo with the inscription 'Shaken not stirred'.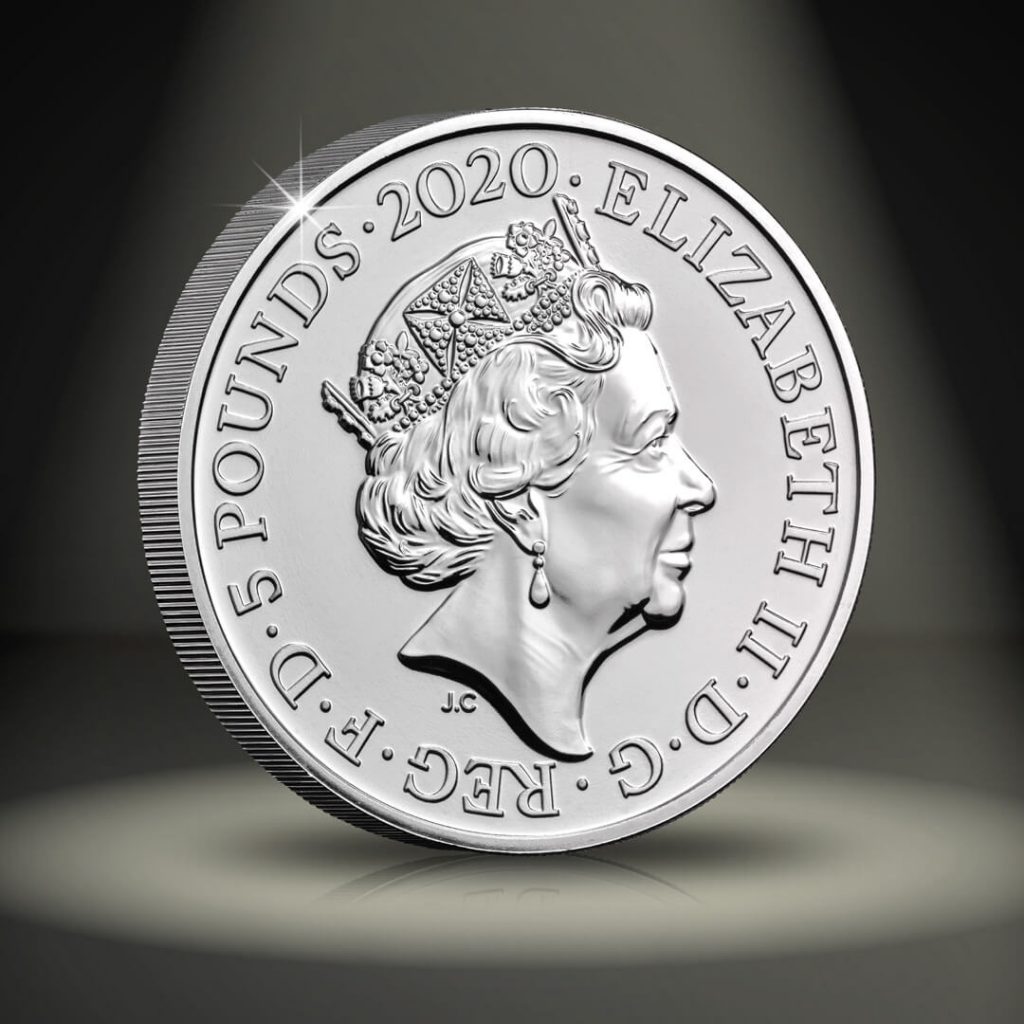 From this I think we can safely say that all three designs will feature iconic James Bond images that we've grown to know and love, and will instantly recognise from the films.
It also looks like this commemorative Bond coin will be issued in a variety of base and limited edition precious metal specifications and denominations. This includes a Brilliant Uncirculated £5 coin and a Silver £2 coin.
Not the first time Bond features on a UK coin…
However, eagle eyed collectors will know that this isn't the first time the suave secret agent has featured on a UK coin. He made his debut appearance in the Royal Mint's A-Z 10p coin series, taking the 'B' for 'Bond' spot.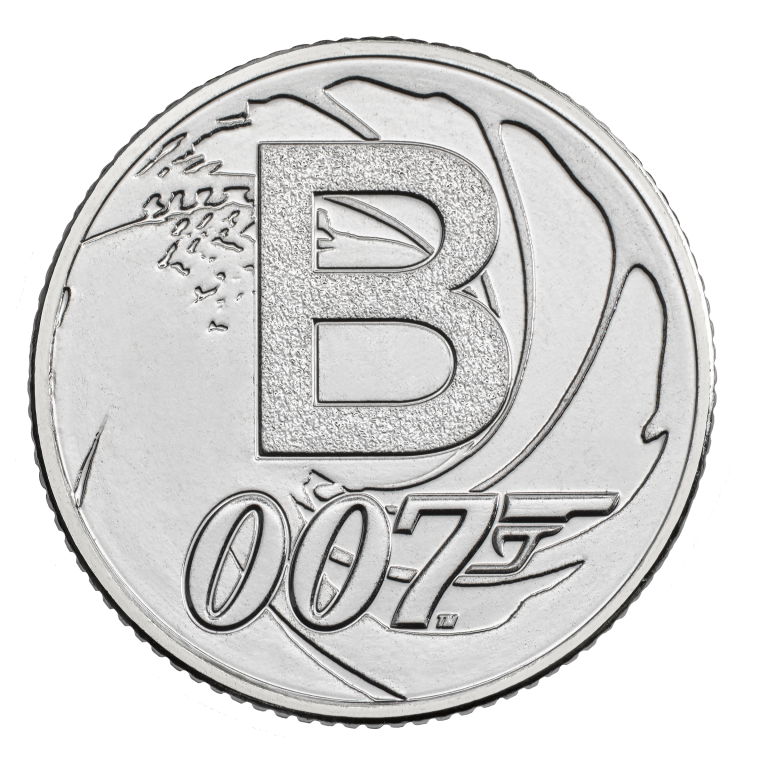 Out of all the A-Z 10p designs, 'Bond' is widely considered to be the most popular. This makes me certain that this brand new James Bond series WILL to be a real hit with collectors!
---
Register your interest
It goes without saying that Bond has an unrivalled cult following with leagues of fans worldwide. So, I expect these new commemorative issues to be amongst the most anticipated new issues in 2020, and as such will be in high demand!
If you want to be kept up to date and be the first to know when these coins are available then simply register your interest below and we'll email you as soon as we have more information.
Storytelling is one of humanity's oldest pastimes, with events being captured and passed on for centuries though art, music and dance long before we were writing them down. And one of the oldest and most reliable ways a country can tell its stories is through its coins.
This should come as no surprise. If you think about it, currency is the constant that has always been around in one form or another. It's continually evolving and adapting to the next chapter in the story.
But there's one coin in particular that holds more meaning than most – as it blends fact with fiction to produce the world's most beautiful coin, Una and the Lion.
Controversial, yet beyond improvement
In 1839 William Wyon was commissioned to design a new coin to commemorate the anniversary of Queen Victoria's coronation.
But it made headlines. It was controversial.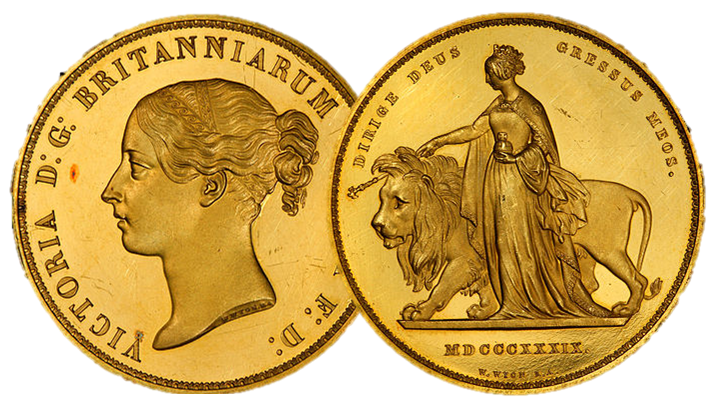 In a bold move it depicted Queen Victoria as the fictional character Lady Una, from Edmund Spenser's epic poem The Faerie Queene. Never before had someone, let alone a ruler, been featured on a coin as a fictional character.
The design shows Lady Una walking alongside her guardian and symbol of England, the lion. It is symbolic of the young monarch leading her vast empire.
Whilst a daring move, the coin was an instant success. Critics hailed it as "beyond improvement", and to this day it's regarded as one of the most beautiful coins to have ever been struck.
Part of its beauty was the high relief, providing exquisite intricate detail to the fictional design. But in many ways this was also its downfall, as it meant the coin could not be struck with any consistency. As a result the commemorative was only struck for one year, producing just 400 coins. This makes it extremely rare!
The inspiration: a princess and her protector
Published in 1590, The Faerie Queene, is one of the longest and most distinguished poems in the English language. It was written during the height of the Renaissance when England had just broken away from the Catholic Church and formed its own Protestant Church. Set against the backdrop of this turbulent religious landscape, The Faerie Queene draws on history and myth to deliver numerous tales of romance, adventure, battles, morality and religion.
The first book of the epic poem follows the trials and tribulations of Lady Una – the young and beautiful daughter of a king and queen who have been imprisoned by a ferocious dragon. In a bid to save her parents she embarks on a quest, but on her journey she encounters a fierce lion who plans to eat her.
In a twist of events the lion is so captivated by Una's beauty and innocence that he abandons his plans to eat her, and instead he becomes her protector and companion.
Together, the iconic pair have become a symbol of beauty, strength and endurance.
The most beautiful coin just became even more exquisite
The Royal Mint has just released a brand new UK Una and the Lion 2oz Silver Proof coin, featuring this iconic and highly sought-after design motif.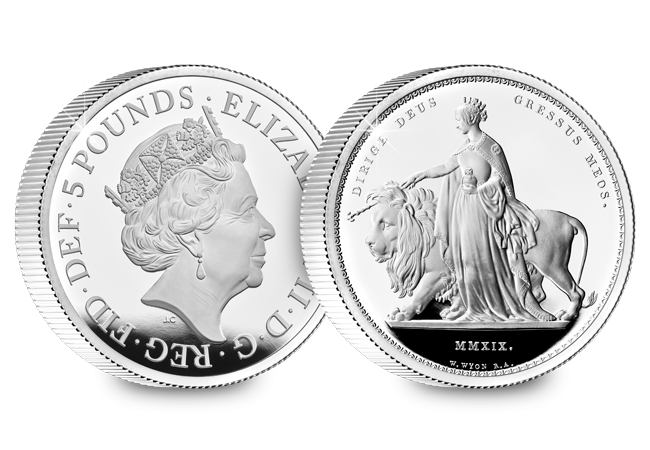 Finding an original Una and the Lion coin is virtually impossible, so this may be one of the only ways to secure this design motif for your own collection.
But with an edition limit of just 3,000 worldwide, there aren't many available for collectors.
As an official Royal Mint distributor, we have secured a limited number for Westminster collectors.
Click here to find out more and add this iconic coin to your collection >>

Do you have your fancy dress ideas up to scratch? Well, it's coming up to the spookiest time of the year, so it's time to dust off your witches' hat, carve your pumpkins, put in your vampire teeth and buy copious amounts of sweets for a fang'tastic Halloween!
Here at Collector's Gallery we love Halloween, mainly because it gives us the opportunity to reflect upon some of our most intriguingly spooky coins, produced with some of the most remarkably unique minting techniques.
From Frankenstein's Monster, to the Symbol of Death, we take a look at some of the most spook-tacular coins that are sure to put the 'treat' in 'trick or treat' this Halloween…
---
Relive the moment Frankenstein's Monster came to life…
Now, let me be Frank with you – Frankenstein's Monster turned 200 last year and as a result this 1oz Silver Coin saw unprecedented demand.
This antique finish, Pure silver coin is impressive in its own right, but with highly specialist numismatic printing techniques it goes a step further…
When put under a UV light (which comes included in your luxury presentation case), pulsing electricity is revealed so you are able to relive the moment that Frankenstein's monster came to life!
Struck with extra high relief, collector interest in this coin has been monstrous, so make sure you don't miss out by clicking here >>
---
A real life fear…trapped!
Cleithrophobia is the fear of being trapped and this coin highlights that fear in a chilling way with the use of an incredibly complex manufacturing process called Smartminting© – which create beautiful pieces of coinage with a very special high quality Antique Finish.
This brand new coin concept originates from one of the CIT's multiple award winning designers. The oppressive image of a trapped person is skillfully implemented on this fine, 1oz pure silver coin creating the appearance of a person screaming through a stretched fabric sheet.Spook-tacular I'm sure you will agree! Click here to trap yours >>>
---
'Luna de Sangre' Swarovski® Crystal Skull
You won't have a 'bone' to pick with this 'Swarovski ® Crystal Skull' Coin.
After a worldwide sellout of the 2018 'Vanity' Crystal Skull, the latest coin in the series for 2019 is expected to be no different. Struck in .999 Pure Silver, this coin features an electric blue skull shaped Swarovski ® Crystal against a flawless black-proof red blood moon finish.
The perfect addition to any creepy collection – bone appetite!
Find out more by clicking here >>
---
The Beautifully Evil Pandora's Box…
This magnificently tragic 3oz pure silver coin features unbelievable high relief due to the fact it is minted and not cast. This means all the curses of the world, including demons and mythological creatures are made that more terrifying as they supposedly escape from the box's vortex.
This coin has had a spellbinding reception from collectors and we have an extremely limited quantity of stock remaining. Click here to secure the Beautifully Evil Pandora's Box coin for your collection >>
The Symbol of Death
It doesn't get much more frightening that the Death's Head Hawkmoth, with graceful wings signifying the fragility of life and the skull branding on its back as a stark reminder of looming death…
Featuring the very latest in minting techniques, this coins unique shape and shadowy black proof finish gives it yet another haunting element.
However, by far the most impressive part of this coin is the brand new 'lapping' technique which has been used for the first time EVER to create a bright, reflective surface which contrasts against the black proof finish.
If you're interested…
Click here to see our full range of spook-tacular coins this Halloween >>