Posts Tagged 'Silver Coin'
Storytelling is one of humanity's oldest pastimes, with events being captured and passed on for centuries though art, music and dance long before we were writing them down. And one of the oldest and most reliable ways a country can tell its stories is through its coins.
This should come as no surprise. If you think about it, currency is the constant that has always been around in one form or another. It's continually evolving and adapting to the next chapter in the story.
But there's one coin in particular that holds more meaning than most – as it blends fact with fiction to produce the world's most beautiful coin, Una and the Lion.
Controversial, yet beyond improvement
In 1839 William Wyon was commissioned to design a new coin to commemorate the anniversary of Queen Victoria's coronation.
But it made headlines. It was controversial.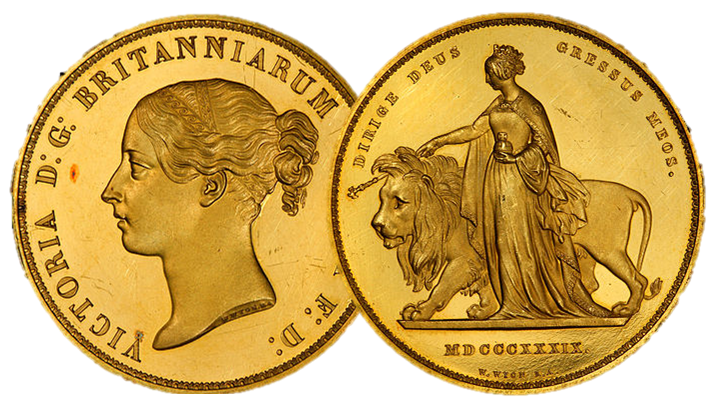 In a bold move it depicted Queen Victoria as the fictional character Lady Una, from Edmund Spenser's epic poem The Faerie Queene. Never before had someone, let alone a ruler, been featured on a coin as a fictional character.
The design shows Lady Una walking alongside her guardian and symbol of England, the lion. It is symbolic of the young monarch leading her vast empire.
Whilst a daring move, the coin was an instant success. Critics hailed it as "beyond improvement", and to this day it's regarded as one of the most beautiful coins to have ever been struck.
Part of its beauty was the high relief, providing exquisite intricate detail to the fictional design. But in many ways this was also its downfall, as it meant the coin could not be struck with any consistency. As a result the commemorative was only struck for one year, producing just 400 coins. This makes it extremely rare!
The inspiration: a princess and her protector
Published in 1590, The Faerie Queene, is one of the longest and most distinguished poems in the English language. It was written during the height of the Renaissance when England had just broken away from the Catholic Church and formed its own Protestant Church. Set against the backdrop of this turbulent religious landscape, The Faerie Queene draws on history and myth to deliver numerous tales of romance, adventure, battles, morality and religion.
The first book of the epic poem follows the trials and tribulations of Lady Una – the young and beautiful daughter of a king and queen who have been imprisoned by a ferocious dragon. In a bid to save her parents she embarks on a quest, but on her journey she encounters a fierce lion who plans to eat her.
In a twist of events the lion is so captivated by Una's beauty and innocence that he abandons his plans to eat her, and instead he becomes her protector and companion.
Together, the iconic pair have become a symbol of beauty, strength and endurance.
The most beautiful coin just became even more exquisite
The Royal Mint has just released a brand new UK Una and the Lion 2oz Silver Proof coin, featuring this iconic and highly sought-after design motif.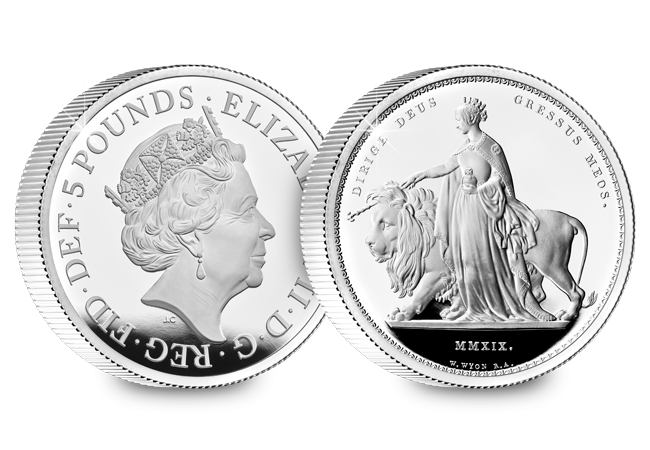 Finding an original Una and the Lion coin is virtually impossible, so this may be one of the only ways to secure this design motif for your own collection.
But with an edition limit of just 3,000 worldwide, there aren't many available for collectors.
As an official Royal Mint distributor, we have secured a limited number for Westminster collectors.
Click here to find out more and add this iconic coin to your collection >>

Do you have your fancy dress ideas up to scratch? Well, it's coming up to the spookiest time of the year, so it's time to dust off your witches' hat, carve your pumpkins, put in your vampire teeth and buy copious amounts of sweets for a fang'tastic Halloween!
Here at Collector's Gallery we love Halloween, mainly because it gives us the opportunity to reflect upon some of our most intriguingly spooky coins, produced with some of the most remarkably unique minting techniques.
From Frankenstein's Monster, to the Symbol of Death, we take a look at some of the most spook-tacular coins that are sure to put the 'treat' in 'trick or treat' this Halloween…
---
Relive the moment Frankenstein's Monster came to life…
Now, let me be Frank with you – Frankenstein's Monster turned 200 last year and as a result this 1oz Silver Coin saw unprecedented demand.
This antique finish, Pure silver coin is impressive in its own right, but with highly specialist numismatic printing techniques it goes a step further…
When put under a UV light (which comes included in your luxury presentation case), pulsing electricity is revealed so you are able to relive the moment that Frankenstein's monster came to life!
Struck with extra high relief, collector interest in this coin has been monstrous, so make sure you don't miss out by clicking here >>
---
A real life fear…trapped!
Cleithrophobia is the fear of being trapped and this coin highlights that fear in a chilling way with the use of an incredibly complex manufacturing process called Smartminting© – which create beautiful pieces of coinage with a very special high quality Antique Finish.
This brand new coin concept originates from one of the CIT's multiple award winning designers. The oppressive image of a trapped person is skillfully implemented on this fine, 1oz pure silver coin creating the appearance of a person screaming through a stretched fabric sheet.Spook-tacular I'm sure you will agree! Click here to trap yours >>>
---
'Luna de Sangre' Swarovski® Crystal Skull
You won't have a 'bone' to pick with this 'Swarovski ® Crystal Skull' Coin.
After a worldwide sellout of the 2018 'Vanity' Crystal Skull, the latest coin in the series for 2019 is expected to be no different. Struck in .999 Pure Silver, this coin features an electric blue skull shaped Swarovski ® Crystal against a flawless black-proof red blood moon finish.
The perfect addition to any creepy collection – bone appetite!
Find out more by clicking here >>
---
The Beautifully Evil Pandora's Box…
This magnificently tragic 3oz pure silver coin features unbelievable high relief due to the fact it is minted and not cast. This means all the curses of the world, including demons and mythological creatures are made that more terrifying as they supposedly escape from the box's vortex.
This coin has had a spellbinding reception from collectors and we have an extremely limited quantity of stock remaining. Click here to secure the Beautifully Evil Pandora's Box coin for your collection >>
The Symbol of Death
It doesn't get much more frightening that the Death's Head Hawkmoth, with graceful wings signifying the fragility of life and the skull branding on its back as a stark reminder of looming death…
Featuring the very latest in minting techniques, this coins unique shape and shadowy black proof finish gives it yet another haunting element.
However, by far the most impressive part of this coin is the brand new 'lapping' technique which has been used for the first time EVER to create a bright, reflective surface which contrasts against the black proof finish.
If you're interested…
Click here to see our full range of spook-tacular coins this Halloween >>
Now home to around 30,500,the picturesque port of Dieppe on the Normandy coast of France was once the site of what's perhaps the most conflicting military operation of WWII.
Some hail it as an essential lesson, to help future troops and pave the way for victory on D-Day. Whilst others see it as the most ill-fated and disastrous military effort of The War.
A test of Hitler's "Fortress Europe"
The year is 1942, and on the morning of 19th August, alongside 1,000 British troops and 50 American Rangers, 5,000 Canadian troops began their assault on the small French port town of Dieppe. This was Canada's first army offensive in Europe, and the results left many thinking it could well be their last.
Ultimately, the raid was strategically designed to test the Allies' ability to launch amphibious assaults against Adolf Hitler's "Fortress Europe". This would inform future plans to bring about an end to the conflict.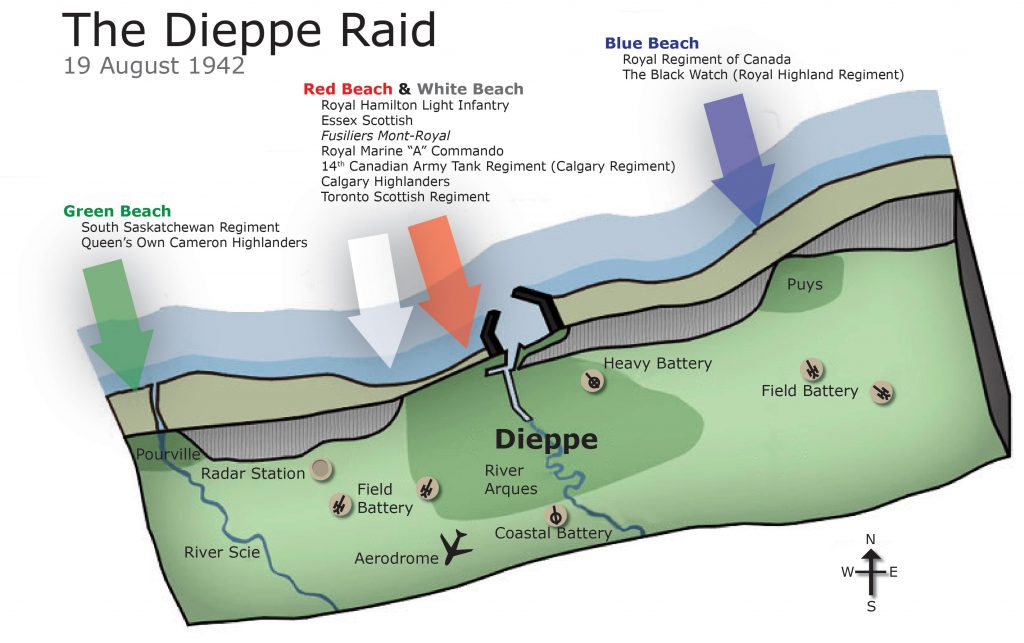 The co-ordinated air, land and sea assault was codenamed Operation Jubilee. Allied forces landed on the shores of Dieppe with the intention of occupying the town for a brief period of time in which they would gain intelligence and entice the Luftwaffe – German Air Force – in to open battle to wear them down.
But from the beginning, nothing went as planned. Less than six hours in the commanders called a retreat.
High costs
The troops arriving via the sea unexpectedly encountered a German fleet, and the ensuing battle at sea robbed the Allies of their element of surprise. This was what they were hoping would give them the upper hand. Out of the four beaches targeted, none of the attacks were classed as successful, resulting in severe loss of life and assets. With the element of surprise lost, the Allies and their armoured support were late to arrive at their designated attack points meaning many were slaughtered with little preparation to defend themselves.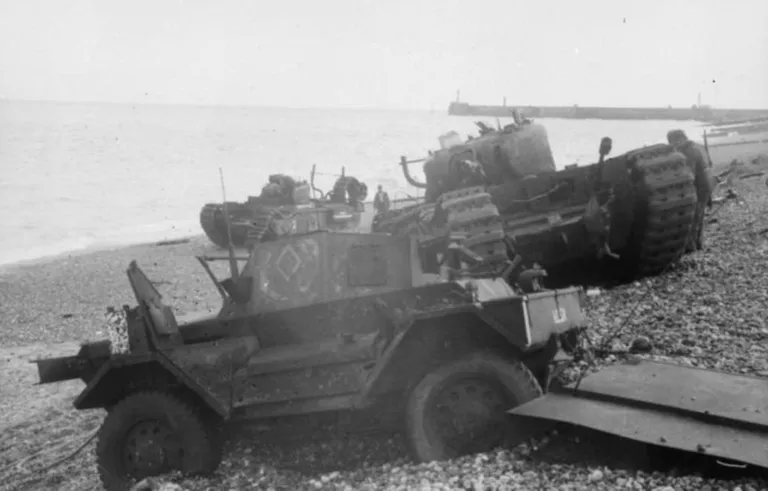 The Calgary Tanks that did make it ashore were poorly equipped for the terrain and struggled to move across the pebbled beaches. Those that did make it across the beach were unable to destroy the enemy's concrete barriers blocking their path, their guns were not strong enough. Eventually these tanks provided covering fire for the force's evacuation.
German casualties were light. In comparison the Allies suffered, especially the Canadians: over 900 were killed, 2,400 wounded and a further 1,900 taken prisoner. Fewer than half the Canadians who departed for Dieppe returned.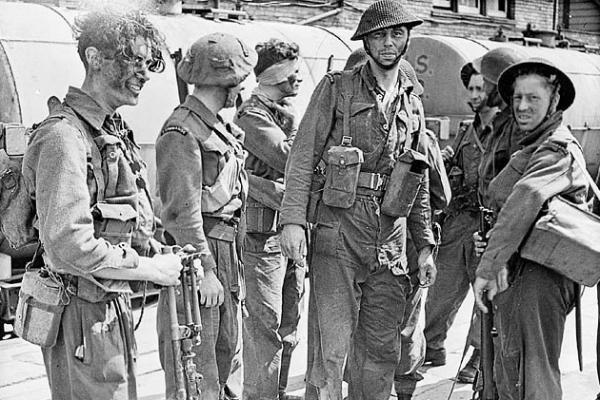 Lessons learned
Allied commanders knew the raid was risky. But none imagined it would be such a terrible failure, with so much loss of life. It was believed the element of surprise would be their greatest weapon, allowing landing troops to overcome German defenders and occupy the town. But little thought was given to the importance of air superiority and the need for overwhelming firepower.
Despite its failure, the raid was a pivotal moment in WWII and provided invaluable lessons for the Allies. It made clear the difficulties of assaulting a well-defended port and the need for better intelligence on conditions and communication amongst the troops – they could not rely solely on the element of surprise.
Two years later, the D-Day landings would be backed up by massive naval artillery support, dominance over the skies, and heavy firepower — three essential factors missing at Dieppe. Finally, following D-Day success, on 1st September 1944, Dieppe was liberated.
---
If you're interested…
The Royal Canadian Mint issued a 1oz Silver Proof coin to commemorate the 75th anniversary of the Dieppe raid. It's been specially designed as a powerful tribute to the brave soldiers who sacrificed their lives.
Unsurprisingly this coin is completely sold out at the mint. But we have a limited number available for UK collectors.
Click here to secure one for your collection >>