Today's video is a special one, as I give you an exclusive FIRST LOOK at the Alice Through the Looking-Glass Silver Proof 50p collection.
Issued to celebrate Lewis Carroll's literary classic 'Through the Looking-Glass, and what Alice found there', today's new release follows in the footsteps of these Alice's Adventures in Wonderland 50p coins that quickly became one of the most popular coins releases of the year.
And In the video I'll reveal exactly what you'll find inside of the limited edition Silver Proof collection that only 1,995 collectors can own!
---
If you're interested…

Recently, we announced an exciting brand new collection of 50p coins celebrating the 70th anniversary of the longest running comic strip in Beano® comics – Dennis! Unsurprisingly, since their release, the coins have seen huge demand as collectors and beloved comic fans alike race to get theirs.
But, before anything else, you must know that all the specifications of these coins have been released in extremely low edition limits. When you consider that over 1.5 million people were once part of the official Beano Fan Club, they are virtually guaranteed to not satisfy demand.
The 50p has firmly established itself as the collector's favourite coin, so it was only right the pesky trouble makers from the Beano classic feature on them. Authorised for release by Pitcairn Islands, fully approved by Her Majesty the Queen and officially licensed by Beano®, don't miss out on the chance of securing yours.
Find out more about these new coins and how to order them below >>
---
The Complete Brilliant Uncirculated 50p Set
This stunning collection features all five new 50p coins, each struck to a Brilliant Uncirculated quality and featuring carefully curated designs by illustrator Glyn Davies. These include:
Dennis's 70th Anniversary
Gnasher
Minnie the Minx
Roger the Dodger
Billy Whizz
What's more, the coins will come protectively housed in an officially licensed presentation pack – adding further to its desirability.
Limited to JUST 15,000 sets worldwide you'll need to act fast if you'd like to own on.
Click here to secure yours for just £31.25 (+p&p) >>
---
The Superior Coloured Silver Proof 50p…
The Silver Proof version of Official Dennis '70' 50p coin features a special illustration of Dennis, alongside a stylised '70' – to honour the 70th Anniversary. What's more, the coin has been struck to a flawless Proof finish from .925 Sterling Silver with selective vivid colour printing to bring the design to life!
The Silver Proof editions are without a doubt the collector's favourite and almost always acquire fast sell-outs and with an edition limit of JUST 4,999 coins this will be no exception.
Click here to guarantee yours >>
---
The COMPLETE Silver Proof 50p Collection
The Silver Proof set is by far the most limited and exclusive way to own these five new 50ps. With only 1,999 available to collectors worldwide, it is almost certain that they won't be around for long.
Each coin is struck from .925 Silver, to a Proof finish, with the addition of colour. They will arrive protectively encapsulated, ready to display in a presentation box, along with numbered Certificate of Authenticity, confirming its place in the stringent edition limit.
Don't miss out on yours… Click here and secure yours with a deposit of only £32.50 today >>
---
The ULTIMATE Silver Proof Cover – JUST 50 worldwide
If you are looking for a one-of-a-kind way to own the brand new Silver Proof 50p coins in undoubtedly the smallest edition presentation, then the 2021 Dennis's 70th Anniversary Ultimate Silver Proof 50p Cover is for you.
Limited strictly to JUST 50 worldwide, each collection features all five Dennis 50p coins, struck from .925 Sterling Silver with the addition of vivid selective colour, paired alongside the BRAND NEW Royal Mail Dennis Miniature Sheet – postmarked on the first day of issue 01/07/2021. This one-day-only postmark guarantees the strict 50 edition limit – so no more will ever be released.
From a collector's point of view, the decision is obvious. You won't find these Silver Proof 50p coins in a smaller edition presentation anywhere else. Secure yours with a deposit of just £37.50 today >>
---
The Complete Brilliant Uncirculated 50p Cover – JUST 750 available
Also available is the Complete Dennis's 70th Anniversary Ultimate BU Cover. Limited strictly to just 750, each collection features all five Dennis Brilliant Uncirculated 50p coins alongside the BRAND NEW Royal Mail Dennis Miniature Sheet – postmarked on the first day of issue 01/07/2021.
Almost certainly, this is one of the smallest edition presentations of the new BU 50p coins that you're likely to see and they are exclusively available from The Westminster Collection.
It's hard to believe that almost 25 years ago the nation lost its People's Princess. Diana, Princess of Wales, was famously known for her compassion and commitment to good causes. Many of her patronages included children's and cancer charities, and her work advocating for mental health and HIV became world famous.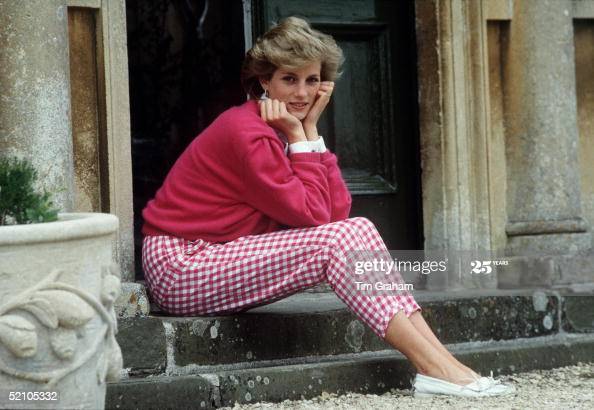 Diana's ability to touch the hearts of everyone is remembered by millions around the world. Today, Thursday 1st July 2021, on what would have been Princess Diana's 60th Birthday a special statue is due to be unveiled.
And it's causing quite the excitement in the collecting community…
Commissioned by both the Princes
In 2017, Princes William and Harry announced they were commissioning a statue for their late mother to 'help all those who visit Kensington Palace to reflect on their mother's life and legacy…and recognise their mother's positive impact' [1].
Both Princes have signed off and approved the design together.
Placed in Diana's favourite spot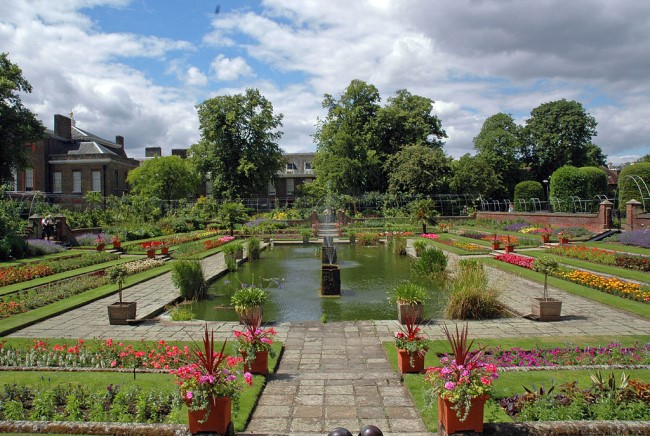 The statue will be unveiled in the Sunken Garden at Kensington Palace, which is said to have been Diana's favourite spot. In fact, in 2017 for the 20th anniversary of her death, the garden was transformed into a beautiful tribute to her. Featuring displays of forget-me-nots, white lilies, white roses, tulips, and Cosmo daisies. The white and cream hues were a nod to Diana's love for lighter shades.
And importantly for collectors
The statue itself has been designed by Ian Rank-Broadley FRBS, who has a glittering history of commissioned work for The Royal Mint. Most notably are his portrait design of Queen Elizabeth II featured on all UK coins between 1998 and 2015, and the recent UK Prince Philip memorial coin. His work has also featured on many medals and commemorative coins, including the UK 2012 Diamond Jubilee £5 Coin, the 2002 Golden Jubilee Crown, and the Queen Mother Centenary Crown.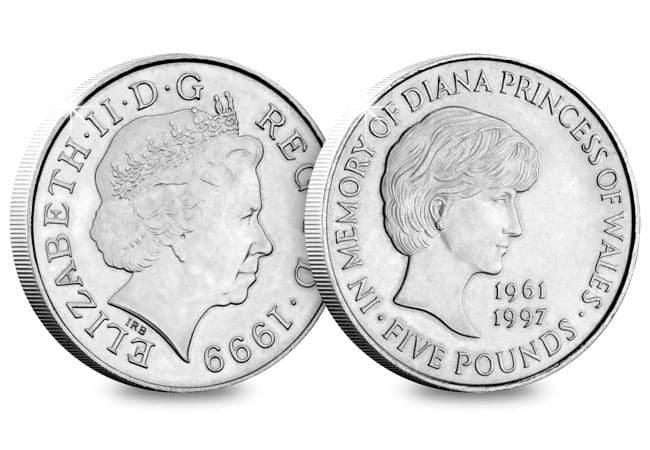 With such an established career, it's safe to say that many collectors are excited to see the result of Rank-Broadley's latest work for this special statue.
And as this year marks what would have been Diana's 60th birthday, alongside the new statue unveiling multiple commemoratives have been issued to pay tribute to the People's Princess. If you'd like to pay tribute to the late Princess, you can see the full range available by clicking here.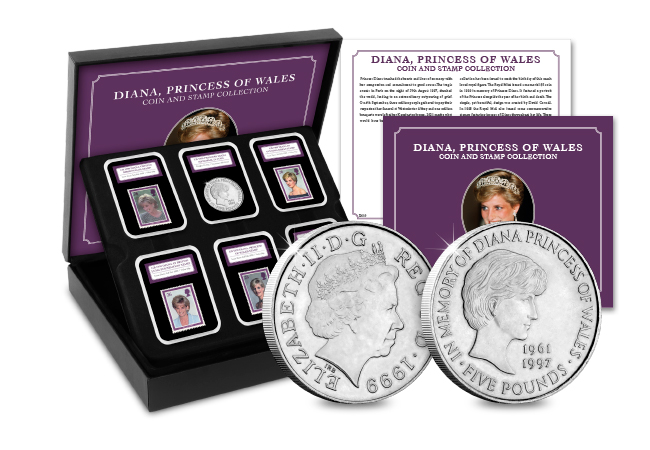 ---
If you're interested:
You can pay tribute to Princess Diana with a limited edition 60th Birthday Frame – hand stamped on the 1st July 2021 on what would have been Diana's birthday. Just 495 collectors can own one, so you'll need to act today to secure yours. Click here to find out more >>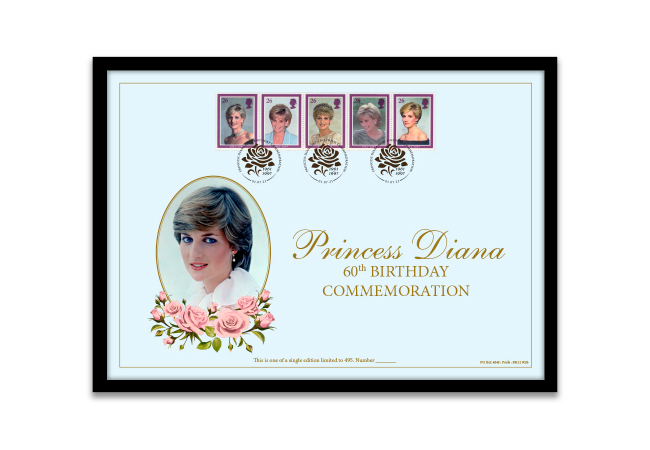 ---
References
[1] https://www.dw.com/en/princess-diana-statue-to-be-unveiled/a-58017359