100 years ago this year, at 11 o'clock on 11th of November, the guns of war finally fell silent. The First World War was over.
While many fathers, sons, uncles and brothers came home, millions lay where they fell, on the Battlefields of Europe. Those who were lucky enough to be identified were placed in makeshift graves, often only identified by a rifle placed in the earth with his steel helmet placed on top as a final memorial.
To commemorate the Armistice Centenary, The Royal Canadian Mint have issued a remarkable new coin that honours each and every fallen soldier.
Struck in the shape of a WWI Brodie Helmet, it is more deeply curved surface than any other concave or convex-shaped coin I've seen before. The design is so unique in fact, that the Mint have kept the minting technique a closely guarded secret.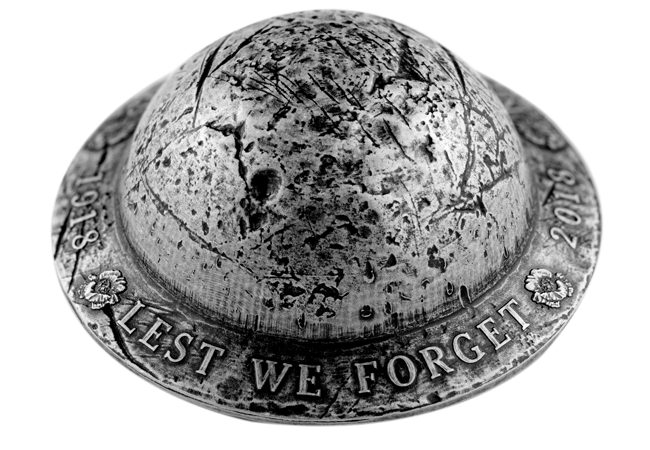 Although the original helmet would have been cast from Steel, this coin has been struck in the very finest .9999 or "four nines" silver, this is the purest grade of silver available. The Royal Canadian Mint is one of the very few Mints in the world with enough minting expertise able to strike coins with this incredible high relief finish. It's an exceptional feat of craftsmanship.
What's more the attention to detail is outstanding, each coin has been given a final antique finish and there are even engraved cracks and markings which complete the helmet's battle-worn appearance. A reminder of the hardships endured by those who fought.
The amount of 2018 Silver 'Helmet-Shaped' coins available is very low. A worldwide edition limit of just 6,500 has been set by the Mint, but of course many of these won't even make it out of Canada. Without any doubt, this has to be one of the most collectable issues ever struck.
The First World War will always be known as one of Man Kind's darkest hours but poignant issues like this one allow us to remember those who have made the ultimate sacrifice.
---
If you're interested…
We have just 500 WWI Lest We Forget Silver 'Helmet-Shaped' coins available for UK collectors, but to get one you'll have to act quickly.
Click here for more details >>
This year marks one hundred years since the First World War came to an end, making the 2018 Poppy coin designs even more special.
The Masterpiece Poppy Coin
Issued in support of The Royal British Legion, the brand new Masterpiece Poppy coin very poignantly and quite literally stands out as it uses an incredible 3 dimensional effect.
It's called a Masterpiece for a reason. Using cutting edge minting techniques and specialist craftsmanship, a stylised Royal British Legion poppy, proudly sits on top of your coin, resulting in an exceptional 9mm relief.
What's more, there's another aspect that makes this year's Masterpiece Poppy so special.
British Artillery Shell
You see, the Golden coloured poppy that adorns your coin has been made from inert brass British artillery shell fuses recovered from the First World War battlefield of the Somme and areas of France and Belgium. Some were recovered by Chris Bennett of TMB Art Metal, but most were trawled in by farmers from ploughed fields.
The shells are then brought back to the UK, where they are melted down and poured into a mould. It is then cooled and cleaned to created the high-relief poppy.
Straight from the frontline
And that's not all, each poppy has a central disc of red enamel which has been applied by hand and, to add even more poignancy, this enamel is mixed with earth recovered from several locations along the British Front Line of the Somme and Passchendaele areas in Belgium.
Therefore, not only are the poppies made of actual WW1 metal, but they also possess the very essence of the battlefield which the brave soldiers fought and died upon, and that many still lie at peace beneath.
100 Poppies, 100 years
Significantly, 99 poppies have been engraved into the surface of the coin, making 100 poppies in total to reflect the centenary anniversary.
The finish on this year's Masterpiece design is a stunning antique effect. It means that, should you wish, you can actually touch the coin and the brass poppy itself. A chance to hold a genuine piece of history in your hands.
Watch the below video to see the incredible detail that has gone into this years stunning release.
Presentation that befits your masterpiece
And, as befits such a masterpiece, its presentation matches the coin's impressiveness.
The luxurious wooden display case allows you to display your Masterpiece Poppy Coin to the best advantage, with its glass lid protecting the coin. Inside the box is space for the individually hand-numbered Certificate of Authenticity, as well as the accompanying booklet that tells the story of the Masterpiece Poppy Coin from concept to final coin.
Available now – with a donation to The Royal British Legion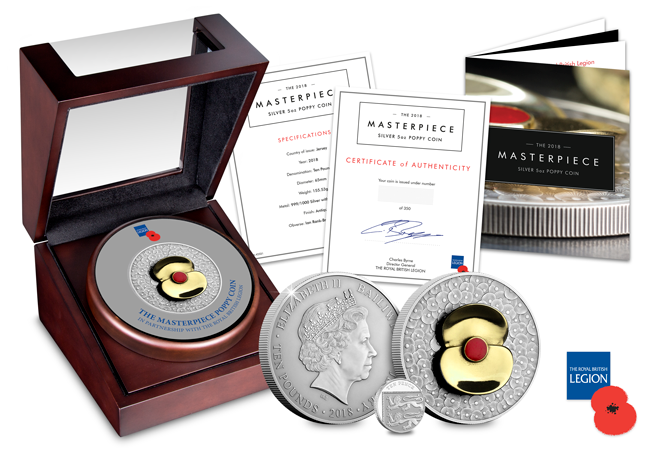 The 2018 Masterpiece 5oz Silver Proof Poppy Coin is available to own right now from The Westminster Collection, although they are expected to sell out quickly.
To further support the work of The Royal British Legion, a donation of £55 from the sale of each coin will go directly to the charity, helping them to continue to provide financial, social and life-long support to the Armed Forces community.
£1,000,000 Milestone
What's more, since our partnership began we are on target to raise an incredible £1,000,000 in support of The Royal British Legion.
---
If you're interested…
You can own the 2018 Masterpiece Poppy coin by clicking here >>
£55.00 from the sale of this product will be paid to The Royal British Legion Trading Limited, which gives its taxable profits to The Royal British Legion (charity no. 219279) or Poppyscotland (Scottish charity SC014096). Your donation will be given to either charity based on where the item was purchased.
George VI stands out as one of the most popular and interesting monarchs in British history.
After the shock abdication of his brother, he courageously led the country through World War Two and became a national hero. His story has since been famously portrayed in the Oscar winning 2010 film, The King's Speech, and the popular TV series The Crown.
Just as interesting as his reign itself, were the coins that were issued during his 16 years on the throne. Only two Crown coins were issued, but both are extremely significant in British numismatic history and mark important changes for our coinage…


1937 Coronation Crown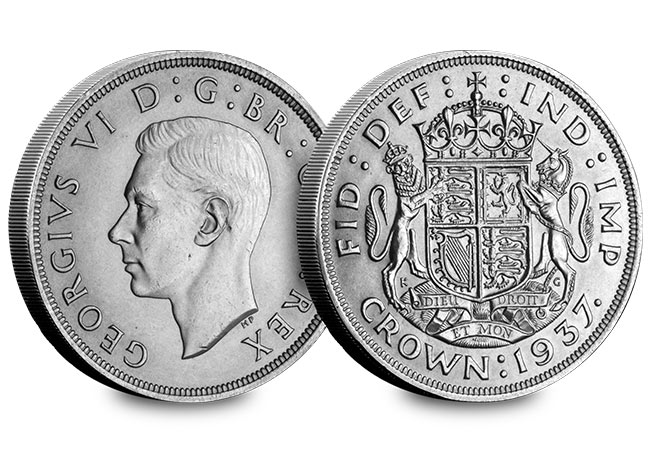 It has been a tradition held by many British monarchs to issue a Crown coin in their coronation year, however, this tradition was a difficult one to maintain for George VI's coronation in 1937.
That's because it was decided that George VI's Coronation would be on the same day that was planned for his brother Edward VIII before his infamous abdication. With a race against the clock to strike a coin for the Coronation, a new portrait was hurriedly prepared and quickly engraved before the ceremony.
What makes this coin so important for collectors is that it was the last ever Coronation Crown struck in Silver by The Royal Mint.


1951 Festival of Britain Crown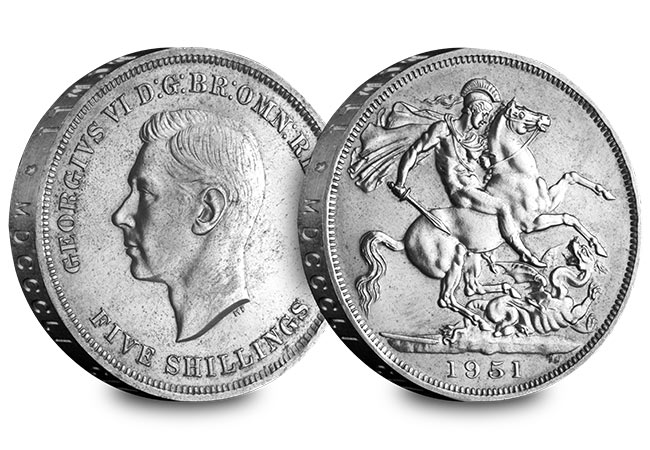 The only other Crown coin issued during the reign of George VI was struck in 1951 to mark the Festival of Britain. To commemorate this hugely popular event, The Royal Mint decided to issue a brand new coin.
This specially issued coin was the first ever Crown struck in cupro-nickel and was the first Crown issued to commemorate a non-royal event.

Since this coin, The Royal Mint have issued many Crowns commemorating non-royal events of national significance and in doing so have created one of the most popular numismatic collecting themes internationally. This coin marks the start of this famous collecting trend that has transformed commemorative coins in Britain and across the world.


Both of these significant coin issues are now over 65 years old and as a result are becoming increasingly difficult to acquire.
However, I would consider them key coins for any Royal or 20th century coin collection because of the popular monarch that issued them and the important moments they mark for British numismatic history.
---
If you're interested…
We have a limited number of George VI Crown Pairs available for collectors. However, with such limited stock available I suggest you act now if you want to add these two extremely significant coins to your collection.
Click here for more details >>>