Can you believe it, England have only gone and won the Cricket World Cup for the very first time.
The history-making England Cricket Team beat New Zealand in a dramatic final at Lord's which will go down as one of the most amazing games of cricket ever played.
The boys have done the nation proud and tributes to England's cricketing heroes have been pouring in across the country.
If you're looking for the perfect way to celebrate and remember this important sporting occasion in our history, then we have an incredible range of commemoratives available.
Please note, since England's magnificent win we have experienced a huge spike in collector demand and numbers are now limited across the range. It is advised that you secure your favourites as soon as possible to avoid missing out.
The Official ICC Cricket World Cup 2019 50p Coin Set
*** OVER 85% SOLD ***
If you're a 50p fan then this set is for you. This fantastic set features five new specially commissioned designs that have been fully approved by the ICC and Buckingham Palace.
The coins come packaged in Official ICC Cricket World Cup 2019 packaging, meaning you can keep them safe for generations to come. And perhaps most importantly, this set is the only way you can own all five 50p coins in superior Brilliant Uncirculated Quality. Other than the Official ICC Cricket World Cup 2019 Logo coin none are available to purchase individually.
There is now less than 15% remaining of the 9,995 worldwide edition limit and these are selling quickly. If you'd like to secure one for your collection then you'll need to be fast. Click here to order yours >>
The 2019 England Cricket DateStamp™
This brand new DateStamp™ provides you with an extremely limited way to own the highly sought-after UK Cricket 10p and capture this historic Cricket World Cup Final Day forever.
The 10p comes protectively encapsulated in a tamper-proof capsule and will be officially postmarked by Royal Mail with the Cricket World Cup final date – 14th July 2019. Only 2,019 will ever be postmarked with this special day and as such these are proving extremely popular amongst collectors.
This is the ultimate memento to celebrate England becoming Cricket World Champions for the first time. Don't miss out – order yours here >>
The England Cricket 2019 Winners Medal
The boys have only gone and done it! And what better way to celebrate than with the brand new England Cricket 2019 Winners Medal.
Expertly plated in 24 Carat Gold, the 'England Winners' design is beautifully brought to life in vivid full-colour detail. The medal comes complete in a Deluxe Presentation Case with accompanying Certificate of Authenticity, meaning you can cherish it for years to come.
Only 2,019 have been issued and these are unsurprisingly flying out. A sell-out is expected so order yours today while they're still available >>
The Cricket 2019 Commemorative Coin Cover
If you're a stamp collector then this would make the perfect memento for you! This special Commemorative Cover features the complete set of 1973 Royal Mail Cricket Stamps, the second ever sports-related stamps to have been issued, alongside the 2nd Class 'Three Lions' Definitive Stamp.
These are paired with the new ICC Cricket World Cup 2019 Logo 50p Coin and the stamps have been officially postmarked by the Royal Mail on the first day of the Cricket World Cup tournament. Due to the stamps' limited availability, only 1,000 covers have been issued for worldwide distribution.
These have already proven extremely popular with collectors and cricket fans alike, so order yours today to avoid missing out >>
The Official ICC Cricket World Cup 2019 50p
The Official ICC Cricket World Cup 2019 50p coin has been struck to a Brilliant Uncirculated quality – a superior finish sought-after by collectors.
It has been fully approved by the ICC and features the Official ICC Cricket World Cup 2019 Logo on the reverse design. This is the perfect piece if you're new to collecting or looking for a fantastic addition to your 50p collection.
Housed in Official ICC Cricket World Cup 2019 packaging this is a great way to remember what has turned out to be a truly historic tournament. Find out more and orders yours today >>
---
JUST ANNOUNCED: Brand NEW Royal Mail Stamps to be released to celebrate England's historic win…
This special stamp issue will be available late Summer 2019. If you'd like to be one of the first-in-the-know, then please register your interest below and we'll be in touch as soon as they go on sale.
US coin collecting is one of the most competitive markets globally, which is no surprise given that the coins have some of the most interesting and iconic stories in the coin collecting world. US coins are in extremely high demand, especially in the UK where they rarely make it onto our shores.
As Americans celebrate their independence this week, I have picked out 5 of my favourite US coins to share with you.
The Flowing Hair Dollar
8 of the top 10 most expensive coins ever sold are American, with the Flowing Hair Dollar (1794-5) taking the top spot after it sold for an impressive $10,016,875. It's thought that only 140 of these remarkable coins exist, so it is near on impossible to find one.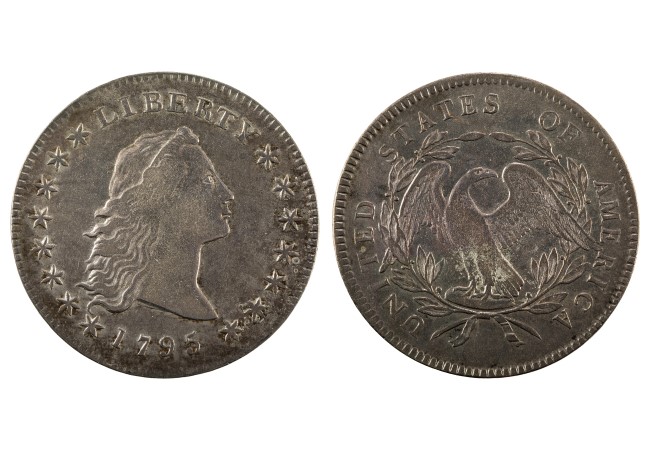 This coin was the first dollar coin ever issued by the United States Federal Government and featured an eagle and the bust of Liberty with flowing hair. It was minted in silver and its size and weight were based on the Spanish dollar, which was traded with regularly in the Americas.
The Morgan Dollar 1878-1921
The Silver Morgan Dollar has forever been associated with cowboys and outlaws. These coins could have been used for gambling by train robbers like Butch Cassidy or Jesse James. It's even rumoured that cowboys would place them in their canteens to preserve water on long journeys.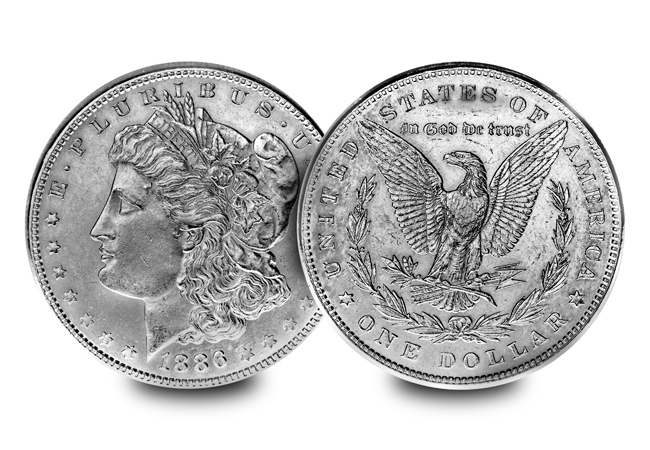 The dollar drew its name from its designer "George T Morgan", who created an effigy of Lady Liberty as a Goddess, and a reverse which included an eagle with outstretched wings. It's said that less than 1 in 5 of these coins remain today, making them incredibly collectable and difficult to source.
'No Cents' Liberty Head Nickel 1883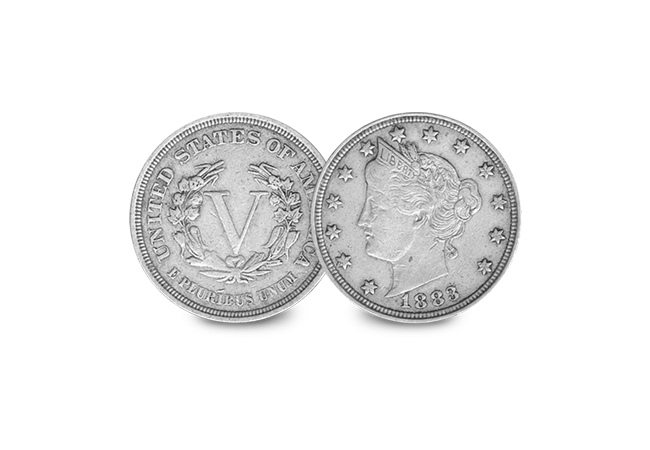 The first design for the No Cents Nickel failed to include the denomination and instead it included the Roman Numeral 'V'. As the coins were the same size as a $5 coin, swindlers seized the opportunity to gold plate these coins and pass them off as $5 coins. Within the year the US Mint added the denomination to the coin.
The Roosevelt Dime 1946-64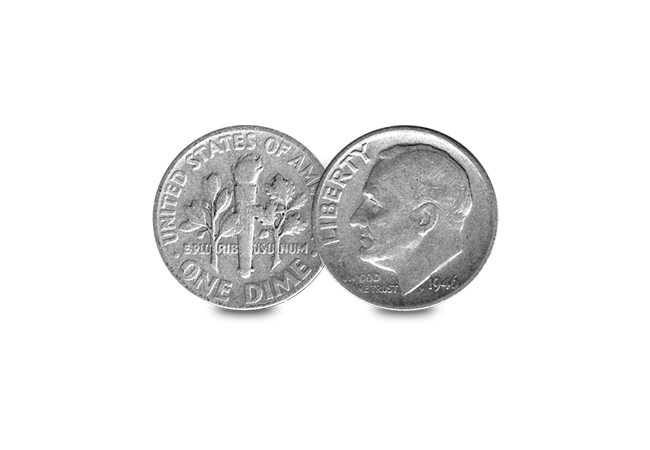 After the death of Franklin Roosevelt in 1945, the nation's only four term president, his portrait was subsequently used on Dimes as a memorial.
During his presidency, Roosevelt founded 'March of the Dimes', a charity founded in response to polio epidemics. Roosevelt's image was chosen for the Dime in honour of his work with the charity, and his own battle with polio. This coin was symbolic for a nation in mourning, and many people collected the coin from their change.
The Franklin Half Dollar 1948-1964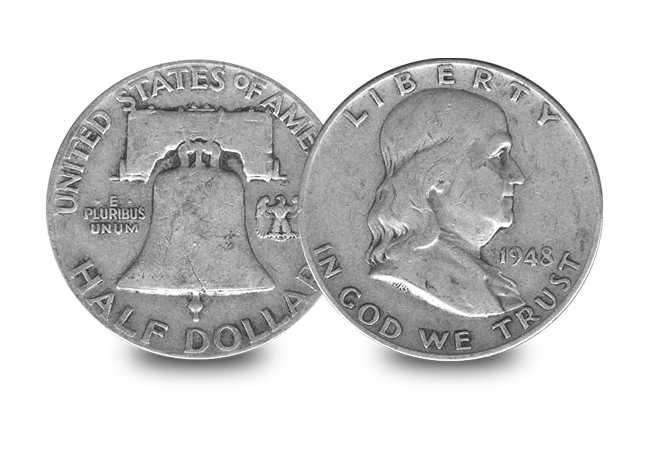 This was the first half dollar to feature the portrait of a non-president on American Coinage. The words 'Liberty, in God we trust' surround a portrait of Benjamin Franklin, with the Liberty Bell on the reverse. This was initially a controversial coin, and there were public concerns about the initials of the designer 'JRS' being a reference to Stalin and communism, as well as the small eagle placed next to the bell.
American coins give us some of the most interesting stories in history, and provide us with some of the most fascinating and collectable coins in the world. It's no wonder that US coin collecting is becoming increasingly popular.
---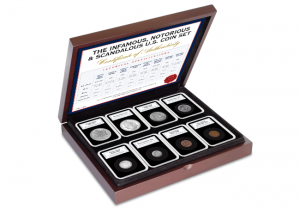 If you're interested…
You can own a selection of America's most fascinating and infamous coin issues with the Infamous US coins set. Click here to see the other coins and secure yours today>>>
When I think of Canada several things spring to mind: the iconic maple leaf, the caribou and beaver, ice hockey and Celine Dion, just to name a few. But at the top of my list is without a doubt the Royal Canadian Mint.
As one of the three 'Royal' Mints in the world – alongside The Royal Mint here in the UK and the Royal Australian Mint – they are known for their innovation and impressive minting techniques, resulting in some of the most magnificent issues I've ever seen.
So to celebrate Canada Day, I've rounded-up my top five favorite Canadian releases, each demonstrating why they are one of the most prestigious mints in the world. Believe me, some of these issues are truly incredible!
Take a look for yourself…
The R&D Security Test Token Set
It will come as no surprise to know that the Royal Canadian Mint is the market leader in numismatic security.
The R&D Test Token set offers us a glimpse at never-before-seen minting techniques which will shape our future coins, and are sure to impress even the most seasoned coin collectors.
Included are six specimen tokens with high-tech design elements showcasing fascinating examples of tri-metal technology and micro-text. What's more, each token included in the set is a real life trial piece which has been used in laboratory testing. So each set is completely unique – no two will be the same! Click here to find out more >>
Lest We Forget Silver Helmet-Shaped Coin
This issue truly is one of a kind. The minting expertise required to strike such an impressive coin is astounding – I've never seen a coin like it.
Not only is it struck from the Mint's signature .9999 Pure Silver, but it's an incredible miniature replica of the steel Brodie helmets worn by British and Commonwealth forces during the First World War.
How the Mint achieved this result I will never know – it remains a closely guarded secret. There are even engraved cracks and markings you would find on an original helmet. The final antique finish gives an authentic distressed look, the fine detail is incredible. Click here to find out more >>
Pure Silver D-Day Coin
The first step in to battle takes incredible courage, and this year to mark the landmark 75th anniversary of D-Day the Royal Canadian Mint issued perhaps the most poignant D-Day commemorative yet.
This stunning issue perfectly captures the moment Canadian soldiers set foot on Juno Beach. It is expertly struck from a quarter ounce of .9999 Pure Silver – or "four nines Silver", the purest grade available for which the Mint is known – and has an innovative reverse proof finish which replicates the texture of the sand. Click here to find out more >>
3D Monarch Caterpillar Coin
Some of nature's most beautiful things come in small packages. And this remarkable issue is no different.
The Monarch Caterpillar Pure 1oz Silver Coin is a perfect combination of Italian craftsmanship and Canadian design. It features a stunning 3D Monarch Caterpillar handcrafted from Murano glass, poised upon the selectively coloured design of a swamp milkweed plant leaf.
The combined traditional engraving, colour and Murano glass creates a truly unforgettable piece. Click here to find out more >>
John Lennon Silver 1oz Coin
It's hard to believe that just 50 years ago, John Lennon and Yoko Ono conducted their "Bed-in for Peace" protest against the Vietnam War and debuted the most famous anti-war anthem of all time – Give Peace a Chance.
It was a moment that has forever cemented a bond between John Lennon and Canada. A bond that is marked by the release of this limited edition John Lennon commemorative.
Using bespoke printing technology the coin features a photographic image of John and Yoko during their protest and is struck from 1oz Pure Silver to a mirror-like proof finish.
Considering the worldwide popularity of John Lennon and the legacy of Give Peace a Chance, it comes as no surprise that this coin has been incredibly popular. Click here to find out more >>
---
But that's not all! There's plenty of other fantastic coins that have been issued by the Royal Canadian Mint. You can take a look at the full range by clicking here >>