It's the most anticipated UK 50p release of the year!
The Royal Mint has just released the official UK Team GB 50p to celebrate our Olympians and mark the 2020 Tokyo Olympics being held in 2021.
It's safe to say that this coin has been struck under exceptional circumstances and it has a remarkable story that means there will be unparalleled demand for it…
The most anticipated UK 50p release of the year
You see, this coin was never meant to exist. It was originally slated for release in 2020 but, as you know, the Olympic Games were rescheduled to 2021 as a result of the Covid-19 pandemic. This is the first time that the games have been rescheduled rather than cancelled.
As a result, this NEW coin is dual dated – only one of a handful of dual dated 50ps to exist in British numismatic history!
Featuring the same design by David Knapton that was released in the 2020 Annual Sets, the reverse bears the date "2020" to mark the 2020 Tokyo Olympics, and the obverse by Jody Clark features the year of issue, 2021.
Last year there was phenomenal demand for the 2020 Annual Sets that featured the 2020-dated Team GB 50p, as collectors rushed to secure it after the Olympics were officially postponed. There is no doubt that these collectors WILL want to own the 2021-dated coin.
This UK 50p has been issued in several different specifications, so there's something to suit all collectors. Take a look at the range below…
---
UK 2021 Team GB 50p BU Pack
To give as many collectors as possible the chance to own this highly sought-after coin, The Royal Mint has issued it in Brilliant Uncirculated quality. Brilliant uncirculated coins are specially struck and carefully handled to avoid the scratches and chips found amongst their circulating counterparts.
Each one is protectively encapsulated in a stylish presentation pack from The Royal Mint to preserve its quality for years to come. What's more, you can secure this BU Pack at The Royal Mint's official issue price of just £10 (+p&p). Click here to find out more >>
---
UK 2021 Team GB Silver Proof 50p
You can own the Team GB 50p in superior silver proof quality – but this opportunity is strictly limited to JUST 5,500 collectors worldwide.
This coin features the same special dual dated design, but it has been struck in superior .925 sterling silver to a flawless proof finish and features selective colour printing to bring the Olympic rings to life.
Silver 50ps are consistently highly sought-after and have rapid sell-out rates as a result. Available for The Royal Mint's official issue price of £67.50 (+p&p), you'll have to be quick to secure it. Click here to find out more >>
---
UK 2021 Team GB Silver Piedfort 50p
However, you can own this coin in an even more limited way – so limited that JUST 1,500 collectors worldwide will ever be able to own it.
Piedfort coins are prestige pieces and the pinnacle of The Royal Mint's craftsmanship. These coins are amongst the most collectible coins around. They're struck to a perfect proof finish, twice the weight and thickness of a regular coin, and contain double the amount of .925 silver. Plus, their incredibly low mintages result in rapid sell-outs.
This is also the first time that selective colour printing has been used on a UK Piedfort 50p coin, so it will be even more sought-after by knowledgeable collectors in years to come. You can secure yours today with a deposit of JUST £25 (+p&p) followed by four further interest-free instalments. Click here to find out more >>
This year Her Majesty becomes the first monarch in British history to celebrate a 95th birthday – an incredible milestone that has been celebrated, albeit in a slightly different way, this year.
And now to mark this incredible achievement a fantastic set of BRAND NEW 50p coins have been issued by the Isle of Man and fully approved by Her Majesty the Queen.
Check out the coins below and all the information you'll need to order your favourites.
---
The COMPLETE Brilliant Uncirculated 50p Set
This fantastic collection features all six new 50p coins, each struck to a Brilliant Uncirculated quality and each featuring a specially commissioned portrait of Her Majesty by sculptor Luigi Badia, charting her reign from the 1950s to the present day.
What's more, the coins will come protectively housed in a bespoke presentation pack that has been designed specifically for your coins.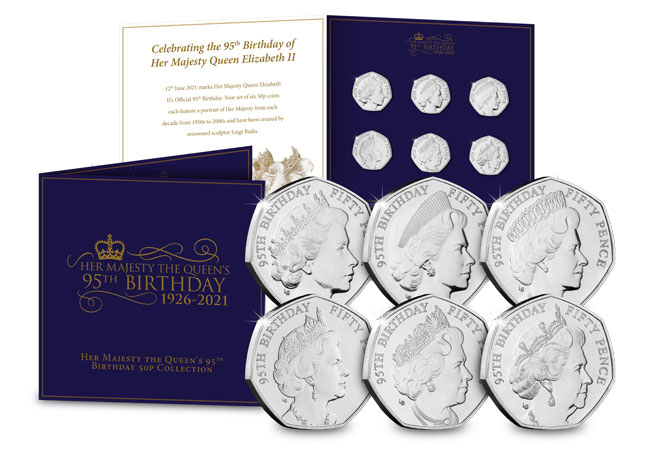 This complete set is surely a MUST-HAVE for any serious coin collectors, so if you'd like to secure one for your collection for JUST £37.50 (+p&p).
Click here to secure the COMPLETE BU 50p Set>>
---
The STRICTLY LIMITED Queen's 95th Birthday Silver 50p Coin
You also have the chance to own the BRAND NEW 50p coin as a strictly limited Silver Proof! Your coin will come complete in a presentation case with a numbered certificate guaranteeing your coin's place within the strict edition limit.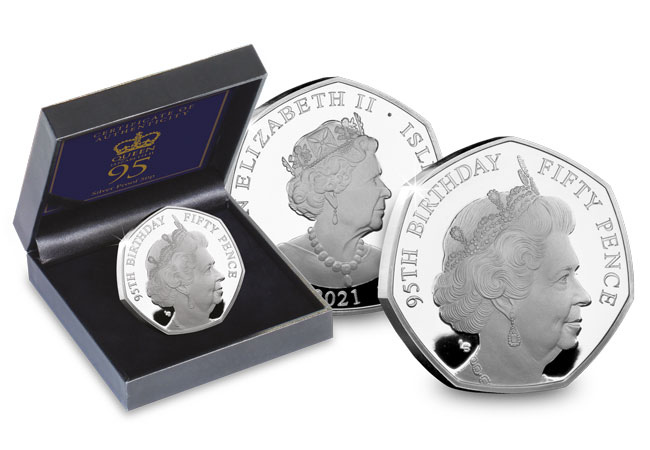 The Silver Proof editions are without a doubt the collector's favourite and almost always completely SELL-OUT. And with an edition limit of JUST 4,995 coins, you'll need to act now if you want to secure one for your collection.
Click here to secure yours now >>
---
The COMPLETE Queen's 95th Birthday Silver Proof 50p Collection
One of the most limited ways to own these brand new coins is the Silver Proof Collection. With just 1,495 available to collectors worldwide, a sell-out is inevitable.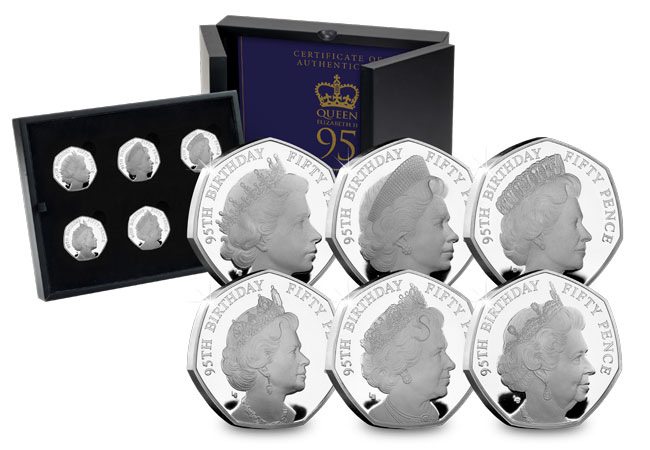 Each coin has been struck from .925 Sterling Silver to a Proof finish and comes ready to present in a deluxe presentation case with a numbered Certificate of Authenticity.
Click here to secure yours before they SELL OUT >>
---
The Queen's 95th Birthday Gold Proof 50p
Just 250 of these special new coins are also being struck from 22 Carat Gold. That's a TINY number and is sure to be snapped up almost immediately by collectors.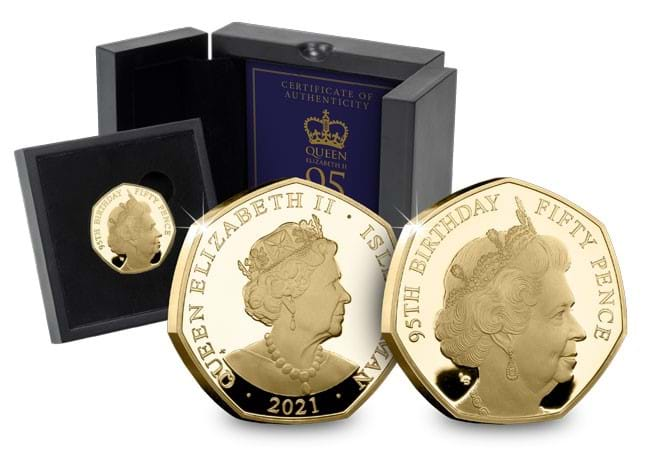 This is an extremely exclusive and limited release, so if you want to secure one for your collection you really will need to act now.
Click here to find out more and to secure yours >>
---

This morning, not just one but SIX brand new British Isles 50p coins were released to celebrate Her Majesty's 95th Birthday.
They feature six portraits of the Queen charting the years of her reign, and in my latest video I take a closer look and tell you EVERYTHING you need to know...
---
If you're interested…