Queen Elizabeth II acceded to the throne on 6th February 1952. During her remarkable 70-year reign, she celebrated seven jubilees and was the first British monarch to receive a Platinum Jubilee. As our country's longest reigning monarch, Her Late Majesty's legacy cannot be overstated.
And today, a handful of collectors will be given a rare and unique opportunity to reflect on her most remarkable milestones with an exclusive ready-made collection. But considering how sought-after her commemoratives have become, this is why you don't want to miss out…
Extraordinary demand for Her Majesty's collectables
Queen Elizabeth II's influence on the collecting world has been immeasurable. And nearly six months after her sad passing, we are still witnessing excessive demand for commemoratives of her reign.
In fact, her signed Christmas cards are being sold for thousands on the secondary market, and her official UK coins are now selling out years later!
So, here's your opportunity to get ahead of the crowd and take a shortcut to becoming an official UK stamp collector with one click of a button…
The Official UK Queen Elizabeth II Jubilee Stamp Collection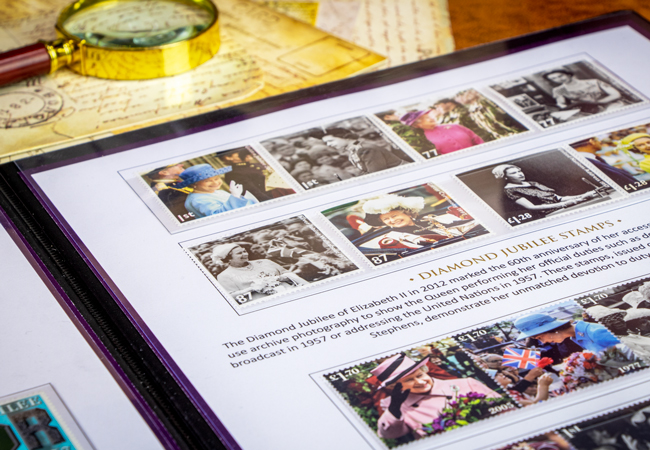 This traditional piece is essential for any collection. At a time more poignant than ever to collect Her Majesty's commemoratives, this is the perfect way to preserve her extraordinary legacy…
Comprised of the official UK stamps from her Silver, Golden, Diamond and Platinum Jubilee, this complete collection takes you on a journey through the most remarkable milestones of our longest reigning monarch.
Housed in a luxury folder preserving the stamps' pristine condition, your collection dedicates an entire historical retelling of each Jubilee to all the special UK stamp sets released for each celebration in 1977, 2002, 2012 and 2022.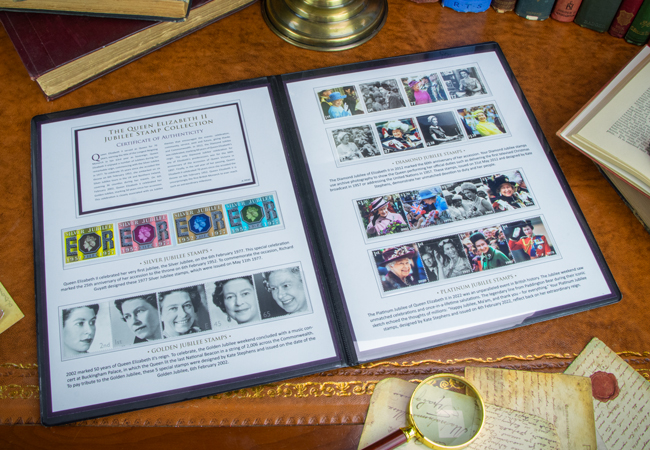 A shortcut to getting your stamp collection started
We are offering to do the hard-work for you by giving away this rare shortcut to becoming a serious stamp collector.
What's more, this collection is the key to saving you precious time and pennies. So, take the shortcut and own the entire collection with one click of a button!
And considering Queen Elizabeth II collectables are scarcer than ever, this is the easiest way to secure the entire range of Jubilee stamps in one complete collection. But with just a handful of collections available, make sure you don't miss out on securing such a unique traditional piece…
Royal Mail has entered a 'new digital era' with the introduction of barcodes to 'everyday' definitive stamps.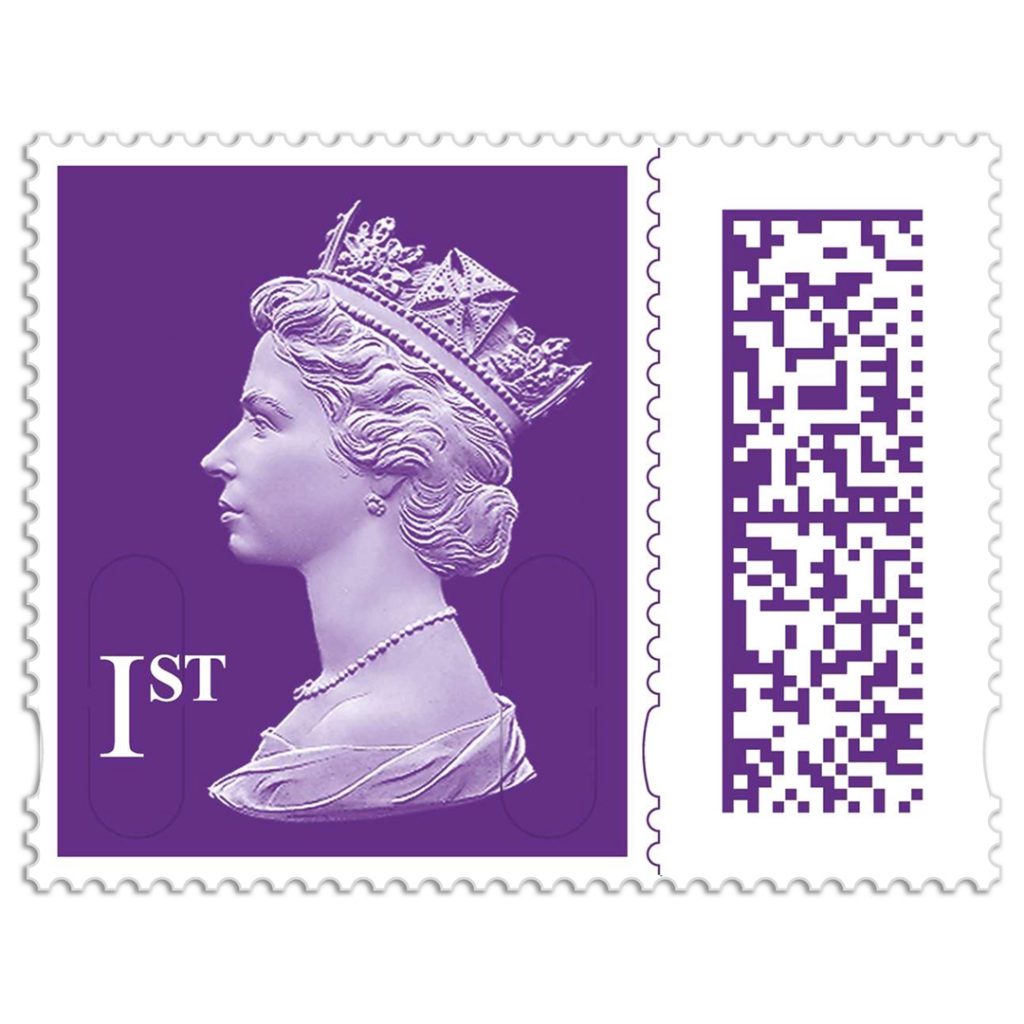 Customers can now scan a barcode that sits beside the portrait of HM The Queen using the Royal Mail app. Currently, it shows you a video of Shaun the Sheep that Aardman have created especially for Royal Mail, but the capabilities of this feature are endless.
The barcodes will eventually provide information about services, further exclusive videos and even greetings for occasions such as birthdays. When sending mail, you will be able to choose what the recipient of the stamped item can see from these options.
But don't worry, the barcode won't stick out like a sore thumb on your letter, as it will remain the same colour as the rest of your stamp.
However, you'll need to bear in mind that the barcode must not be removed. Like previous definitive stamps, a mail item may be liable to a surcharge if not all of the stamp is intact.
For those of us who still have non-barcoded or Christmas stamps, Royal Mail have created a 'Swap Out' scheme that will come into play from the 31st March 2022. Otherwise, they will be valid until January 2023.
This new feature hasn't quite made it to Special Stamps yet, but it seems as though it will only be a matter of time before more of Royal Mail's services will follow this digital step.
Are you excited for this new upgrade to our stamps? Let us know in the comments below!
The Rolling Stones are revered as one of the greatest live acts of all time, they have sold over 250 million records and, in the UK, have had eight No.1 singles and twelve No.1 albums.
And, to celebrate the 60th anniversary of this legendary rock and roll band this year, Royal Mail have just released BRAND-NEW Rolling Stones stamps in their Music Giants Series!
The stamps will be officially released today, 20th January 2022, and feature photos of some of the bands most memorable performances over the years. In the last 60 years, their singles and albums have produced a string of evergreen rock classics, powered by some of the greatest guitar riffs ever written.
Given the success of previous 'Music Giants' stamps, these are bound to be incredibly popular. Here's your guide to the most collectable versions of the new Rolling Stones stamps available to pre-order now…
---
The Framed Edition
This framed edition of the new Rolling Stones stamps features panes 1 and 2 from the Prestige Stamp Book and is one of just 1,962 that will ever be issued – signifying the band's first gig 60 years ago in 1962.
Postmarked on the stamps official issue date, 20th January 2022, each presentation comes ready to exhibit in stylish A4 frame – perfect for displaying in the home.
Click here to order yours today for just £34.99 today >>
---
The Ultimate Edition
What makes the ULTIMATE Edition 'ultimate' is the fact is comprises the official Royal Mail First Day Cover, with adjoining release notes AND the Royal Mail Rolling Stones Miniature Sheet Pack! This means, you will own not only all eight new stamps, but four additional stamps featuring tour posters!
Given the multiple elements of this professionally mounted frame, this must-have piece of memorabilia is limited to just 750 – making it over twice as limited as the framed edition!
Click here to order yours today for just £60 >>
---