The Isle of Man has just announced 12 NEW Stamps marking the Coronation of HM King Charles III and HM Queen Camilla.
Eight of the stamps feature images of King Charles III and Queen Camilla attending ceremonial events and other social occasions. Three show portraits of the King by Richard Stone, June Mendoza and Michael Griffiths and the final stamp features the King's cypher.   
Your Pre-release opportunity – The ULTMATE Coronation 50p and Stamp Cover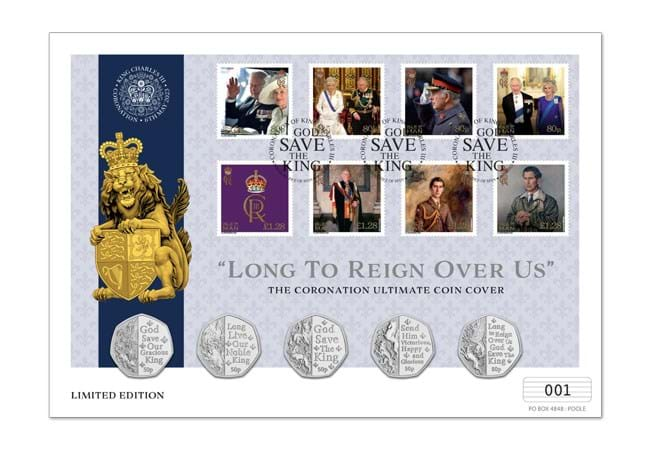 I'm excited to share with you today the MOST LIMITED way to secure the New Brilliant Uncirculated National Anthem 50p coins for your collection – The ULTIMATE Coronation Stamp and BU 50p Coin Cover.
This stunning cover features eight of the Official Isle of Man Coronation Stamps alongside the five new 50ps. You'll need to act fast to secure one though as JUST 795 covers are available for worldwide distribution.
This is the most limited presentation you'll find, so from a collector's point of view, the decision is obvious. Securing a set like this is the only way to own the NEW 50ps and Official Isle of Man Stamps together.
I guarantee you won't find a smaller edition anywhere else.
Knowledgeable collectors will be sure to secure theirs quickly because we're expecting demand to outweigh availability.
So do not delay, click here to reserve yours now for JUST £65 (+p&p) >>
The Coronation of King Charles III Stamps Range
The Ultimate Coronation Stamp and 50p Coin Cover is also available in Silver Proof. Only 100 Silver Proof Coronation Coin and Stamp covers will be issued worldwide, making it even more limited than the Brilliant Uncirculated cover.
Shop our full range of stamp products celebrating King Charles III's Coronation >>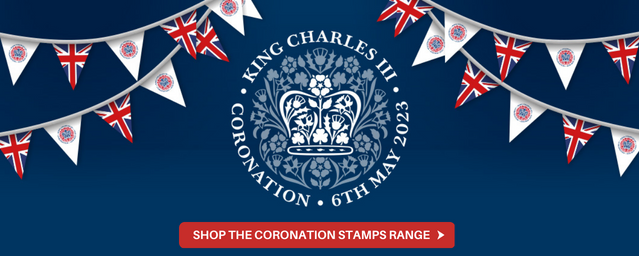 Queen Elizabeth II has graced UK stamps for 70 years, but now we're coming to the end of an era; Royal Mail have released their final commemorative stamp issue with the Queen's silhouette, celebrating the centenary of the world's most famous locomotive – Flying Scotsman.
So, before we steam ahead towards the BRAND-NEW Flying Scotsman editions, let's take a look back at Queen Elizabeth II's iconic 70-year reign in UK postage…
The beginning of Queen Elizabeth II stamps
1953 marked the beginning of Her Majesty's Reign and the introduction of the Wildings – a series of definitive postage and revenue stamps featuring Dorothy Wilding's portrait of Queen Elizabeth II, which were used up until 1967.
The first four stamps to be issued within this series were for Her Majesty's 1953 Coronation, presented in the colours of Carmine-Red, Ultramarine, Deep Yellow-Green and Deep Grey-Blue.
Commemorative stamps were then introduced during the 1950s and early 1960s. However, the Postmaster General, Tony Benn, proposed a new criteria outlining what could appear on them. From 1965, it was decided that all GB stamps had to include a small silhouette of the Queen based on the coinage head of Mary Gillick, which then became the standard.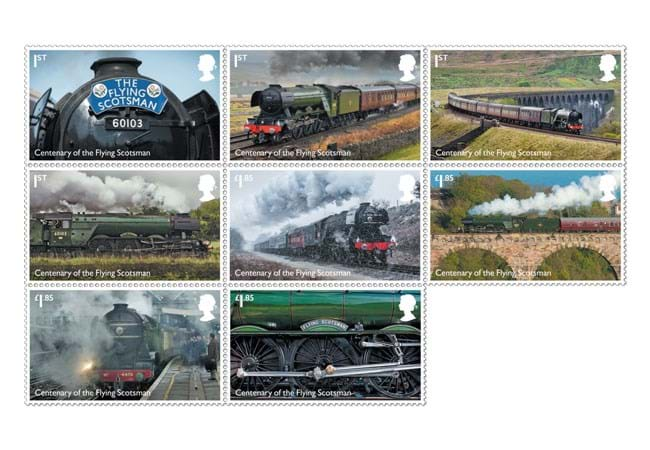 Two once-in-a-lifetime tributes
And now, Royal Mail have issued twelve commemorative editions featuring Flying Scotsman.
Not only are they the official UK stamps to mark the centenary of the world's most famous locomotive, but they will also be the last to show the Queen's silhouette after 70 years – marking two incredible moments in British history!
These nostalgic editions portray the steam locomotive travelling through North Yorkshire, Northumberland, Berwick-on-Tweed and London's Victoria Station. Inspired by poster artwork from the 1920s and 1930s, Royal Mail's spokesman David Gold intends for them to evoke "the golden age of steam travel".
Your chance to celebrate both!
To pay tribute to such monumental moments in history, a limited-edition coin and stamp cover has been released, comprised of The Royal Mint's Official UK 2023 Flying Scotsman £2 in Brilliant Uncirculated Quality along with Royal Mail's BRAND-NEW Flying Scotsman stamps.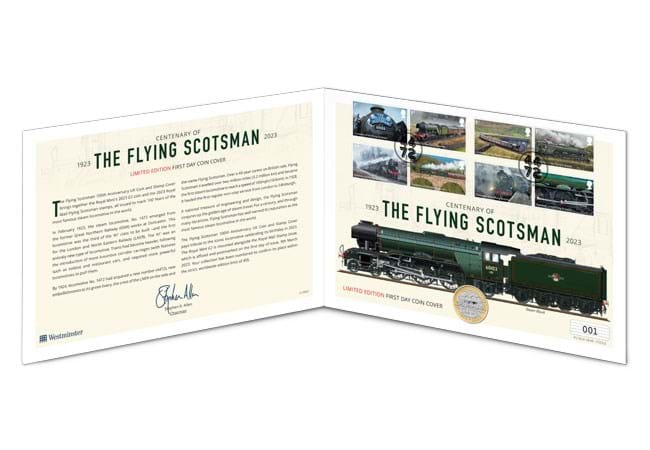 But considering these are the last UK stamps to feature Queen Elizabeth II, we are predicting insatiable demand – and we have already seen sell-outs at The Royal Mint for the Flying Scotsman coin range.
All steams ahead! Click here to secure one for your collection now >>
Royal Mail has just announced the design of the new Official King Charles III Stamp!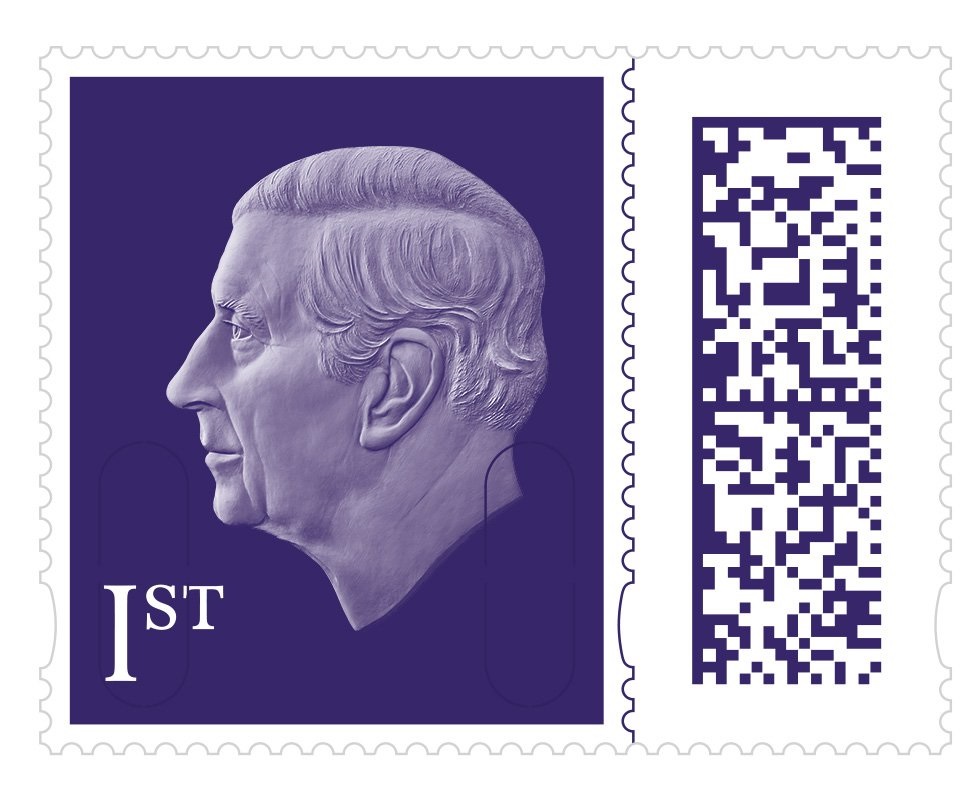 They will be available to purchase from 4th April and excitingly they will circulate alongside the current Queen Elizabeth II stamps.
This is the first time in 70 years that a new monarch has graced our stamps, and will be in huge demand by collectors all over the world.
Interestingly, this is also the same design that is used on King Charles III coins.
If you want to be the first to hear any and all news about this historic new release, you can sign up to our mailing list below.
We will only use your details to contact you about King Charles III stamp products.