Posts Tagged 'Brilliant Uncirculated coins'
2023 marks the 75th anniversary of Britain's National Health Service. And today, we celebrate the pivotal role that the NHS has played in our lives for decades with a brand-new coin range.
But first, let's take a look back at the service which touches the lives of millions every day…
Britain, 1948
The National Health Service was founded in 1948 and was the first universal health system to be available to all, completely free of charge.
The Minister of Health at the time, Aneurin Bevan, introduced the service to the British people who had previously been unable to afford medical bills and had only ever known insurance-based schemes to cover the cost of healthcare.
But, the NHS offered healthcare to all for not a single penny, and revolutionised medial treatment as the people of Britain knew it…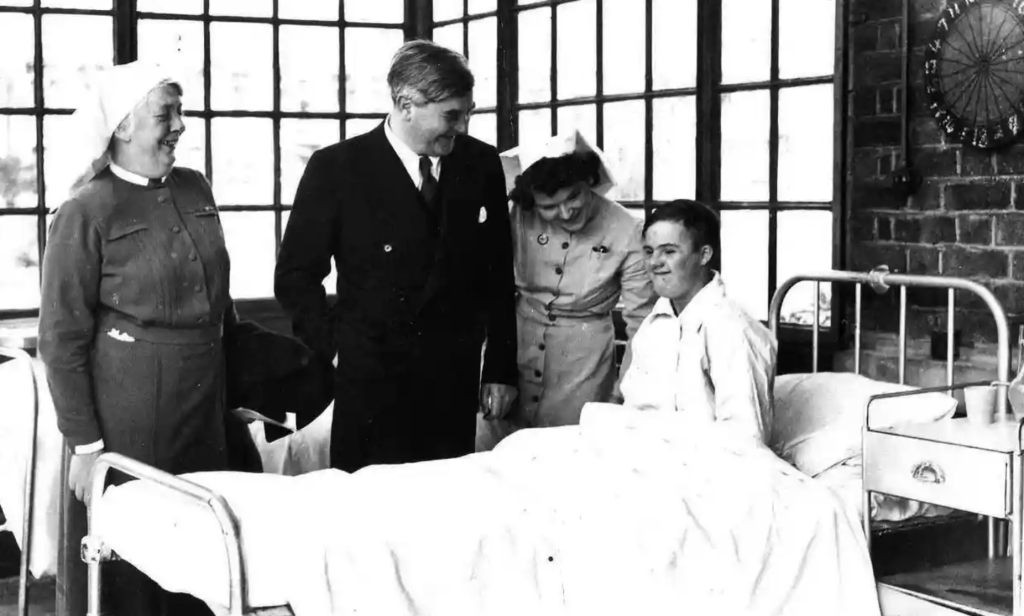 Establishing the NHS
Since 1948, the NHS has grown into an incredible service, from Britain's first heart transplant in 1958 to Europe's first liver transplant in 1968.
Renowned for their large-scale vaccination programmes, the NHS protected children from whooping cough, measles and tuberculosis – and in 1999, the meningitis C vaccine was offered nationally as a global first.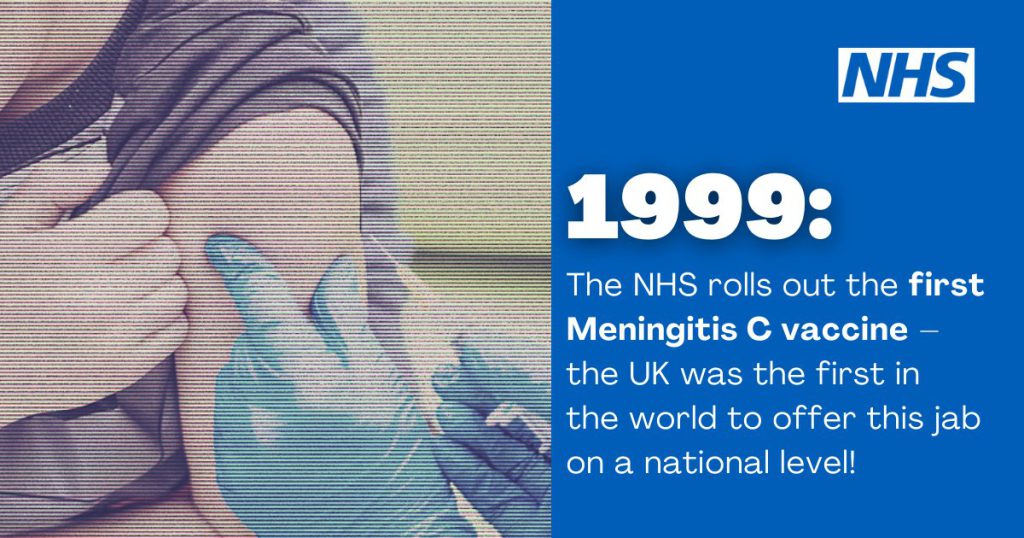 The NHS has delivered huge advances in health care – not only have they carried out revolutionary liver, heart and lung transplants, but they were also the first health service in the world to begin Covid-19 vaccinations. They continue to strive to pioneer new treatments and technologies, such as bionic eyes and the world's first rapid whole-genome sequencing service.
And following the shocking impact that Covid-19 had on our National Health Service, now is the perfect time to offer gratitude for decades of selfless, tireless and relentless work.
A Sentimental 50p
Therefore, to not only pay tribute to the 75th anniversary of the NHS, but to also offer appreciation for their care, compassion and devotion throughout the years, The Royal Mint have issued a new coin range.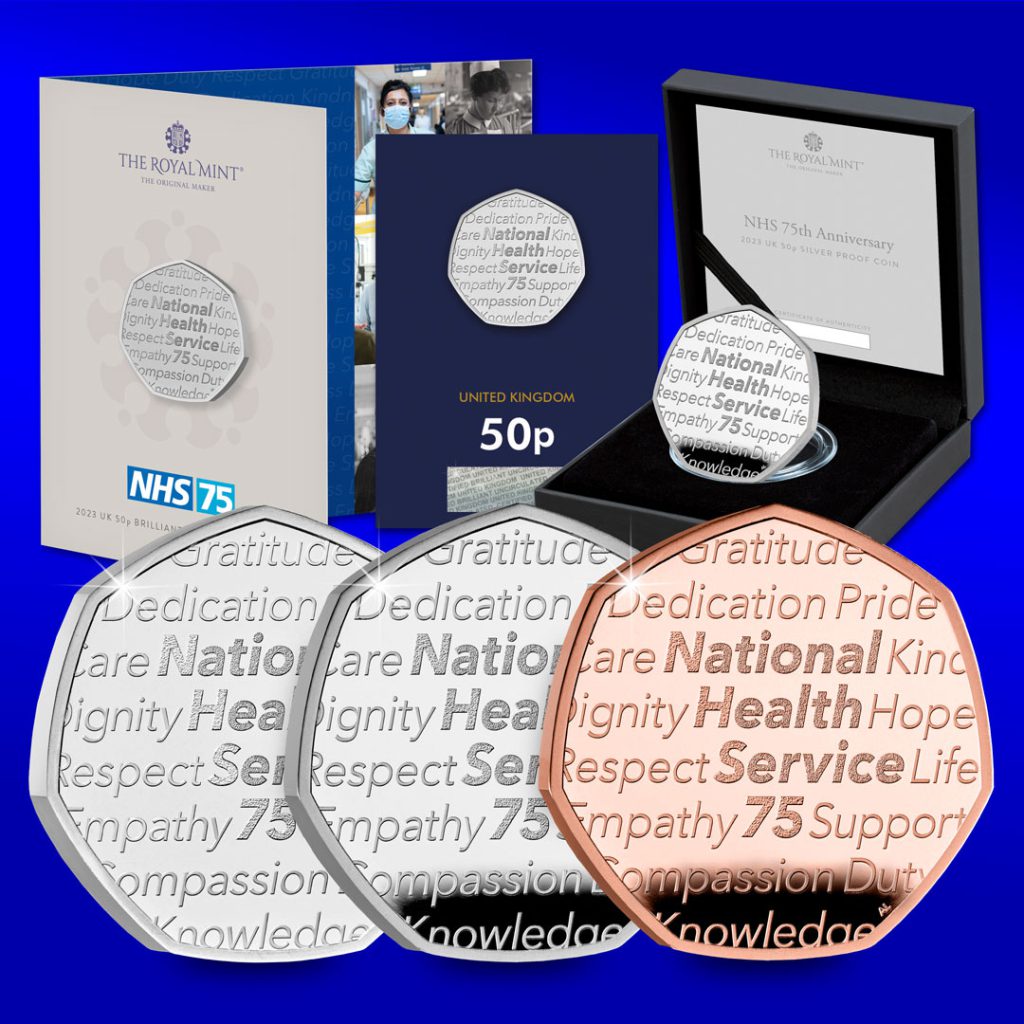 Available in Brilliant Uncirculated Quality, Silver Proof and Gold Proof, your 50p coin features a design that showcases words of appreciation for our NHS workers, both past and present.
So, celebrate the 75th anniversary of our NHS with a stunning brand-new 50p coin! Click here to explore the range >>
Queen Elizabeth II has graced UK stamps for 70 years, but now we're coming to the end of an era; Royal Mail have released their final commemorative stamp issue with the Queen's silhouette, celebrating the centenary of the world's most famous locomotive – Flying Scotsman.
So, before we steam ahead towards the BRAND-NEW Flying Scotsman editions, let's take a look back at Queen Elizabeth II's iconic 70-year reign in UK postage…
The beginning of Queen Elizabeth II stamps
1953 marked the beginning of Her Majesty's Reign and the introduction of the Wildings – a series of definitive postage and revenue stamps featuring Dorothy Wilding's portrait of Queen Elizabeth II, which were used up until 1967.
The first four stamps to be issued within this series were for Her Majesty's 1953 Coronation, presented in the colours of Carmine-Red, Ultramarine, Deep Yellow-Green and Deep Grey-Blue.
Commemorative stamps were then introduced during the 1950s and early 1960s. However, the Postmaster General, Tony Benn, proposed a new criteria outlining what could appear on them. From 1965, it was decided that all GB stamps had to include a small silhouette of the Queen based on the coinage head of Mary Gillick, which then became the standard.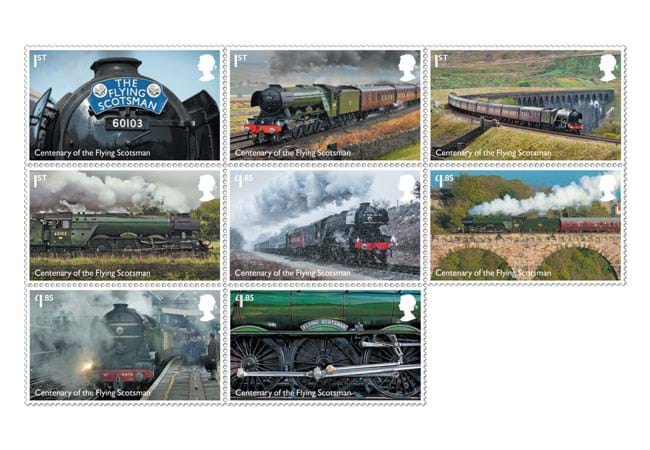 Two once-in-a-lifetime tributes
And now, Royal Mail have issued twelve commemorative editions featuring Flying Scotsman.
Not only are they the official UK stamps to mark the centenary of the world's most famous locomotive, but they will also be the last to show the Queen's silhouette after 70 years – marking two incredible moments in British history!
These nostalgic editions portray the steam locomotive travelling through North Yorkshire, Northumberland, Berwick-on-Tweed and London's Victoria Station. Inspired by poster artwork from the 1920s and 1930s, Royal Mail's spokesman David Gold intends for them to evoke "the golden age of steam travel".
Your chance to celebrate both!
To pay tribute to such monumental moments in history, a limited-edition coin and stamp cover has been released, comprised of The Royal Mint's Official UK 2023 Flying Scotsman £2 in Brilliant Uncirculated Quality along with Royal Mail's BRAND-NEW Flying Scotsman stamps.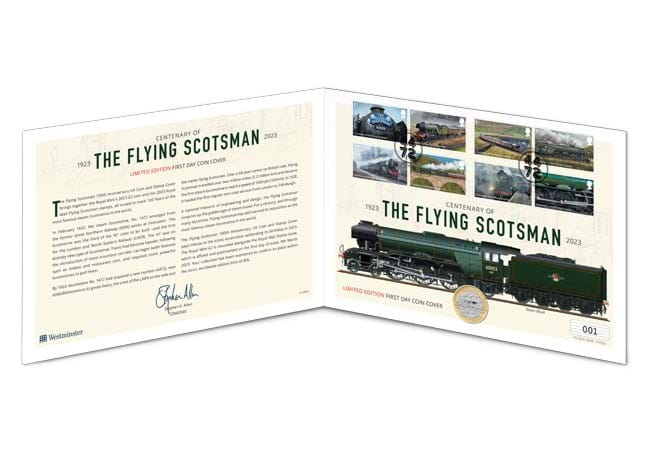 But considering these are the last UK stamps to feature Queen Elizabeth II, we are predicting insatiable demand – and we have already seen sell-outs at The Royal Mint for the Flying Scotsman coin range.
All steams ahead! Click here to secure one for your collection now >>
Whether it's in person or virtually this Christmas, we are ready to start singing from the hymn sheet as one of our favourite times of year approaches. And to make it even better, we can now reveal with great excitement our brand new Christmas Carol 50p Coins!
The tradition of singing Christmas Carols during the festive period dates back to the 19th century. In fact, it is believed that the Christmas Carol Service was invented in Truro by Edward White Benson, who later became the Archbishop of Canterbury.
These stunning new festive 50p coins celebrate some of the most renowned Christmas carols and I'm sure there are many of us, myself included, with very fond memories of singing carols throughout the festive season.
The FIVE new coins have been issued by Guernsey Treasury and are fully authorised by Her Majesty the Queen. Each feature a specially commissioned design by artist Jo Goodberry (you may remember she designed the incredibly popular Pantomime 50ps last year), including; Away in a Manger, Hark the Herald Angels Sing, O Little Town of Bethlehem, While Shepherds watched their flocks, and We Three Kings.
So whether you're looking for the new centrepiece for your collection, you're an avid 50p collector, or you're looking for the perfect Christmas gift for a loved one, I'm sure you'll love these new 50p coins.
Find out more about the different ways you can own these wonderful Christmas Carol 50p Coins below:
The Christmas Carol 50p Brilliant Uncirculated Coin Collection Pack
Over the last couple of years, new 50p coins have launched a whole new generation of collectors and so demand for these latest 50ps is expected to be very high. The coins will arrive ready to display in a customised presentation pack. You can secure the complete set of FIVE TODAY for only £30.00!
The Limited Edition 2020 Christmas Carol Silver Proof 50p Coin Collection
The coins you can see here have all been struck from .925 Solid Silver to a pristine Proof finish and feature selective colour printing. Importantly, this set is one of the only ways you can own all five of these designs. None will be released individually. With an extremely limited worldwide mintage of JUST 2,020 they're not expected to be available for long.
Click here to secure yours today >>
The 2020 Christmas Carol 50p Christmas Card
The new Brilliant Uncirculated 'Hark the Herald' Christmas 50p is the only coin from the collection to be available on its own within this stunning Christmas card. What better way is there to wish family and friends a very Merry Christmas? Priced at just £7.99 it's the perfect way to get ahead with your Christmas shopping this year.
The Christmas Carol Ultimate 50p Coin Cover
The ULTIMATE Stamp and Coin Cover is also available for pre-order. Featuring all five coins in Brilliant Uncirculated quality, this cover has been carefully paired with the elusive 1982 Royal Mail Christmas Carol stamps. These stamps are not easy to get hold of, and only 750 covers are being released worldwide with a postmark on the first day of Advent – 1st December 2020.
---
Prices start from just £7.99 so if you're interested please click here to see the whole range >>