Did you know that on the jagged coast of the UK and the Channel Islands there are an estimated 251 Lighthouses? Each tower and the people who have lived and worked in them over the centuries have kept an untold number of ships and sailors safe.
This year marks the 250th anniversary of the birth of Robert Stevenson — the man who constructed some of the most important and iconic lighthouses in the British Isles.
Not only did he build lighthouses, but he also improved upon their design by inventing intermittent and flashing warning lights, undoubtedly saving the lives of many as the lights helped warn sailors of dangerous areas and guided them to safety.
To celebrate the amazing work of Robert Stevenson, a brand-new collection of Jersey £2 coins have been issued. These £2 coins have been beautifully designed by artist Tabitha Mary, and each features the image of an iconic lighthouse from around the UK and the British Isles.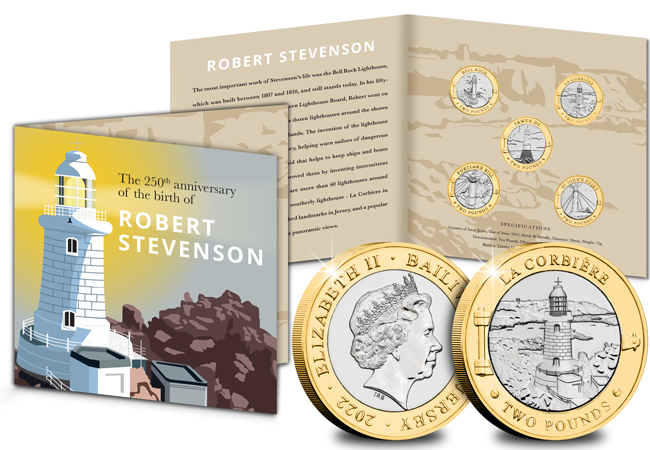 Continue reading to find out more about each of the iconic UK and British Isles lighthouses featured on this BRAND NEW set of coins…
Take a closer look at our set of Lighthouse £2 Coins below!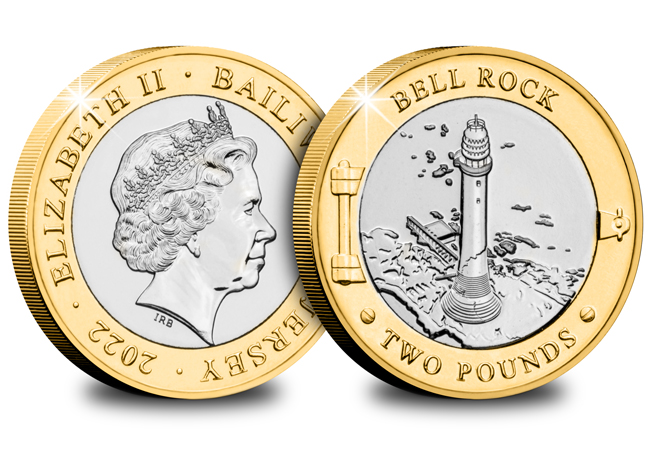 Bell Rock Lighthouse
The Bell Rock Lighthouse is situated off the Angus Coast in Scotland.
Designed by Robert Stevenson, it's the world's oldest working sea-washed lighthouse, established in 1811.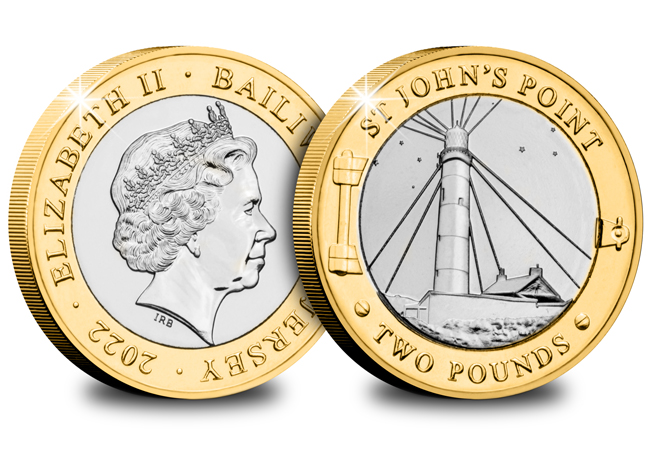 St. John's Point Lighthouse
St. John's Point is one of 65 active lighthouses on the Irish Coast and is a well-known beacon in the northeastern Irish Sea.
Built in 1844, it's the tallest lighthouse in Ireland, standing over 40 meters tall.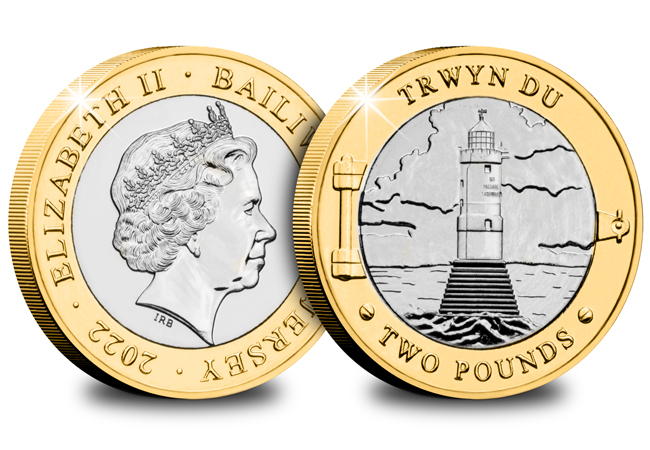 Trwyn Du Lighthouse
Situated in Wales, Trywn Du is also known as Penmon Lighthouse and marks the channel between Puffin Island and Penmon Point.
In 1996 the lighthouse was converted to run on solar power.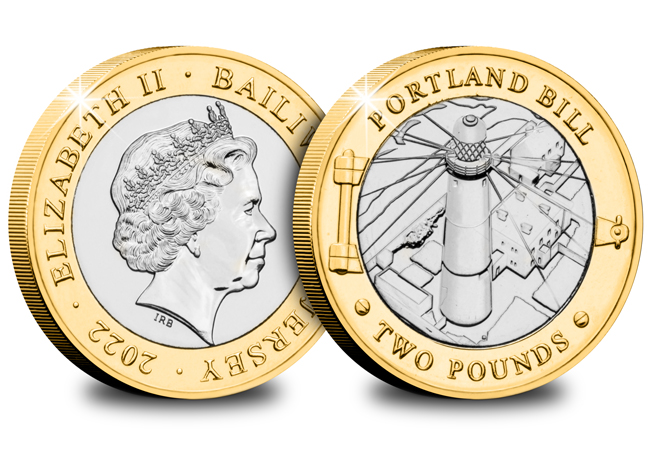 Portland Bill Lighthouse
Portland Bill is a functioning lighthouse on the Isle of Portland in Dorset.
Its distinctive red and white tower first shone its famous four flashes of light every twenty seconds on 11th January 1906 and has a range of 25 nautical miles.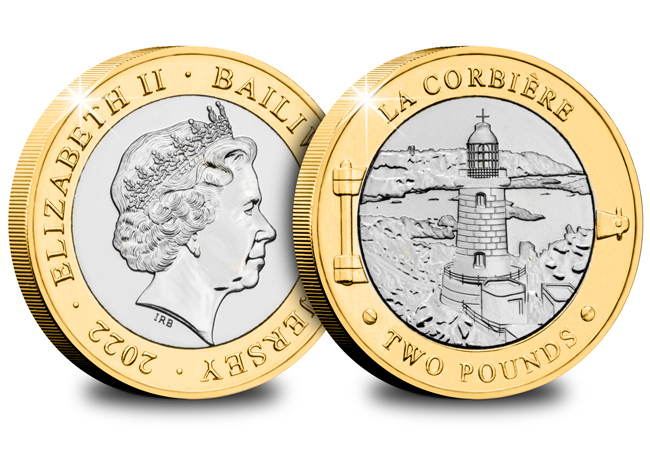 La Corbière Lighthouse
La Corbière lighthouse is a historic structure which was first lit in 1874.
It's one of the most significant monuments in Jersey and is located at the extreme southwestern point of the Bailiwick of Jersey. It is flanked by rocks and can be reached by a causeway.
This set has some rare collectable features you won't want to miss out on! Not only does each coin feature a never-before-seen porthole design around each lighthouse, but it also has an edition limit of only 2,022. This is extremely unusual for a BU £2 set, as usually there is no edition limit, making this collection one of the most limited £2 sets ever!
These stunning coins come in a presentation pack featuring artwork by the designer, making this a valuable piece to hand down to feature generations. I'm sure you'll agree that these are unlikely to be around for long.
Click here to secure your British Isles Lighthouse BU £2 collection today >>>
You might have already seen the news that the HMS Endurance has been discovered more than 3,000 metres below the Antarctic Ocean.
It's a fascinating discovery – in fact, the team that discovered the lost ship said that it's 'by far the finest wooden shipwreck' they've ever seen.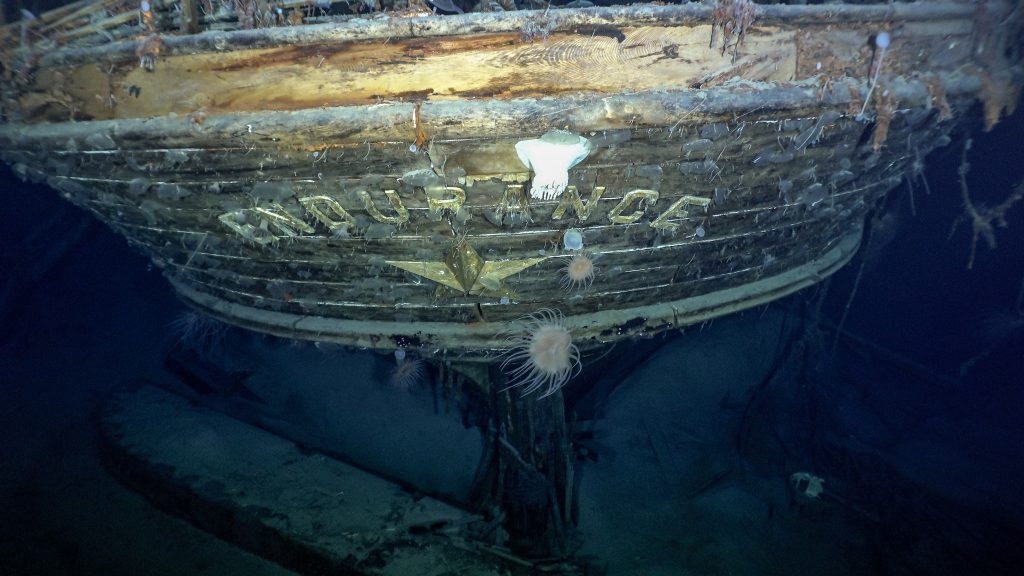 If you don't know why this story has captured everybody's imagination, I'm going to explain to you why Sir Ernest Shackleton's expedition on his ship HMS Endurance is one of the most enthralling stories in British maritime history…
The story of Endurance…
Sir Ernest Shackleton's expeditions to the Antarctic captured my imagination as a young man, and even inspired the likes of Sir Edmund Hillary.
His most famous voyage was on the HMS Endurance – the very ship that's discovery was announced this week. It's this journey that produced one of the greatest stories of heroism in British exploration history.
Shackleton's attempt to complete a Trans-Antarctic voyage left him and his crew stranded on the ice for 6 months with no prospect of rescue after the Endurance was crushed and sank in the place where it's since remained for more than a century.
With the pack ice breaking apart underneath their feet, Shackleton and the crew of the Endurance had to make a decision and fast.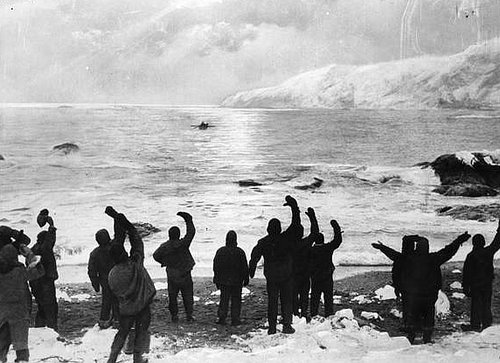 Using three small fishing boats the crew sailed 800 miles through the treacherous Southern Ocean, battling against hurricane force winds and icy water to cross South Georgia's uncharted glaciers.
During this tortuous journey, Shackleton's main concern was for his men. At one point, Shackleton handed over his precious mittens to a member of the crew who lost his at sea, suffering frostbite as a result.
When rescue finally arrived, the crew of the Endurance returned home to find that the First World War had broken out in their absence.
Shackleton's immense journey, his bravery, and his endurance firmly secured him a place amongst Britain's greatest.
The Discovery of the Endurance
Now, more than 100 years since it was last seen, the HMS Endurance has finally been discovered!
Dr John Shears, the expedition leader of Endurance22, said the search for Endurance had made "polar history" by completing what he called "the world's most challenging shipwreck search".
---
In memory of the famous explorer and his ship the HMS Endurance, you have the chance to own a collection of coins that celebrate the famous explorer.
View our range of Sir Ernest Shackleton commemorative coins here >>
To celebrate the 150th anniversary of the FA Cup, The Royal Mint have JUST CONFIRMED that a new UK £2 coin will be released this year.
The real magic of football all started with the FA Cup. Where underdogs play alongside premier league giants creating unforgettable sporting moments. The local games, the atmosphere, the people, the community spirit and the feeling that you really are part of it. It's amazing to think that what all starts in your local park could take your team to Wembley stadium, and the infamous tournament final.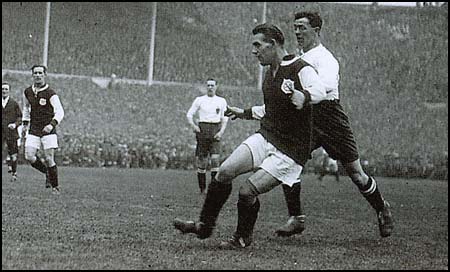 The FA Cup is the longest standing football tournament, producing hometown heroes and capturing the nation every year since the first ever final was played in 1872.
Ahead of this release, we've put together 7 top football facts to test your knowledge of the popular sport.
1. FIFA is a French acronym for Fédération Internationale de Football Association (International Federation of Association Football) and manages football around the world. They organise and champion worldwide tournaments, most notably the World Cup.
2. Not every country can participate in FIFA – Greenland isn't able to join as the country cannot grow regulation-length grass. Seems ironic, doesn't it?
3. As I'm sure many football fans will know (or will want to forget), Arsenal FC has won the FA Cup 14 times since it began in 1871.
4. Do you know the offside rule? It's football topic talked about enough to have been made into a coin design in 2011! To put it somewhat simply, a player is offside if the ball is played forward to them in the opposing teams half of the pitch, and there is no one on the opposite team between them and the opposing goalkeeper.
5. If you thought those old and torn footballs at the bottom of the pile at school were bad, at least you didn't use an animal's organ! Apparently, an inflated pig's bladder was once used to play the famous sport.
6. Did you know that, if a team scores an own goal through a direct free kick, then it's a corner to the opposing team, rather than a goal?
7. Chilean football team Colo-Colo walked into the Estadio Monumental of Santiago with rescue dogs that were in need of a home. In partnership with shelter Union de Amigos de los Animales (UAA), the team highlighted the need for adoption of homeless dogs.
Let us know your favourite football facts in the comments!
We all know how popular football is across the UK – and just how popular Football themed commemoratives can be.

If you want to make sure you score a Football £2 for your collection on release day, before anyone else, you can sign up to our UK New Issue BU Pack Coin subscription.
It means that you'll automatically be sent the new coin issue on launch day, without having to do anything, securing your commemorative before anyone else.
And you can always cancel or pause your subscription online!