A brand new £2 coin has been released to honour the incredible achievements of scientist, inventor, and engineer Alexander Graham Bell.
Famed for his revolutionary work in the world of communications, Alexander Graham Bell achieved the world's first successful telephone transmission on 10th March 1876. It's arguably one of the most important breakthroughs of modern-day history as it changed how we communicate forever.
First appearing in this year's annual coin set, the cleverly designed £2 depicts the dial of a push-button phone. And if you look closely, you can spot a hidden message across the buttons, with the letter spelling out 'PIONEER OF THE TELEPHONE'! The design also features the years of Bell's birth and death to mark 100 years since his passing.
The 2022 UK Alexander Graham Bell £2 coin is available in a number of different coin specifications. Let's take a closer look below at the different ways you can add this coin design to your collection.
The Alexander Graham Bell £2 BU Pack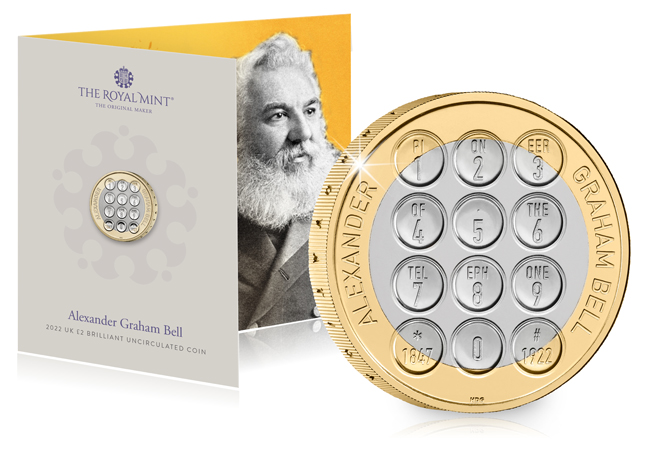 Own the Alexander Graham Bell £2 in the official Royal Mint presentation pack, featuring vibrant artwork of Bell himself! This bespoke packaging will keep your coin in pristine condition. And, as your coin has been struck to a Brilliant Uncirculated quality, it's free from the marks and scratches found on regular circulating coins.
Secure yours for the official Royal Mint price of JUST £10.99 >>
Own in Silver Proof Quality: Limited to just 2,500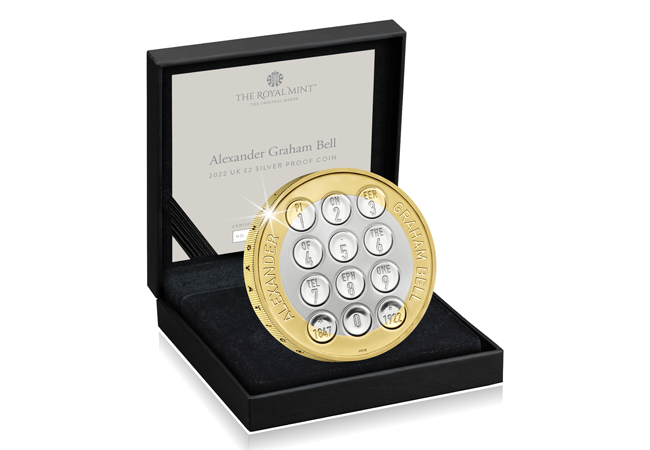 The Silver Proof version of the Alexander Graham Bell £2 coin has been struck from .925 Silver to a stunning proof finish, the highest striking standard available. Your coin comes beautifully presented in the official presentation box ready to display with pride. But, with such a low edition limit of just 2,500, you'll need to act quickly to secure yours. This year's FA Cup £2 with a much higher edition limit of 3,750 SOLD OUT in less than 24 hours.
Secure your Alexander Graham Bell Silver £2 for the official Royal Mint price of £72.50 >>
Only 1,000 Silver Piedfort £2 Coins Available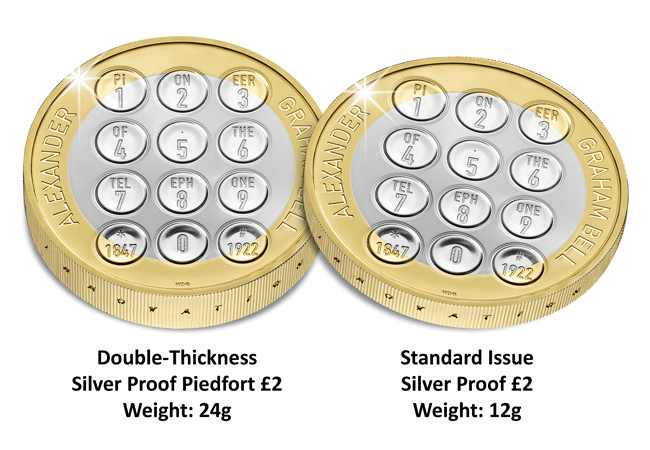 You can also own the extremely limited edition Alexander Graham Bell Silver Proof Piedfort £2. Considered the height of Royal Mint craftsmanship, this piedfort promises double the weight of a standard £2 coin. Piedfort coins regularly sell out, and with this being the first UK piedfort coin to commemorate the life and legacy of Alexander Graham Bell, demand is expected to outdo supply.
Pay as little as a £25 deposit to secure yours today >>
The Gold Proof £2: Extremely Limited Allocation Available
If you want to own the Alexander Graham Bell £2 coin in the most limited way possible, you'll want to secure one of JUST 125 Gold Proof £2 coins available worldwide. Struck from 22ct Gold to an impressive proof finish, your Gold Proof £2 is housed in a wooden presentation box ready to take centre stage in your collection. We only have a very limited number of Alexander Graham Bell Gold Proof £2 coins allocated to us, so high demand and disappointment are inevitable.
Contact us today to enquire and secure yours >>
Only 495 BU £2 Coin Covers Available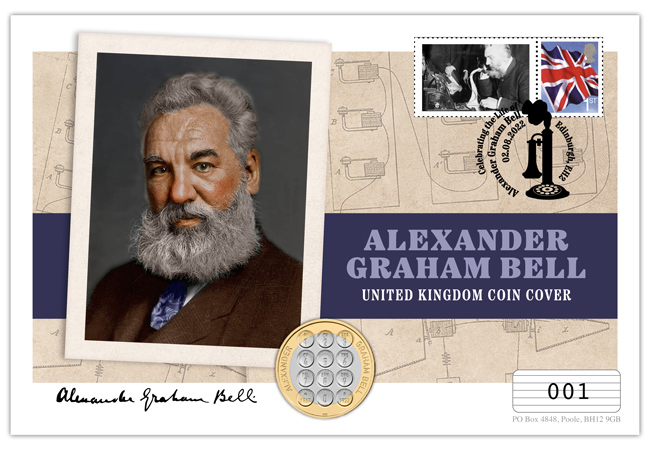 For a more limited way to own the Alexander Graham Bell Brilliant Uncirculated £2 coin, you can own the limited edition BU £2 Coin Cover. Limited to just 495 covers, your £2 coin has been paired with a Royal Mail 1st class stamp and an Alexander Graham Bell commemorative label. It's also been specially postmarked by Royal Mail on the 100th anniversary of Bell's passing — 2nd August 2022.
Be one of only 495 collectors to own this limited edition cover >>
The BU £2: Also Available in a limited edition DateStamp™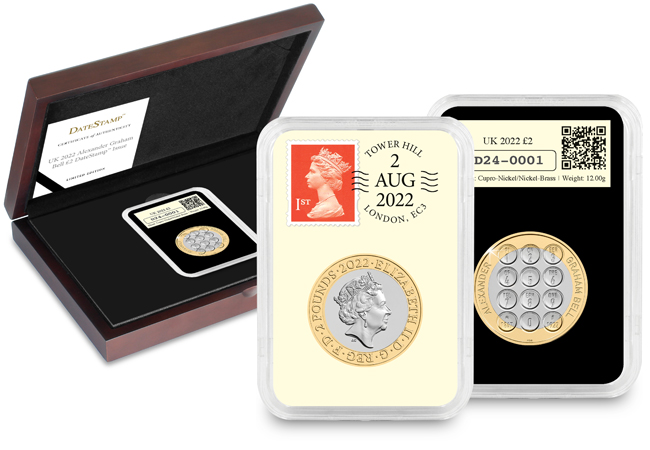 DateStamp™ collectors will be pleased to know that the Alexander Graham Bell BU £2 coin is also available as a DateStamp™ issue! DateStamp™ products have been protectively sealed in tamper-proof capsules with their own unique serial numbers. And your DateStamp™ has a special one-day-only postmark, meaning only 500 can ever be produced.
Secure yours from the strict 500 DateStamp™ limit >>
---
Interested in finding out more? Shop the full Alexander Graham Bell £2 coin range here >>
To celebrate the 150th anniversary of the FA Cup, The Royal Mint have JUST CONFIRMED that a new UK £2 coin will be released this year.
The real magic of football all started with the FA Cup. Where underdogs play alongside premier league giants creating unforgettable sporting moments. The local games, the atmosphere, the people, the community spirit and the feeling that you really are part of it. It's amazing to think that what all starts in your local park could take your team to Wembley stadium, and the infamous tournament final.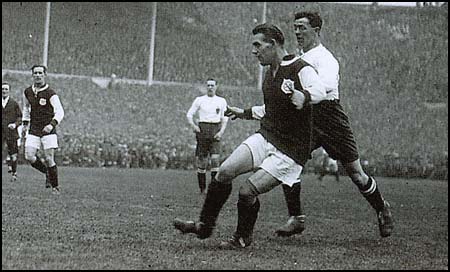 The FA Cup is the longest standing football tournament, producing hometown heroes and capturing the nation every year since the first ever final was played in 1872.
Ahead of this release, we've put together 7 top football facts to test your knowledge of the popular sport.
1. FIFA is a French acronym for Fédération Internationale de Football Association (International Federation of Association Football) and manages football around the world. They organise and champion worldwide tournaments, most notably the World Cup.
2. Not every country can participate in FIFA – Greenland isn't able to join as the country cannot grow regulation-length grass. Seems ironic, doesn't it?
3. As I'm sure many football fans will know (or will want to forget), Arsenal FC has won the FA Cup 14 times since it began in 1871.
4. Do you know the offside rule? It's football topic talked about enough to have been made into a coin design in 2011! To put it somewhat simply, a player is offside if the ball is played forward to them in the opposing teams half of the pitch, and there is no one on the opposite team between them and the opposing goalkeeper.
5. If you thought those old and torn footballs at the bottom of the pile at school were bad, at least you didn't use an animal's organ! Apparently, an inflated pig's bladder was once used to play the famous sport.
6. Did you know that, if a team scores an own goal through a direct free kick, then it's a corner to the opposing team, rather than a goal?
7. Chilean football team Colo-Colo walked into the Estadio Monumental of Santiago with rescue dogs that were in need of a home. In partnership with shelter Union de Amigos de los Animales (UAA), the team highlighted the need for adoption of homeless dogs.
Let us know your favourite football facts in the comments!
We all know how popular football is across the UK – and just how popular Football themed commemoratives can be.

If you want to make sure you score a Football £2 for your collection on release day, before anyone else, you can sign up to our UK New Issue BU Pack Coin subscription.
It means that you'll automatically be sent the new coin issue on launch day, without having to do anything, securing your commemorative before anyone else.
And you can always cancel or pause your subscription online!
Are you a royalty collector?
If so, you NEED to watch my latest video.
As I take a closer look at the WORLD'S FIRST 50p and £2 coins that have been issued to honour and commemorate the life and service of His Royal Highness, Prince Philip.
You see, before now Prince Philip has primarily appeared on £5 coins. Not forgetting, it's incredibly rare to see commemoratives issued in the same year as the passing of a public figure, making today's release an incredibly special one.
And in my latest video I tell you everything you need to know.
---
If you're interested…