As you may know, this year we're celebrating a numismatic milestone: the 50th anniversary of the 50p!
And as the collector's favourite 7-sided coin turns 50 years old we've seen many commemoratives marking the occasion, which have proved immensely popular with collectors.
And a brand new UK 50p has been released today by The Royal Mint to mark the actual anniversary of the 50p – 14th October 2019.
This new coin is sure to see an overwhelming response from collectors. That's because the new coin has THREE unique features that alone make this commemorative this year's must have 50p release…
TWO special privy marks and a minting first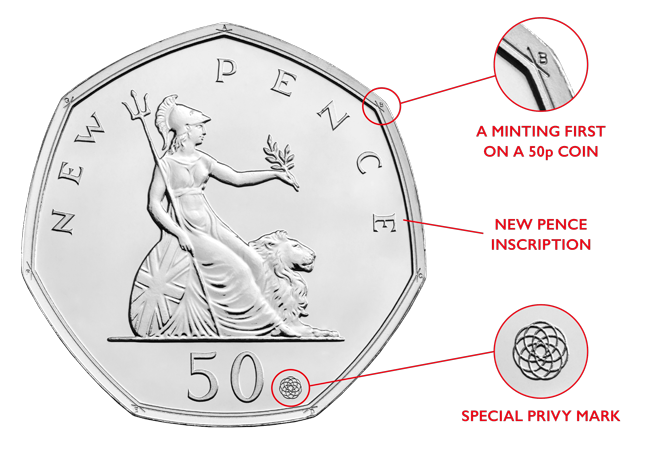 The reverse features Christopher Ironside's iconic Britannia design, inscribed with 'New Pence'. This was the first design to ever feature on the 7-sided 50p, released in 1969.
But what truly sets this issue apart from all other 50years of the 50p commemoratives is the inclusion of THREE special hidden features:
Exclusive never-before-seen privy mark, designed especially for the occasion. A Spirograph-type design drawn from an extension of lines forming the 50p shape creates this unique mark. If you look in the centre you'll see the 7-sided 50p shape we're used to today.
Innovative privy mark around the reverse rim of the coin. The letters A to G are inscribed on each point and are joined by arced crossing lines. It shows the science behind how the iconic 50p shape was created. Importantly, this is a minting first on a 50p coin.
The denomination in 'NEW PENCE' – not seen since 1981.
These three features make this issue highly collectable and will surely be sought-after by collectors in years to come.
50th Anniversary of the 50p Commemorative 50p BU Pack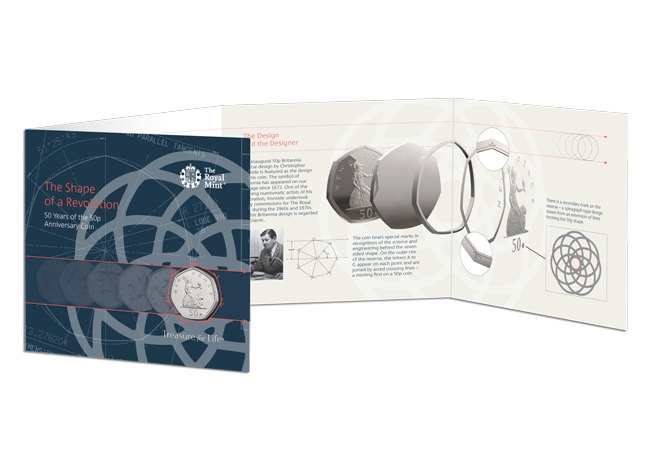 To give as many collectors as possible the chance to own this coin, The Royal Mint has issued it in Brilliant Uncirculated quality, which is coveted by collectors as it means each coin is free from any marks you would find on circulated coins.
Each one is protectively encapsulated in its attractive original Royal Mint packaging to preserve its quality for generations to come. What's more, you can secure this BU Pack at the Royal Mint issue price of just £10 (+p&p). Click here to find out more >>>
50th Anniversary of the 50p Commemorative 50p Silver Proof Coin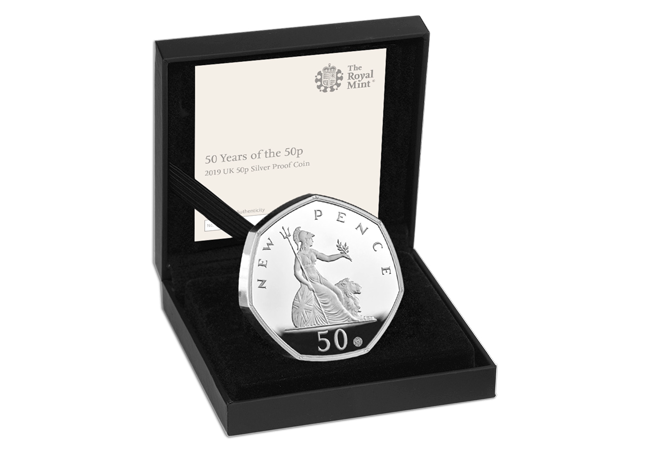 However, you can own the special commemorative 50p in an even more exclusive way – so exclusive just 3,500 collectors worldwide can own it.
This version is sure to sell incredibly quickly. Remember when The Royal Mint re-issued for 2019 some of the most iconic 50ps, to celebrate the anniversary, in Silver Proof quality the popularity was unprecedented. In fact the full allocation of 3,500 COMPLETELY SOLD OUT within two hours.
That's the same edition limit as this single coin.
The coin has the same design, but comes presented in a bespoke Royal Mint presentation box and is struck in superior .925 Sterling Silver to a perfect proof finish. Given how popular commemorative 50ps are, this exclusive precious metal version is sure to be an even bigger hit.
You can secure this limited edition coin for your collection now for just £55 (+p&p) – that's the Royal Mint issue price. Click here to find out more >>>
50th Anniversary of the 50p Commemorative 50p Silver Piedfort Coin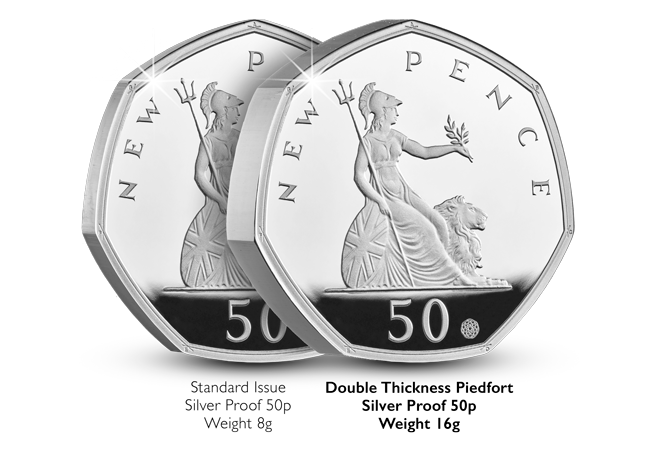 But, there is an even more limited way to own this coin – as a Silver Proof Piedfort. Limited to just 1,969 collectors across the globe, this coin is nearly twice as rare as the regular Silver Proof version.
Piedforts are the pinnacle of Royal Mint craftsmanship. They are highly-sought after amongst collectors and stand out for many reasons:
Twice the weight and thickness of a regular Silver Proof coin
Double the amount of Silver
Low edition limits
Fast sell-out rates
What's more, 50p Piedforts are extremely rare. To my knowledge only about 20 or so have ever been minted and as such are always highly sought-after.
In fact, they are so in demand that the 2019 UK Stephen Hawking 50p Silver Proof Piedfort, with a higher edition limit of 2,500, COMPLETELY SOLD OUT at The Royal Mint within two hours.
You can secure this limited edition coin for your collection now for just £19 (+p&p), followed by 4 further equal interest-free instalments. Click here to find out more >>>
English mathematician, astronomer, and physicist, Sir Isaac Newton is one of the most famous scientists of all time. He is renowned for producing the single most influential book on physics ever written, The Philosophiae Naturalis Principia Mathematica, but not many people know that discovering why apples fell from trees and changing the way we understand the universe were not the only problems he dealt with…
Newton and the Counterfeiter
In 1695, The Royal Mint discovered that a large number of the UK's circulating coins were fake. In fact, 10% of England's coinage was known to be phony. Unable to keep up with the increasing intelligent counterfeiting methods they turned to England's 'brightest mind' for help.
Sir Isaac Newton was appointed warden of The Royal Mint, with a sole purpose of enforcing laws against counterfeiting.
Most counterfeits were easy targets for Newton, but one man in particular kept eluding his grasp – William Chaloner.
Chaloner was a nail maker by trade but found a more worthwhile application for molten metals. The counterfeiter's self-made wealth enabled him to pose in a way that matched his intellect.
Newton wanted nothing more than to finish Chaloner. He went into full detective-mode.
Newton undercover
Newton constructed a strong case, using his network of informants and spies around London in a systematic way to form a complete representation of Chaloner's actions. He even went undercover himself to obtain evidence from witnesses at pubs around the city. By the time the trial came, he had gathered eight witnesses.
The treason charge stuck – on March 3rd 1699, William Chaloner was sentenced to hang.
Later that year, Newton was made the Master of the Mint, a position he would hold until his death in 1727.
Master of the Mint
Newton took up his duties with effect from Christmas Day 1699. Immediately his active involvement in the affairs of The Royal Mint became undoubtable, he took the role very seriously before retiring from his duties at Cambridge in 1701.
He survived the political upheavals of those distressing times and in 1705 he was knighted by Queen Anne, making him just the second scientist ever to be knighted.
The first gold standard
During his role as Master of the Mint, Sir Isaac Newton wrote a report to the Lords Commissioners of His Majesty's Treasury, as a result the relationship between gold and silver coins was forever changed by Royal proclamation at the end of 1717. It forbid the exchange of gold Guineas for more than 21 silver shillings. This meant that silver coins were being used to pay for imports, subsequently Britain saw a silver shortage – effectively moving the country from the silver standard to its first gold standard.
His Legacy to our coinage
As a result of Newton's vision, coins struck by The Royal Mint remain unrivalled in their accuracy and purity. He helped to make Britain's currency one of the most respected and admired in the world. As one of the most famous figures to ever hold the role of Master of the Mint and author of the single most influential book on physics ever written it is entirely appropriate he is celebrated on a UK coin.
---
If you're interested…
A brand new UK 50p coin has just been issued by The Royal Mint to commemorate the 375th anniversary of Sir Isaac Newton's birth and his outstanding legacy.
You can own one today.
Update, 27th June: It has now been confirmed that the Gold Proof Piedfort Sovereign has completely SOLD OUT at the Mint, in just 24 HOURS. It's still available at The Westminster Collection, click here >>
2017 marks the bicentenary of the 'modern' Gold Sovereign – the most important numismatic anniversary for decades. To mark this occasion a number of special limited edition Gold Sovereigns have been released, including what might be the most important gold sovereign of them all – the first ever Gold Proof Piedfort Sovereign.
The Gold Sovereign is undoubtedly the United Kingdom's most famous gold coin, and has been struck from 22 Carat Gold to the exact same specification since 1817.
To mark the 200th anniversary of the 'modern' Gold Sovereign, The Royal Mint has created a milestone in numismatic history by issuing the first ever Piedfort Sovereign.
Piedfort coins are some of the finest examples of British craftsmanship and the Gold Proof Piedfort Sovereign is no exception.
Prestigious reputation
The very first Piedfort can be traced back to the 12th century. First minted in France, the name directly translates to 'heavy measure'. The striking of Piedfort coins began later in England, however examples are known to date back to the reign of Edward I.
Piedforts were considered prestige pieces and ownership was often used as a means to signify a person's wealth and power.
Today, Piedforts continue to be limited issues and striking of such pieces is reserved strictly for the most important events. Therefore, it seems fitting the UK's first Piedfort Sovereign has been struck to mark 200 years of the Sovereign.
From today, for the first time ever, collectors will be able to own the Piedfort Gold Sovereign and with an edition limit of just 3,500, this new release is sure to be one that will be treasured in years to come.
---
You can now own the First Ever Gold Proof Piedfort Sovereign, but with such a tiny edition limit, they won't be available for long. Sign up below if you'd like to be contacted about owning this UK first: