Posts Tagged 'Silver 50p Coins'
What is the world's oldest naval ship still in commission?
I'll give you a clue (beyond the one in the title). It's now in its 245th year of service.
The answer is HMS Victory, probably the most famous ship in Britain.
I was surprised to hear that she is still part of the Royal Navy's fleet, having never been officially decommissioned.
HMS Victory has been in dry dock for 101 years, but over 200 years ago, she was the flagship of Vice Admiral Horatio Nelson during the Battle of Trafalgar.
Five-coin set honours HMS Victory for the first time ever
Now, this famous naval vessel is appearing on Silver 50p coins alongside Lord Nelson himself for the very first time as part of a very limited five-coin set.
And our entire edition limit of Silver Proof HMS Victory 50p sets was taken aboard HMS Victory last year and placed in Nelson's day cabin to soak up centuries of incredible history.
The five 50p designs feature the following:
HMS Victory at full sail
The ship's stern
Canons at fire
A portrait of Vice Admiral Horatio Nelson
Nelson's final moments
Each coin is struck from .925 Sterling Silver to a Proof finish and features its design in full colour!
And the complete set includes the first ever Lord Nelson 50p coin!
Tiny edition limit: Just 400 sets available
Just 400 Silver Proof sets were available, and we now have less than 20 remaining.
How long can 400 sets possibly last? Especially knowing that they have been aboard Victory…
Click here to secure your Silver 50p Set that has been aboard HMS Victory now >>>
By purchasing one of the HMS Victory Silver 50p Sets you will be helping to maintain this important piece of British naval history. £17.45 from each set sold will be donated to the National Museum of the Royal Navy.
Watch our video below where we explore HMS Victory and discuss this exciting coin set!
---
You may also be interested in our blog on the HMS Victory Masterpiece Silver 5oz 50p — in a presentation alongside real wood from HMS Victory's restoration.
The final coin in the Winnie the Pooh 50p series has been issued today, marking an end to one of the biggest sell-out stories of recent years. Secure yours here in .925 Sterling Silver >>
And, considering the drastic edition limit cuts to the 2022 coins, THOUSANDS of collectors are set to miss out on completing their collection…
Celebrating 95 years of fun-filled adventure, these charming 50p coins each feature designs of the best-loved characters from A. A. Milne's original stories, with original illustrations from E. H. Shepard.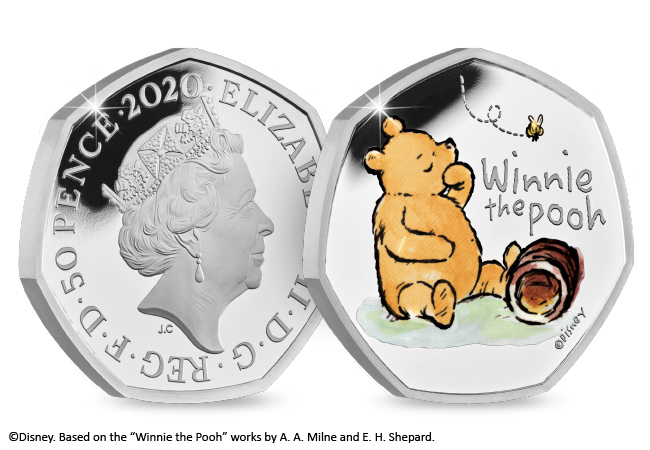 When the first three coins were issued in 2020, they took the collecting world by storm. They were so popular that the very first Silver Proof 50p featuring Winnie the Pooh himself – SOLD-OUT in LESS THAN 24 HOURS!
Tigger 50p sells out
Collector demand continued into 2021 with the second series of Winnie the Pooh 50p coins.
Featuring some of Winnie the Pooh's most trusted companions, these coins each had an edition limit of JUST 18,000 for their Silver Proof specification.
In fact, so popular were these coins that the Tigger 50p is no longer available at The Royal Mint.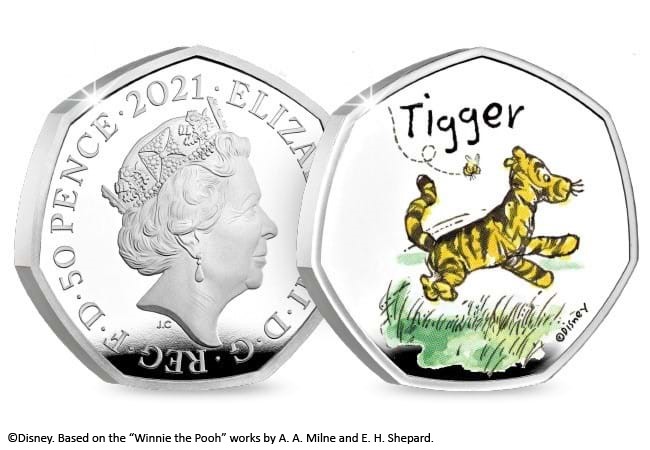 As collectors anticipated the issue of the final three coins in the series in 2022, at The Westminster Collection, we were already expecting demand to outweigh supply.
JUST 6,000 ISSUED WORLDWIDE
That's because JUST 6,000 of each of the Silver Proof 50p coins have been issued worldwide – one third of the edition limit of the sell-out 2020 and 2021 coins!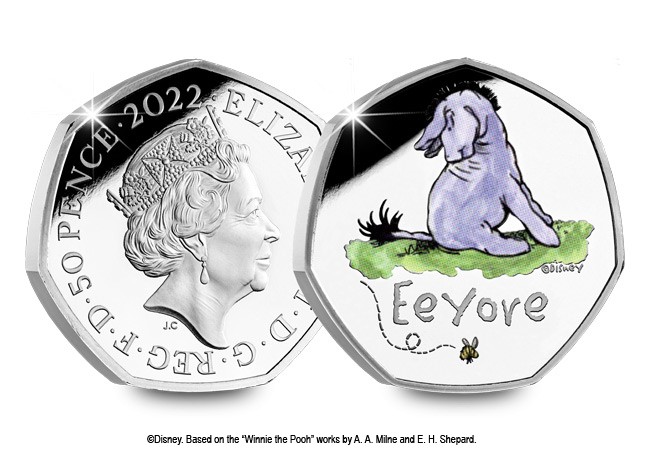 12,000 collectors missed out on the Eeyore Silver Proof 50p as it sold-out in a matter of hours at The Royal Mint.
Undoubtedly, this final 50p, which features a design of the most popular Winnie the Pooh characters, will be just as popular. Unfortunately, this means many will likely miss out on securing it for their collection.
How much is the Winnie the Pooh 50p worth?
The first and last issues in any coin series are hugely popular with collectors.
When a theme is as universally popular as Winnie the Pooh, there are no surprises collectors rushed to get their hands on the UK's first Winnie the Pooh 50p.
Much like first editions of best-selling books, or the first run of banknotes, UK-first coin issues can sell for well over their retail price on secondary market sites.
And, with edition limits as low as this, we knew the sell-out potential for this coin was high, and collectors knew it too.
Don't miss out on the Winnie the Pooh and Friends 50p!
If you want to be one of JUST 6,000 lucky collectors to own this BRAND-NEW coin in .925 Sterling Silver, you'll need to act extremely fast.
Click here to secure yours for the Royal Mint issue price of JUST £67.50 (+p&p) >>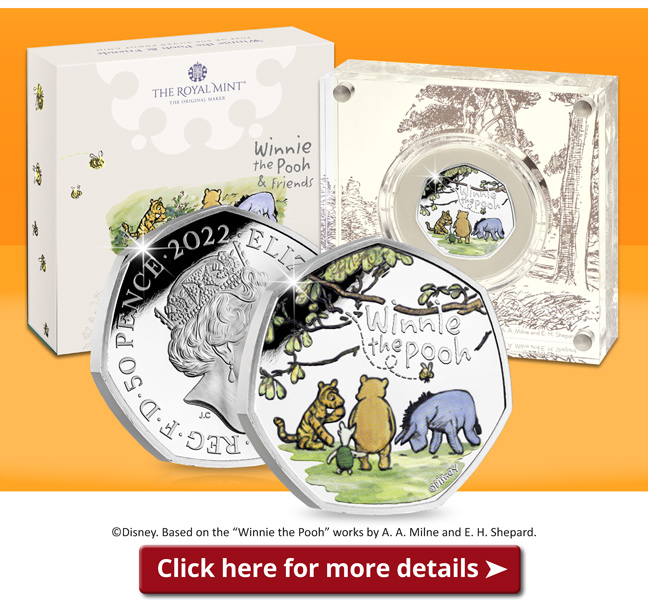 ---
If you're interested…
It's the most anticipated UK 50p release of the year!
The Royal Mint has just released the official UK Team GB 50p to celebrate our Olympians and mark the 2020 Tokyo Olympics being held in 2021.
It's safe to say that this coin has been struck under exceptional circumstances and it has a remarkable story that means there will be unparalleled demand for it…
The most anticipated UK 50p release of the year
You see, this coin was never meant to exist. It was originally slated for release in 2020 but, as you know, the Olympic Games were rescheduled to 2021 as a result of the Covid-19 pandemic. This is the first time that the games have been rescheduled rather than cancelled.
As a result, this NEW coin is dual dated – only one of a handful of dual dated 50ps to exist in British numismatic history!
Featuring the same design by David Knapton that was released in the 2020 Annual Sets, the reverse bears the date "2020" to mark the 2020 Tokyo Olympics, and the obverse by Jody Clark features the year of issue, 2021.
Last year there was phenomenal demand for the 2020 Annual Sets that featured the 2020-dated Team GB 50p, as collectors rushed to secure it after the Olympics were officially postponed. There is no doubt that these collectors WILL want to own the 2021-dated coin.
This UK 50p has been issued in several different specifications, so there's something to suit all collectors. Take a look at the range below…
---
UK 2021 Team GB 50p BU Pack
To give as many collectors as possible the chance to own this highly sought-after coin, The Royal Mint has issued it in Brilliant Uncirculated quality. Brilliant uncirculated coins are specially struck and carefully handled to avoid the scratches and chips found amongst their circulating counterparts.
Each one is protectively encapsulated in a stylish presentation pack from The Royal Mint to preserve its quality for years to come. What's more, you can secure this BU Pack at The Royal Mint's official issue price of just £10 (+p&p). Click here to find out more >>
---
UK 2021 Team GB Silver Proof 50p
You can own the Team GB 50p in superior silver proof quality – but this opportunity is strictly limited to JUST 5,500 collectors worldwide.
This coin features the same special dual dated design, but it has been struck in superior .925 sterling silver to a flawless proof finish and features selective colour printing to bring the Olympic rings to life.
Silver 50ps are consistently highly sought-after and have rapid sell-out rates as a result. Available for The Royal Mint's official issue price of £67.50 (+p&p), you'll have to be quick to secure it. Click here to find out more >>
---
UK 2021 Team GB Silver Piedfort 50p
However, you can own this coin in an even more limited way – so limited that JUST 1,500 collectors worldwide will ever be able to own it.
Piedfort coins are prestige pieces and the pinnacle of The Royal Mint's craftsmanship. These coins are amongst the most collectible coins around. They're struck to a perfect proof finish, twice the weight and thickness of a regular coin, and contain double the amount of .925 silver. Plus, their incredibly low mintages result in rapid sell-outs.
This is also the first time that selective colour printing has been used on a UK Piedfort 50p coin, so it will be even more sought-after by knowledgeable collectors in years to come. You can secure yours today with a deposit of JUST £25 (+p&p) followed by four further interest-free instalments. Click here to find out more >>