Let me introduce you to one of the most expensive coins I've ever seen…
Just 5 of these Half Kilo Gold coins have been commissioned to celebrate the Coronation of King Charles III on 6 May 2023 and they are priced at a staggering £59,995!
It's also one of the largest Gold coins I've ever seen, measuring an immense 100mm in diameter.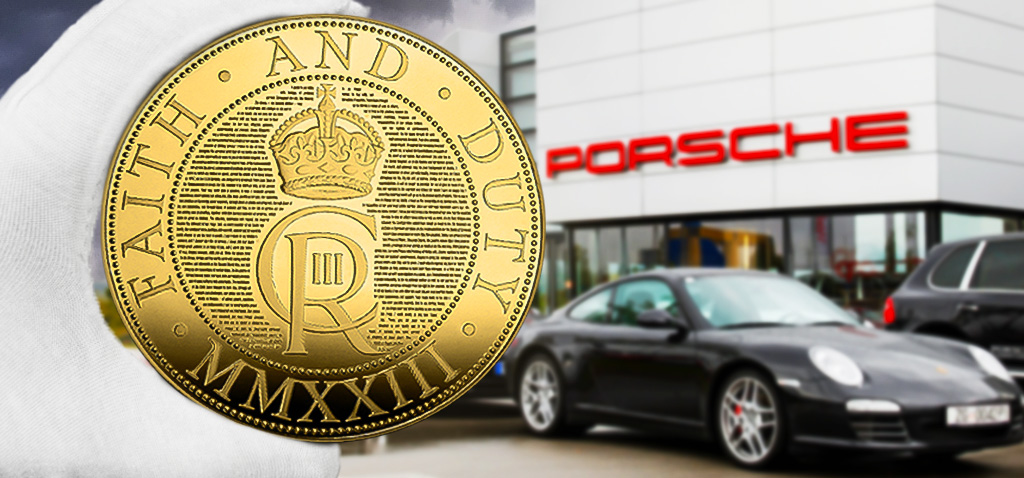 And it needs to be because the coin contains the entirety of King Charles III's first-ever speech as monarch.
On screens across the world, His Majesty paid tribute to his mother and revealed his vision and desires for this forthcoming reign.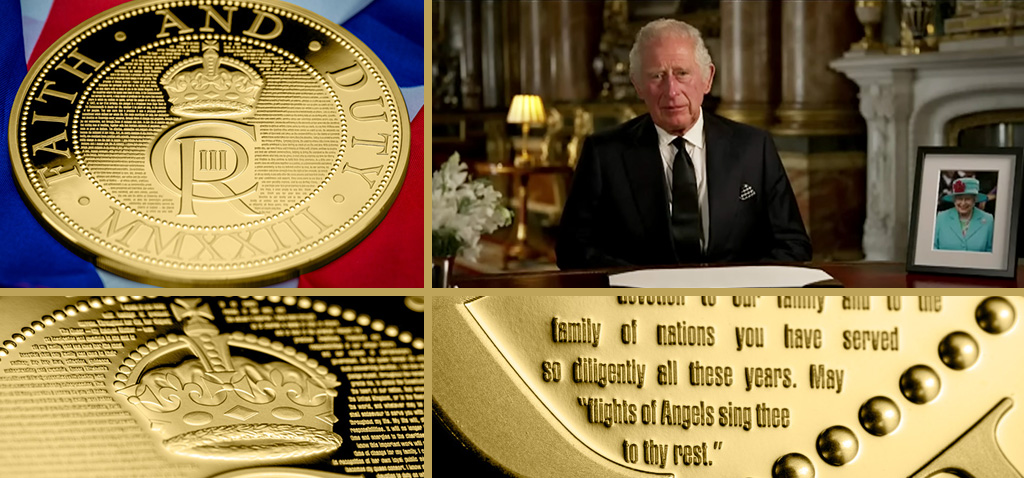 All 977 words he spoke to the nation following the death of his mother. It started:
I speak to you today with feelings of profound sorrow. Throughout her life, Her Majesty The Queen – my beloved Mother – was an inspiration and example to me and to all my family, and we owe her the most heartfelt debt any family can owe to their mother; for her love, affection, guidance, understanding and example. Queen Elizabeth's was a life well lived; a promise with destiny kept and she is mourned most deeply in her passing. That promise of lifelong service I renew to you all today…

King Charles III's First Speech. 9th September 2022.
But that's not even a tenth of it.
So even with the large 100mm canvas, it still took something special to fit 977 words onto the coin.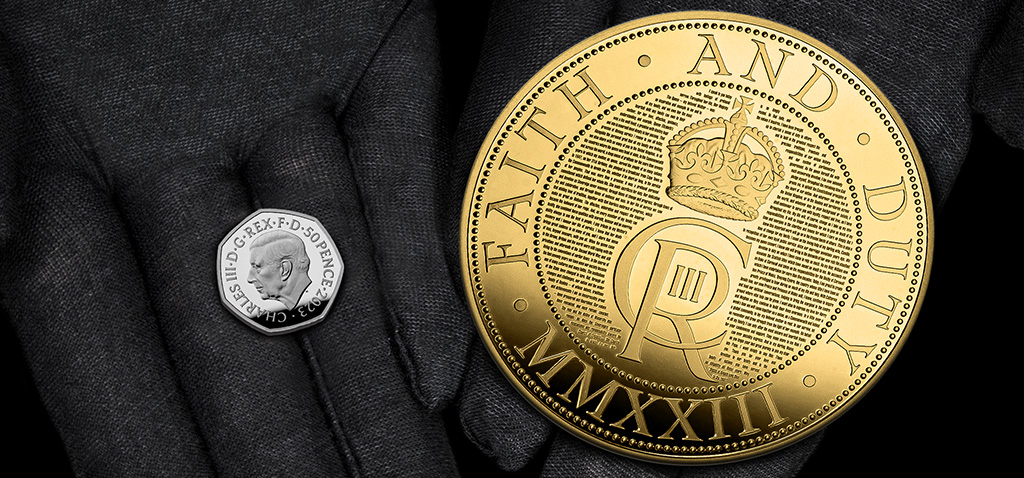 Crafted to the highest standard, the coin features Charles III's cypher under a crown and the words "FAITH AND DUTY", but it's the other 977 words that capture the attention.
His Majesty's speech has been reproduced using incredible micro-engraving.
How do you fit 977 words on a coin?
It's a painstakingly precise process, but one that results in one of the most impressive coins issued for the Coronation.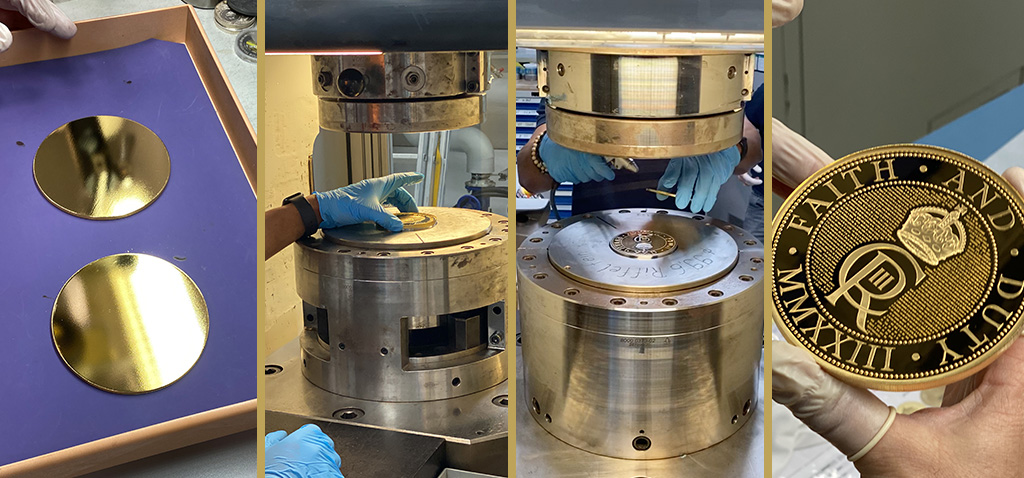 And with just 5 ever to be produced, it's as close to a piece of art as you're going to find for a Coronation coin.
The exclusivity, the size, the gold content and the complexity of the minting give the coin a price-tag that you'd expect to see on a brand new Porsche…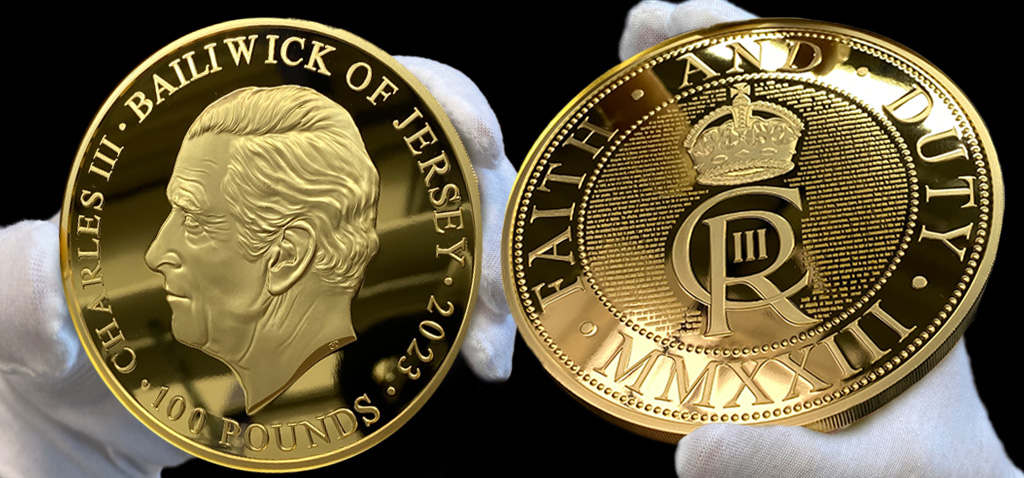 £59,995 to be one of just 5 collectors in the world to own this remarkable coin.
Own the same coin, but for a hundreth of the price…
You have the opportunity to secure this extraordinary coin at just one-hundredth of the price…
Introducing the King's Speech 100mm Silver 5oz Coin…
This spectacular coins embody the same level of intricacy and artistry as their Gold counterparts, showcasing every minute detail with flawless precision.
And they're incredibly limited, with an edition limit of just 750.
Watch the video below and see for yourself the impeccable craftsmanship of this regal masterpiece.
Click here to make one yours before it's too late with an initial payment of just £69.50 (+p&p) >>
November 4th 1922, in Thebes, Egypt, English archaeologist Howard Carter discovered the greatest treasure in Egyptology. The tomb of ancient Egyptian King Tutankhamun.
The excavation was slow and cautious. It wasn't until 16th February 1923 that the third doorway was opened, revealing the Burial Chamber.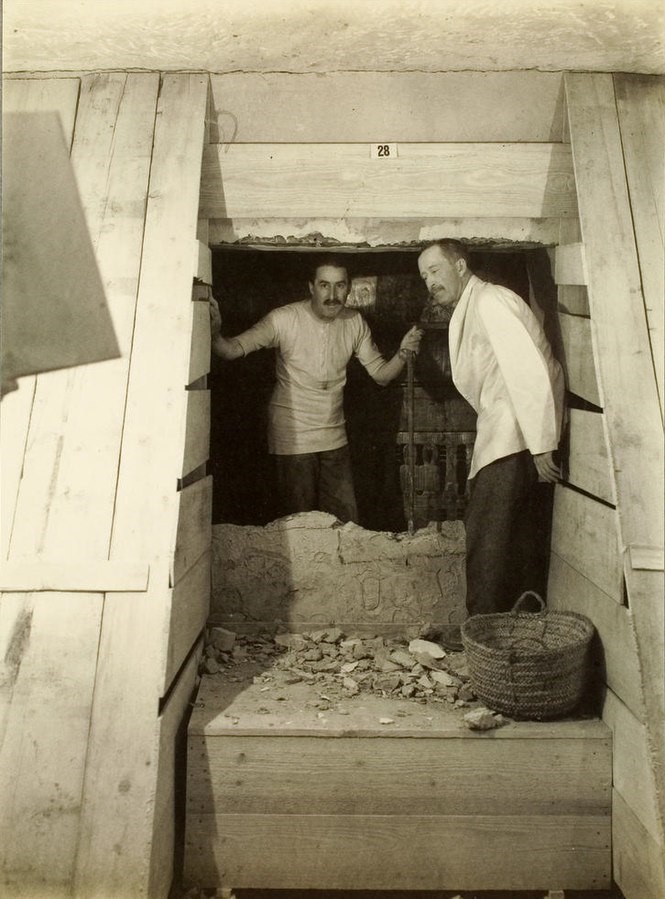 The chamber not only contained the perfectly preserved sarcophagus of Tutankhamun, but also remarkable treasures untouched for more than 3,000 years.
And now, to mark the centenary of this incredible discovery, a collection of new 50ps has been authorised by the Isle of Man Treasury.
But most importantly, these are the FIRST coins to feature the new official British Isles portrait of King Charles III.
Five Tutankhamun 50ps authorised by the Isle of Man Treasury
To celebrate the extraordinary treasures found within King Tutankhamun's Tomb, you can now secure these FIVE new Brilliant Uncirculated 50ps.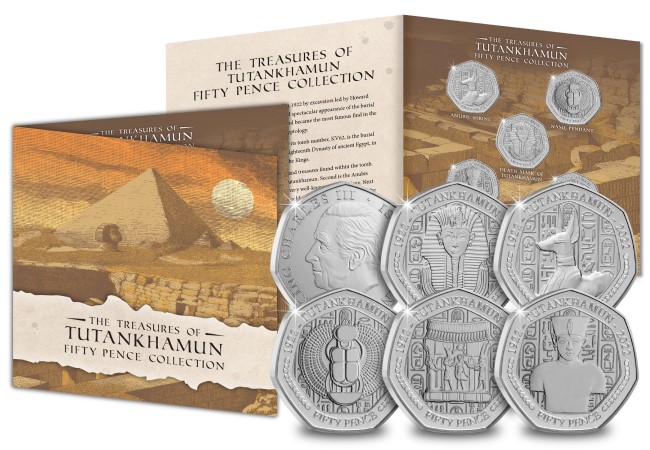 Featuring five iconic designs carefully curated by Joe Cummings that represent artefacts and treasures found within King Tutankhamun's tomb. These include; the famous death mask of Tutankhamun, Anubis Shrine, the Name Pendant, a corselet, and a model of the torso of Tutankhamun.
Your coins will arrive in a detailed presentation pack to keep your coins safe for years to come.
Don't miss out, sure ALL FIVE for just £34.95 (+p&p) >>>
Limited Edition Silver Proof 50p set restricted to JUST 795 Collectors WORLDWIDE
JUST 795 Silver Proof Sets are available worldwide. Considering The Royal Mint's Silver Proof Tutankhamun £5 has an edition limit of 1922, how long can 795 sets possibly last?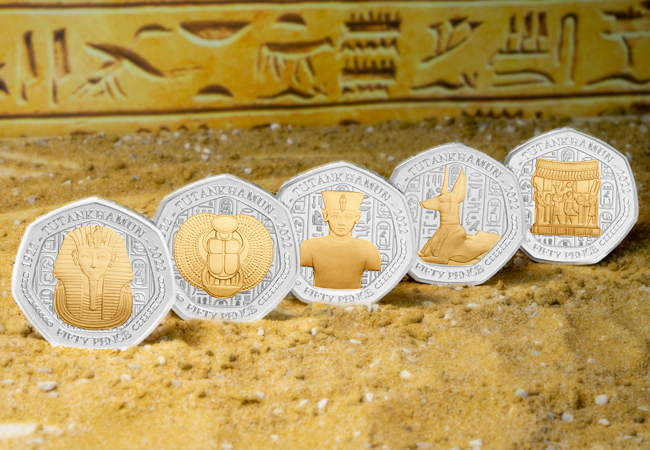 Each 50p in this FIVE-coin set has been struck from 925/1000 Silver to a pristine Proof finish. What's more, with the addition of 24ct Gold-plating, it comes protectively housed in a deluxe presentation box.
The ULTIMATE Presentation of Stamps and Coins – with the addition of vivid colour print!
Just 495 Brilliant Uncirculated 50ps feature a colour finish for use within this Ultimate Stamp and Coin Cover.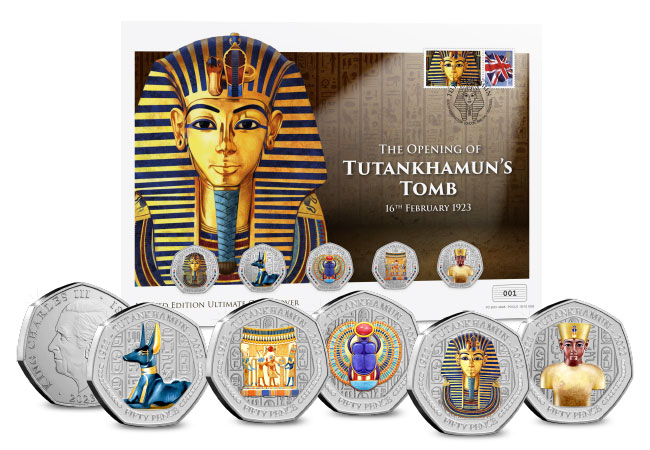 These covers will be officially postmarked by the Royal Mail on the 16th February 2023 – the 100th anniversary of the Opening of the Tomb.
And with ONLY 495 of these covers available worldwide, many collectors are sure to miss out.
This is the smallest edition presentation you'll find – from a collector's point of view, the decision is obvious. You can only secure the NEW 50ps with colour and Official Royal Mail Philatelic label in a set like this, and we guarantee you won't find a smaller edition anywhere else.
Click here to secure the ULTIMATE Presentation for just £70 (+p&p) >>>
JUST 195 Available Worldwide – The DOUBLE DIAMETER Tutankhamun 50p struck from One Ounce of Pure Silver
Perhaps the most recognisable treasure discovered within Tutankhamun's tomb was his iconic Death Mask. This mask's incredible detail features on this BRAND NEW 50p with the brand new portrait of the King.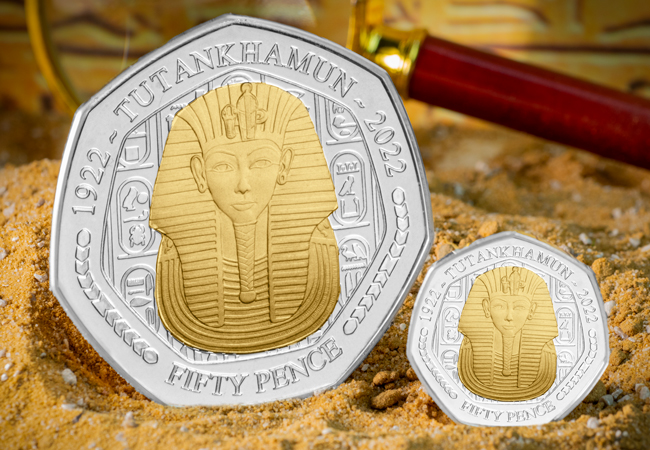 This impressive 50p has been struck to a DOUBLE DIAMETER size from 1oz of Pure Silver. That's twice the size of a standard 50p and almost four times heavier!
Due to this rare and complicated striking technique, these remarkable coins take a little longer to produce than the rest of the collection.
This coin is available to pre-order now.
Click here NOW to pre-order one of JUST 195 Available WORLDWIDE with a deposit of just £19.50 >>>
As the FIRST coins to feature the new British Isles King Charles III portrait designed by renowned coin designer, Glyn Davies, these are expected to be extremely popular with knowledgeable collectors.
And with such low edition limits, I would suggest acting quickly to secure yours before stock runs out.
If you want something extra special, there are also gold specifications available within the collection.
Click here to browse the full range of 'The Discovery of Tutankhamun's Tomb' 50p releases starting from JUST £6.99 >>
The final coin in the Winnie the Pooh 50p series has been issued today, marking an end to one of the biggest sell-out stories of recent years. Secure yours here in .925 Sterling Silver >>
And, considering the drastic edition limit cuts to the 2022 coins, THOUSANDS of collectors are set to miss out on completing their collection…
Celebrating 95 years of fun-filled adventure, these charming 50p coins each feature designs of the best-loved characters from A. A. Milne's original stories, with original illustrations from E. H. Shepard.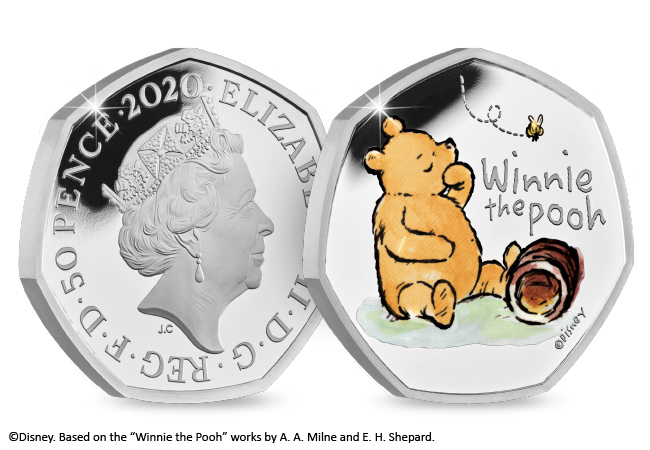 When the first three coins were issued in 2020, they took the collecting world by storm. They were so popular that the very first Silver Proof 50p featuring Winnie the Pooh himself – SOLD-OUT in LESS THAN 24 HOURS!
Tigger 50p sells out
Collector demand continued into 2021 with the second series of Winnie the Pooh 50p coins.
Featuring some of Winnie the Pooh's most trusted companions, these coins each had an edition limit of JUST 18,000 for their Silver Proof specification.
In fact, so popular were these coins that the Tigger 50p is no longer available at The Royal Mint.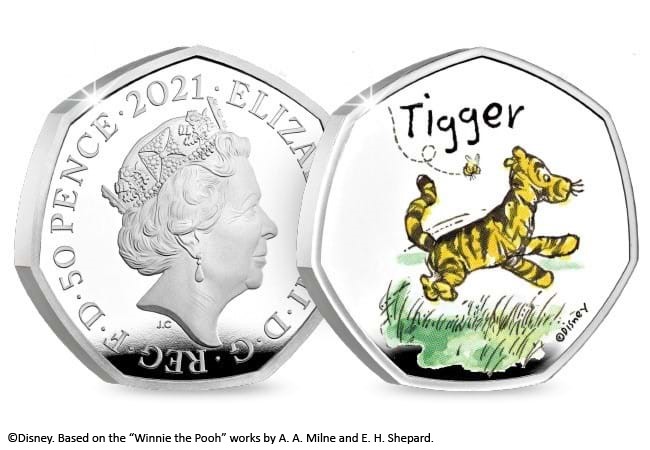 As collectors anticipated the issue of the final three coins in the series in 2022, at The Westminster Collection, we were already expecting demand to outweigh supply.
JUST 6,000 ISSUED WORLDWIDE
That's because JUST 6,000 of each of the Silver Proof 50p coins have been issued worldwide – one third of the edition limit of the sell-out 2020 and 2021 coins!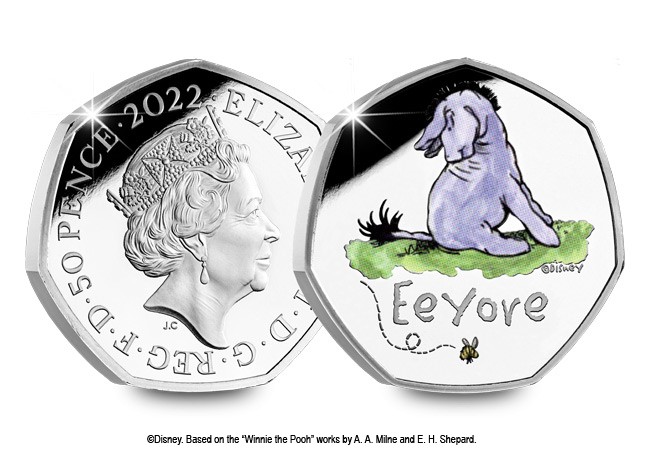 12,000 collectors missed out on the Eeyore Silver Proof 50p as it sold-out in a matter of hours at The Royal Mint.
Undoubtedly, this final 50p, which features a design of the most popular Winnie the Pooh characters, will be just as popular. Unfortunately, this means many will likely miss out on securing it for their collection.
How much is the Winnie the Pooh 50p worth?
The first and last issues in any coin series are hugely popular with collectors.
When a theme is as universally popular as Winnie the Pooh, there are no surprises collectors rushed to get their hands on the UK's first Winnie the Pooh 50p.
Much like first editions of best-selling books, or the first run of banknotes, UK-first coin issues can sell for well over their retail price on secondary market sites.
And, with edition limits as low as this, we knew the sell-out potential for this coin was high, and collectors knew it too.
Don't miss out on the Winnie the Pooh and Friends 50p!
If you want to be one of JUST 6,000 lucky collectors to own this BRAND-NEW coin in .925 Sterling Silver, you'll need to act extremely fast.
Click here to secure yours for the Royal Mint issue price of JUST £67.50 (+p&p) >>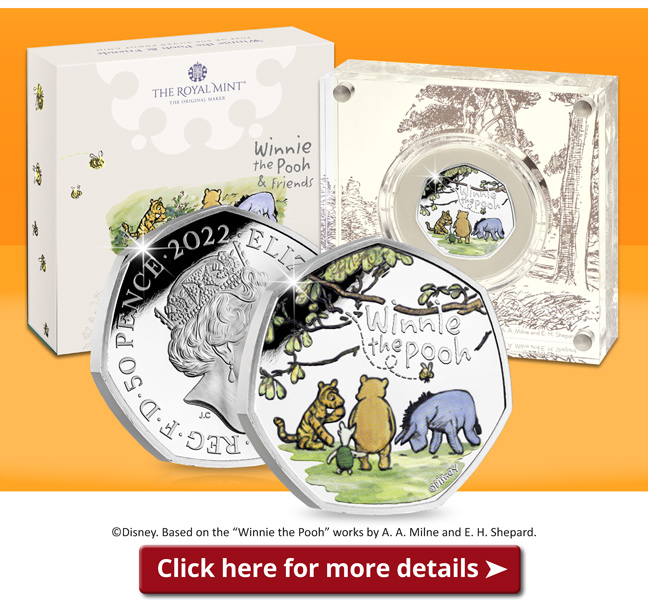 ---
If you're interested…