Posts Tagged 'Silver Proof'
Let me introduce you to a coin that speaks volumes…
Meticulously crafted from Pure Silver, the impressive King's Speech 5oz 100mm Coin has been issued to honour King Charles III's defining moment as Monarch.
Every word of the emotional and historic address he gave to the nation following the passing of Queen Elizabeth II feature on this coin – that's 977 words in total!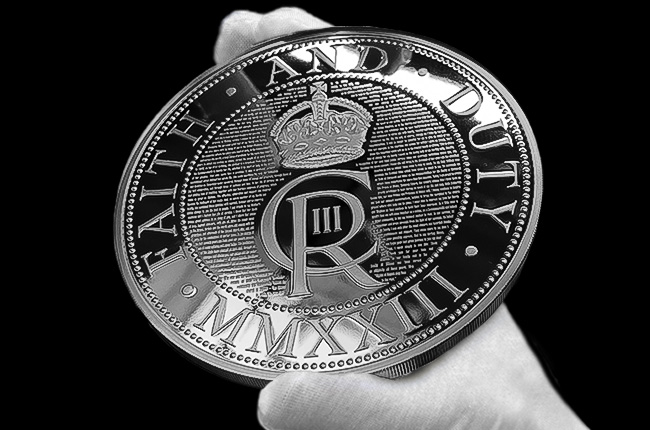 A Monarch's Defining Moment
On the 9th September 2022, just one day removed from Her Late Majesty's passing, King Charles III made the poignant speech. In the address he paid tribute to his mother and pledged to show the same unwavering commitment to duty.
And so, this coin not only commemorates King Charles III's first ever speech as Monarch but it also honours the incredible reign of Queen Elizabeth II.
Relive the King's Speech…
The King's Speech Pure Silver 5oz Coin is a true numismatic masterpiece, one that has seen incredible demand from collectors worldwide.
In fact its Pure Gold Counterpart, priced at a staggering £59,995, had an edition limit of JUST 5.
Making a Masterpiece
The King's Speech Silver 5oz is an impressive combination of artistic expression and technical prowess.
The delicate process of striking 977 words onto a coin has been achieved using the process of micro-engraving. Every single word has been meticulously engraved onto the die, a painstaking process that requires remarkable precision and expertise. Skilled artisans devoted countless hours to ensuring that each letter has been flawlessly etched.
Once the micro-engraving is complete, the die is ready to undergo the next step in the coin production process. With force and finesse, it is expertly struck multiple times, employing immense pressure to achieve the pristine Proof finish which brings the micro-engraved words to life.
Of course, fitting a 9 minute speech onto a coin presented a major challenge. That's why each coin has been struck from FIVE OUNCES of Pure Silver and measure at an incredible 100mm.
With its minted design, lustrous silver content and the sheer significance of the occasion it commemorates, this coin is an absolute must-have for collectors worldwide.
If you're interested…
A strict edition limit of 750 has been set. For one of the most remarkable coins we've ever seen, that simply will not be enough…

On Saturday, we spent the day with the crowds at the Mall seeing the Royal Family on the balcony and waving our Union Jacks alongside thousands of others!
Even in the rain, the atmosphere was amazing. Union Jacks everywhere, cheering crowds, and more bunting than we've ever seen in our lives. It was truly British Royal pageantry at its splendid best.
What an event it was – the first King our great country has crowned for 86 years.
We hope you enjoyed the Coronation, wherever you were watching and whatever you were doing.
But whilst we were enjoying the festivities, a small group of people were hard at work striking an exclusive set of Coronation Silver Proof Commemoratives.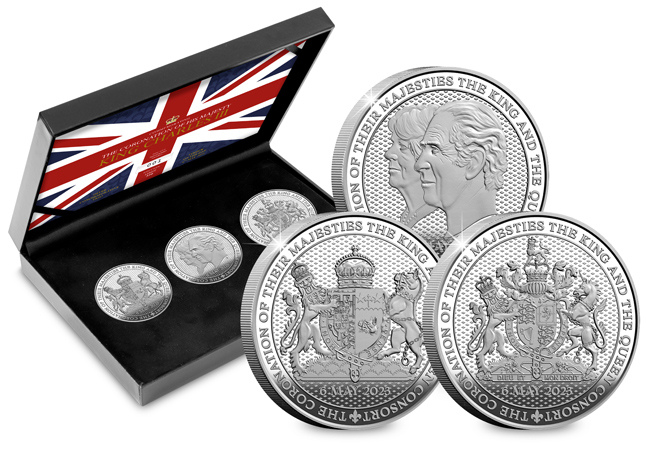 In fact, this was happening just a stone's throw from Westminster Abbey where the King was being crowned.
And this prestigious set is really remarkable.
Considering most of the country shut down to celebrate, it's a unique piece of memorabilia which in turn is strictly limited and ever so collectable.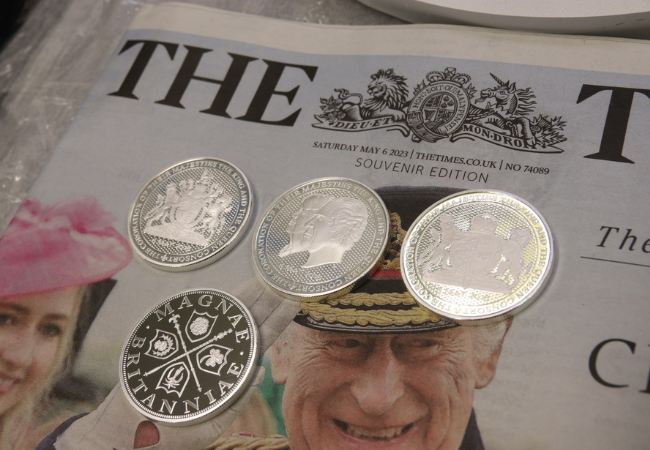 We've already seen multiple sell outs across the Coronation range, but you may still have an opportunity to add this set to your collection if you act now!
Here are the three key points that make this set so special:
1: It's a set of three 1oz Silver Proof Commemoratives that feature the Official Royal Coat of Arms of His Majesty King Charles III and Her Majesty Queen Camilla, alongside a stunning dual portrait of the new monarchs.
2: Each medal was struck on the Official Coronation date – 6th May 2023 – meaning that the set will forever be linked to this important moment in history.
And most importantly…
3: Only 350 sets are available. 350 simply won't be enough! Since the Coronation date was announced, demand for commemoratives has been sky-high and it shows no sign of slowing down.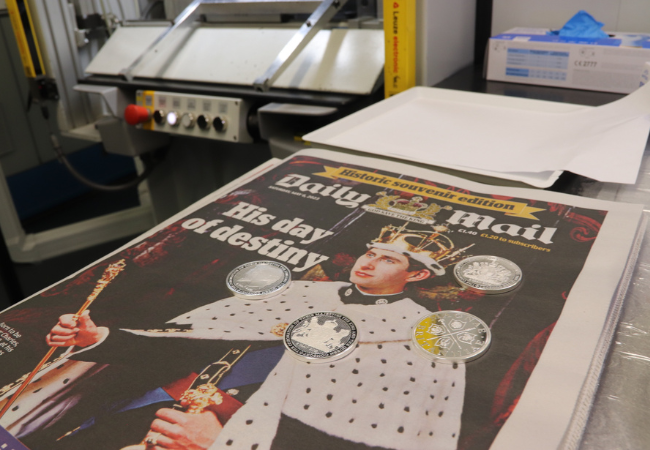 You can secure your Coronation Silver Proof Commemoratives set completely risk free for just £32.50 here. And importantly, you won't pay a thing until your set has been despatched to you. But if you don't act now, we wouldn't be surprised if they're all completely allocated before the general release!
The final coin in the Winnie the Pooh 50p series has been issued today, marking an end to one of the biggest sell-out stories of recent years. Secure yours here in .925 Sterling Silver >>
And, considering the drastic edition limit cuts to the 2022 coins, THOUSANDS of collectors are set to miss out on completing their collection…
Celebrating 95 years of fun-filled adventure, these charming 50p coins each feature designs of the best-loved characters from A. A. Milne's original stories, with original illustrations from E. H. Shepard.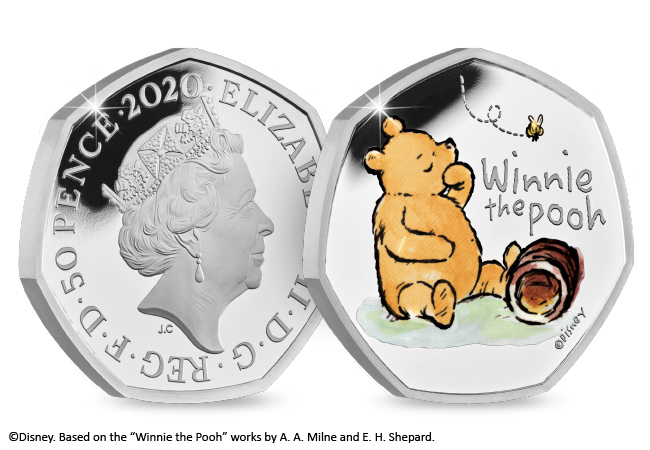 When the first three coins were issued in 2020, they took the collecting world by storm. They were so popular that the very first Silver Proof 50p featuring Winnie the Pooh himself – SOLD-OUT in LESS THAN 24 HOURS!
Tigger 50p sells out
Collector demand continued into 2021 with the second series of Winnie the Pooh 50p coins.
Featuring some of Winnie the Pooh's most trusted companions, these coins each had an edition limit of JUST 18,000 for their Silver Proof specification.
In fact, so popular were these coins that the Tigger 50p is no longer available at The Royal Mint.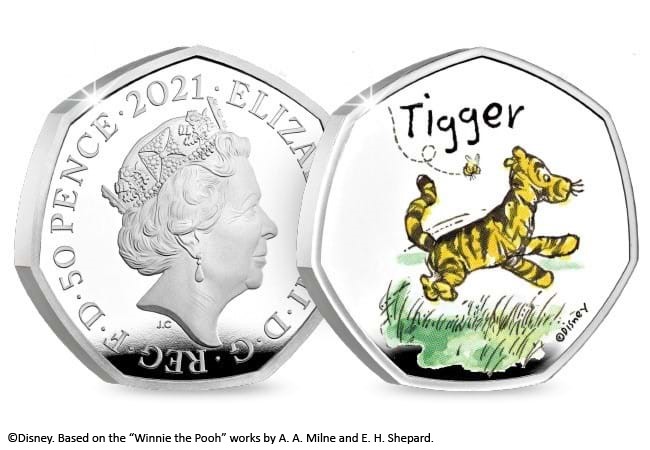 As collectors anticipated the issue of the final three coins in the series in 2022, at The Westminster Collection, we were already expecting demand to outweigh supply.
JUST 6,000 ISSUED WORLDWIDE
That's because JUST 6,000 of each of the Silver Proof 50p coins have been issued worldwide – one third of the edition limit of the sell-out 2020 and 2021 coins!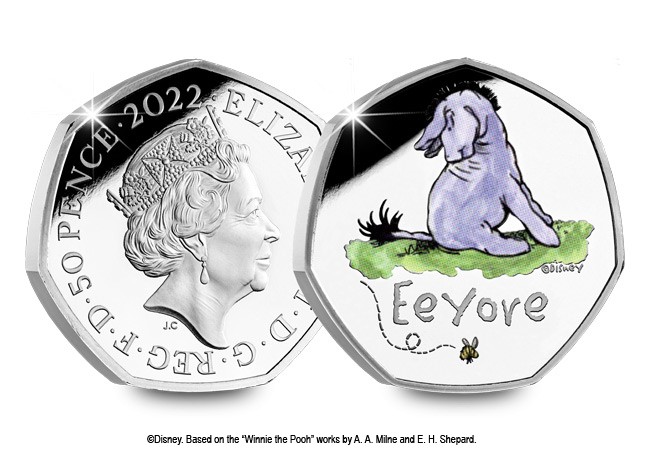 12,000 collectors missed out on the Eeyore Silver Proof 50p as it sold-out in a matter of hours at The Royal Mint.
Undoubtedly, this final 50p, which features a design of the most popular Winnie the Pooh characters, will be just as popular. Unfortunately, this means many will likely miss out on securing it for their collection.
How much is the Winnie the Pooh 50p worth?
The first and last issues in any coin series are hugely popular with collectors.
When a theme is as universally popular as Winnie the Pooh, there are no surprises collectors rushed to get their hands on the UK's first Winnie the Pooh 50p.
Much like first editions of best-selling books, or the first run of banknotes, UK-first coin issues can sell for well over their retail price on secondary market sites.
And, with edition limits as low as this, we knew the sell-out potential for this coin was high, and collectors knew it too.
Don't miss out on the Winnie the Pooh and Friends 50p!
If you want to be one of JUST 6,000 lucky collectors to own this BRAND-NEW coin in .925 Sterling Silver, you'll need to act extremely fast.
Click here to secure yours for the Royal Mint issue price of JUST £67.50 (+p&p) >>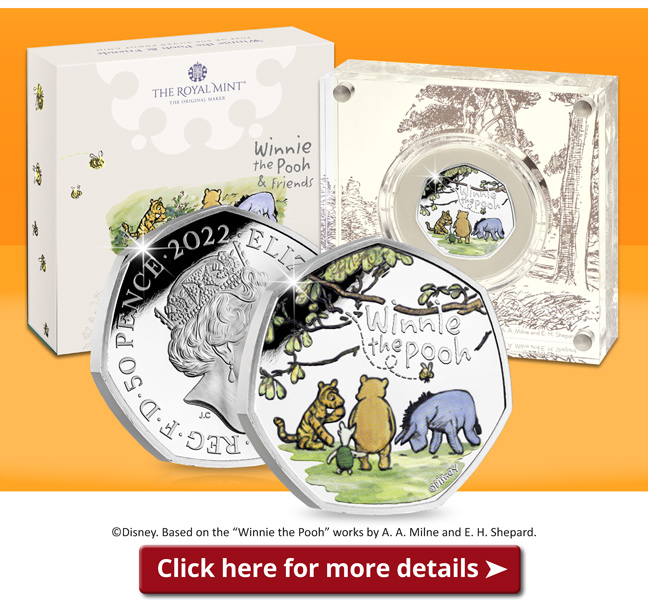 ---
If you're interested…