Posts Tagged 'Silver Commemorative'
40 years ago, in 1982, an unprecedented cinematic event took place that stirred the souls and captured the imagination of countless generations.
When "E.T. The Extra-Terrestrial" landed in theatres, the heartwarming story of a young boy who befriends a stranded alien quickly broke all box office records to become an instant classic.
More than just a marvel of visual effects, E.T. embraced our hearts, let us believe in the impossible, and most importantly, encouraged us to keep reaching for the stars.
Celebrations around the world have already started to mark the 40th anniversary. We are also excited for the IMAX re-release that came out in August!
And now, Steven Spielberg's unforgettable masterpiece has been brought to life on FIVE Brand New Coins to celebrate the 40th Anniversary of "E.T. The Extra-Terrestrial"!
Keep on reading to find out more…
---
The E.T. 40th Anniversary BU Colour Coin Set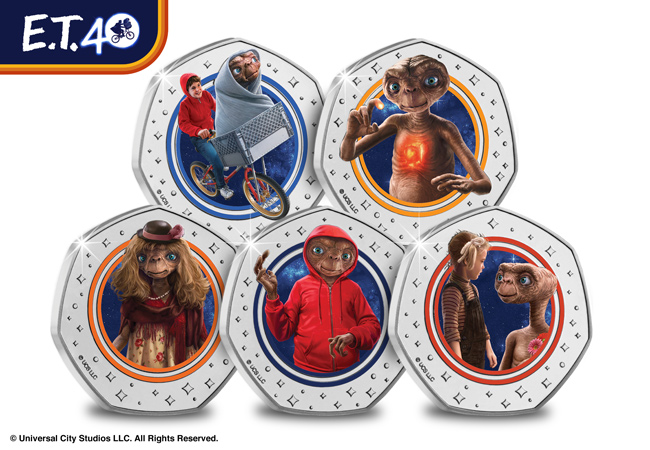 This 50 Cent set has been released in an extremely limited specification – Coloured Brilliant Uncirculated. Reserved for the most important releases, only very limited numbers of BU colour coins are ever released.
Given the rare specification, very few are being made available for collectors. In fact, just 995 will be released worldwide, and this will be the only way you can own all five 50 cent coins in the exclusive colour Brilliant Uncirculated specification.
Each set will come in a Presentation Box along with the Certificate of Authenticity, confirming its strict 995 edition limit.
Secure yours today for just £62.50 (+p&p) >>
---
The E.T. 40th Anniversary Silver Proof Coin Set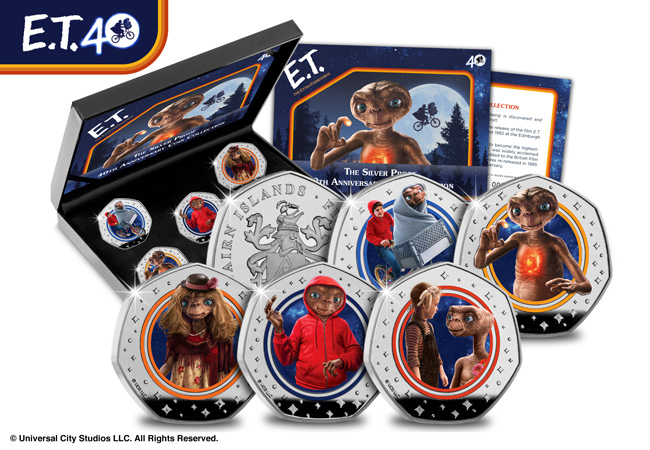 Of course, you can own ALL 5 of the new E.T. coins in stunning Silver Proof quality too!
Limited to JUST 500 sets worldwide, your FIVE Silver Proof coins will arrive presented in a deluxe presentation box, ready to display in your home with pride.
Again, we expect the full edition to be to be snapped up in the UK – before it's offered further afield…
Click here to find out more >>
---
E.T. The Extra-Terrestrial Ultimate Coin Cover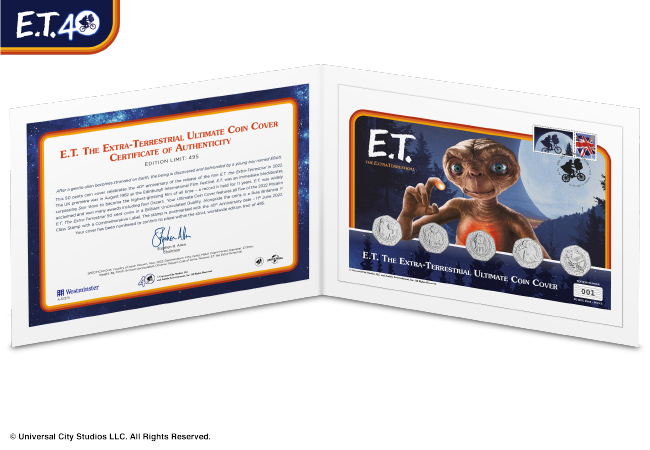 All five BU coins have also been included in this special coin cover – easily the ultimate way to own and present this set.
Paired alongside your coins is a specially commissioned "E.T. The Extra-Terrestrial 40th Anniversary" philatelic label. As well as this, the presentation cover has also been officially postmarked by Royal Mail on the 40th anniversary of the movie release date – 11th June 2022.
This one-day-only postmarking means that no more can ever be produced.
Its edition limit of JUST 495 is confirmed on the accompanying Certificate of Authenticity which sits inside the Presentation Folder.
The collectability and strict edition limit of this Ultimate Cover is sure to attract the attention of collectors – so you'll need to act quickly.
Click here to own one today >>
---
The E.T. 40th Anniversary Silver Proof 5oz Commemorative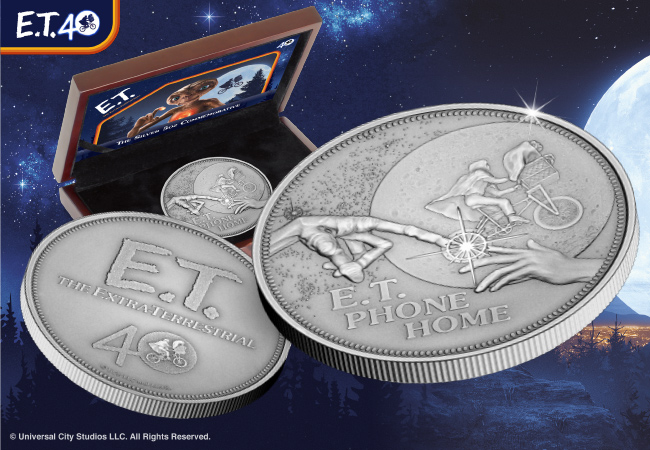 And we're not done there…
Because you can also celebrate this 40th anniversary with this stunning Silver 5oz Commemorative.
Words really do not do this commemorative justice; the craftsmanship is truly impeccable.
Struck from 5oz of .999 Fine Silver, Steven Spielberg's unforgettable masterpiece has been brought to life on the design, featuring the famous bike scene on a moon backdrop, and the inscription 'E.T. PHONE HOME'.
With high-demand expected and such a small edition limit, you'll have to act quickly to secure one for your collection.
It will arrive protected in a Presentation Box alongside a Certificate of Authenticity confirming the tiny edition limit.
Click here to find out more >>
---
With prices starting from JUST £6.99, you can discover all the brand new products in the E.T. 40th anniversary range here. Including the BU coin, the BU Coin set, Silver Proof Coin and the Silver Proof Coin Cover, there really is something for every collector on this significant anniversary.
There's never been a better time to bring back those nostalgic memories. And with E.T. carrying a worldwide fanbase, reservations are now being taken on a first come first served basis – we would advise acting now!
Click here to browse the full range of E.T. 40th Anniversary releases starting from JUST £6.99 >>
The final coin in the Winnie the Pooh 50p series has been issued today, marking an end to one of the biggest sell-out stories of recent years. Secure yours here in .925 Sterling Silver >>
And, considering the drastic edition limit cuts to the 2022 coins, THOUSANDS of collectors are set to miss out on completing their collection…
Celebrating 95 years of fun-filled adventure, these charming 50p coins each feature designs of the best-loved characters from A. A. Milne's original stories, with original illustrations from E. H. Shepard.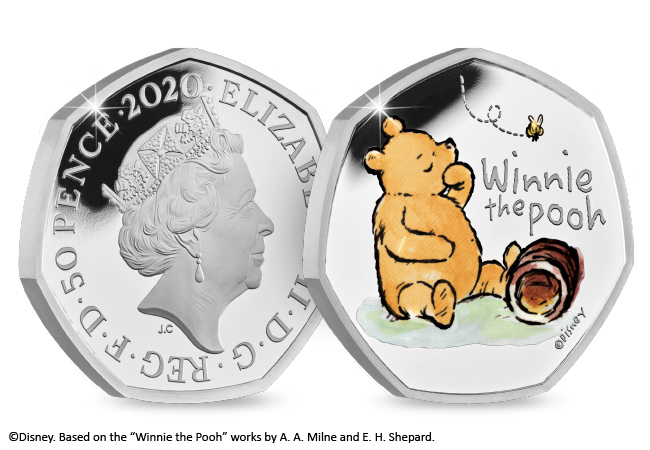 When the first three coins were issued in 2020, they took the collecting world by storm. They were so popular that the very first Silver Proof 50p featuring Winnie the Pooh himself – SOLD-OUT in LESS THAN 24 HOURS!
Tigger 50p sells out
Collector demand continued into 2021 with the second series of Winnie the Pooh 50p coins.
Featuring some of Winnie the Pooh's most trusted companions, these coins each had an edition limit of JUST 18,000 for their Silver Proof specification.
In fact, so popular were these coins that the Tigger 50p is no longer available at The Royal Mint.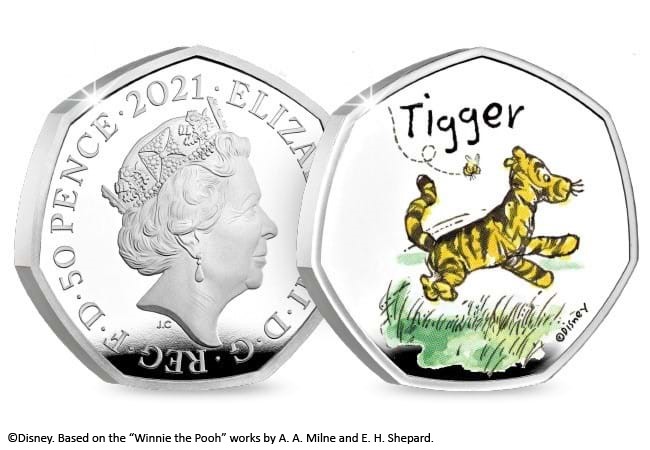 As collectors anticipated the issue of the final three coins in the series in 2022, at The Westminster Collection, we were already expecting demand to outweigh supply.
JUST 6,000 ISSUED WORLDWIDE
That's because JUST 6,000 of each of the Silver Proof 50p coins have been issued worldwide – one third of the edition limit of the sell-out 2020 and 2021 coins!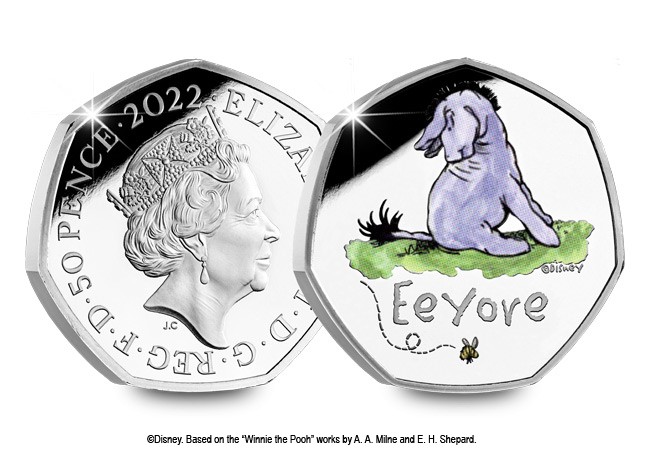 12,000 collectors missed out on the Eeyore Silver Proof 50p as it sold-out in a matter of hours at The Royal Mint.
Undoubtedly, this final 50p, which features a design of the most popular Winnie the Pooh characters, will be just as popular. Unfortunately, this means many will likely miss out on securing it for their collection.
How much is the Winnie the Pooh 50p worth?
The first and last issues in any coin series are hugely popular with collectors.
When a theme is as universally popular as Winnie the Pooh, there are no surprises collectors rushed to get their hands on the UK's first Winnie the Pooh 50p.
Much like first editions of best-selling books, or the first run of banknotes, UK-first coin issues can sell for well over their retail price on secondary market sites.
And, with edition limits as low as this, we knew the sell-out potential for this coin was high, and collectors knew it too.
Don't miss out on the Winnie the Pooh and Friends 50p!
If you want to be one of JUST 6,000 lucky collectors to own this BRAND-NEW coin in .925 Sterling Silver, you'll need to act extremely fast.
Click here to secure yours for the Royal Mint issue price of JUST £67.50 (+p&p) >>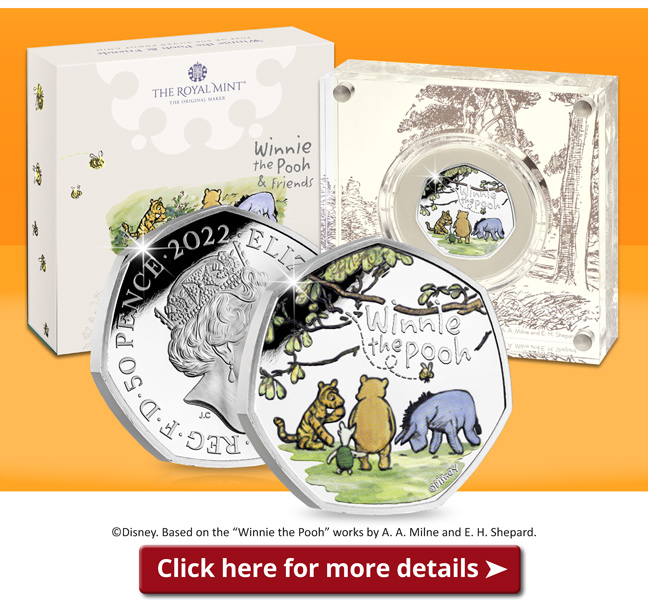 ---
If you're interested…
Storytelling is one of humanity's oldest pastimes, with events being captured and passed on for centuries though art, music and dance long before we were writing them down. And one of the oldest and most reliable ways a country can tell its stories is through its coins.
This should come as no surprise. If you think about it, currency is the constant that has always been around in one form or another. It's continually evolving and adapting to the next chapter in the story.
But there's one coin in particular that holds more meaning than most – as it blends fact with fiction to produce the world's most beautiful coin, Una and the Lion.
Controversial, yet beyond improvement
In 1839 William Wyon was commissioned to design a new coin to commemorate the anniversary of Queen Victoria's coronation.
But it made headlines. It was controversial.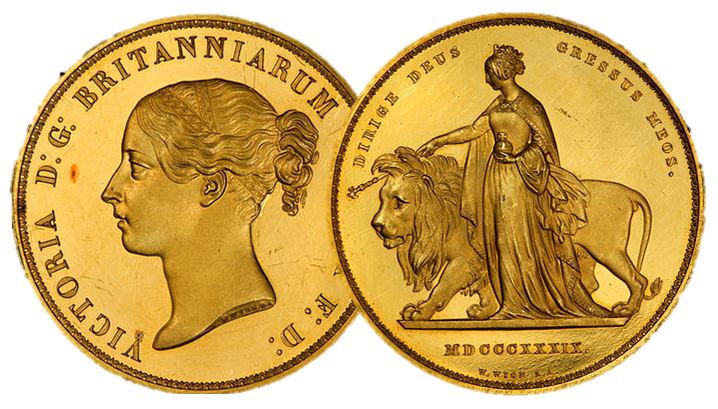 In a bold move it depicted Queen Victoria as the fictional character Lady Una, from Edmund Spenser's epic poem The Faerie Queene. Never before had someone, let alone a ruler, been featured on a coin as a fictional character.
The design shows Lady Una walking alongside her guardian and symbol of England, the lion. It is symbolic of the young monarch leading her vast empire.
Whilst a daring move, the coin was an instant success. Critics hailed it as "beyond improvement", and to this day it's regarded as one of the most beautiful coins to have ever been struck.
Part of its beauty was the high relief, providing exquisite intricate detail to the fictional design. But in many ways this was also its downfall, as it meant the coin could not be struck with any consistency. As a result the commemorative was only struck for one year, producing just 400 coins. This makes it extremely rare!
The inspiration: a princess and her protector
Published in 1590, The Faerie Queene, is one of the longest and most distinguished poems in the English language. It was written during the height of the Renaissance when England had just broken away from the Catholic Church and formed its own Protestant Church. Set against the backdrop of this turbulent religious landscape, The Faerie Queene draws on history and myth to deliver numerous tales of romance, adventure, battles, morality and religion.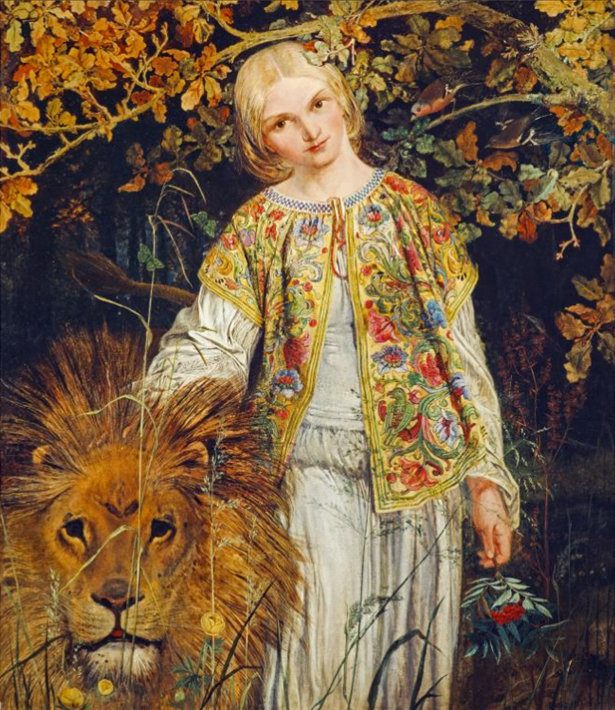 The first book of the epic poem follows the trials and tribulations of Lady Una – the young and beautiful daughter of a king and queen who have been imprisoned by a ferocious dragon. In a bid to save her parents she embarks on a quest, but on her journey she encounters a fierce lion who plans to eat her.
In a twist of events the lion is so captivated by Una's beauty and innocence that he abandons his plans to eat her, and instead he becomes her protector and companion.
Together, the iconic pair have become a symbol of beauty, strength and endurance.
The most beautiful coin just became even more exquisite
The Royal Mint has just released a brand new UK Una and the Lion 2oz Silver Proof coin, featuring this iconic and highly sought-after design motif.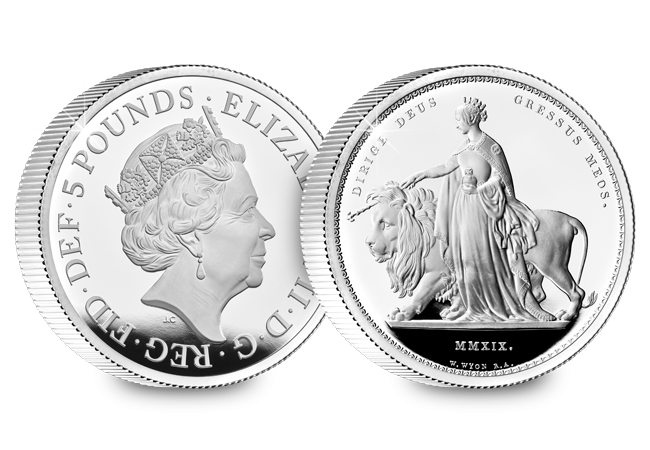 Finding an original Una and the Lion coin is virtually impossible, so this may be one of the only ways to secure this design motif for your own collection.
But with an edition limit of just 3,000 worldwide, there aren't many available for collectors.
As an official Royal Mint distributor, we have secured a limited number for Westminster collectors.
Click here to find out more and add this iconic coin to your collection >>