Posts Tagged 'Sell out coins'
Late last year the UK 2022 Proof Sovereign was released featuring a one-year-only design change to celebrate Her Majesty's Platinum Jubilee.
10,500 were made available at 9am on launch day.
By 6pm that very same day they were gone.
That made it the fastest-selling sovereign ever.
But a new UK sovereign could break that record…
Just Released: The UK 2022 Piedfort Sovereign
The special Piedfort edition of the UK 2022 Proof Sovereign has just been released. With an edition limit of just 3,250 — less than one-third of the edition limit of its Proof Sovereign counterpart — thousands of collectors wanting to own both are set to miss out.
An extremely rare specification of Sovereign
This is only the third Piedfort Sovereign to be struck by The Royal Mint.
When the first Piedfort Sovereign was released in 2017 to mark the bicentenary of the modern sovereign, it too sold out in just 24 hours.
This new release has an edition limit of 500 less, so another fast sell-out looks guaranteed.
The pinnacle of Royal Mint craftsmanship
Piedfort coins are some of the finest examples of British craftsmanship and the Gold Proof Piedfort Sovereign is no exception. Each has been struck from 22-carat Gold, however, the Piedfort Sovereign has been struck using a double-thickness blank, meaning it contains twice the weight of Gold.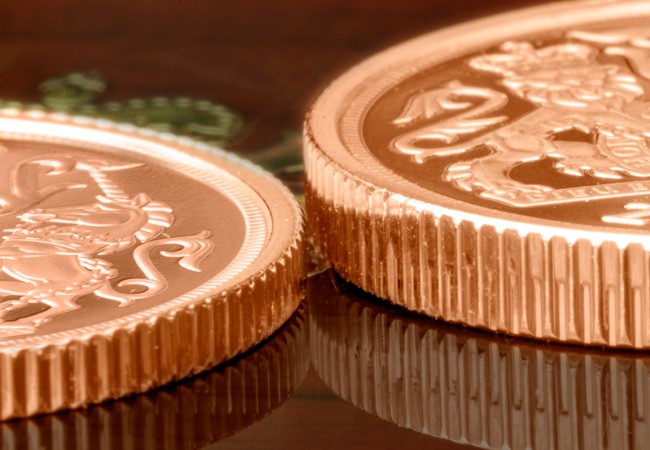 Considered extremely prestige pieces, Piedfort coins continue to be limited issues, and the striking of such coins is strictly reserved for the most important events. Therefore, it seems fitting for one to be issued in our Queen's milestone Platinum Jubilee year.
Act quickly or risk missing out
With the UK 2022 Proof Sovereign and the very first UK Piedfort Sovereign both selling out within 24 hours, this latest release is practically guaranteed to follow suit. High demand is guaranteed.
Thousands of collectors will miss out. Make sure you're not one of them.
Register below and we'll contact you about how you can own one of the UK 2022 Piedfort Sovereigns from our extremely limited stock.
The final coin in the Winnie the Pooh 50p series has been issued today, marking an end to one of the biggest sell-out stories of recent years. Secure yours here in .925 Sterling Silver >>
And, considering the drastic edition limit cuts to the 2022 coins, THOUSANDS of collectors are set to miss out on completing their collection…
Celebrating 95 years of fun-filled adventure, these charming 50p coins each feature designs of the best-loved characters from A. A. Milne's original stories, with original illustrations from E. H. Shepard.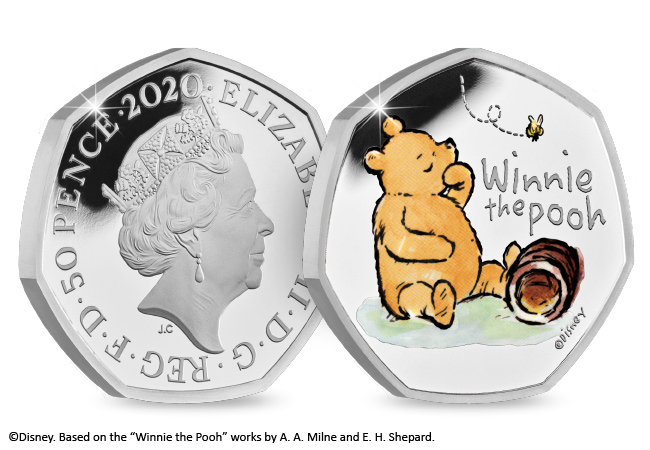 When the first three coins were issued in 2020, they took the collecting world by storm. They were so popular that the very first Silver Proof 50p featuring Winnie the Pooh himself – SOLD-OUT in LESS THAN 24 HOURS!
Tigger 50p sells out
Collector demand continued into 2021 with the second series of Winnie the Pooh 50p coins.
Featuring some of Winnie the Pooh's most trusted companions, these coins each had an edition limit of JUST 18,000 for their Silver Proof specification.
In fact, so popular were these coins that the Tigger 50p is no longer available at The Royal Mint.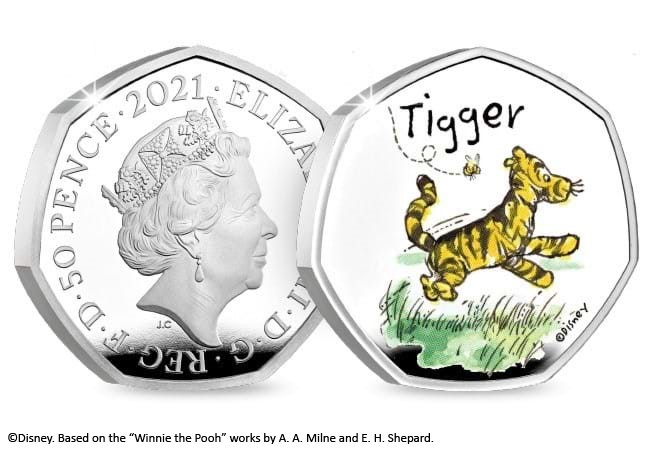 As collectors anticipated the issue of the final three coins in the series in 2022, at The Westminster Collection, we were already expecting demand to outweigh supply.
JUST 6,000 ISSUED WORLDWIDE
That's because JUST 6,000 of each of the Silver Proof 50p coins have been issued worldwide – one third of the edition limit of the sell-out 2020 and 2021 coins!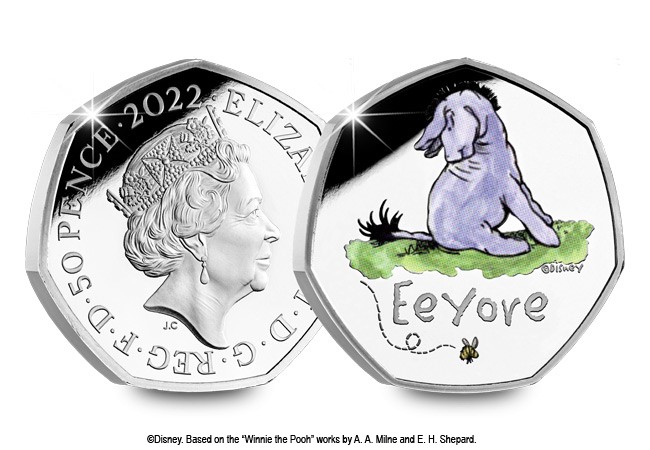 12,000 collectors missed out on the Eeyore Silver Proof 50p as it sold-out in a matter of hours at The Royal Mint.
Undoubtedly, this final 50p, which features a design of the most popular Winnie the Pooh characters, will be just as popular. Unfortunately, this means many will likely miss out on securing it for their collection.
How much is the Winnie the Pooh 50p worth?
The first and last issues in any coin series are hugely popular with collectors.
When a theme is as universally popular as Winnie the Pooh, there are no surprises collectors rushed to get their hands on the UK's first Winnie the Pooh 50p.
Much like first editions of best-selling books, or the first run of banknotes, UK-first coin issues can sell for well over their retail price on secondary market sites.
And, with edition limits as low as this, we knew the sell-out potential for this coin was high, and collectors knew it too.
Don't miss out on the Winnie the Pooh and Friends 50p!
If you want to be one of JUST 6,000 lucky collectors to own this BRAND-NEW coin in .925 Sterling Silver, you'll need to act extremely fast.
Click here to secure yours for the Royal Mint issue price of JUST £67.50 (+p&p) >>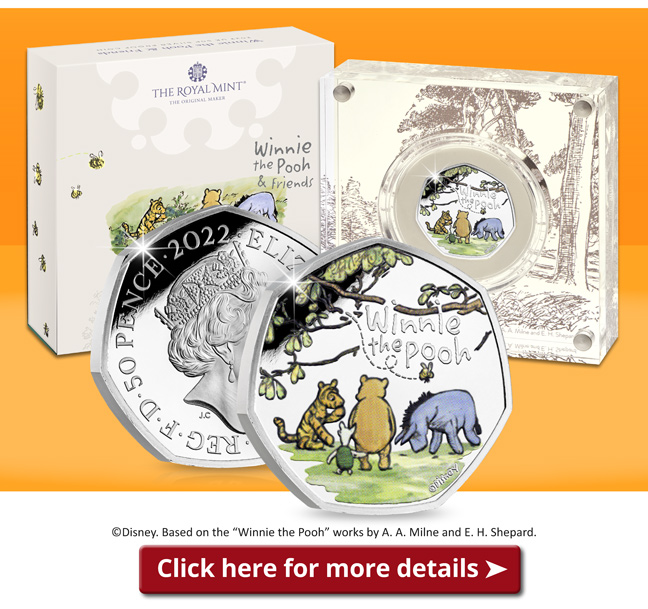 ---
If you're interested…
Recently, we announced an exciting brand new collection of 50p coins celebrating Alice's Adventures in Wonderland. Unsurprisingly, since their release, the coins have seen unprecedented demand as collectors and beloved fans alike race to get theirs.
The coins were released to celebrate over 150 years since author, Lewis Carroll first narrated his nonsense fairytale about a girl called Alice. Since then, the story has been adapted in many forms, from book to theatre to ballet and even a blockbuster Disney film. The story is undeniably one of the best-known and most popular works of English-language fiction. A first edition of the book once sold at auction for over $2 million, confirming Alice commemoratives would be highly sought-after.
The 50p has firmly established itself as the collector's favourite coin, so it was only right the beloved characters from the fairytale feature on them. Authorised for release by Isle of Man Treasury and fully approved by Her Majesty the Queen, these coins could undoubtedly become one of the most popular numismatic releases of 2021!
Find out more about these new coins and how to order them below…
The COMPLETE Brilliant Uncirculated 50p Set
This stunning collection features all five new 50p coins, each struck to a Brilliant Uncirculated quality and featuring carefully curated designs by renowned illustrator Stephen Lee. These include:
Alice "What a curious feeling! said Alice"
Cheshire Cat "We're all mad here".
Queen of Hearts "That's enough! Off with their heads!".
The Mad Hatter "I am under no obligation to make sense to you."
The White Rabbit "The hurrier I go, the behinder I get".
What's more, the coins will come protectively housed in bespoke presentation pack that has also been designed by the coin designer. This set is one of the only ways you can own all FIVE coins and demand has already been extremely high.
If you'd like to secure one for your collection for JUST £31.25 (+p&p) then click here >>
The STRICTLY LIMITED Silver Proof 50p
The Silver Proof version of the stunning Alice 50p coin features a specially commissioned illustration of Alice, drinking the shrinking potion that allows her through the door to the Queens castle. 'What a curious feeling' said Alice…
The coin has been struck to a flawless Proof finish from .925 Sterling Silver with selective vivid colour printing to bring the design and Alice to life!
The Silver Proof editions are without a doubt the collector's favourite and almost always acquire fast sell-outs. With an edition limit of JUST 4,995 coins time is short to secure one for your collection…
Click here to guarantee yours >>
The ULTIMATE Silver Proof 50p Collection
The Silver Proof set is by far one of the most limited and exclusive ways you can own all five new 50ps. With only 1,995 available to collectors worldwide, it is almost certain that they won't be around for long.
Each coin is struck from .925 Silver, to a Proof finish, with the addition of colour and comes ready to present in case with numbered Certificate of Authenticity.
Don't miss out on yours… Click here >>
The SCARCE Gold Proof 50p – the most prestigious and limited coin within the range
The crème de la crème of the range you could say. If you're looking for the most premium and limited way to own one of these brand new Alice's Adventures in Wonderland 50p coins, then this is it.
Struck in .916 Gold to a flawless proof finish, this coin is guaranteed to popular with serious collectors. Though especially as this official new release has been given a strict edition limit of JUST 500 worldwide.
This is MUCH LOWER than other recent Gold Proof 50p releases that have completely sold out, so only a handful of lucky collectors will have the chance to own this prestigious coin.
If you'd like to find out more about this incredible new coin and how you can secure one for your collection, click here >>
The LIMITED EDITION Signed Print
This unique, celebratory print is 1 of JUST 495 limited-edition authentic prints to be signed and hand-numbered by renowned illustrator Stephen Lee.
This authentic print offers a closer look at the designs of the new 2021 Alice's Adventures in Wonderland 50p coins and is exclusively available from The Westminster Collection.
With such a small number available it is advised that you reserve your Alice's Adventures in Wonderland Framed Print today or you may miss out altogether. Click here >>
---
View the complete range of Alice's Adventures in Wonderland 50p coins here >>