Posts Tagged 'Sell out coins'
Recently, we announced an exciting brand new collection of 50p coins celebrating Alice's Adventures in Wonderland. Unsurprisingly, since their release, the coins have seen unprecedented demand as collectors and beloved fans alike race to get theirs.
The coins were released to celebrate over 150 years since author, Lewis Carroll first narrated his nonsense fairytale about a girl called Alice. Since then, the story has been adapted in many forms, from book to theatre to ballet and even a blockbuster Disney film. The story is undeniably one of the best-known and most popular works of English-language fiction. A first edition of the book once sold at auction for over $2 million, confirming Alice commemoratives would be highly sought-after.
The 50p has firmly established itself as the collector's favourite coin, so it was only right the beloved characters from the fairytale feature on them. Authorised for release by Isle of Man Treasury and fully approved by Her Majesty the Queen, these coins could undoubtedly become one of the most popular numismatic releases of 2021!
Find out more about these new coins and how to order them below…
The COMPLETE Brilliant Uncirculated 50p Set
This stunning collection features all five new 50p coins, each struck to a Brilliant Uncirculated quality and featuring carefully curated designs by renowned illustrator Stephen Lee. These include:
Alice "What a curious feeling! said Alice"
Cheshire Cat "We're all mad here".
Queen of Hearts "That's enough! Off with their heads!".
The Mad Hatter "I am under no obligation to make sense to you."
The White Rabbit "The hurrier I go, the behinder I get".
What's more, the coins will come protectively housed in bespoke presentation pack that has also been designed by the coin designer. This set is one of the only ways you can own all FIVE coins and demand has already been extremely high.
If you'd like to secure one for your collection for JUST £31.25 (+p&p) then click here >>
The STRICTLY LIMITED Silver Proof 50p
The Silver Proof version of the stunning Alice 50p coin features a specially commissioned illustration of Alice, drinking the shrinking potion that allows her through the door to the Queens castle. 'What a curious feeling' said Alice…
The coin has been struck to a flawless Proof finish from .925 Sterling Silver with selective vivid colour printing to bring the design and Alice to life!
The Silver Proof editions are without a doubt the collector's favourite and almost always acquire fast sell-outs. With an edition limit of JUST 4,995 coins time is short to secure one for your collection…
Click here to guarantee yours >>
The ULTIMATE Silver Proof 50p Collection
The Silver Proof set is by far one of the most limited and exclusive ways you can own all five new 50ps. With only 1,995 available to collectors worldwide, it is almost certain that they won't be around for long.
Each coin is struck from .925 Silver, to a Proof finish, with the addition of colour and comes ready to present in case with numbered Certificate of Authenticity.
Don't miss out on yours… Click here >>
The SCARCE Gold Proof 50p – the most prestigious and limited coin within the range
The crème de la crème of the range you could say. If you're looking for the most premium and limited way to own one of these brand new Alice's Adventures in Wonderland 50p coins, then this is it.
Struck in .916 Gold to a flawless proof finish, this coin is guaranteed to popular with serious collectors. Though especially as this official new release has been given a strict edition limit of JUST 500 worldwide.
This is MUCH LOWER than other recent Gold Proof 50p releases that have completely sold out, so only a handful of lucky collectors will have the chance to own this prestigious coin.
If you'd like to find out more about this incredible new coin and how you can secure one for your collection, click here >>
The LIMITED EDITION Signed Print
This unique, celebratory print is 1 of JUST 495 limited-edition authentic prints to be signed and hand-numbered by renowned illustrator Stephen Lee.
This authentic print offers a closer look at the designs of the new 2021 Alice's Adventures in Wonderland 50p coins and is exclusively available from The Westminster Collection.
With such a small number available it is advised that you reserve your Alice's Adventures in Wonderland Framed Print today or you may miss out altogether. Click here >>
---
View the complete range of Alice's Adventures in Wonderland 50p coins here >>

Back in January, I attended the largest coin show in the world – the World Money Fair. Thousands of collectors and hundreds of dealers and Mints from all over the world attend the annual fair to showcase their new releases and the very latest in minting technology.
I'm always looking for new and unusual coins to offer collectors, whether that be a shape, size or technologically advanced coins that push the limits on what can be achieved in the minting world.
So, ever since I arrived back in the UK, there's been some incredibly exciting coin news I've been wanting to share with you.
But before you read anything else, you need to know that the majority of the range completely SOLD OUT before going on general release so you get the enormity of how big a deal this is!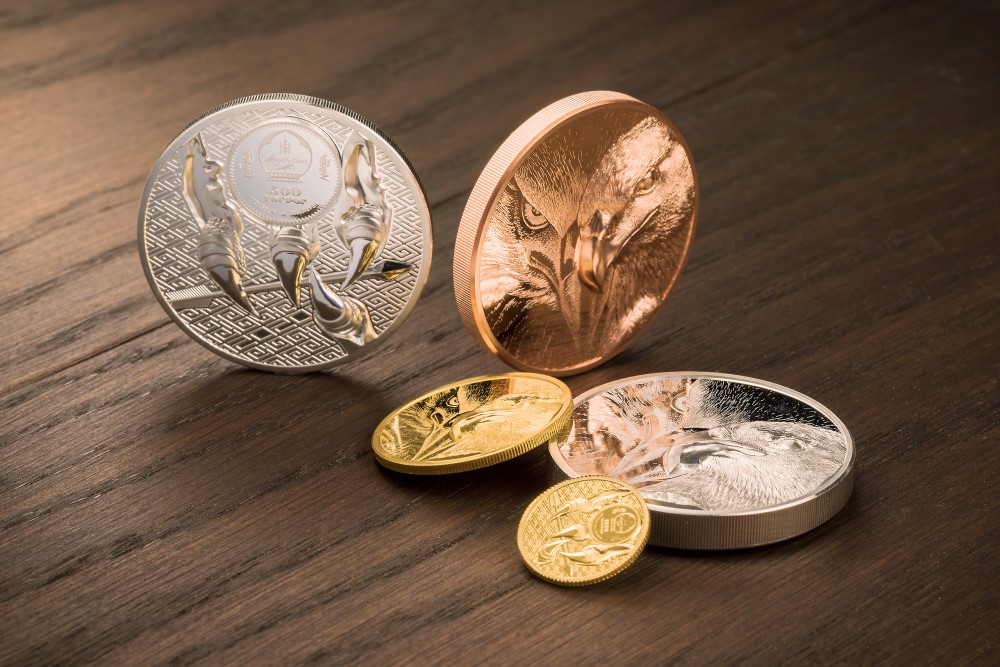 Introducing Smartminting 2.0
Most collectors are already familiar with Smartminting technology. Only achieved by a small number of mints across the world, the exact techniques used in Smartminting are a fiercely guarded secret, but essentially the state of the art technology allows unprecedented levels of intricate detail and extraordinary high relief while only very slightly increasing the weight.
So what more could Smartminting 2.0 possibly offer I hear you ask?
This new technology (or 'Smartminting Reloaded' as it's been coined in the collecting world) breaks many barriers that were previously considered impossible… Until now.
Take a look at the images I've included below, and you'll see BOTH sides of the coin can now be struck to an incredible high relief proof finish. But that's not all, the relief levels are 100% higher than what was previously possible!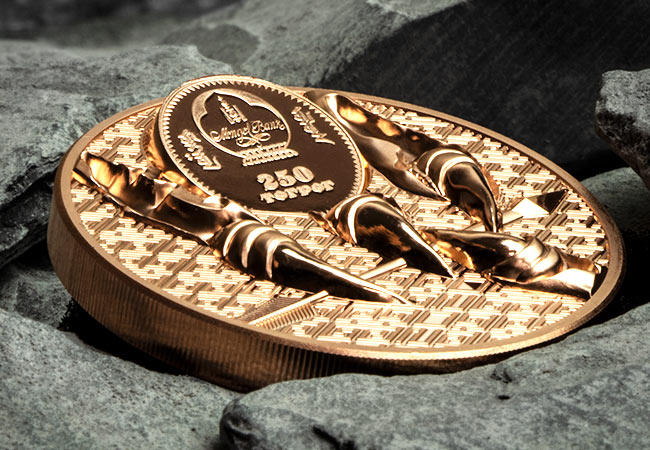 And if that's not enough, for the FIRST TIME EVER, Smartminting technology has been applied to a coin made from copper.
You'll notice the incredible relief of the Eagle's claws which make it look like they're literally ripping through the metal and right through the other side of the coin!
Featuring 'Incuse' Striking
It also features 'incuse' striking. An incuse strike is a relatively new minting process that allows a design to be struck into a coin creating a 'sunken' design, as opposed to the standard raised relief. Few mints in the world have attempted Incuse striking as the unique and unusual format makes them more challenging to strike and, therefore highly unusual to come by.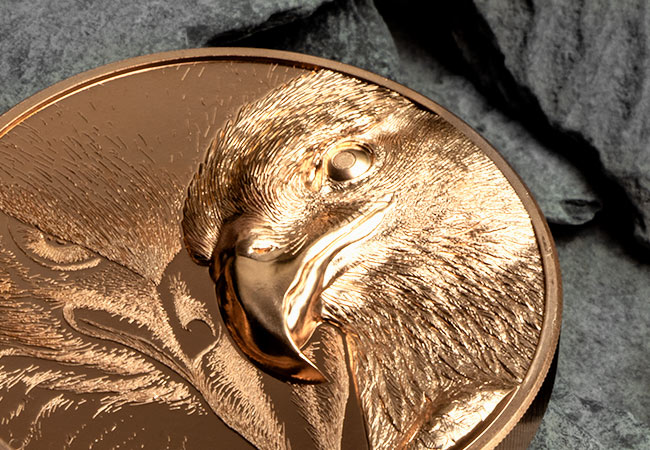 The 'Incuse' strike is visible where the depth of the claw marks are left in the surface of the coin.
Also notice how the high relief of the Eagle's head extends to the edges of the coin instead of just the centre, leveraging the whole surface area of the coin.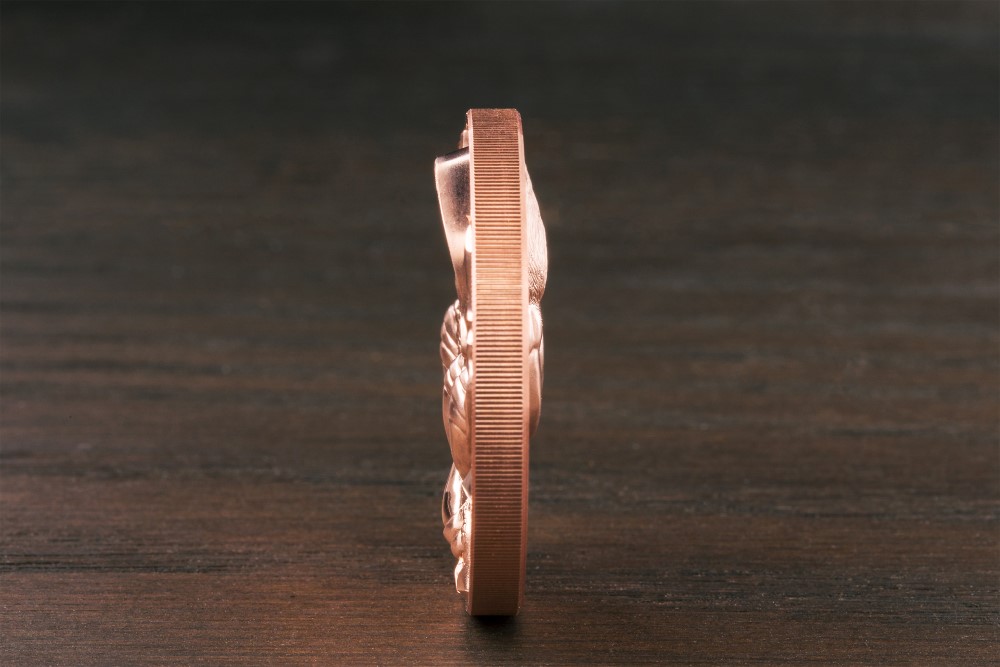 This ground-breaking technology has been deployed on a range of Majestic Eagle coins. The design featured was chosen to symbolise strength, leadership and vision and I'm sure you'll agree it beautifully showcases just what the new Smartminting enhancements are.
However, to fully appreciate this coin, I ask, that you to watch this video. This coin really is an outstanding work of art and this video is the only way to fully appreciate this coin without physically holding it.
---
If you're interested…
The Majestic Copper Eagle is strictly limited to JUST 5,000 collectors worldwide and I am delighted to have been able to get hold of an allocation to offer collectors. But they've been selling extremely quickly, so you'll need to pre-order one now to ensure you can add one to your collection. Priced at JUST £55 (+p&p), click here to secure the Majestic Copper Eagle for your collection NOW >>
With the festive season underway, Christmas-themed coins and medals are proving popular with collectors again this year.
I've taken a look at the stories behind 5 of the most collectible Christmas coins and medals available today…
The star- shaped Christmas coin:
This Australian festive star-shaped Christmas coin features a beautiful full-colour image of a snow-covered Christmas tree. But what makes it even more special is the hole in the capsule, which allows a ribbon to be tied transforming the coin into a Christmas tree ornament.
Struck from .999 silver in an innovative star-shaped design, this coin would be the highlight of any tree!
The only 'official' Christmas coin:
This coin, featuring a gold-plated Rudolph, can lay claim to being the world's only 'official' Christmas coin. Why? Because it is issued on behalf of 'Christmas Island' – a tiny Pacific atoll that is part of Kiribati.
Each year, Christmas Island releases a new edition of this silver crown coin, and they have become some of the most sought after festive coins issued worldwide. After all, you can't get more authentic than a Christmas coin from Christmas Island!
The fastest-selling and most collectible coins in the world:
The Royal Canadian Mint Silver $20 Coins have become a collecting phenomenon. First issued in 2011 they became some of the fastest-selling, most collectible coins of all time.
The very first mintage of 200,000 coins sold out within 29 days – that's 7,000 coins a day.
Both of these coins have sold out in Canada and it's unlikely to be long until they sell out in the UK too.
A moving Christmas tribute:
The French Mint, La Monnaie de Paris, have issued a medal to pay tribute to the soldiers of the First World War.
The artistic masterpiece features a design that represents the Christmas Truce – showing a scene of rare peace and goodwill between enemy soldiers in the trenches.
The Christmas Truce was a series of widespread but unofficial ceasefires along the Western Front around Christmas 1914. In the week leading up to the holiday, German and British soldiers crossed trenches to exchange seasonal greetings and talk.
Roughly 100,000 British and German troops were involved in the unofficial cessations of hostility along the Western Front.
The Snowman and the Snowdog:
Everyone is familiar with the magical Christmas story of The Snowman and The Snowdog. Last year, the Isle of Man issued a crown-sized coin featuring the loveable characters from the 2012 sequel film to Raymond Briggs classic story.
The Snowman and The Snowdog is a 2012 animated short film. It is the sequel to The Snowman, and was created to mark the 30th anniversary of the original short film. The Snowman and The Snowdog is dedicated to John Coates, the film's producer, who died in September 2012.
---
If you fancy adding a Christmas coin to your collection, or perhaps as a gift, we have just 24 star-shaped Christmas Coins available.