What happened when The Royal Mint launched the official Coronation coins?
Today, we witnessed the monumental launch of the official UK Coronation coin range.
And as you would imagine, the coins released for the biggest royal event in decades have generated insatiable demand. The Royal Mint have already SOLD-OUT THIRTEEN of their specifications.
Featuring a 50p, £5 and an Ounce range, these FIRST Coronation coins were made available in BU, Silver Proof, Silver Piedfort, and the most prestigious quality – Gold Proof.
OVER 60,000 Collectors Waited…
The story began at 9am, when we were greeted by a queue of over 60,000 on The Royal Mint's website.
And since then, we have seen almost immediate SELL-OUTS…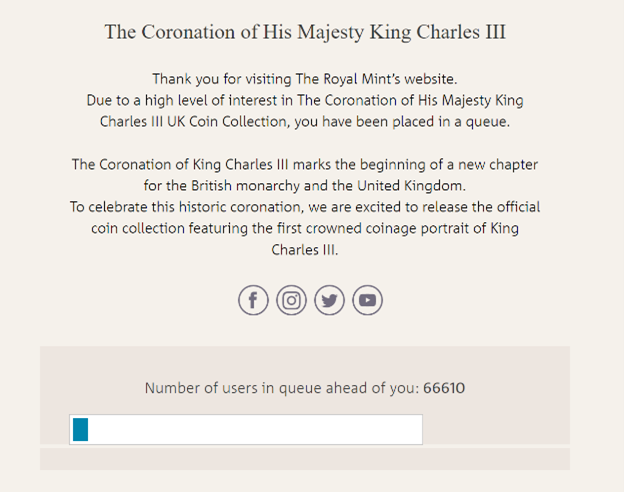 Sell-Out After Sell-Out
The growing queue soon resulted in the 16-MINUTE SELL-OUT of the Struck on the Day Sovereign, going off-sale from the Mint at 9:16am.
The sell-out of the 1/40th oz Gold coin came next, selling out an impressive entire edition limit of 2,023 in just over twenty minutes!
The prestigious 1oz and ¼ oz Gold Proof Coronation coins soon followed suit and sold-out too.
Next were all the coins in the Gold Ounce range to sell-out of their edition limits, which ranged from 500 to 2,023.
Then, the 5oz Silver with an edition limit of 1,500 was next to sell-out…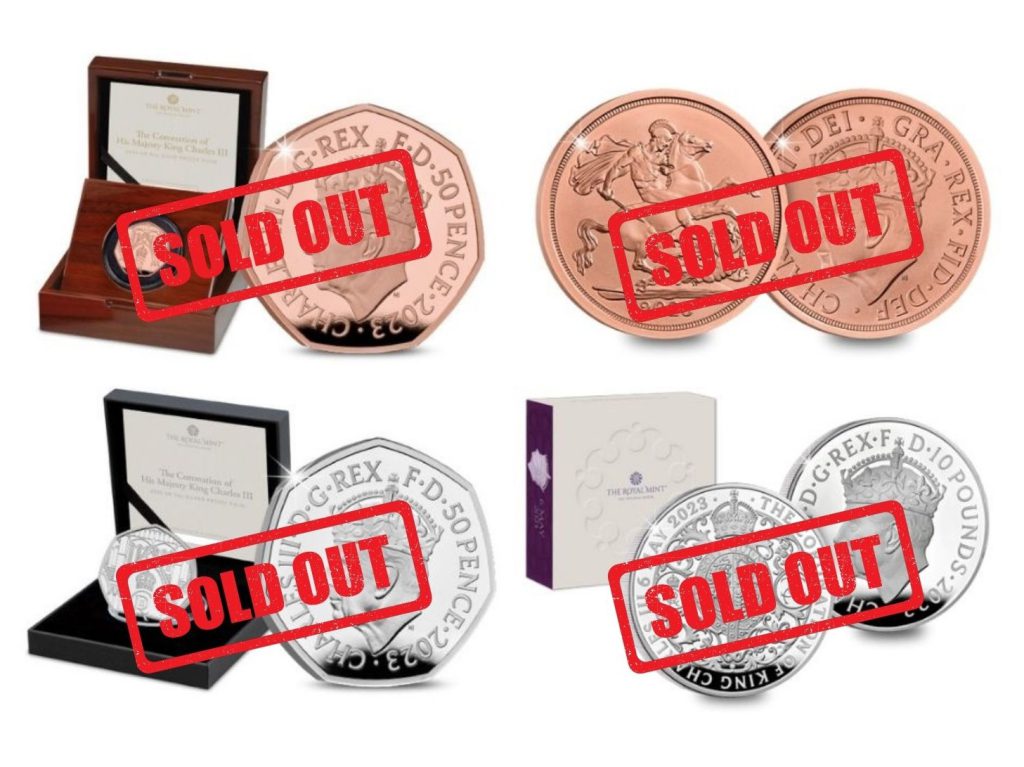 Even the large edition limit of 3,250 belonging to the Silver Piedfort 50p and Silver Piedfort £5 coins have BOTH SOLD-OUT!
But most impressively so far, BOTH the prestigious Gold Proof 50p and Gold Proof £5 specifications have sold-out of their 500 edition limits!