Posts Tagged 'fifty pence'
When it comes to coin series', very few are as popular as the Beatrix Potter 50ps.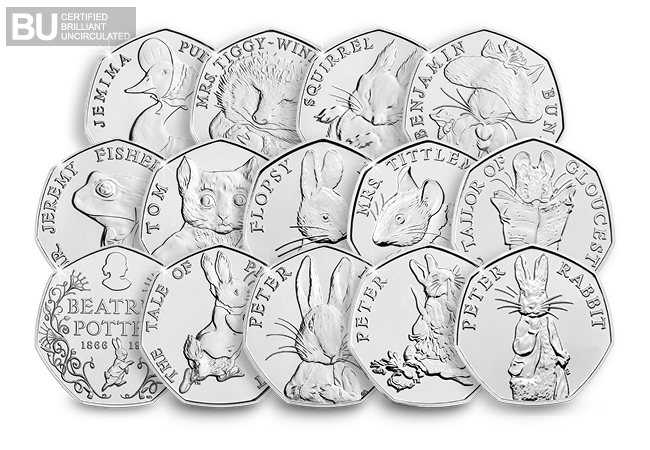 Since they were issued back in 2016, each release has continued to be incredibly sought-after by collectors.
And understandably, collectors have A LOT of questions about this hugely popular series.
Questions that we wanted to answer.
So in our latest video Rachel and I do just that.
Whether you want to know how rare the Beatrix Potter coins really are or if there will be any more Beatrix Potter coins released this year, make sure you watch our latest video to find out.
---
If you're interested:
You can secure all 14 Beatrix Potter coins today, including the highly sought after Jemima Puddle Duck. All you have to do is click here >>

In just a few weeks' time something remarkable happens. Her Majesty the Queen and HRH Prince Philip celebrate 70 years of marriage – their Platinum Wedding Anniversary
You probably know someone who has celebrated their Golden Wedding Anniversary (50 years of marriage). You may even know someone who has reached 60 years – their Diamond Wedding Anniversary. But I'd be happy to place a small wager that you don't know anyone who has managed 70 years of marriage.
That's because only around 30 couples in the whole of the UK ever reach that milestone each year. Or to put it another way – the Queen and Prince Philip are literally one in a million.
And to mark the occasion, eight special commemorative 50p coins have been issued. It is the VERY FIRST time that British Isles specification 50p coins have been struck to mark a key royal wedding anniversary such as this.
Most importantly, these coins have been authorised by the Isle of Man Treasury, have full legal status AND a very limited number will enter circulation in the Isle of Man.
The UK's most collectable coins…
The 50p coin has rapidly become the UK's most collectable coin spurred on by the release of the Olympic 50p coins and, more recently, the incredible demand for the UK's Beatrix Potter coins.
And that's why these issues are so important.
British Isles 50p coins like this rarely turn up in your change in the UK, making them some of the most sought-after circulating coins around.
As the first major Royal wedding anniversary to feature on any British Isles standard specification 50p coins, this is a very significant moment.
A moment that's made even more important due to the incredible milestone 70 years of marriage represents.
---
How you can own the new coins…
Start collecting the new Platinum Wedding 50p coins, struck to superior Brilliant Uncirculated Collector Quality for your special introductory price of just £3.99.
In August last year, we reported the Football 50p to be the scarcest of the Olympic 50p designs according to our Olympic 50p Swap Centre data. So how have things changed over the last 6 months?
Well the news is that Triathlon has kicked Football off the top-spot with the latest information revealing the following are the top 5 most requested designs:
Triathlon
Wresting
Judo
Football
Rowing
The Brownlee Effect?
Of course you might be forgiven for thinking that Brownlee brothers' success at the Olympics boosted demand and perhaps it played a small part. However, the biggest influence is how the Royal Mint has released the coins into circulation.
Unfortunately, we are unlikely to know the final figures of how many of each coin was distributed for another 3 and a half years, when the Royal Mint releases mintage information but I am pretty sure top 5 most wanted will be amongst the lowest mintage numbers.
Of course, in the meantime, if you are looking to complete your Olympic 50p Collection you can register to find other collectors to swap with absolutely FREE at the Olympic 50p Swap Centre.