Posts Tagged 'Commemorative Coin'
Everyday we're inundated with symbols and logos, and many of them pass us by. Be it on an advert at a bus stop, on our favourite brand of coffee, or even the Westminster Collection logo that was at the top of this blog. They're everywhere. And even if we do pay attention to them, we don't necessarily stop and think what it symbolises – I know I'm certainly guilty of this.
But there's perhaps nothing quite as symbolic as a nation's Great Seal – and they're fascinating to boot! Great seals have been around since the Middle Ages, and typically feature a nation's coat of arms or an allegorical image, as was common practice during this era to embody political entities like countries or provinces as a Grecian-style female figure.
In centuries when few people could read or write, the seal provided a pictorial expression of state approval which all could understand. They're used as a guarantee of the most important and solemn records and documents, such as laws and treaties.
Generally speaking, the design of a Great Seal rarely changes, only after the ascension of a monarch. It is the one thing that connects all heads of state to their predecessors and those yet to come; an eternal bond.
But a delve into the Canadian archives shows us that the Great Seal of Canada has had several incarnations, and not just to mark a new head of state. Instead, each one marks a significant moment in Canadian history.
One of the most important iterations of the seal is the Great Seal of the Province that was used from 1841 to 1867. This seal is seen to mark one of the most important changes in Canada's history – let's take a look…
The Great Seal of the Province of Canada
In 1841 the two major British colonies of Lower and Upper Canada, now Quebec and Ontario respectively, were brought together under a single government and economy for the first time.
It was Canada's first move toward responsible government and, according to the Canadian Encyclopaedia, was a "26-year experiment in Anglophone-Francophone political cooperation."
Before the merger, Lower and Upper Canada had their own individual seals. To solidify the merge a new seal was created by placing the two existing seals side by side, held together by two allegorical figures with their arms around each other's shoulders marking the unity of the two colonies.
To complete the design, the Royal Arms of the ruling monarch of the time, Queen Victoria, was incorporated over the top of the entire scene.
Steeped in symbolism
Importantly, every element in the detailed design was symbolic. Representing unity and Canada's ties to Great Britain, some of the key elements include:
Lower Canada seal: engraved by Thomas Major in 1793, it depicts a graceful oak tree on the bank of a river overlooking several ships at anchor, with a typical Quebecois town featuring a church steeple in the background.
Upper Canada seal: originally designed in 1792 it features a peace-pipe crossed with a sword and an anchor, bound by an olive crown. The Union Jack is visible in the upper right-hand corner, alongside the royal crown.
The royal arms of Queen Victoria: Victoria's shield, held up by the lion (England) and the unicorn (Scotland).
Two allegorical figures: two figures embrace each other with one hand while holding up the seals of Upper and Lower Canada with the other, symbolising the coming together of the colonies.
Floral ornamentations: the seal is decorated throughout with the Scottish thistle, English rose, and Irish shamrock.
If there was any doubt as to how important this seal is and what it represents to Canada in terms of its history and heritage, then look no further than Canadian Parliament. Here you'll find two original limestone carvings of the Great Seal of Province – a permanent reminder of the historic union of Lower and Upper Canada.
---
If you're interested…
The Royal Canadian Mint is known for being fiercely proud of their country's history, consequently their most significant issue of 2019 featured the Great Seal of the Province of Canada.
Expertly struck from ten full ounces of the finest .9999 silver with gold plating to a flawless proof finish this coin really has to be seen to be believed. And because of the impressive 76mm diameter you can appreciate every minute detail of the faithful reproduction of the Great Seal.
Just 900 coins were issued worldwide and it completely sold out at the Mint. We have a few of these masterful coins remaining, click here for more information >>
I don't know about you, but I'm counting down the days until James Bond – or better known by his MI6 codename 007 – will be returning later this year in the hotly-anticipated 25th Bond film, No Time To Die.
But what's perhaps even more exciting is that the Royal Proclamation issued on 14th February 2020 confirmed a BRAND NEW coin series featuring the British secret agent will be issued – just in time for the release of the new movie!
Much like many of Bond's missions, the details of these coins are a closely guarded secret. But your mission, should you choose to accept it, is to register your interest below, so that when the new coins are released you'll be the first to know.
In the meantime, let's take a closer look at the Royal Proclamation to see what is in store for this exciting new series…
007 to feature on THREE coins
According to the Proclamation there will be not one, not two, but three coins issued in the series. The designs have been confirmed to feature the following:
The Bond car from Goldfinger set against the 007 logo with the inscription 'Bond, James Bond'.
The Bond car from The Spy Who Loved Me set against part of the 007 logo and the inscription 'Pay attention 007′.
A depiction of James Bond's torso in a dinner jacket and bow tie set against a part of the 007 logo with the inscription 'Shaken not stirred'.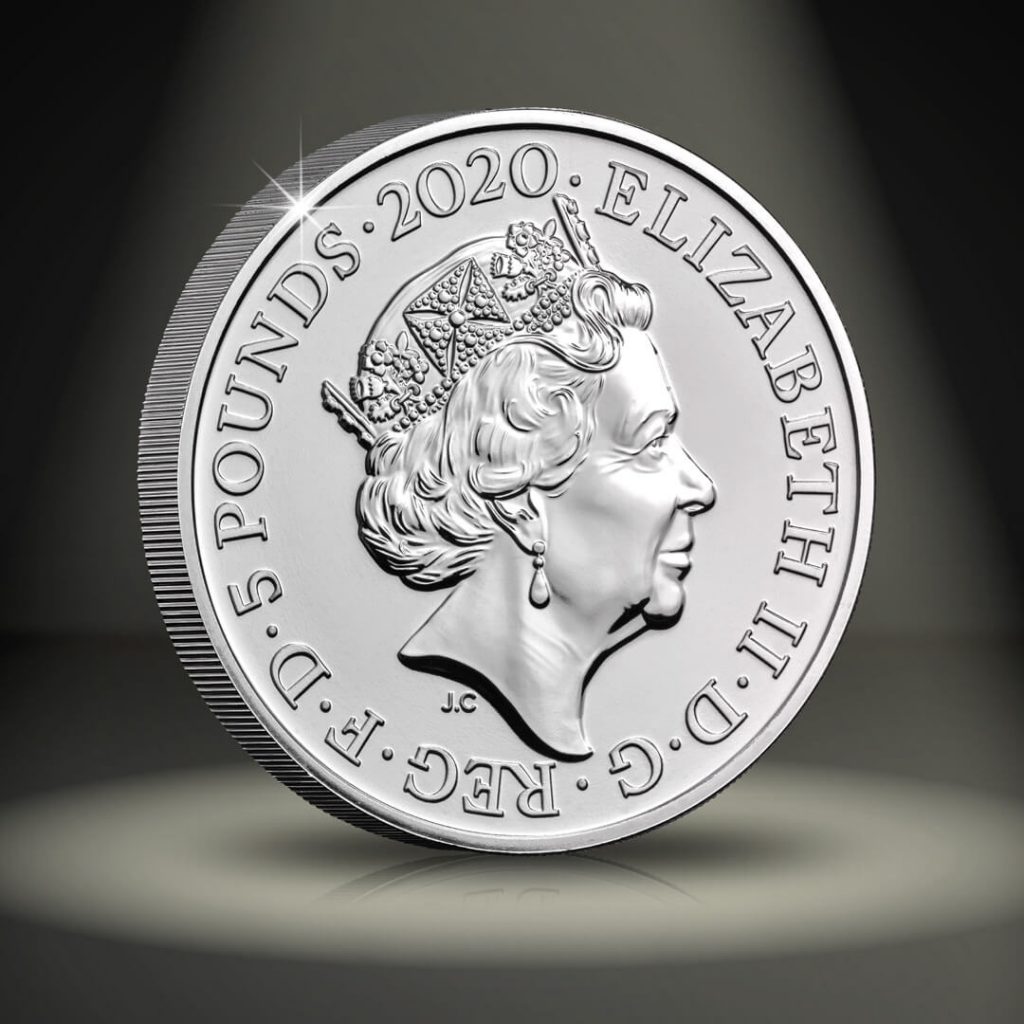 From this I think we can safely say that all three designs will feature iconic James Bond images that we've grown to know and love, and will instantly recognise from the films.
It also looks like this commemorative Bond coin will be issued in a variety of base and limited edition precious metal specifications and denominations. This includes a Brilliant Uncirculated £5 coin and a Silver £2 coin.
Not the first time Bond features on a UK coin…
However, eagle eyed collectors will know that this isn't the first time the suave secret agent has featured on a UK coin. He made his debut appearance in the Royal Mint's A-Z 10p coin series, taking the 'B' for 'Bond' spot.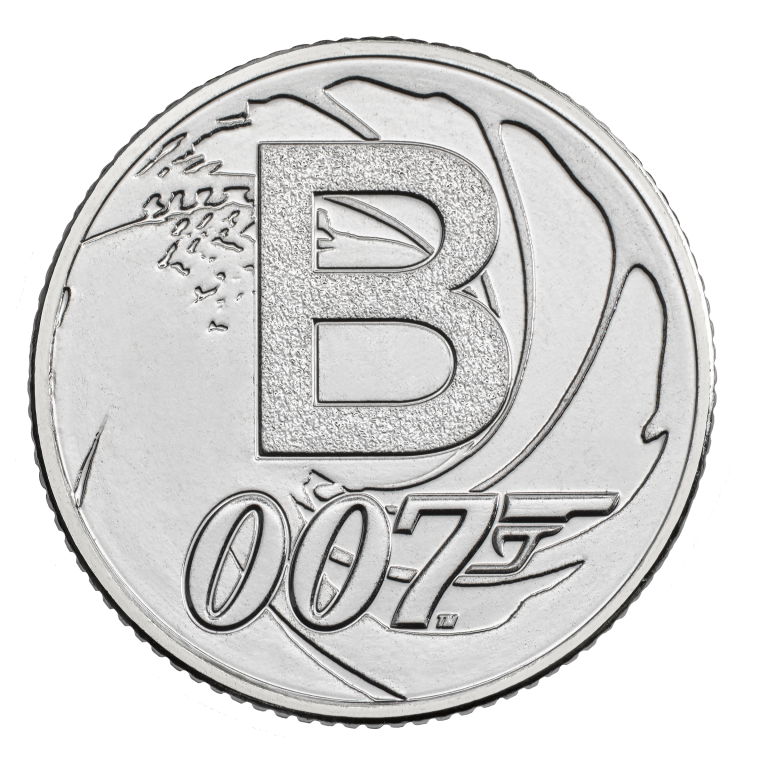 Out of all the A-Z 10p designs, 'Bond' is widely considered to be the most popular. This makes me certain that this brand new James Bond series WILL to be a real hit with collectors!
---
Register your interest
It goes without saying that Bond has an unrivalled cult following with leagues of fans worldwide. So, I expect these new commemorative issues to be amongst the most anticipated new issues in 2020, and as such will be in high demand!
If you want to be kept up to date and be the first to know when these coins are available then simply register your interest below and we'll email you as soon as we have more information.
It's a coin story the UK, if not the world, has been watching now for several years. And finally we have reached its conclusion, as today the UK withdraws from the European Union. To mark the occasion a brand new official UK 50p has been released.
Plans to release special Brexit coins were first announced by former chancellor Philip Hammond in 2018. Years in the making, I suspect this will be one of the most eagerly anticipated issues we've ever seen – it's surely the coin of the decade!
Regardless of how you voted back in the historic referendum in 2016, it goes without saying that the 31st January 2020 will go down as one of the most significant dates in the UK's history. This new coin is both marking this important moment in time and acts as a symbol of the UK's future.
The new 50p coin has been struck to a variety of specifications. Each one features the inscription "Peace, prosperity and friendship with all nations", as well as the withdrawal date.
A 50p coin was struck when the UK joined the European Economic Community in 1973 and when the UK held the presidency of the EU in 1998. So it only seems fitting one is released to mark the UK's departure from the EU. And by marking such a pivotal event in our history, this coin is certain to be sought-after by collectors in years to come.
Simply read on to discover how you can be one of the first UK collectors to add this brand new UK 50p to your collection…
---
The Official UK Brexit 50p BU Pack
To give as many collectors as possible the chance to own this highly sought-after coin, The Royal Mint has issued it in Brilliant Uncirculated quality. This finish is coveted by collectors as it means each coin is free from any marks you would find on circulated coins.
Each coin is protectively encapsulated in its attractive original Royal Mint packaging to preserve its quality for generations to come. What's more, you can secure this BU Pack at the Royal Mint issue price of just £10 (+p&p).
Click here to find out more >>
---
Limited Edition Silver Proof Brexit 50p
Whilst thousands, if not millions of these new coins will be struck, you can choose to own the official Withdrawal from the EU 50p coin in a far more limited way.
Just 47,000 coins have been issued worldwide in a superior specification, struck from .925 Sterling Silver to a Proof finish. Given how popular commemorative 50ps are, this exclusive precious metal version is sure to be an even bigger hit.
What's more, there will surely not be enough coins to satisfy demand – especially if you consider that over 17 million people voted to leave the EU in the historic 2016 referendum . That's 307 voters for every new coin issued!
You can secure one for your collection today for just £60 (+p&p) – that's the Royal Mint issue price.
Click here to find out more >>
---
Extremely Rare Gold Proof Brexit 50p
Finally, the rarest version of all. Just 1,500 collectors worldwide will be able to own the Withdrawal from the EU 50p impeccably struck to the most superior specification of all, from 22 Carat Red Gold to a proof finish.
Gold Proof 50ps have some of the fastest sell-out rates around – previous issues, including the Snowman and the Gruffalo, have sold out within 24 hours of release. So this history-making issue is not expected to be available for long. You can reserve yours today with a deposit of just £99.50 (+p&p) followed by nine further interest-free instalments – clearly the most affordable way to own this superior issue.
Click here to find out more >>
---
Please note, collector demand is expected to be extremely high so it is advised that you act quickly to avoid disappointment.
You can view the full UK Brexit 50p range by clicking here >>