Posts Tagged 'British history'
When it comes to pushing the boundaries of engineering and speed, one name stands out above the rest in the annals of railway history – the Mallard.
This iconic steam locomotive holds a special place in the hearts of enthusiasts and historians alike. Join us as we delve into the story of the Mallard and uncover five fascinating facts about this legendary machine.
The Record Breaker
The year was 1938, and the quest for speed was on.
The Mallard took centre stage when on July 3rd of that year, it embarked on a mission to break the world speed record for steam locomotives.
Rocketing along the East Coast Main Line, near Grantham, the Mallard reached an incredible speed of 126mph, breaking the record previously held by Germany's DRG's Class 5 Locomotive that had reached 124.5mph in 1936.
And the Mallard's world record still stands to this day.
A plaque has been mounted on its side to commemorate its historic achievement, proudly displaying its maximum speed of 126mph.
Designed for Speed
The brainchild of Sir Nigel Gresley, the renowned chief mechanical engineer of the London and North Eastern Railway (LNER), the Mallard was built at the Doncaster Works.
Gresley incorporated several features to maximize speed, including a streamlined body and a three-cylinder design for greater power and efficiency.
A Train of Firsts
The Mallard was not only a speed demon but also a pioneer of innovative technologies.
It was the first locomotive to be fitted with a Kylchap double blastpipe and chimney, which significantly improved steam flow and enhanced performance.
Additionally, it was one of the first locomotives to be painted in the iconic LNER garter blue livery, making it instantly recognizable.
A Legacy Preserved
Today, the Mallard is part of the National Collection, residing in the National Railway Museum in York. Following a restoration project which brought the Mallard back to its former glory, the magnificent locomotive is a star attraction.
Links to Ornithology
Gresley had a keen interest in birds and birdwatching and as such many of the locomotives in the A4 class were named after birds.
Including the Mallard, Falcon, Golden Eagle, Sparrow Hawk, Kingfisher, Wild Swan and Guillemot to name a few…
---
Yours FREE: The Mallard Commemorative
Today you can own the first issue in the British Railway Heritage Collection – The Mallard Commemorative – for FREE. You'll only pay postage.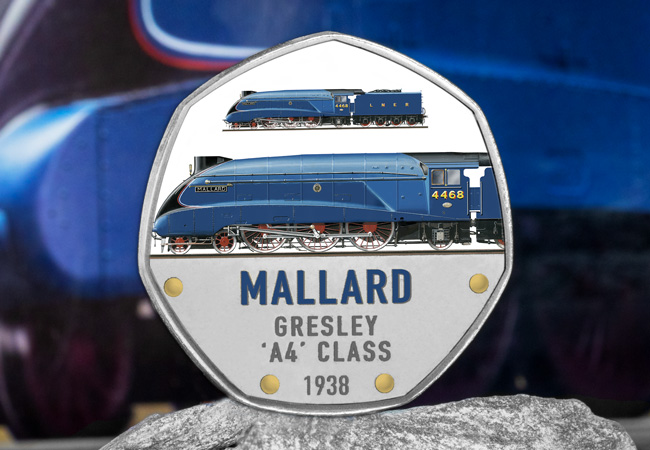 The Mallard Commemorative is the first in a collection celebrating Britain's Railway Heritage – with each issue featuring an intricately illustrated locomotive from the annals of railway history.
By ordering your commemorative today, you have the chance to trial the British Railway Collection for FREE (+postage) with absolutely no obligation to continue collecting if you don't want to.
Introductory Offer
The Mallard Commemorative is an Introductory Offer for the British Railway Heritage Collection. Each month, you'll receive four commemoratives for £25.00 (+p&p). You'll also receive your FREE Presentation Album to house your collection. You can cancel your subscription at anytime.
Click here to purchase the Mallard Commemorative with no subscription for the full price of £6.99 (+p&p) >>
This year marks the 80th Anniversary of the Dambusters Raid, one of the most famous air operations of World War II and an example of Great Britain's daring wartime ingenuity.
The operation involved 133 heroic RAF crew flying 19 Avro Lancaster planes – the magnificent WWII bomber that delivered Barnes Wallis' astonishing "bouncing bombs".
And now, 80 years on, a spectacular range of British Isles coins have been authorised to honour this legendary chapter in RAF history.
Each coin commemorates that audacious midnight raid on Germany's Ruhr Valley dams in May 1943, arguably one of the turning points that led to British Victory in World War II.
View the coins below and all the information you'll need to order your favourites.
---
ONLY available from The Westminster Collection: The Dambusters 80th Anniversary £5 Pair
Exclusively available from The Westminster Collection, The Dambusters 80th Anniversary £5 Pair has been issued by Jersey and Guernsey and fully approved by Buckingham Palace.
Featuring specially commissioned designs by David Lawrence, both coins are struck to a pristine Proof finish and housed in a presentation case with Certificate of Authenticity. What's more, a strict worldwide edition limit of ONLY 4,995 has been set.
---
The Limited Edition Silver Proof Collector Set – own it today with JUST £29.50
This STRICTLY LIMITED Collector Set includes two British Isles Silver Proof £5 Coins that have been fully approved by Buckingham Palace, alongside a Sterling Silver Proof Commemorative.
Importantly, this is the ONLY way you can own the Dambusters 80th Anniversary Silver Commemorative – it will never be released individually.
A strict edition limit of JUST 750 has been authorised for release worldwide.
This makes the coins more than 16 times RARER than the UK's most recent Silver Proof £5 that completely SOLD OUT of 12,500 coins in a matter of days. So, you can see why this new collection is so significant and why so many collectors will miss out…
---
Demand will outweigh availability – JUST 195 Prestigious Silver 5 Ounce Coins issued
Struck from FIVE ounces of 99.9% Pure Silver and hand-polished to a pristine Proof finish, the reverse design is inspired by the classic movie poster for 'The Dam Busters' and features Wing Commander Guy Gibson alongside the legendary Avro Lancaster Planes.
With its complex and sophisticated process of production, the 5oz Coin is one of the most extravagant and demanded in the world of numismatics. A strict worldwide edition limit of JUST 195 has been set and so demand will outweigh availability.
---
Impressive 100mm diameter 10oz Silver Coin – JUST 55 WORLDWIDE
This HUGE 100mm diameter coin has been struck from 10oz of 99.9% Pure Silver and hand polished to a pristine Proof finish. Due to the size of the surface, this coin allows collectors to appreciate the smallest details of the design.
The coin comes housed in a special collector case with numbered Certificate of Authenticity. With ONLY 55 being released worldwide, it is one of the rarest issues in the Dambusters range and will be highly sought after by collectors.
Click here to find out more >>
---
If you're interested…

2023 marks the 75th anniversary of Britain's National Health Service. And today, we celebrate the pivotal role that the NHS has played in our lives for decades with a brand-new coin range.
But first, let's take a look back at the service which touches the lives of millions every day…
Britain, 1948
The National Health Service was founded in 1948 and was the first universal health system to be available to all, completely free of charge.
The Minister of Health at the time, Aneurin Bevan, introduced the service to the British people who had previously been unable to afford medical bills and had only ever known insurance-based schemes to cover the cost of healthcare.
But, the NHS offered healthcare to all for not a single penny, and revolutionised medial treatment as the people of Britain knew it…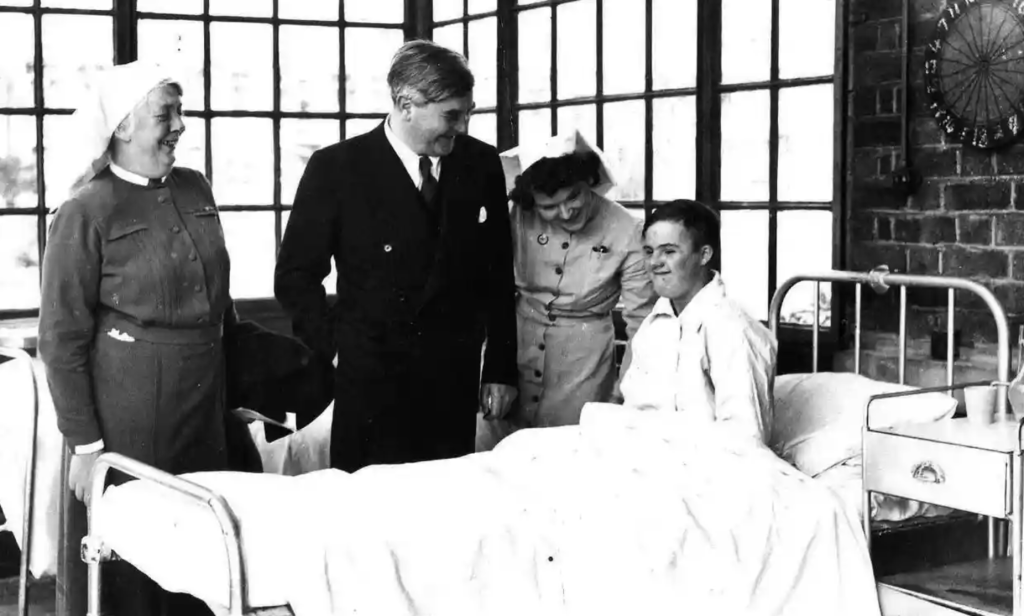 Establishing the NHS
Since 1948, the NHS has grown into an incredible service, from Britain's first heart transplant in 1958 to Europe's first liver transplant in 1968.
Renowned for their large-scale vaccination programmes, the NHS protected children from whooping cough, measles and tuberculosis – and in 1999, the meningitis C vaccine was offered nationally as a global first.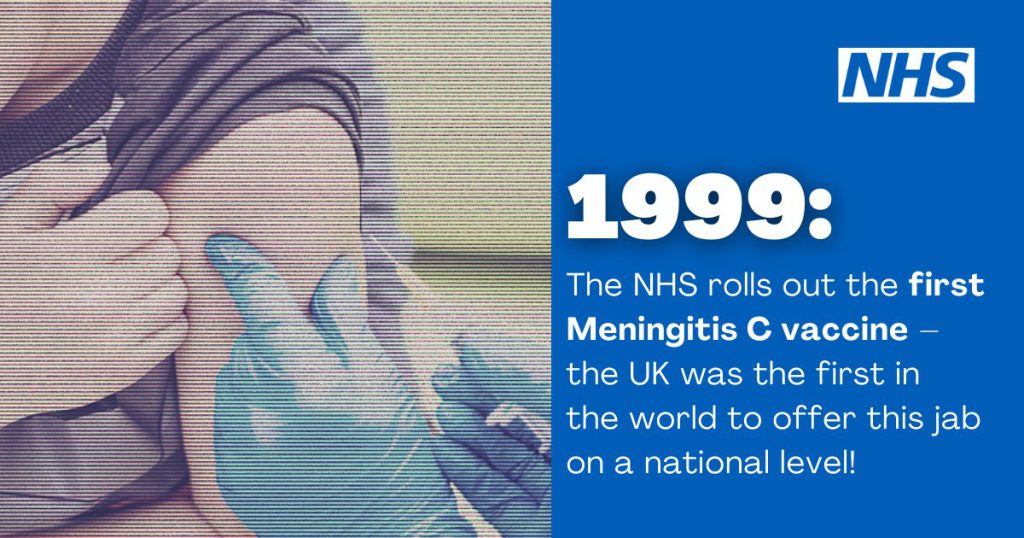 The NHS has delivered huge advances in health care – not only have they carried out revolutionary liver, heart and lung transplants, but they were also the first health service in the world to begin Covid-19 vaccinations. They continue to strive to pioneer new treatments and technologies, such as bionic eyes and the world's first rapid whole-genome sequencing service.
And following the shocking impact that Covid-19 had on our National Health Service, now is the perfect time to offer gratitude for decades of selfless, tireless and relentless work.
A Sentimental 50p
Therefore, to not only pay tribute to the 75th anniversary of the NHS, but to also offer appreciation for their care, compassion and devotion throughout the years, The Royal Mint have issued a new coin range.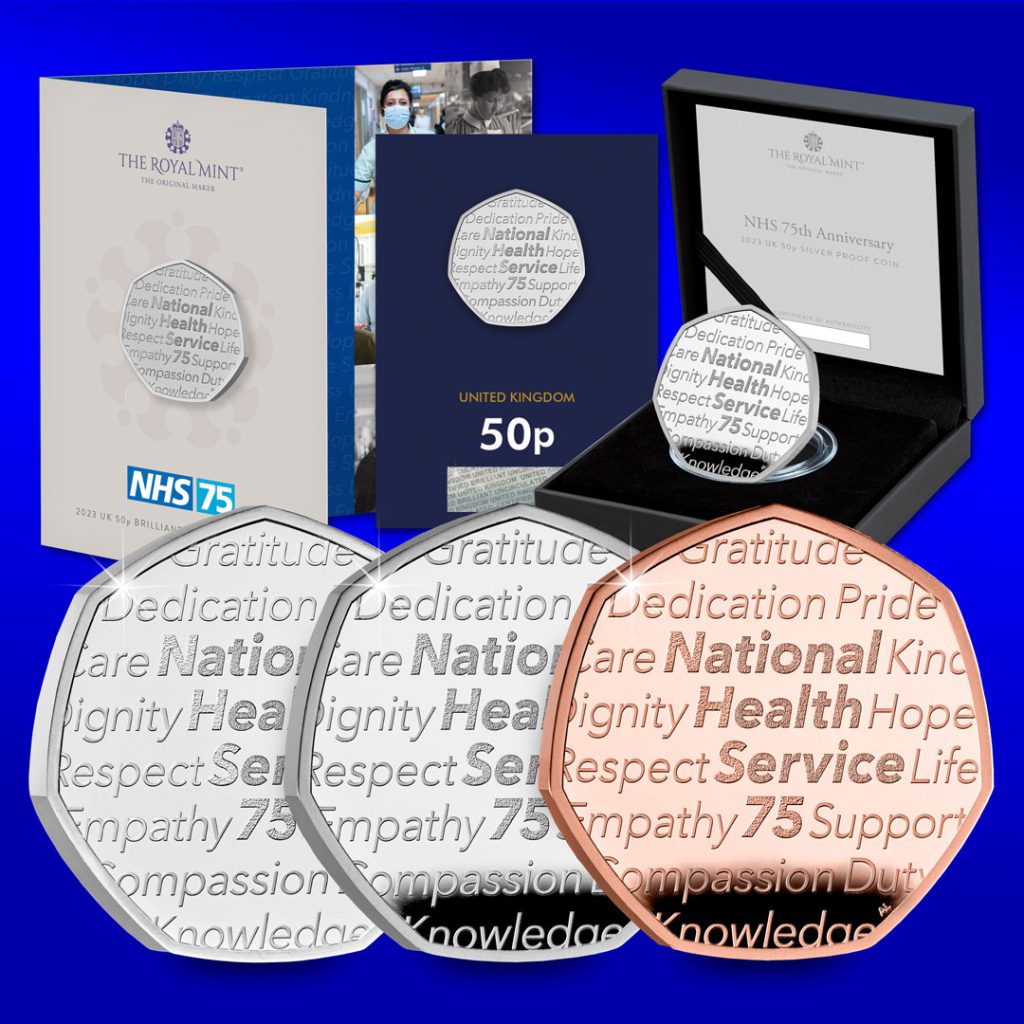 Available in Brilliant Uncirculated Quality, Silver Proof and Gold Proof, your 50p coin features a design that showcases words of appreciation for our NHS workers, both past and present.
So, celebrate the 75th anniversary of our NHS with a stunning brand-new 50p coin! Click here to explore the range >>