Posts Tagged 'Queen Elizabeth II'
As we mark Her Majesty the Queen's remarkable 70-year reign this year, The Royal Mint have just announced a brand new three-coin series!
Highlighting The Queen's personal commitment to her people, communities, and to the Commonwealth nations, the three coins are due to be issued this summer and feature designs by artist P.J. Lynch. Each coin will fittingly represent one of the three key areas of Her Majesty's reign, along with a UK FIRST — The Queen's signature!
The first coin will feature the honours and awards she bestows on individuals for their service, the second highlights her patronage and support of charities, and the third will celebrate Her Majesty's tireless work for the Commonwealth.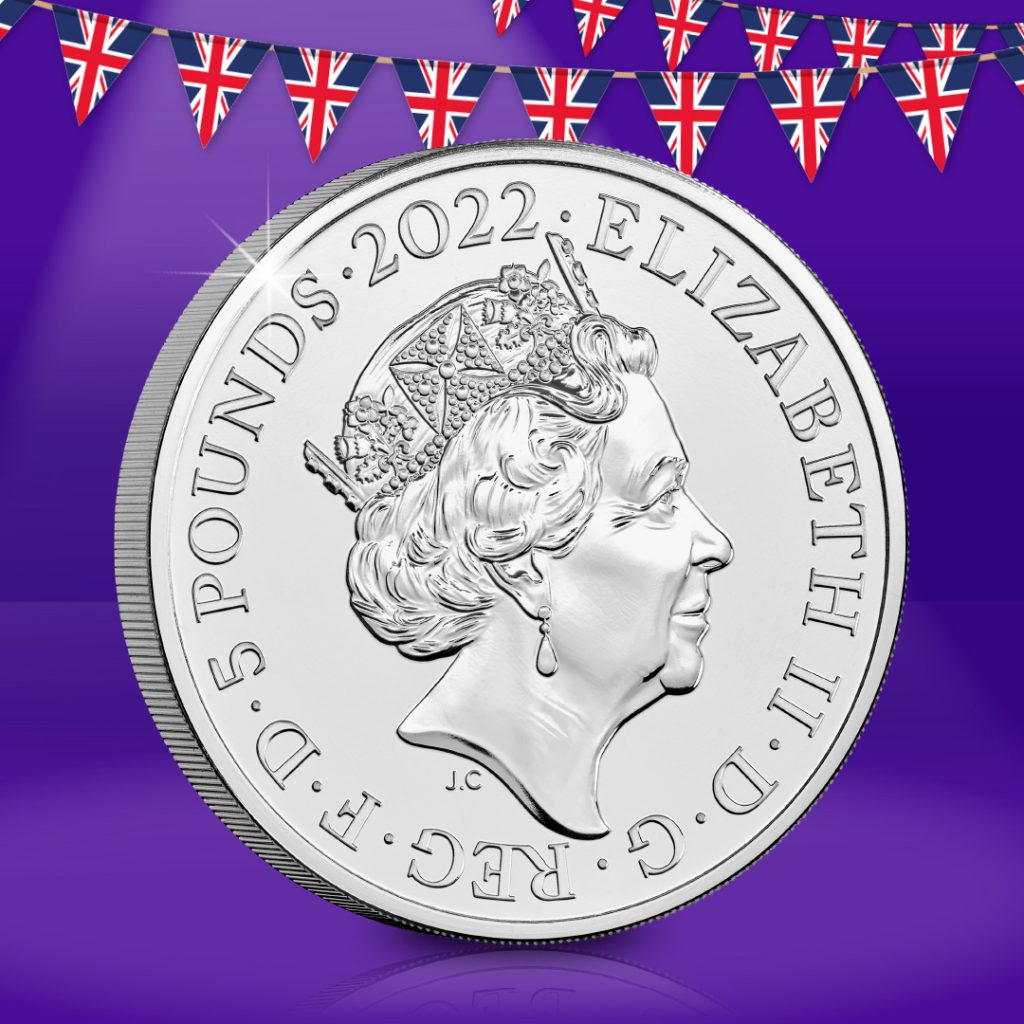 Releasing this summer!
All three coins are set to be released this summer, with the first coin in June, the second in July and the final of the series released in August.
This truly is the ultimate tribute to Her Majesty the Queen and her incredible dedication to the Crown over the last 70 years.
Make sure you don't miss out on owning this new coin series, and sign up to our BU Pack subscription service. Find out more about the BU Pack subscription service here.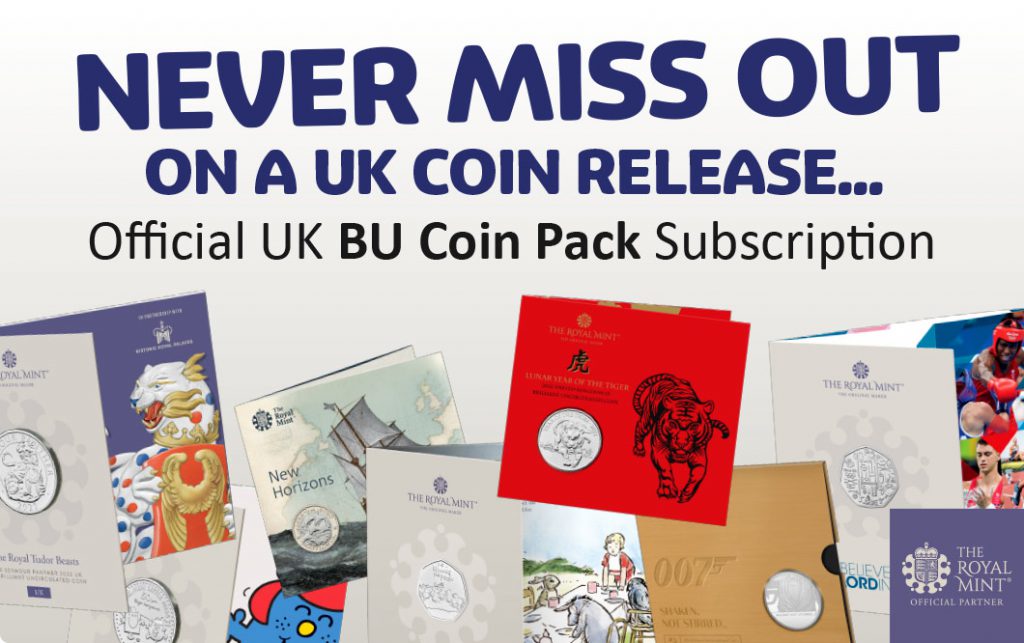 In celebrating The Queen's Platinum Jubilee this year, we're taking part in a truly historic moment.
And with so many festivities going on, I've put together a countdown of the TOP 5 weird and wonderful must-see moments this Platinum Jubilee weekend.
Now, you may have already tried your hand at recreating the Fortnum and Mason Official Platinum Jubilee pudding — a Lemon Swiss Roll and Amaretti Trifle, chosen by Dame Mary Berry herself!
Or perhaps you've heard about the 3 second sell-out of the Queen's Platinum Jubilee Barbie Doll?
Well, it doesn't stop there. Up and down the country, formal and informal celebrations will be taking place. Here's a countdown of my top 5 must-see moments:
---
5. Trooping the Colour, Thursday 2nd June
In just over a week's time, more than 850 soldiers, 200 horses and 300 musicians will come together for the traditional parade to mark The Queen's Official Birthday. This will be the first time since 2019 that the occasion of pageantry, fanfares and drumbeats can go ahead in its full splendour.
The colour being trooped this year is that of the 1st Battalion Irish Guards, with soldiers making their way from Buckingham Palace to Horse Guards Parade.
4. The Epsom Derby, Friday 3rd – Saturday 4th June
Continuing her lifelong relationship with the world's greatest flat race, The Epsom Derby, this year the Queen has entered three of her horses in the derby as she attempts to win the prestigious horse race for the first time.

With a touch of carnival, this one's for everyone — from racing royalty to racing rookies.
3. The United Kingdom and Commonwealth Illuminated, Thursday 2nd June
On the evening of 2nd June, the United Kingdom and Commonwealth will be illuminated by a blaze of light when more than 1,500 beacons are ignited in towns, villages and cities throughout Britain, the British Isles and the UK's overseas territories, as well as the capital cities of Commonwealth countries.

This tradition dates back hundreds of years, celebrating royal weddings, jubilees, and coronations and has since become a symbol of unity across borders.
2. Platinum Party at the Palace, Saturday 4th June
This promises to be an occasion to remember, playing a central part in a weekend of pomp and parties.
A star-studded line-up of artists, bands, and entertainers from across music, film and theatre are set to give you the show of a lifetime.

The event will take place at Buckingham Palace and be broadcast live on the BBC.
1. The Big Jubilee Lunch, Thursday 2nd – Sunday 5th June
Inspiring community spirit across the nation, the initiative offers the opportunity to share food, friendship, and frivolity with neighbours.
Thousands of people have signed up to host a lunch with street parties expected to match those which broke out spontaneously at the end of the Second World War.
And while you're stocking up on supplies for your very own Big Jubilee Lunch, you may spot some subtle Platinum Jubilee tributes from our supermarket staples like Heinz's Salad Queen (Salad Cream) and HM Sauce (HP Sauce).
So, it's fair to say there's enough to keep us busy over what promises to be one historic weekend in Great Britain.
---
And don't forget, there's still time to claim your FREE Platinum Jubilee Commemorative Souvenir.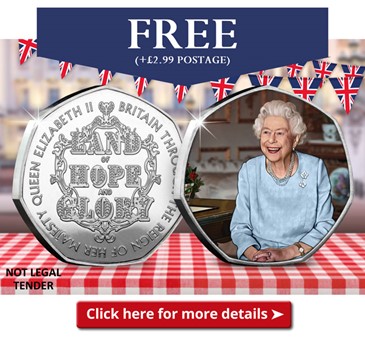 With this Introductory Offer you'll only pay £2.99 postage. It's the perfect tribute to Queen Elizabeth II, 70 years our Queen.
There's no doubt that Her Majesty's Platinum Jubilee is going to be the most collectable Royal theme for many years to come…
And today, a BRAND NEW range of Precious Metal 50p coins have been released to mark this once in a lifetime event.
With tiny edition limits across the range, collectors will be rushing to secure these brand new issues. With the standout being the WORLD'S FIRST Double Diameter Gold Proof 1oz 50p Coin!
Never before have collectors seen this, which is why this issue is sure to be in extremely high demand…
Just watch the video below to find out everything you need to know about these brand new releases…
---
If you're interested…

Click here to view the full range of Platinum Jubilee Precious Metal 50ps >>