Whether it's in person or virtually this Christmas, we are ready to start singing from the hymn sheet as one of our favourite times of year approaches. And to make it even better, we can now reveal with great excitement our brand new Christmas Carol 50p Coins!
The tradition of singing Christmas Carols during the festive period dates back to the 19th century. In fact, it is believed that the Christmas Carol Service was invented in Truro by Edward White Benson, who later became the Archbishop of Canterbury.
These stunning new festive 50p coins celebrate some of the most renowned Christmas carols and I'm sure there are many of us, myself included, with very fond memories of singing carols throughout the festive season.
The FIVE new coins have been issued by Guernsey Treasury and are fully authorised by Her Majesty the Queen. Each feature a specially commissioned design by artist Jo Goodberry (you may remember she designed the incredibly popular Pantomime 50ps last year), including; Away in a Manger, Hark the Herald Angels Sing, O Little Town of Bethlehem, While Shepherds watched their flocks, and We Three Kings.
So whether you're looking for the new centrepiece for your collection, you're an avid 50p collector, or you're looking for the perfect Christmas gift for a loved one, I'm sure you'll love these new 50p coins.
Find out more about the different ways you can own these wonderful Christmas Carol 50p Coins below:
The Christmas Carol 50p Brilliant Uncirculated Coin Collection Pack
Over the last couple of years, new 50p coins have launched a whole new generation of collectors and so demand for these latest 50ps is expected to be very high. The coins will arrive ready to display in a customised presentation pack. You can secure the complete set of FIVE TODAY for only £30.00!
The Limited Edition 2020 Christmas Carol Silver Proof 50p Coin Collection
The coins you can see here have all been struck from .925 Solid Silver to a pristine Proof finish and feature selective colour printing. Importantly, this set is one of the only ways you can own all five of these designs. None will be released individually. With an extremely limited worldwide mintage of JUST 2,020 they're not expected to be available for long.
Click here to secure yours today >>
The 2020 Christmas Carol 50p Christmas Card
The new Brilliant Uncirculated 'Hark the Herald' Christmas 50p is the only coin from the collection to be available on its own within this stunning Christmas card. What better way is there to wish family and friends a very Merry Christmas? Priced at just £7.99 it's the perfect way to get ahead with your Christmas shopping this year.
The Christmas Carol Ultimate 50p Coin Cover
The ULTIMATE Stamp and Coin Cover is also available for pre-order. Featuring all five coins in Brilliant Uncirculated quality, this cover has been carefully paired with the elusive 1982 Royal Mail Christmas Carol stamps. These stamps are not easy to get hold of, and only 750 covers are being released worldwide with a postmark on the first day of Advent – 1st December 2020.
---
Prices start from just £7.99 so if you're interested please click here to see the whole range >>
With the arrival of a new season of Star Trek: Discovery this month, and the brand new series Picard which launched earlier this year, there's a lot for Star Trek fans to celebrate this year.
And now – in what you might say is the final frontier of stamp collecting – fans can get their hands on a brand new official Royal Mail stamp release comprising of some of the franchise's most famous faces.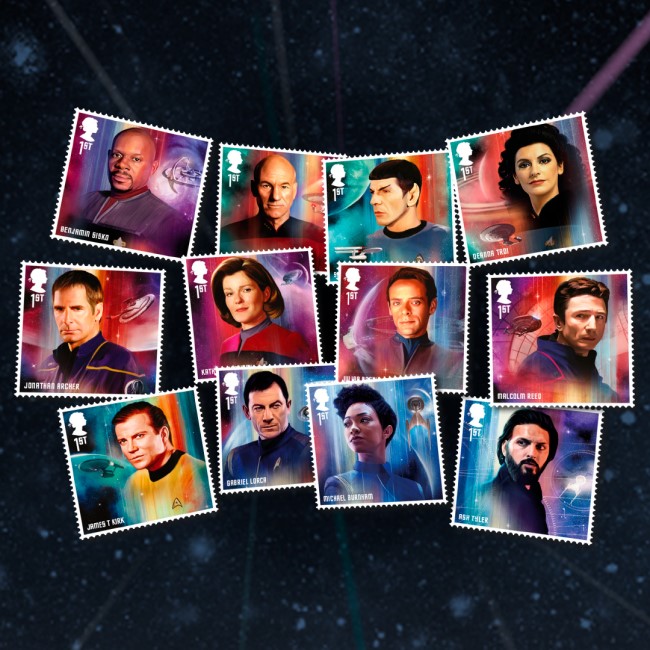 The stamps are officially released on November 13th, 2020, but you can shop our full range here and pre-order yours whilst stocks last. There are strict edition limits across our product range, so be quick if you'd like to secure yours.
Born from the mind of Gene Roddenberry, the Star Trek franchise began 54 years ago and has amassed a huge, global fanbase. It is a cultural phenomenon that's influence spans across many generations of devoted fans, creating a global community unlike any other.
Often praised for its impact on storytelling and its influence on modern-day technology, fans and scholars alike consider Star Trek to be highly progressive in its approach to social and political issues, offering the viewer a reflective view on historic and current affairs.
This culturally significant franchise has now been celebrated for the very first time on UK stamps.
"For more than 50 years Star Trek has enthralled and inspired generations of loyal fans with extraordinary adventures and an optimistic vision of humanity's future.

We celebrate the Star Trek Universe with stylish new stamps of its iconic characters."

Philip Parker, Royal Mail
There are several ways to own these new issue stamps, with each stamp presentation framed and ready to display, and will be officially postmarked by Royal Mail on the day of the stamps release.
Here's your guide to each of the products available and how you can be one of the limited number of collectors to own one of these limited edition pieces…
---
The Star Trek Collectors Frame
The Star Trek Collectors Frame features Royal Mail's Collector Sheet, and only 1,995 framed editions are available worldwide.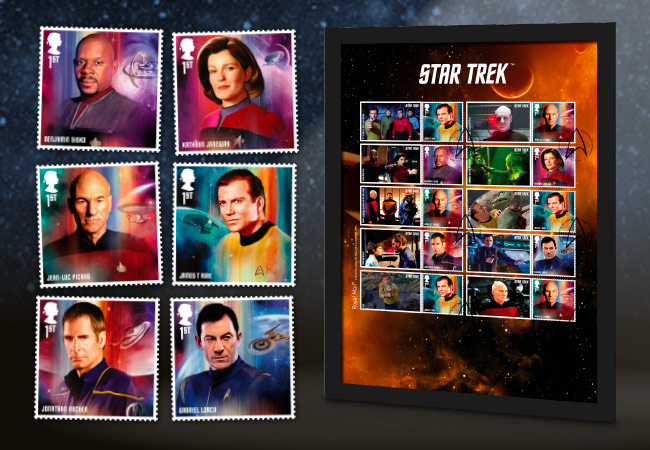 These stamps bring together captains from six Star Trek TV series, including Captains Kirk, Picard, and Archer. Each of the stamps featured is accompanied by an Officially Licenced Philatelic Label featuring scenes from the corresponding series.
Your Collector Sheet is A4 in size and is set against a dramatic space scene – perfect for displaying in your home!
Click here to pre-order one of the 1,995 Star Trek Collectors Frames now >>>
---
The Star Trek Definitive Frame
Collect every Royal Mail Star Trek Stamp issue with The Star Trek Definitive Frame! This framed presentation features 12 Star Trek First Class Stamps , alongside the Movie Stamp Miniature Sheet.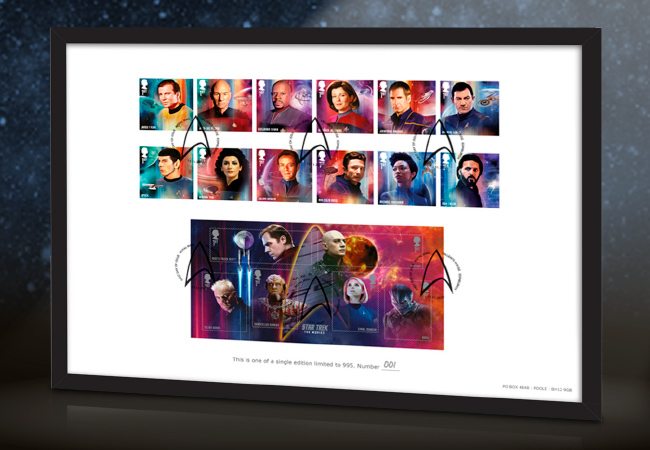 These 12 brand new stamps feature every captain, alongside other famous crew members from across the six principal TV series. Each character is set against a themed backdrop inspired by the series they are from.
As well as these new issue stamps, The Star Trek Definitive Frame also includes the Movie Stamp Miniature Sheet, which showcases British stars from the Star Trek movie series.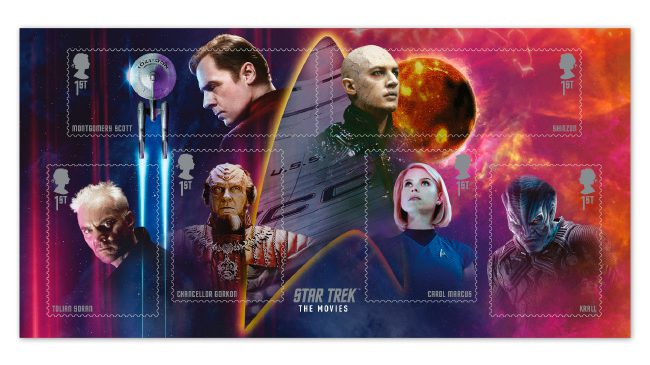 Your frame is A4 in size and ready to display. But with only 995 available worldwide, you'll have to be quick to snap this up for your collection.
Click here to pre-order one of the 995 Star Trek Definitive Frames now >>>
---
The Star Trek Ultimate Frame
While this is the first time Star Trek has featured on any UK stamp issue, it's not the first time the franchise has been celebrated on commemorative stamps! To honour the 50th anniversary in 2016, a range of Star Trek stamps was issued in the United States.
As of last year, the stamps are no longer available to buy from the US Postal Service, but you can find a selection of these stamps within The Star Trek Ultimate Frame.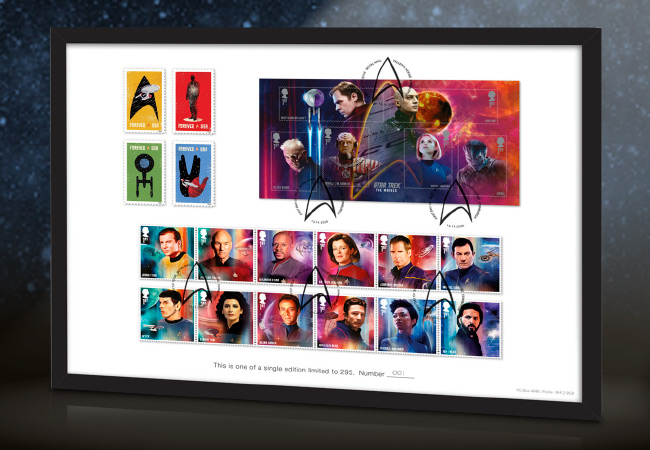 This really is the ultimate Star Trek stamp presentation, featuring every UK stamp issue alongside the no longer available US Star Trek Forever stamps.
Available in an A4 frame, there are only 295 of this very special stamp presentation available worldwide.
Click here to pre-order one of the 295 Star Trek Ultimate Frames now >>>
---
Remember, all framed editions of the Star Trek stamps are strictly limited. Shop the full range here to pre-order and secure yours ahead of their official release on November 13th.
You've heard of the Penny black, you might even have one in your collection… but did you know that a plate block of Penny Blacks sold for a staggering £300,000 at auction!?
But why did it sell for so much? Find out everything you need to know in your latest video…
---
If you're interested…
Click here to order a standard used example today with FREE P&P >>