Posts Tagged 'Britannia coin'
On Saturday 17th June 2023, the UK will witness King Charles III's FIRST Trooping the Colour ceremony as our monarch.

Whether you're tuning in on the television or travelling to see the spectacle in person, we can all expect to see a stunning display of military precision and horsemanship as the procession makes it way from Buckingham Palace to Horse Guards Parade.

But what exactly is Trooping the Colour, and why do we celebrate it? Continue reading to find out more…
The origins of the ceremony
Trooping the Colour is an annual ceremony held in June to celebrate the official birthday of the British Sovereign, originating as far back as 260 years ago.

The service was first believed to have been performed during King Charles II's reign, however it wasn't until 1760 that it became an annual event to commemorate the British Monarch's official birthday under the reign of King George III.

This historical parade was named in tribute to the British Army's regiment flags, which are referred to as 'Colours' due to the different coloured insignia displayed on each one. Young officers would then march the Colours between the line of troops, giving us the 'Trooping the Colour' title, and the colourful celebration we still see to this day.
The British Sovereign's Official Birthday
But why does the British Sovereign have an official birthday?

The answer to having two birthdays is simply down to British weather being better for the parade in the month of June.

Unless the Monarch already has a summer birthday, their second 'official' one will always be in June to line up with when Trooping the Colour takes place and to maximise the chances of good weather conditions.

So, although King Charles III's actual day of birth is 14th November, he will be celebrating his very first King's Birthday Parade on 17th June this year.
What to expect on the day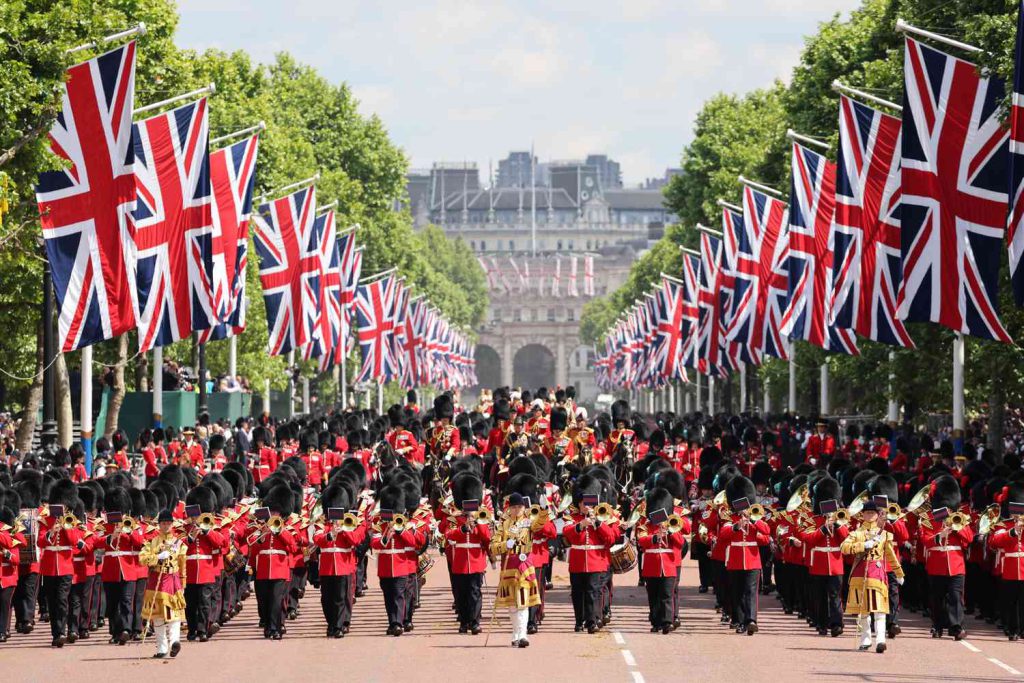 On the day, you can expect to see an impressive display of pageantry as His Majesty's personal troops march down The Mall from Buckingham Palace to Horse Guards Parade, where the ceremony will begin.

There will be over 1400 parading soldiers, 400 musicians and 200 horses, alongside members of the Royal Family on horseback or in carriages – and of course, with King Charles III himself taking the salute.

As the procession takes place, mass crowds with waving flags are expected to line the streets, with many more around the world viewing the spectacle on television.

And with this year's Trooping the Colour ceremony being King Charles III's FIRST as Sovereign, it will certainly be a historical event to remember.
The Trooping the Colour 2023 Silver Coin Cover
To commemorate this special occasion, we have released the Trooping the Colour 2023 Silver Coin Cover in ode to Charles III's King's Birthday Parade.
Featuring His Majesty's first Silver Britannia coin alongside his first Royal Mail definitive stamps, this Cover will have a one-day-only postmark of 17th June 2023 – a fitting tribute to the first Trooping the Colour of King Charles' reign.

But with only 200 available worldwide, make sure to secure yours now by clicking here >>
International Women's Day provides an opportunity to celebrate women's achievement, raise awareness against bias, and take action for equality.
To mark this annual event, The Royal Mint launched a new Britannia coin, depicting three images of the Allegorical figure.
She is one of Britain's longest-standing and most enduring feminine icons, who first appeared on coins back in the Roman era.
The new design is inspired by Gustav Klimt's classic 1905 painting 'The Three ages of Woman' and features Britannia moving from girlhood to maturity.
The design, created by Italian artist and sculptor Sandra Deiana, the coin sees Britannia appear three times on one coin, a UK first!
However, this isn't the first time we've seen remarkable women commemorated on a UK coin…
2022 UK Platinum Jubilee Coins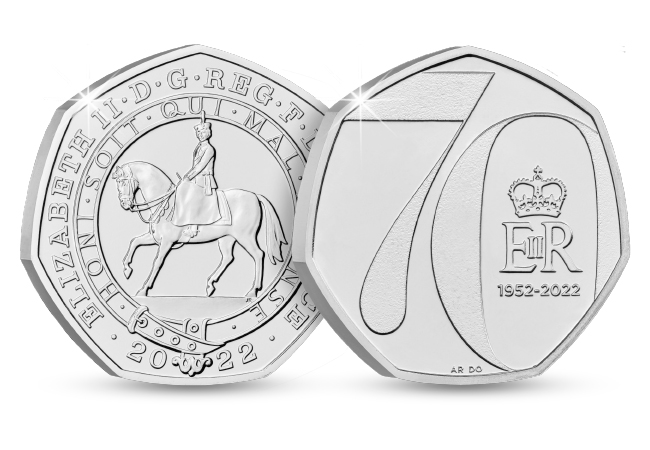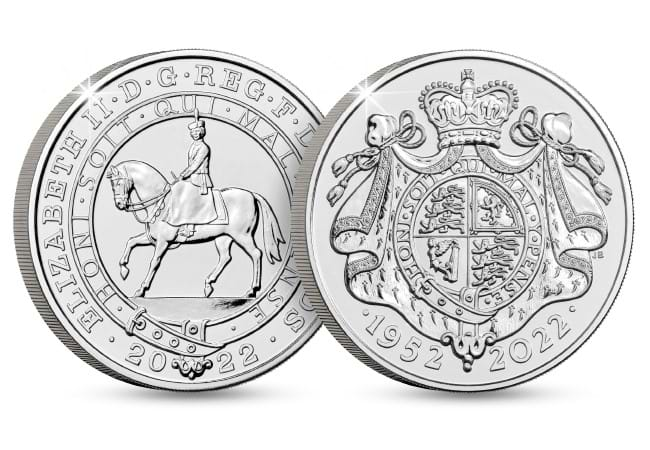 In 2022, to commemorate the Platinum Jubilee of Her Majesty Queen Elizabeth II, The Royal Mint issued TWO new coins.
Platinum Jubilee 50p and £5 have both been designed to reflect the significance of this important anniversary.
The Platinum Jubilee 50p features a reverse design by agency Osborne Ross celebrating the Queen's 70 years of service. But, what's particularly special about this coin is that TWO versions have actually been created…
One includes an obverse design by John Bergdahl featuring the Queen on horseback – reminiscent of Her Majesty's very first Coronation Crown – and the other includes Jody Clark's obverse of the Queen's portrait.
Not only do we see this difference on the new 50p coin, but the obverse design has also been replicated on the Platinum Jubilee £5 coin, along with a reverse design by John Bergdahl featuring the Queen's garter robes.
This coin was so popular that the ENTIRE limited edition range sold-out completely at The Royal Mint within a day.
Browse the Platinum Jubilee coin range on our website by clicking here!
2020 UK Rosalind Franklin 50p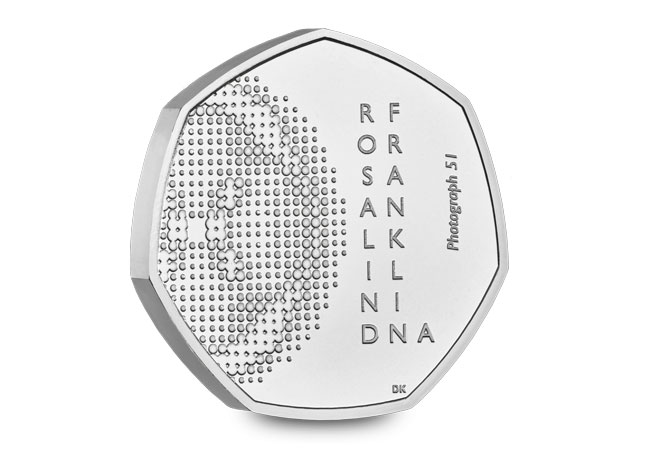 Rosalind Franklin is one of Britain's best scientific minds. Without her ground-breaking research we would not understand the complexities of DNA as we do today.
To mark the 100th anniversary of her birth, and to celebrate her legacy, The Royal Mint authorised for a UK 50p to be issued – the second coin in the Innovation in Science series.
It features a striking design by David Knapton, that puts Rosalind Franklin at the heart of the DNA story.
It depicts the infamous Photograph 51 that led Franklin to her discovery that DNA has a double helix structure – the same picture that was used by Watson and Crick, robbing Franklin of the accolades that were rightly hers.
Browse our Rosalind Franklin coin range here!
2022 Dame Vera Lynn £2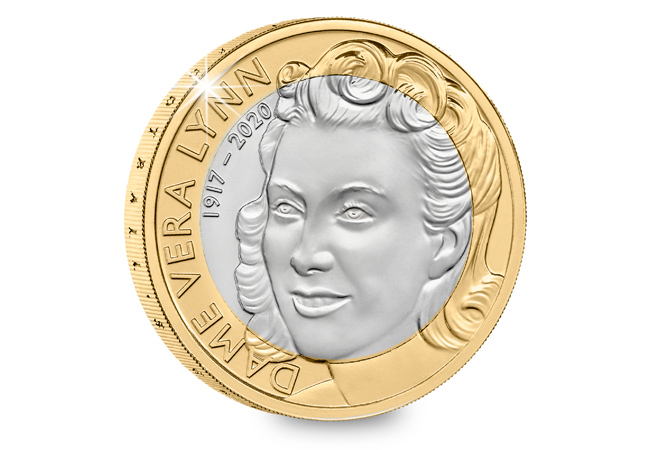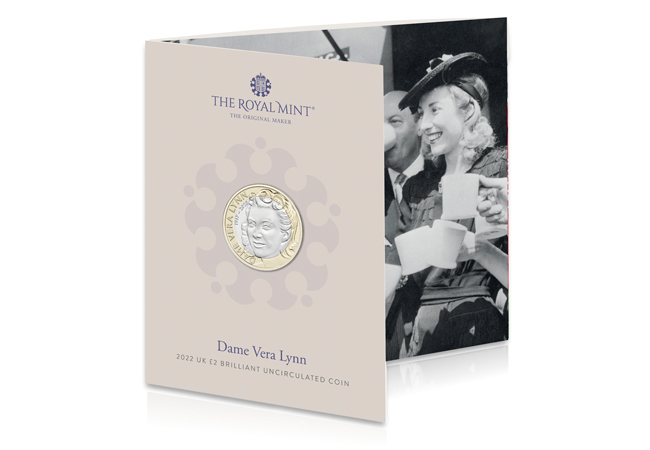 Known for boosting the morale of the troops and the nation throughout the Second World War, Vera Lynn was voted the 'Forces Sweetheart'.
Later after the war, in 1975, she was awarded Dame Commander of the British Empire as recognition for her dedication to charity work.
This stunning £2 BU Pack has been issued by The Royal Mint to celebrate the life and the legacy of Dame Vera Lynn.
As one of Britain's most iconic entertainers, she captured the hearts of thousands as she sang to the nation during a time of turmoil.
To avoid missing out on this 2022 issue commemorating one of Britain's most beloved entertainers and war-time figures, make sure to secure yours now by clicking here.
---
Of course, these are just a handful of UK coins which have been issued to commemorate influential women. Who would you like to see commemorated on a UK coin? Let us know in the comments below!
---
Queen Elizabeth II is Britain's longest reigning monarch, and that means that she has adorned the obverse of our coinage since 1953 when the first coins were issued with her portrait. Her reign has seen five different portraits on our coinage and one of the biggest changes to our currency – decimalisation.
And as this month marks the 50th anniversary since the day that Britain officially went decimal, we've been taking a look back at British coins and how their stories have changed over time. And there's one icon that stands out above the rest, one that has featured on coins for far longer than Queen Elizabeth II's impressive 68 years. I am of course referring to Britannia.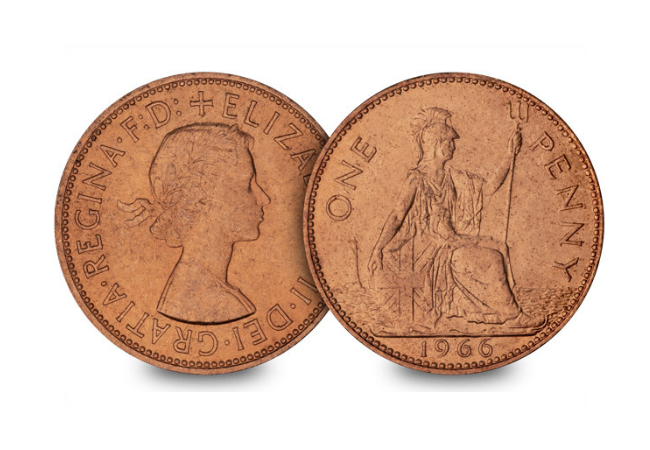 Over 2000 years old!
It's thought that Britannia first featured on coins in Britain when the Romans arrived under Julius Caesar, but the depiction is wildly different to that which we recognize today. The coins showed a figure, neither male nor female, as a warrior with an inscription along the lines of "DE BRITANNIS".
It wasn't until Hadrian arrived in the second century AD that the coins started to feature a female figure with the inscription "BRITANNIA". These Roman coins are always difficult to find, and many remain buried away even today.
A 1400 year hiatus…
This female figure disappeared from coins, and culture, for over a thousand years, not reappearing until the Tudor period. And even then it wasn't until Charles II that she finally made her reappearance onto coinage. It's thought that the rise of Britain as a naval power was the inspiration to include Britannia on coinage again.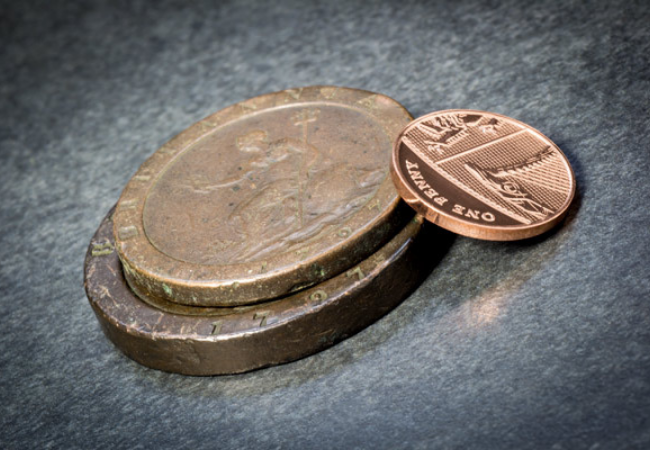 Britain's largest penny
Under George III a one penny and two penny coin were introduced in an attempt to restore confidence in British currency. The intrinsic value of the metal plus an allowance for the cost of production was made equal to the nominal value of the coin. This made them very heavy and a lot larger than other coins in circulation – giving them the nickname 'Cartwheels'.
Importantly though, as Britannia had become more and more associated with the sea, these were the first coins to depict her holding a trident rather than a spear.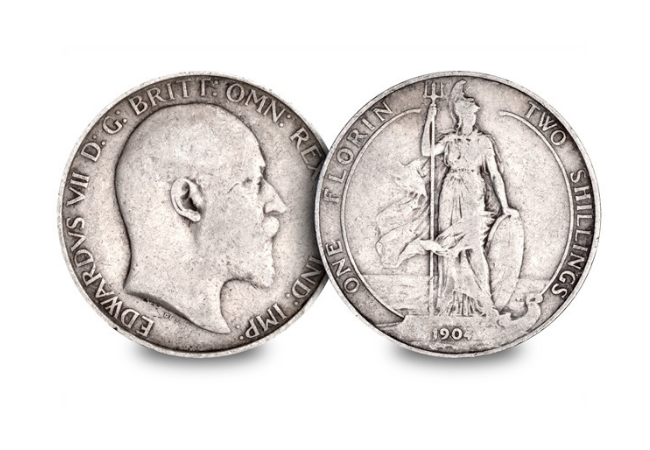 The Standing Britannia
Throughout history Britannia has been depicted on several denominations of coins, usually pennies or half pennies. Often she was shown seated with the sea in the background, and never before had she been issued on a Florin. After the long Victorian tradition of a crowned cruciform shield for the reverse, a new Britannia design was issued as King Edward VII took to the throne. A truly beautiful design, it shows Britannia with her trident, shield, and stood powerfully against the sea. Only issued during King Edward VII's short reign, this coin has become incredibly popular for its iconic design and impressive story.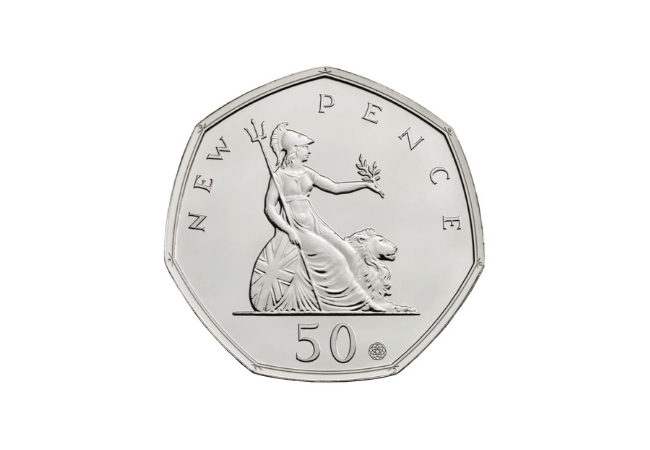 Of course the Britannia has featured and continues to feature on Britain's coinage, with new depictions on annual releases and even special releases such as the 2019 commemorative 50p. It certainly looks like she'll continue to have a long reign on our coinage.
---
If you're interested:
Secure your very own Silver Standing Britannia Florin. At over 100 years old and with a unique design, they're in high demand with collectors. Click here to order yours now with a deposit of JUST £13!