On Saturday 17th June 2023, the UK will witness King Charles III's FIRST Trooping the Colour ceremony as our monarch.

Whether you're tuning in on the television or travelling to see the spectacle in person, we can all expect to see a stunning display of military precision and horsemanship as the procession makes it way from Buckingham Palace to Horse Guards Parade.

But what exactly is Trooping the Colour, and why do we celebrate it? Continue reading to find out more…
The origins of the ceremony
Trooping the Colour is an annual ceremony held in June to celebrate the official birthday of the British Sovereign, originating as far back as 260 years ago.

The service was first believed to have been performed during King Charles II's reign, however it wasn't until 1760 that it became an annual event to commemorate the British Monarch's official birthday under the reign of King George III.

This historical parade was named in tribute to the British Army's regiment flags, which are referred to as 'Colours' due to the different coloured insignia displayed on each one. Young officers would then march the Colours between the line of troops, giving us the 'Trooping the Colour' title, and the colourful celebration we still see to this day.
The British Sovereign's Official Birthday
But why does the British Sovereign have an official birthday?

The answer to having two birthdays is simply down to British weather being better for the parade in the month of June.

Unless the Monarch already has a summer birthday, their second 'official' one will always be in June to line up with when Trooping the Colour takes place and to maximise the chances of good weather conditions.

So, although King Charles III's actual day of birth is 14th November, he will be celebrating his very first King's Birthday Parade on 17th June this year.
What to expect on the day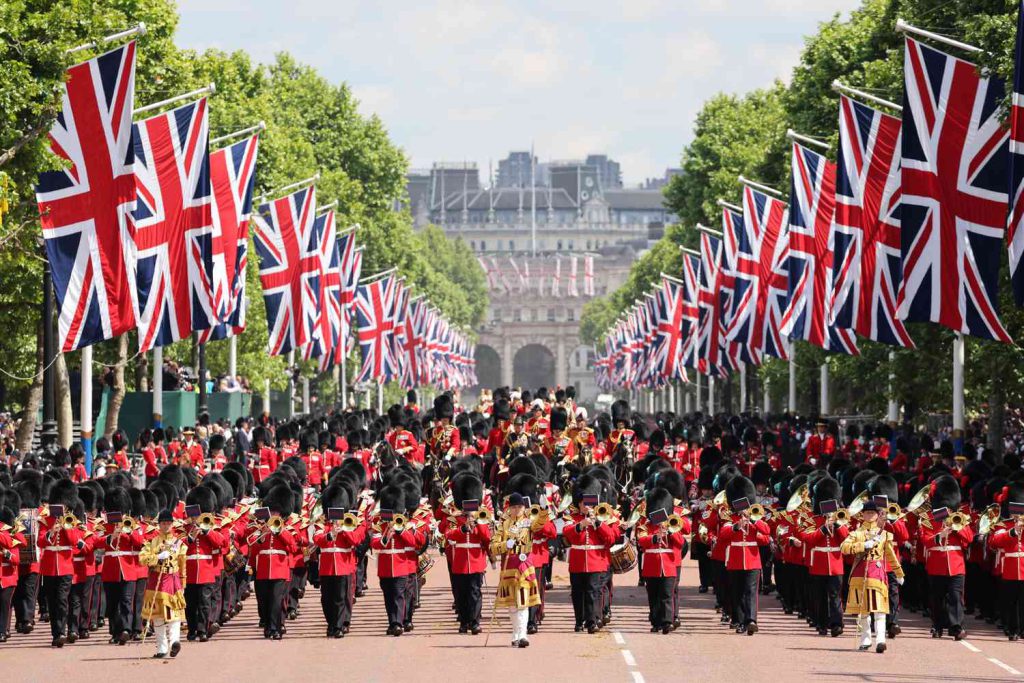 On the day, you can expect to see an impressive display of pageantry as His Majesty's personal troops march down The Mall from Buckingham Palace to Horse Guards Parade, where the ceremony will begin.

There will be over 1400 parading soldiers, 400 musicians and 200 horses, alongside members of the Royal Family on horseback or in carriages – and of course, with King Charles III himself taking the salute.

As the procession takes place, mass crowds with waving flags are expected to line the streets, with many more around the world viewing the spectacle on television.

And with this year's Trooping the Colour ceremony being King Charles III's FIRST as Sovereign, it will certainly be a historical event to remember.
The Trooping the Colour 2023 Silver Coin Cover
To commemorate this special occasion, we have released the Trooping the Colour 2023 Silver Coin Cover in ode to Charles III's King's Birthday Parade.
Featuring His Majesty's first Silver Britannia coin alongside his first Royal Mail definitive stamps, this Cover will have a one-day-only postmark of 17th June 2023 – a fitting tribute to the first Trooping the Colour of King Charles' reign.

But with only 200 available worldwide, make sure to secure yours now by clicking here >>
Royal Mail has just announced the design of the new Official King Charles III Stamp!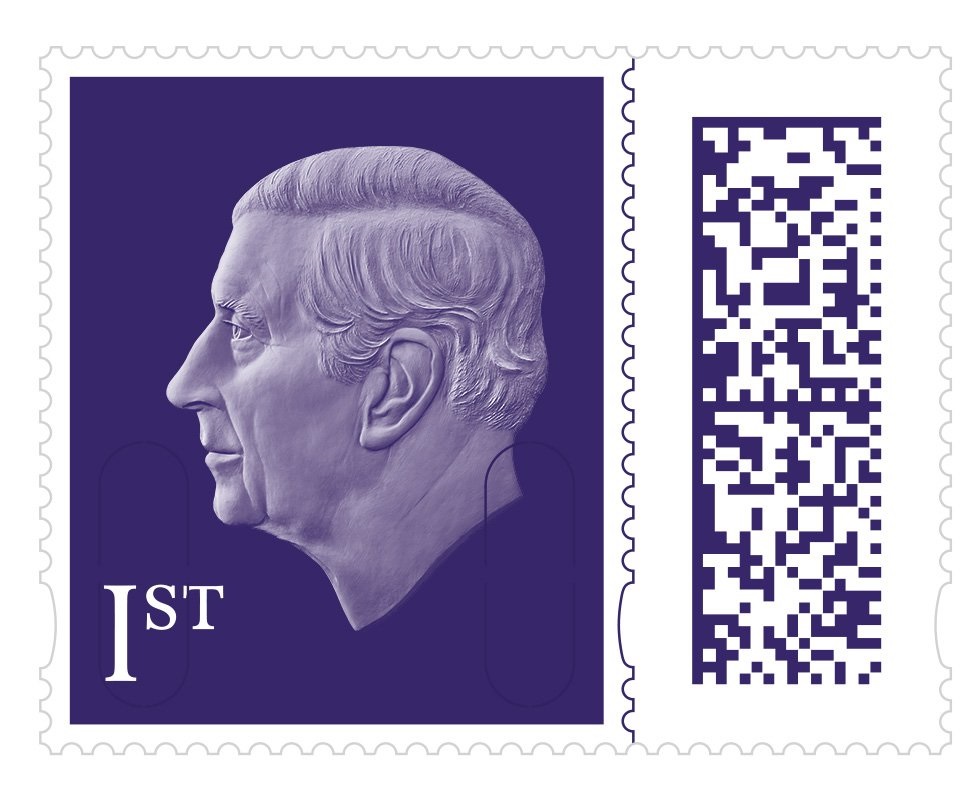 They will be available to purchase from 4th April and excitingly they will circulate alongside the current Queen Elizabeth II stamps.
This is the first time in 70 years that a new monarch has graced our stamps, and will be in huge demand by collectors all over the world.
Interestingly, this is also the same design that is used on King Charles III coins.
If you want to be the first to hear any and all news about this historic new release, you can sign up to our mailing list below.
We will only use your details to contact you about King Charles III stamp products.
Queen Elizabeth II acceded to the throne on 6th February 1952. During her remarkable 70-year reign, she celebrated seven jubilees and was the first British monarch to receive a Platinum Jubilee. As our country's longest reigning monarch, Her Late Majesty's legacy cannot be overstated.
And today, a handful of collectors will be given a rare and unique opportunity to reflect on her most remarkable milestones with an exclusive ready-made collection. But considering how sought-after her commemoratives have become, this is why you don't want to miss out…
Extraordinary demand for Her Majesty's collectables
Queen Elizabeth II's influence on the collecting world has been immeasurable. And nearly six months after her sad passing, we are still witnessing excessive demand for commemoratives of her reign.
In fact, her signed Christmas cards are being sold for thousands on the secondary market, and her official UK coins are now selling out years later!
So, here's your opportunity to get ahead of the crowd and take a shortcut to becoming an official UK stamp collector with one click of a button…
The Official UK Queen Elizabeth II Jubilee Stamp Collection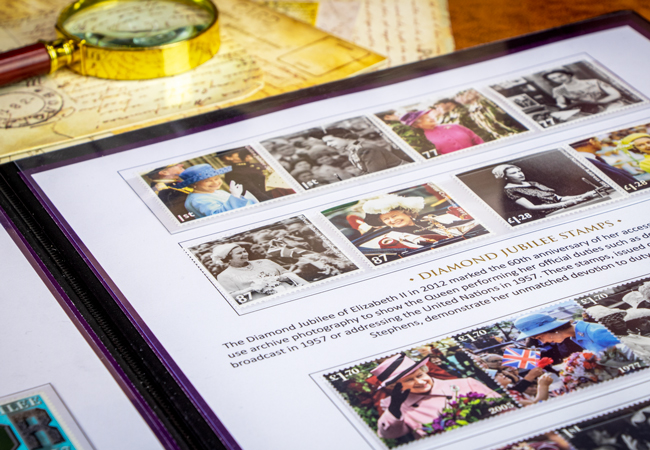 This traditional piece is essential for any collection. At a time more poignant than ever to collect Her Majesty's commemoratives, this is the perfect way to preserve her extraordinary legacy…
Comprised of the official UK stamps from her Silver, Golden, Diamond and Platinum Jubilee, this complete collection takes you on a journey through the most remarkable milestones of our longest reigning monarch.
Housed in a luxury folder preserving the stamps' pristine condition, your collection dedicates an entire historical retelling of each Jubilee to all the special UK stamp sets released for each celebration in 1977, 2002, 2012 and 2022.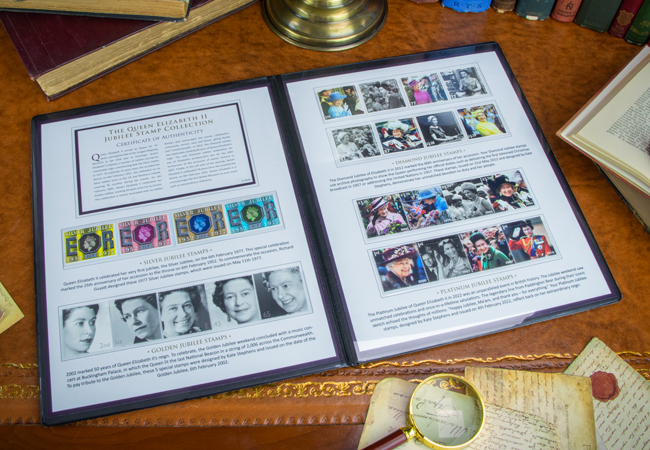 A shortcut to getting your stamp collection started
We are offering to do the hard-work for you by giving away this rare shortcut to becoming a serious stamp collector.
What's more, this collection is the key to saving you precious time and pennies. So, take the shortcut and own the entire collection with one click of a button!
And considering Queen Elizabeth II collectables are scarcer than ever, this is the easiest way to secure the entire range of Jubilee stamps in one complete collection. But with just a handful of collections available, make sure you don't miss out on securing such a unique traditional piece…