The recently issued 100 Years of BBC UK 50p proved incredibly popular, with all limited edition presentations selling out within just 2 hours of release.
---
Did you manage to secure one for your collection?
---
You can still secure the 100 Years of BBC 50p in Brilliant Uncirculated quality here >>
The British Broadcasting Corporation has provided information, education and entertainment globally for a century. We thought what better way to mark their 100 year anniversary than looking at some of the important events that the BBC has broadcasted.
Queen Elizabeth II Coronation
Queen Elizabeth II's coronation in 1953 was the first major service to be televised by the BBC. 27 million people in the UK watched the ceremony on television and a further 11 million listened to their radio broadcasts.
Queen Elizabeth II Jubilees
During her incredible 70 year reign, Queen Elizabeth II celebrated many jubilees. Most significantly, her Platinum Jubilee in 2022 was one of the most watched televised events of recent times.
A record breaking 13.4 million people across the UK watched the Platinum Jubilee celebrations on television in June.
You can secure the ultimate Platinum Jubilee souvenir today – the Platinum Jubilee weekend collection. Click here to get yours >>
The six 24 Cart Gold-Plated Commemoratives feature iconic photographic images from the historic weekend celebrations.
The Olympics
The 1948 Olympic Games were held in Wembley, and the BBC televised the games for the first time, screening over 50 hours of coverage during the 2-week event.
When the Olympics returned to London in 2012, the BBC covered all the events and a staggering 51.9 million people – 90% of the population – tuned in.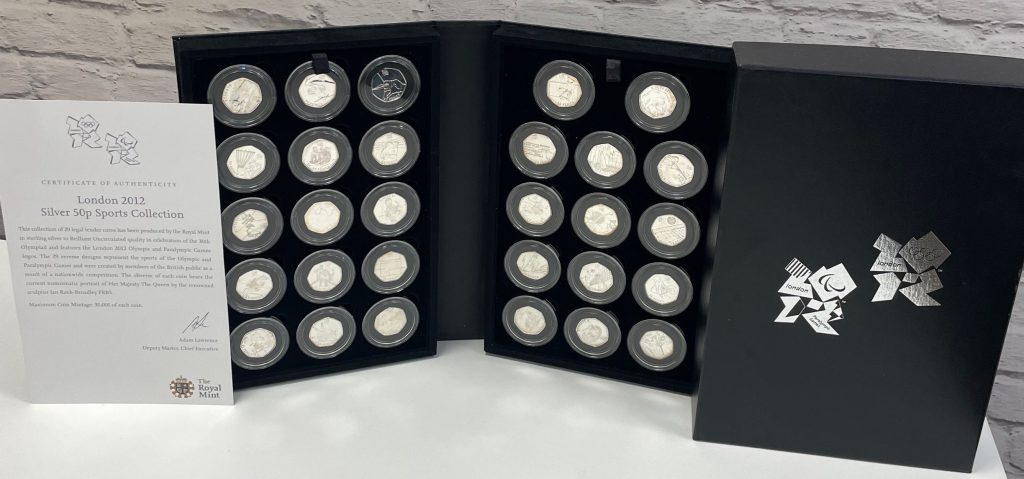 In 2021, a UK 50p was authorised for release to celebrate Team GB's participation in the 2020 Tokyo Olympics – which was once again televised by the BBC.
The FA Cup Matches
2022 marked 150 years of the FA Cup. During BBC One's coverage of The FA Cup final between Chelsea and Liverpool, viewer numbers peaked in the final half hour of the match with 8 million people watching.
To mark the 150th anniversary of the FA Cup, The Royal Mint issued this £2, which sold out in all limited-edition presentations within just HOURS of issue!
You can still secure the 2022 UK FA Cup £2 BU Pack for your collection for JUST £10.00 (+p&p) by clicking here >>
Royal Weddings
The marriage of Charles and Diana took place in 1981 and remains one of the most-watched programmes on the BBC, with over 28 million people tuning in to either watch or listen to the coverage.
In 2011, Prince William married Kate Middleton and more than 13.6 million people watched the coverage on BBC One, making theirs the third most-watched Royal Wedding.
---
Which of these BBC broadcasts do you remember watching or listening to?
---
Secure the 100 Years of BBC 50p in brilliant uncirculated quality here>>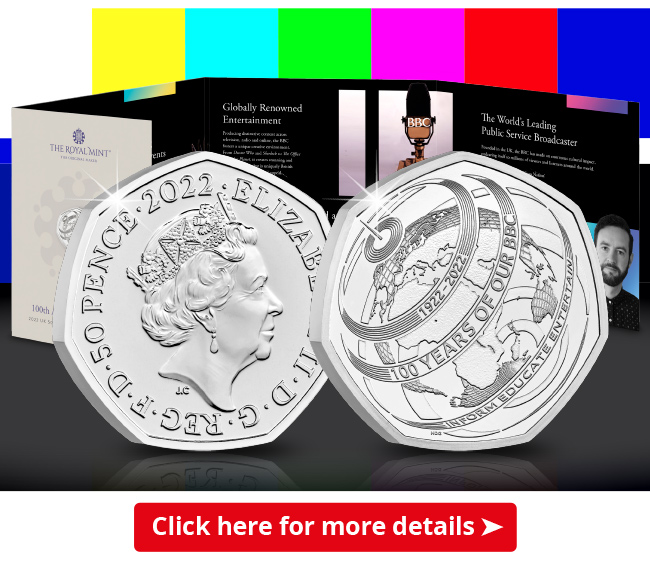 To honour the life and achievements of Queen Elizabeth II, The Royal Mail has issued four commemorative stamps, featuring portraits of Her Late Majesty.
They feature beautiful black & white images of the Queen throughout her life, taken between 1952 and 1996.
The Queen Elizabeth II stamps are also the first to be approved by King Charles III, which is sure to increase collector demand.
The Westminster Collection have issued a limited set of these stamps, postmarked on their first day of issue – 10th November 2022.
New Royal Mail Stamps: Queen Elizabeth II Memorial Cover
Featured alongside the stamps is one of the most sought-after coins of recent years, the UK Platinum Jubilee £5 coin.
Just 2,022 of these covers are available to mark this important moment in history. And remember, the one-day-only postmark means no more can ever be produced.
Pay tribute to the incredible life of Queen Elizabeth II. Pre-order this special cover today for just £39.99 (+p&p) by clicking here >>
Queen Elizabeth II Stamp & Coin Memorial Set
As well as the Queen Elizabeth II Memorial Cover, The Westminster Collection has an extremely limited collection of coins from the 1953 Coronation year, issued alongside these brand new stamps.
This memorial collection includes a complete collection of eight coins, each one struck by The Royal Mint in the year of Queen Elizabeth II's Coronation in 1953.
At nearly 70 years old, these coins are difficult to find and incredibly sought-after on the secondary market.
JUST 495 issued
With brand new Royal Mail stamps, postmarked on their issue date, and alongside the 1953 circulating coinage, the edition limit of 495 isn't likely to be enough.
Click here to secure your Queen Elizabeth II Stamp & Coin Memorial Set >>
---
Let us know in the comments below what you think of these brand new Queen Elizabeth II Royal Mail stamps.
---
Demand for Queen Elizabeth II coins has been felt at Mints around the world, following the sad news of her passing on 8th September.
Collectors heading to The Royal Mint and The Royal Australian Mint websites have been faced with long queues.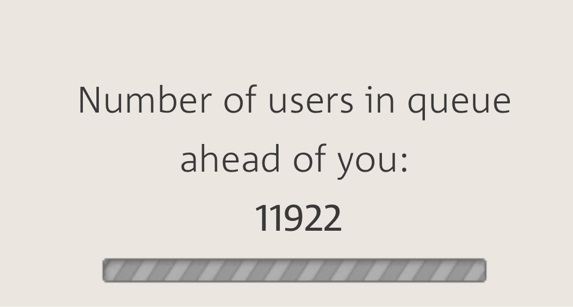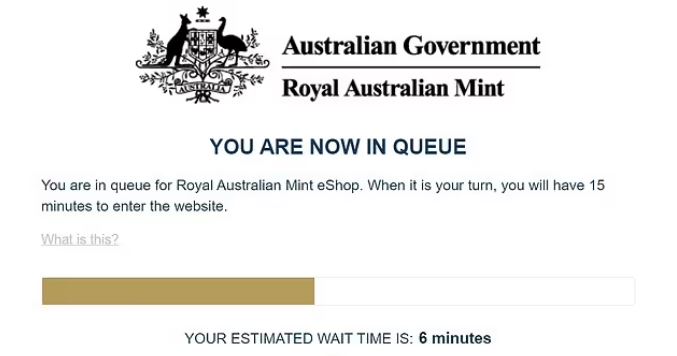 Coins issued within this year, particularly those issued in recent weeks, were in high demand.
The Royal Mint's website indicated high interest in royalty themed coins – most notably, coins issued to celebrate Queen Elizabeth II's varying Jubilees.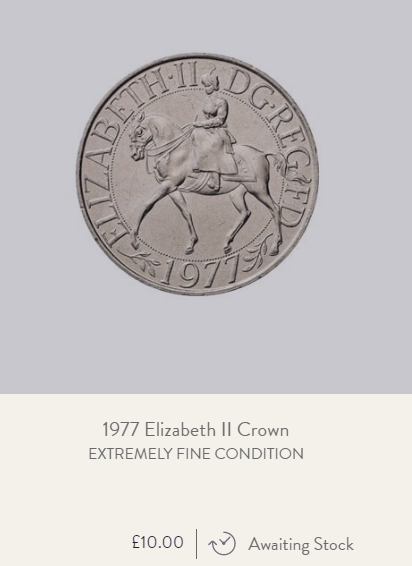 Just one of the many coins awaiting stock was the 1977 Elizabeth II Crown, issued to celebrate the Queen's Silver Jubilee.
The 2022 UK Annual Coin Set, featuring both Platinum Jubilee 50p and £5 coins, is currently unavailable at The Royal Mint. However, these coins are fetching around £170 on the secondary market sites.

As The Royal Mint works hard to meet demand for Queen Elizabeth II coinage, secondary market sites have also been bombarded with new listings.
How much is my Queen Elizabeth II coin worth?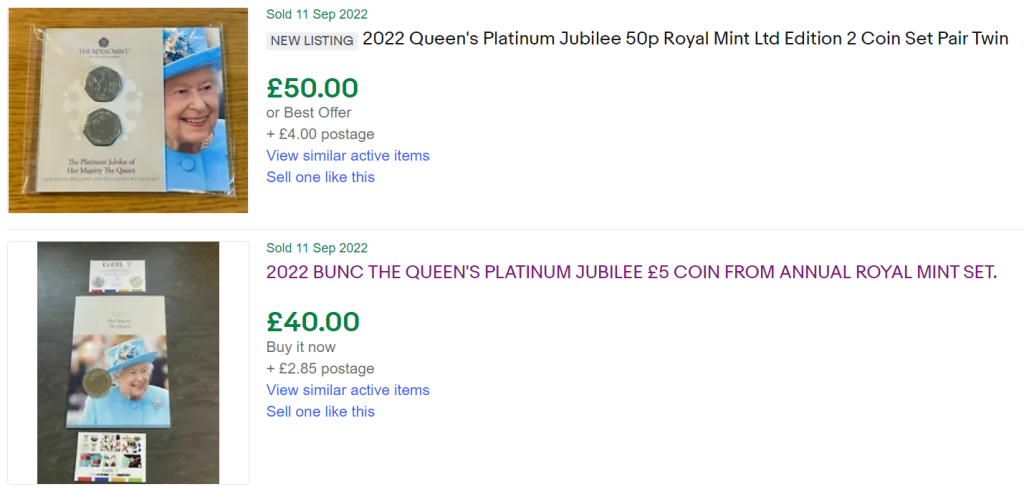 Both the Platinum Jubilee 50p and £5 coins have been fetching well over their original retail prices.
Despite still being available at the The Royal Mint for £10 (+p&p), the 2022 UK Platinum Jubilee £5 coin recently sold for £40 on eBay.co.uk.
There's no doubt demand for collectables celebrating Queen Elizabeth II's remarkable 70 year reign will continue to surge as the nation welcomes a new monarch – his majesty King Charles III.
Whether you want to hold onto your Queen Elizabeth II coins, or look to sell them, there has never been a more prominent time to check your collections.
Which Queen Elizabeth II coins do you have in your collection? Will you hold onto them? Let us know in the comments below.
---
Queen Elizabeth II In Memoriam Range