BBC 50p celebrates 100 years of British History
The recently issued 100 Years of BBC UK 50p proved incredibly popular, with all limited edition presentations selling out within just 2 hours of release.
---
Did you manage to secure one for your collection?
---
You can still secure the 100 Years of BBC 50p in Brilliant Uncirculated quality here >>
The British Broadcasting Corporation has provided information, education and entertainment globally for a century. We thought what better way to mark their 100 year anniversary than looking at some of the important events that the BBC has broadcasted.
Queen Elizabeth II Coronation
Queen Elizabeth II's coronation in 1953 was the first major service to be televised by the BBC. 27 million people in the UK watched the ceremony on television and a further 11 million listened to their radio broadcasts.
Queen Elizabeth II Jubilees
During her incredible 70 year reign, Queen Elizabeth II celebrated many jubilees. Most significantly, her Platinum Jubilee in 2022 was one of the most watched televised events of recent times.
A record breaking 13.4 million people across the UK watched the Platinum Jubilee celebrations on television in June.
You can secure the ultimate Platinum Jubilee souvenir today – the Platinum Jubilee weekend collection. Click here to get yours >>
The six 24 Cart Gold-Plated Commemoratives feature iconic photographic images from the historic weekend celebrations.
The Olympics
The 1948 Olympic Games were held in Wembley, and the BBC televised the games for the first time, screening over 50 hours of coverage during the 2-week event.
When the Olympics returned to London in 2012, the BBC covered all the events and a staggering 51.9 million people – 90% of the population – tuned in.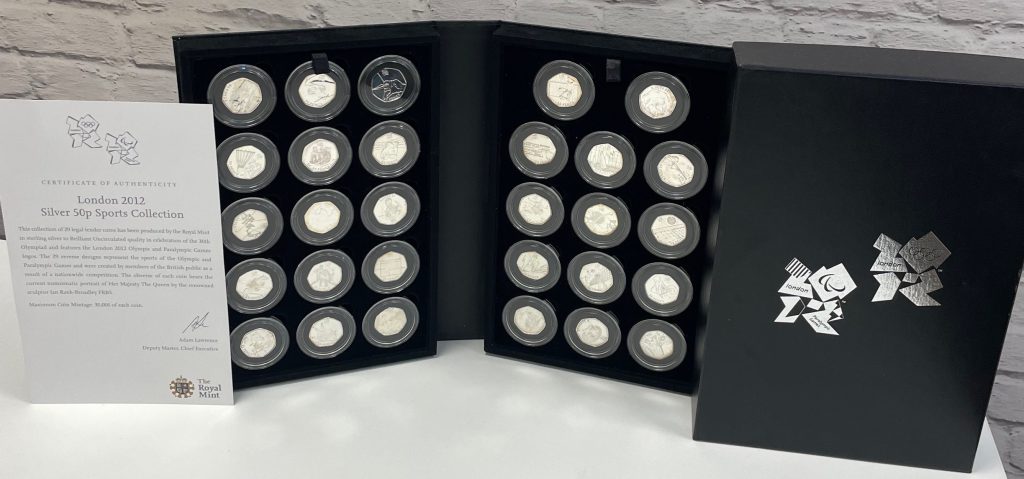 In 2021, a UK 50p was authorised for release to celebrate Team GB's participation in the 2020 Tokyo Olympics – which was once again televised by the BBC.
The FA Cup Matches
2022 marked 150 years of the FA Cup. During BBC One's coverage of The FA Cup final between Chelsea and Liverpool, viewer numbers peaked in the final half hour of the match with 8 million people watching.
To mark the 150th anniversary of the FA Cup, The Royal Mint issued this £2, which sold out in all limited-edition presentations within just HOURS of issue!
You can still secure the 2022 UK FA Cup £2 BU Pack for your collection for JUST £10.00 (+p&p) by clicking here >>
Royal Weddings
The marriage of Charles and Diana took place in 1981 and remains one of the most-watched programmes on the BBC, with over 28 million people tuning in to either watch or listen to the coverage.
In 2011, Prince William married Kate Middleton and more than 13.6 million people watched the coverage on BBC One, making theirs the third most-watched Royal Wedding.
---
Which of these BBC broadcasts do you remember watching or listening to?
---
Secure the 100 Years of BBC 50p in brilliant uncirculated quality here>>