The wait is finally over and it is with great excitement that we can reveal our brand new Peter Pan British Isles 50p coin range with you all!
The coins have been issued in partnership with Great Ormond Street Hospital Children's Charity. For every coin sold a donation will be made to the Charity to help the hospital and the seriously ill children from across the UK who are cared for there.
Find out all about the WORLD'S FIRST Peter Pan 50p coins by clicking here>>
In February it was confirmed by Royal Proclamation that the most British of bears – Paddington – would feature on two new UK 50p coins.
We can now reveal the full details of the first issue. Officially released on 18th of June, currently available to order.
Limited Edition Silver Proof 50p Coin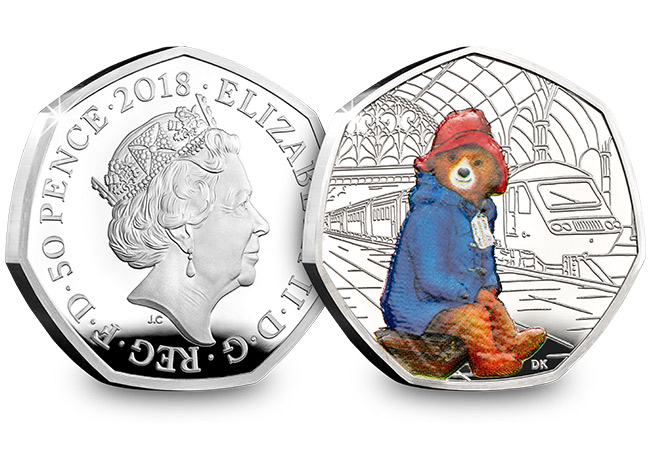 60,000 official Royal Mint Limited Edition Presentations of the coin will feature Paddington in full colour sitting on his suitcase at Paddington Station.
The coin is struck from Sterling Silver to the highest proof finish and is presented in an acrylic display case.
Given the immense popularity of the coloured Beatrix Potter 50p coins over the last 3 years, which have continued to sell out year-on-year, collectors can look forward to this issue being equally collectable.
You can order the new Limited Edition Silver Proof Paddington at the Station 50p coin here for £65 with FREE p&p.
Base Metal Brilliant Uncirculated Collector's Edition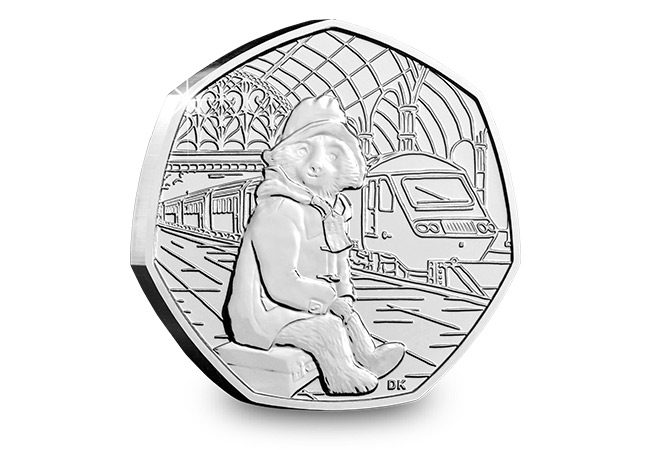 But Paddington fans don't only have the option of the Limited Edition Silver version. A special collector's quality Brilliant Uncirculated coin will be struck in the normal 50p circulating metal (cupro-nickel) and will be available for as little as £3.99 in a Change Checker Certified BU Collector's Card or £10 in the official Royal Mint Presentation Pack.
You can order the new Base Metal Brilliant Uncirculated Paddington at the Station 50p coin here for £3.99 +p&p.
Second coin design revealed today
But that's not all the good news for Paddington fans. The Royal Mint has revealed the second 50p coin design today for the very first time…
Featuring Paddington outside Buckingham Palace, the second issue will be released later this year in silver and base metal but is available to pre-order here.
_______________________________________________________________________________________
If you're interested…
You can view the full selection of 2018 Paddington 50p coins that are available here >>>
In just a few weeks' time something remarkable happens. Her Majesty the Queen and HRH Prince Philip celebrate 70 years of marriage – their Platinum Wedding Anniversary
You probably know someone who has celebrated their Golden Wedding Anniversary (50 years of marriage). You may even know someone who has reached 60 years – their Diamond Wedding Anniversary. But I'd be happy to place a small wager that you don't know anyone who has managed 70 years of marriage.
That's because only around 30 couples in the whole of the UK ever reach that milestone each year. Or to put it another way – the Queen and Prince Philip are literally one in a million.
And to mark the occasion, eight special commemorative 50p coins have been issued. It is the VERY FIRST time that British Isles specification 50p coins have been struck to mark a key royal wedding anniversary such as this.
Most importantly, these coins have been authorised by the Isle of Man Treasury, have full legal status AND a very limited number will enter circulation in the Isle of Man.
The UK's most collectable coins…
The 50p coin has rapidly become the UK's most collectable coin spurred on by the release of the Olympic 50p coins and, more recently, the incredible demand for the UK's Beatrix Potter coins.
And that's why these issues are so important.
British Isles 50p coins like this rarely turn up in your change in the UK, making them some of the most sought-after circulating coins around.
As the first major Royal wedding anniversary to feature on any British Isles standard specification 50p coins, this is a very significant moment.
A moment that's made even more important due to the incredible milestone 70 years of marriage represents.
---
How you can own the new coins…
Start collecting the new Platinum Wedding 50p coins, struck to superior Brilliant Uncirculated Collector Quality for your special introductory price of just £3.99.