Posts Tagged 'coin collector'

I can't help but get a little bit excited at this time of year, the cold nights, the bright lights and of course the count down to the big day!
But what's most exciting for me, is to see the wonderfully festive coins being issued all over the world in time for Christmas.
And in the last few weeks, we've seen renowned Mints issue beautiful Christmas coins that would take pride of place in any collection and be treasured forever!
So if the dark dreary winter months are getting you down, these stunning festive coins are sure to perk you up.
I've put together a list of some of my favourite 2019 Christmas coins from around the world that I'd like to share with you, starting of course with a truly spectacular festive release…
---
The coin so sought-after it SOLD OUT before the official release date!
Before anything else, you should know that this coin proved so popular that it's already SOLD OUT.
This coin truly is a piece of excellence from The Royal Canadian Mint and pushes the limits on what can be achieved through minting.
State of the art innovative gyroscopic technology allows the coin to actually move (see for yourself in the video below!) and a sophisticated design magnificently merges engraving and casting and silver and gold.
This outstanding work of art has to be seen to be believed and will add a dose of Christmas cheer to any family occasion – or mantelpiece!
But remember, unfortunately it's now SOLD OUT and it's easy to see why!
---
Merry Sithmas!
Darth Vader Silver Note
Did you know that the most recent Star Wars films have been released around Christmas? For many, it is a family tradition and this year is set to be no different with the release of The Rise of Skywalker on 19th December.
Officially licensed by Lucasfilm Ltd, just 10,000 of these PURE Silver 'Seasons Greeting' Notes featuring a 'thrilled' Sith Lord, Darth Vader, have been issued worldwide.
When you consider that of Star Wars is the 2nd highest grossing film franchise of all time, it certainly won't be enough to meet fan demands.
Click here to get your hands on one now – I have a sith sense they won't be around for long >>
---
Wish upon a star…
A three-dimensional 1oz Antique Silver Twinkling Star
Produced using Smartminting technology©, this magnificent three-dimensional coin has an incredibly intricate level of detail – making it appear sculpted rather than struck!
A coin like this is nothing short of revolutionary and earns its place as one of Collectors Gallery's favourite Christmas finds.
Click here to get yours 'lunar rather than later'!
---
Cook Islands 2019 Winter Wonderland Globe
Festive coins are popular in themselves, but when put inside of a REAL snow globe – it really brings the magic of the coin to life.
Struck from FINE .999 Silver, the coin has been placed inside a globe which has been produced in Vienna by the Perzy family who invented them in the 19th century.
Every single globe is handcrafted, made of the highest quality glass and filled with pure alpine water to create the perfect illusion when the coin is shaken over the family scene.
All previous coins within the snow globe collections have SOLD OUT and – as easily the most traditional of them all – this is expected to be no different.
This coin is limited to just 2,019 worldwide – so if you want to get your hands on one in time for the festive season you'll have to be fast!
Snow much fun, I'm sure you'll agree! Click here to find out more >>
---
Own your personal
Guardian Angel Coin
Often struck in unusual shapes and smaller than a five pence piece, the intricate detail achieved really is outstanding!
This re-issued coin features a Guardian Angel in the form of Saint Michael, slaying the devil in the form of a dragon – Raphael Maklouf's renowned artistry. For many of us, the thought of a Guardian Angel watching over us and protecting us is a comforting one – and this coin means you'll have one looking over you this Christmas.
The design is framed by an elaborate border with variations of the Isle of Man's coat of arms, the triskele, which appears at the top above the angel's halo – and all of this on just a 14mm coin!
Click here to own your very own protector in PURE gold >>>
---
If you're interested…

But that's not all the festive fun! There's plenty of other incredible commemoratives available in our complete Christmas Collection. To view the full range click here >>
Royal Proclamations issued on 8th November 2019 confirm that two icons of British culture will be honoured next year on UK coins – rock legends of the stage, Queen, and spy of the silver screen, James Bond.
It is unknown yet exactly when we will be able to snap up these new issues, but we do know the coins will be 2020 dated so we will be on the lookout from the New Year…
"I won't be a rock star. I will be a legend" – Freddie Mercury
And legends they did become. It's safe to say renowned rock band Queen have been inspiring millions across the globe since they exploded on to the British music scene in 1970 – you'd be hard-pressed to find someone who doesn't recognise the opening rift of Another One Bites the Dust.
Known for hits such as We Will Rock You, Bohemian Rhapsody and Don't Stop Me Now, Queen's pioneering, creative and alternative approaches to music making proved to the world that music has no bounds.
Their status as icons in the British music industry was sealed in 1990 when they received the Brit Award for Outstanding Contribution to British Music. Following this they were then inducted into the Rock and Roll Hall of Fame in 2001 and in 2018 were presented with the Grammy Lifetime Achievement Award.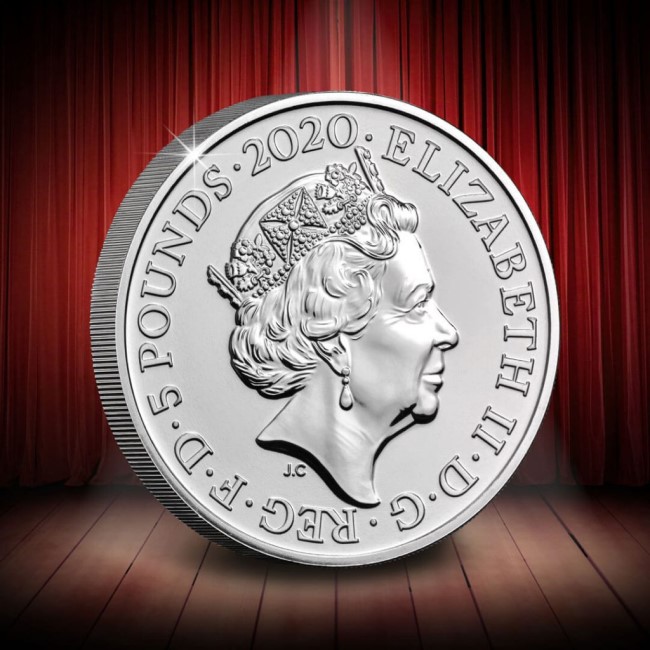 And now, their lasting legacy is going to be captured on a commemorative UK coin – the first band to ever feature on a UK coin!
The Royal Proclamation confirms there will be various specifications available, including a £5 base metal coin and a variety of precious metal versions. All coins will bear a design depicting a keyboard, drum, bass and electric guitar accompanied by a microphone and the inscription "QUEEN". What's more, a special two pound denomination silver coin will feature the edge inscription "MERCURY · MAY · TAYLOR · DEACON ·"
Bond, James Bond
Created by Ian Fleming in 1953, James Bond – or better known by his MI6 codename 007 – will be returning in the hotly-anticipated 25th Bond film that was revealed recently to be called No Time To Die.
The Bond franchise is the longest running film series of all time, grossing nearly $7 billion to date for its production company, Eon. Overall it has grown to become the fourth-highest-grossing film series ever, and has amassed five Academy Awards along the way too.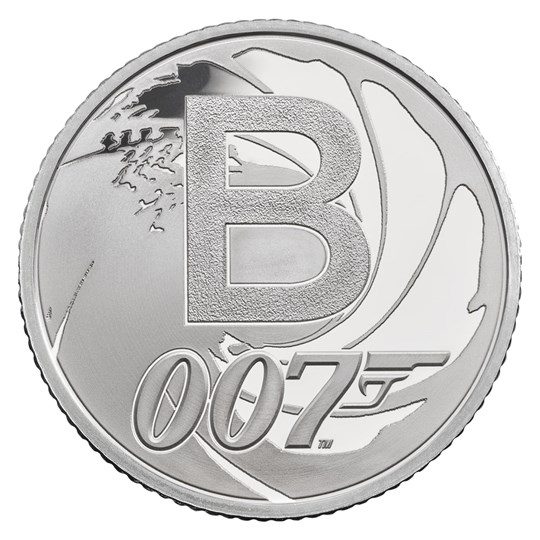 The secret agent has been portrayed by seven actors, and is perhaps best known for his suave manner, his penchant for martinis (shaken, not stirred) and the gadgets and cars supplied by Q branch.
Speaking of cars, the Royal Proclamation confirms the design of the Bond coin will feature the 007 logo and a depiction of his car – fingers crossed for a classic Aston Martin!
It also looks like this commemorative Bond coin will be issued in a variety of precious metal specifications. The smallest denomination will be a ten pound silver coin, with an impressive diameter of 65mm to truly appreciate what is sure to be a spectacular design.
---
Register your interest
Both Queen and Bond have an unrivalled cult following with leagues of fans worldwide. So, I expect these new commemorative issues to be amongst the most anticipated new issues in 2020, and as such will be in high demand!
If you want to be kept up to date and be the first to know when these coins are available then simply register your interest below and we'll email you as soon as we have more information.
The new 2020 Gold Proof Sovereign was released yesterday, but you may only have days to own one. Let me tell you why…
We're in the golden age of the Proof Sovereign. As you may know, the Proof Sovereign has become the UK's flagship annual release that's highly sought-after worldwide.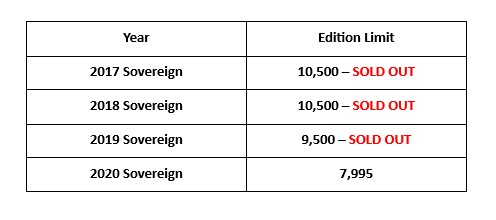 As you can see, recent UK Gold Proof Sovereigns have an undisputed track record of completely selling out. Many with a matter of weeks.
Special one-year-only mint mark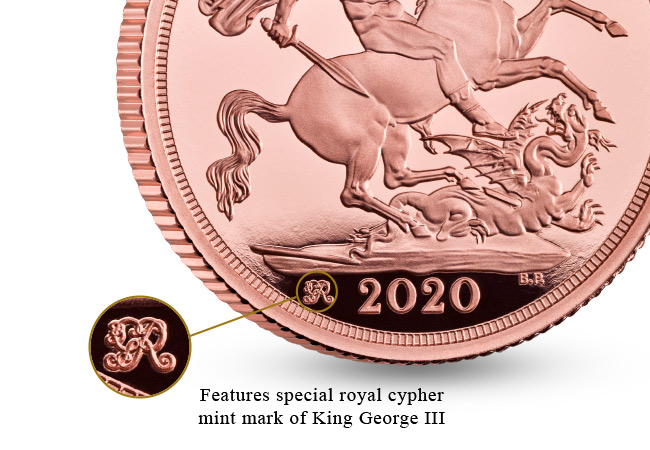 In 2020 we mark the 200th anniversary of King George III's death – the first monarch to appear on the modern Sovereign. To commemorate this, the Proof Sovereign features a special one-year-only royal cypher mint mark.
George III's reign is one of the most important in the history of UK gold coins. That's because it was in his reign that the iconic Sovereign was re-introduced, making him the first monarch to feature on the modern day sovereign, and one of the most famous gold coins in British numismatic history.
One-year-only mint marks are only applied to coins for the most significant events and anniversaries and this is certainly an important one. In fact, it's unlikely we'll ever see a combined Royal and numismatic anniversary as significant as this in our lifetimes.
'22 Carat Gold Pedigree'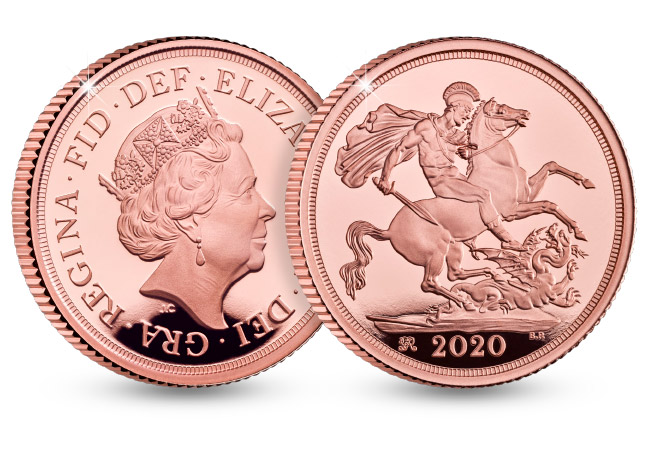 The 2020 Sovereign is minted from 22 Carat Gold and it is this historical pedigree that makes the coin so admired and sought-after around the world.
It is also one of the finest examples of British craftsmanship. The exceptional 'proof' finish is the result of the coin being struck up to 4 times using specially polished dies.
The time and effort required to produce the frosted relief and mirrored background of the coin is why a proof finish is considered the pinnacle of the mint-masters art – and the most sought-after by collectors.
And with an edition limit of JUST 7,995 worldwide – a lower edition limit than the 2018 Sovereign that also featured a special mint mark and COMPLETELY SOLD OUT in a matter of weeks – this year's Proof Sovereign has all the elements to be the most collectable gold coin of the year.
If you're interested…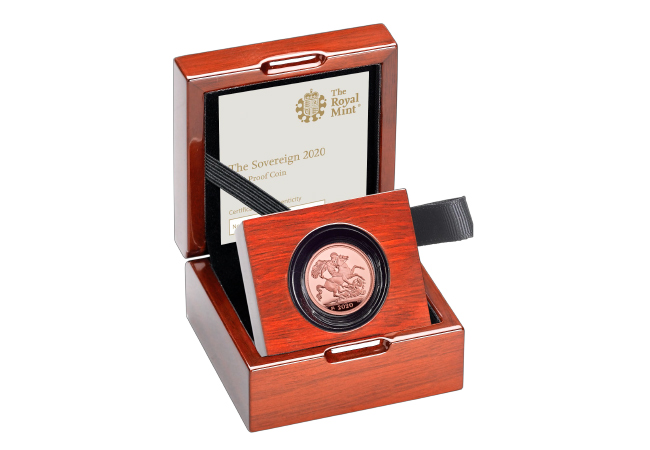 You can secure the 2020 Gold Proof Sovereign now, but you'll have to act quickly. You can secure yours today for a down payment of JUST £59.50 followed by nine further interest-free instalments – the most affordable way to own the new coin.