Posts Tagged 'coin collector'
100 years ago this year, at 11 o'clock on 11th of November, the guns of war finally fell silent. The First World War was over.
While many fathers, sons, uncles and brothers came home, millions lay where they fell, on the Battlefields of Europe. Those who were lucky enough to be identified were placed in makeshift graves, often only identified by a rifle placed in the earth with his steel helmet placed on top as a final memorial.
To commemorate the Armistice Centenary, The Royal Canadian Mint have issued a remarkable new coin that honours each and every fallen soldier.
Struck in the shape of a WWI Brodie Helmet, it is more deeply curved surface than any other concave or convex-shaped coin I've seen before. The design is so unique in fact, that the Mint have kept the minting technique a closely guarded secret.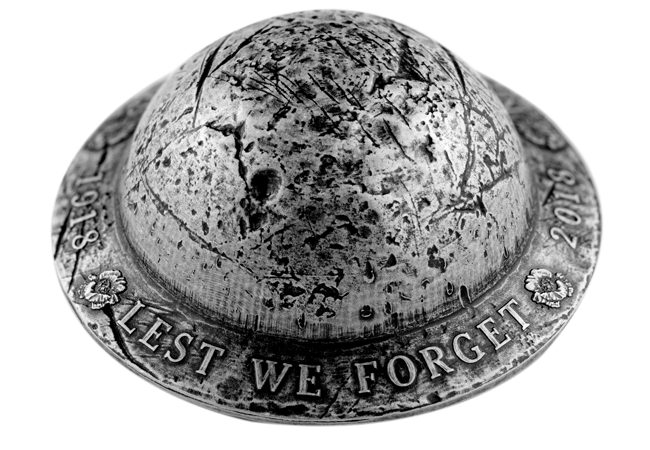 Although the original helmet would have been cast from Steel, this coin has been struck in the very finest .9999 or "four nines" silver, this is the purest grade of silver available. The Royal Canadian Mint is one of the very few Mints in the world with enough minting expertise able to strike coins with this incredible high relief finish. It's an exceptional feat of craftsmanship.
What's more the attention to detail is outstanding, each coin has been given a final antique finish and there are even engraved cracks and markings which complete the helmet's battle-worn appearance. A reminder of the hardships endured by those who fought.
The amount of 2018 Silver 'Helmet-Shaped' coins available is very low. A worldwide edition limit of just 6,500 has been set by the Mint, but of course many of these won't even make it out of Canada. Without any doubt, this has to be one of the most collectable issues ever struck.
The First World War will always be known as one of Man Kind's darkest hours but poignant issues like this one allow us to remember those who have made the ultimate sacrifice.
---
If you're interested…
We have just 500 WWI Lest We Forget Silver 'Helmet-Shaped' coins available for UK collectors, but to get one you'll have to act quickly.
Click here for more details >>
I am sure we have all dreamt of stumbling across a dusty old stamp collection or long forgotten silver coin secretly worth a small fortune hiding somewhere in the house.
Unfortunately I am yet to stumble across my fortune in the attic, but this dream recently came true for a grandmother from Hull when she found a 1644 Oxford Crown in her late grandfather's coin collection.
While clearing out her attic she found a shoebox of coins she had inherited from her grandfather decades ago. She initially offered the collection to her children, who rejected what they saw as 'worthless junk'.
She then considered binning her collection of relics, before making the decision to have the coins valued along with a number of other family heirlooms.
That's when she discovered that amongst her collection was the incredibly rare 1644 Charles I Oxford Silver Crown. This coin was struck for just one year and is considered by many numismatic experts to be one of the most beautiful British coins ever produced.
Struck in 1644, this crown was minted while the country was in the midst of a Civil War. The coin features a portrait of King Charles I on horseback placed against a fantastic rendition of the City of Oxford which was his headquarters during the English Civil War.
It is no wonder that this coin is so highly valued. It is incredibly rare, the design is one of the most intricate ever struck on a British coin and it marks one of the most significant moments in our nation's history – the English Civil War.
The historic coin is expected to reach in excess of £100,000 at auction and the owner plans to use the money to help her granddaughter, currently expecting her first child, to fund a house deposit.
I think it's time for me to have another dig around in the attic!
_______________________________________________________________________________________
If you're interested…
For those not planning on bidding in the auction for this exceptionally rare coin, we have a limited stock of just 36 Silver-plated replicas available of the beautiful 1644 Oxford Crown. Click here to find out more >>>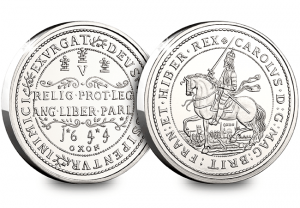 One of the things I find most interesting when collecting historic coins is the insight they give into the time they were struck and of the monarch who issued them.
A particular reign that has always fascinated collectors is that of Queen Victoria. During Victoria's long reign only three major obverse portraits adorned her coins and they come together to chart the life and reign of one of Britain's most popular monarchs.
The Young Head
The first effigy to feature on Queen Victoria's coinage is known as the 'Young Head' portrait. This early portrait shows Victoria at the tender age of just 18, when she acceded to the throne.
The public in the early 19th century would not have been aware that the youthful Victoria depicted on their coins would soon become the leader of the largest Empire the world had ever seen and would reign longer than any British monarch before her.
The 'Young Head' portrait was extremely popular with the general public and remained on Victoria's coins with only minor alterations for the majority of her reign.
The Jubilee Head
After 60 years however, it was decided that a new portrait was necessary to reflect Victoria as the elder stateswoman she had become. Victoria's Golden Jubilee marked the occasion for a design change and Joseph Edgar Boehm was chosen to design a portrait for the 78 year old Queen.
However, Boehm's portrait failed to gain the public's admiration in the way its predecessor had. The portrait was met with ridicule by the general public who found the small crown balanced precariously on her head as unrealistic and almost comical.
The Veiled Head
The 'Jubilee' portrait was quickly replaced in 1893 after only six years, with what was to be the final obverse used on Victoria's coinage. This new effigy was designed by Thomas Brock and shows a mature bust of the Queen with a veil representing her long period of mourning after the death of her husband Prince Albert.
Victoria was deeply attached to her husband and she sank into depression after his death. For the rest of her reign she wore black and the final portrait of the highly respected Queen represents this secluded period of mourning that came towards the end of her life.
Together, these coin portraits tell the story of Queen Victoria, with each marking an important period from her long reign. All of these coins are now over 100 years old and for me they epitomise Victorian coin collecting.
_______________________________________________________________________________________
If you're interested…
Today you have the opportunity to own each of these key portraits in the Queen Victoria Half Crown Set. However, these historic coins are very difficult to source and we only have a limited number available.
Click here for more details >>