Queen Elizabeth II acceded to the throne on 6th February 1952 and celebrated her Coronation on 2nd June 1953 at Westminster Abbey.
During her remarkable 70-year reign, Queen Elizabeth II enjoyed seven jubilees and was the first British monarch to receive a Platinum Jubilee.
And as we approach one year since her sad passing, just a handful of collectors will be able to preserve these remarkable milestones with four Silver coins…
Housed in one complete collection, you can secure the sought-after Silver Proof £5 coins issued by The Royal Mint to celebrate Elizabeth II's Silver, Golden, Diamond, and Platinum Jubilees.
And considering how sought-after her commemoratives have become, here's why you don't want to miss out…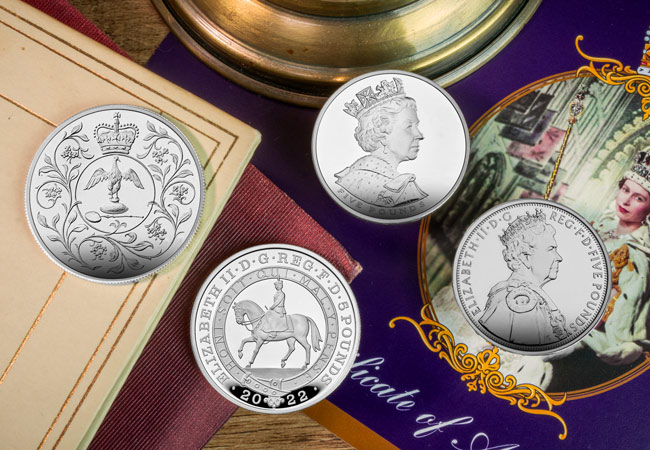 NO LONGER AVAILABLE AT THE MINT
Queen Elizabeth II's influence on the collecting world has been immeasurable. And nearly a year after her sad passing, we are still witnessing excessive demand for commemoratives from her reign.
So today you can get ahead of the crowd and take a shortcut to securing four Silver Proof coins from her most significant Jubilees.
The release of Silver Crowns is renowned as the traditional way to celebrate historic royal occasions, and each one features a unique commemorative portrait of Elizabeth II either on horseback or a classic depiction of the young monarch.
But, 3/4 of these coins are no longer available to buy from The Mint, so this could be your last chance…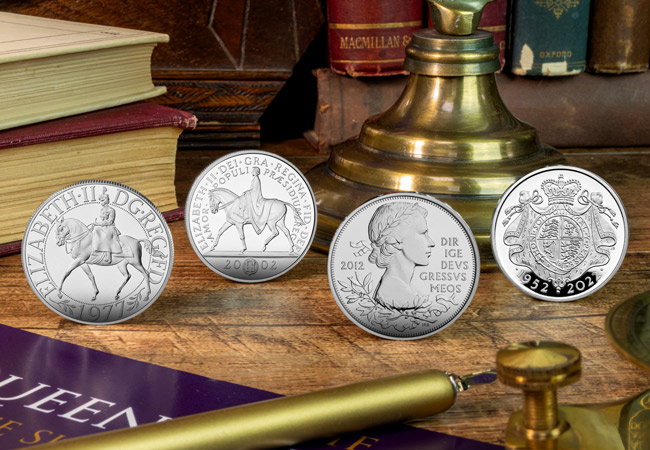 The UK Queen Elizabeth II Jubilee Silver Crown Collection
This exceptional set is essential for any collection. At a time more poignant than ever to collect Her Majesty's commemoratives, this is the perfect way to preserve her extraordinary legacy…
Comprised of the UK Silver Proof £5 coins issued in celebration of her Silver, Golden, Diamond and Platinum Jubilee from 1977, 2002, 2012 and 2022, this complete collection takes you on a journey through the most remarkable milestones of our longest reigning monarch.
Housed in a luxury presentation box with a certificate of authenticity, this could be your last chance to secure these Silver coins as three of them are off-sale from The Mint…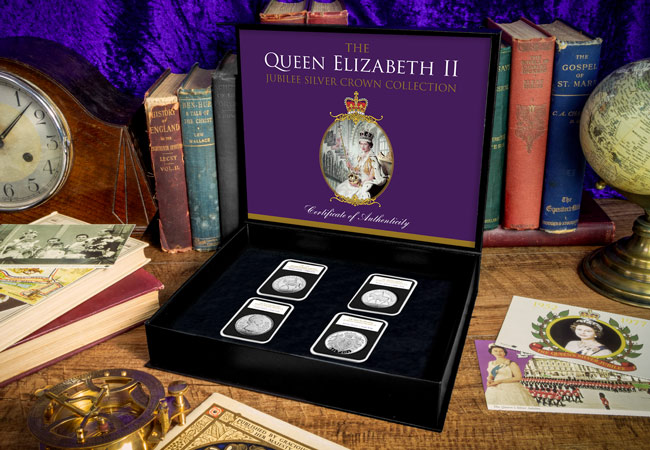 Your Last Chance?
Considering there is only one coin still available to buy from The Royal Mint, this could be your last chance to secure all of them in one complete pristine collection.
But considering Queen Elizabeth II collectables are scarcer than ever, this is the easiest way to secure the most sought-after Jubilee coins in with just a few clicks of a button!
However, only a tiny number of collections are available, so make sure you don't miss out on securing such a rare set…
Click here to own your Queen Elizabeth II Jubilee Silver Proof £5 coin collection now >>
The Royal Mint have revealed a special Coronation portrait of King Charles III, which will feature on the United Kingdom's range of Coronation Coins.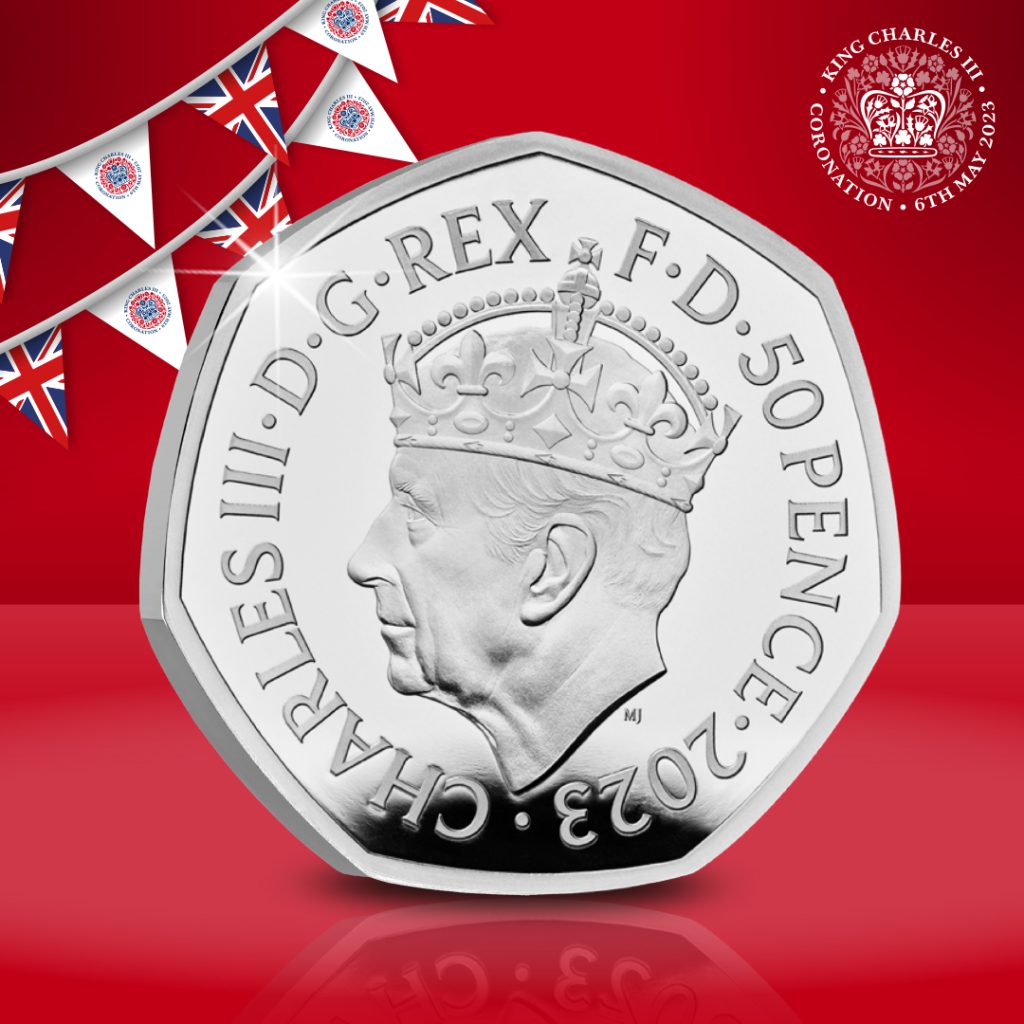 The portrait shows King Charles III wearing the Tudor Crown, a design that is unique to the Coronation Range – this includes the UK's first Coronation 50p, a £5, an Ounce and a Sovereign.
The 50p itself features a design by Natasha Jenkins of the King's Royal Cypher, alongside the front of Westminster Abbey where he will be crowned on 6th May 2023.
The £5 coin, designed by renowned coin artist Timothy Noad, features the St Edward's Crown joined by other Coronation Regalia.
And finally, the Ounce coins feature a heraldic design by John Bergdahl.
All designs have been personally approved by the King himself and will be available from 9am on 24th April 2023, on The Westminster Collection's website.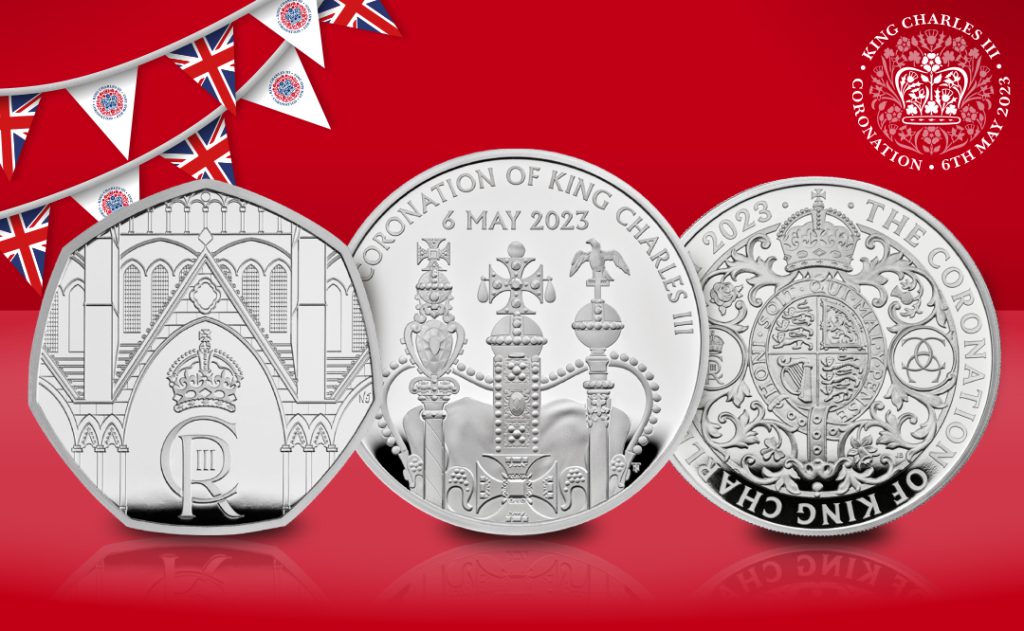 To be the first to find out how to secure yours, sign up below:
This year celebrates 60 years since the moment one of Britain's most iconic bands, The Rolling Stones, first stepped onto the music scene. And what better way to honour this Rock 'n' Roll royalty than by appearing on the latest UK £5 coins!
For the past six decades, The Rolling Stones have achieved legendary status as they pioneered their way to the definition of hard rock. So, what's more fitting than them being chosen as the latest addition to The Royal Mint's Music Legends family, appearing alongside the likes of Elton John, David Bowie, Queen and The Who.
From 'I Can't Get No Satisfaction' to 'Paint It Black', there is no denying that The Rolling Stones are one of the most influential British artists to have ever graced our stages. And now, you can celebrate their contribution to the music industry with the new UK £5 coins released in both Brilliant Uncirculated and Silver Proof quality.
Read on below to find out how you can honour this iconic 60th anniversary yourself…
UK £5 Brilliant Uncirculated Pack
With over 200 million records sold, not only are they one of the best-selling artists of all time, but The Rolling Stones now also have a UK coin dedicated to them for the first time ever!
The BU Pack's coin design depicts the band playing live in concert, and is struck to a superior Brilliant Uncirculated quality that ensures it's free from any scratches or marks that you would find on circulated coins.
Importantly, your coin will arrive protectively sealed in its official Royal Mint packaging to preserve its quality for generations of music fans to come.
What's more, the £5 coin also includes the portrait of Her Majesty Queen Elizabeth II on the obverse.
And you can secure yours today for just £14.50 (+p&p)! Click here to find out more >>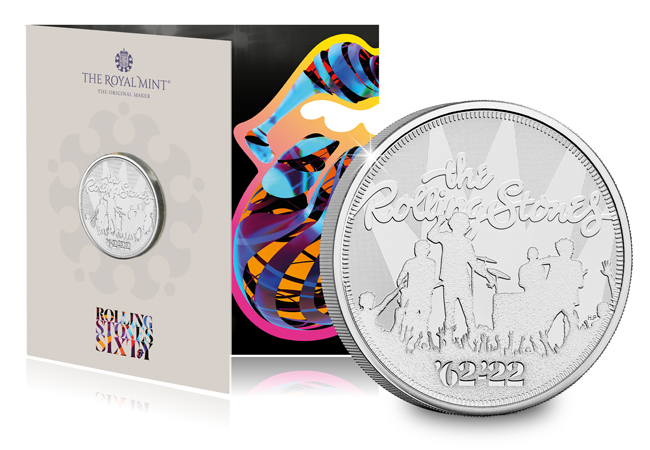 UK 1oz Silver Coin
You can also celebrate the 60th anniversary of The Rolling Stones with the new UK Silver Proof 1oz coin!
Expertly struck from 1oz of 99.9% pure silver to a proof finish, the coin depicts the band playing live in concert with the addition of vivid colour to bring the design to life.
Fully approved by The Rolling Stones, this is the fifth coin released in the SELL-OUT Royal Mint Music Legends series!
However, there's JUST 8,000 issued – and with ALL previous 1oz Silver coins in the Music Legends series having completely SOLD OUT at the Mint, we're likely to see a quick sell-out happen again.
As an Official Distributor for The Royal Mint, we have a limited number available for Westminster customers. Secure yours today for a deposit of just £21.00 by clicking here >>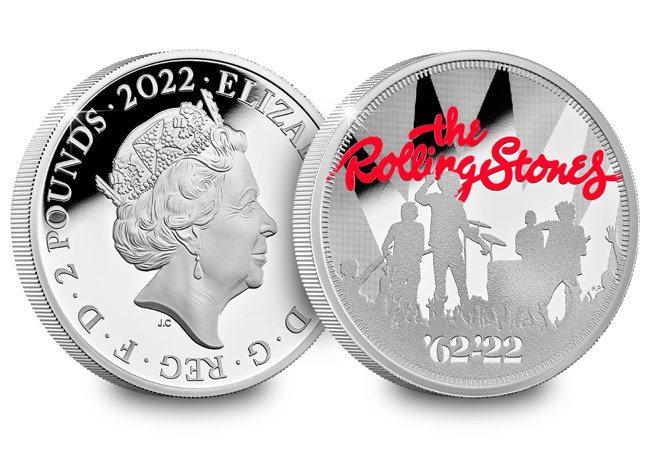 Or click here to check out the full The Rolling Stones £5 coin range for a chance of securing yours before it's too late >>