Posts Tagged 'Spitfire Coin'
Each year Remembrance Sunday provides an opportunity for the nation to reflect on those brave men and women who gave their lives fighting for our freedom. But this year will be especially poignant. As we also commemorate the 80th Anniversary of one of the truly remarkable chapters in our nation's history – the Battle of Britain.
Introducing the official 2020 Remembrance Masterpiece Silver 5oz Poppy Coin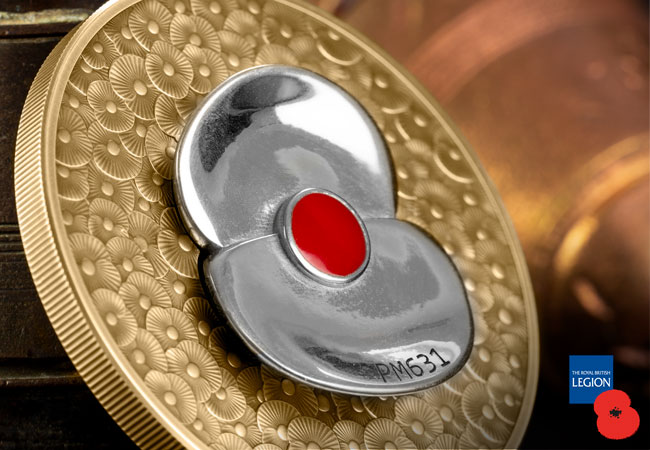 There is one coin that avid collectors await the release of – the "Masterpiece Poppy Coin". The name says it all. Cutting edge minting techniques and materials, representing the pinnacle of craftsmanship. But let me explain what makes this year's Masterpiece Poppy so special…
This year marks the 80th anniversary of the Battle of Britain. Take a look at the images and you'll see that a single stylised Royal British Legion poppy, proudly sits on top of this coin. Multiple poppies have then been engraved into the surface of the coin, resulting in an exceptional 3 dimensional effect.
But the incredibly rare facet of this year's poppy coin is that it's been crafted from a genuine piece of Spitfire.
Expertly crafted from a Spitfire with a remarkable story to tell
Incredibly, this year, the silver poppy that adorns the reverse of each of these coins has been made from a piece of Spitfire PM631 – ensuring each coin is uniquely different and features a piece of tangible aerial history.
Originally built in late 1945, the Spitfire PM631 saw service with the Battle of Britain memorial flight for nearly FIFTY years between 1957 and 2006. You may also remember that it had a starring role in a famous WWII Movie – Battle of Britain, made in 1969.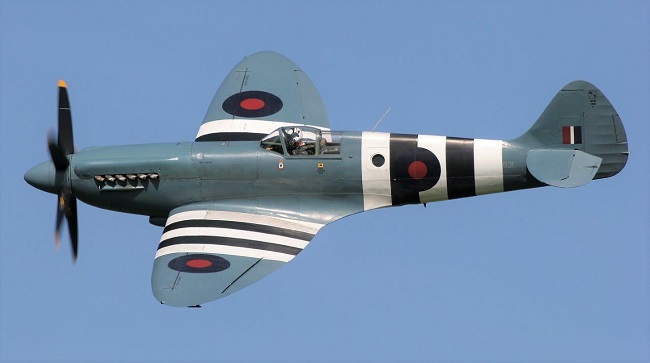 Once the Spitfire piece has been melted down and poured into a shaped mould, it is cooled and cleaned to create the high-relief poppy. After this, it is laser engraved with the official Spitfire plane from which the metal was taken – PM631. Check out the images below to see the process the Spitfire metal goes through to come a Masterpiece poppy…
But even then, it is important to remember, this is NOT a cast piece. The surface of the coin has actually been struck in sterling silver and has then expertly plated in 24ct gold. The finish is a stunning matte appearance achieved using a technique called 'Sandblasting'. This means it has all of the detail that you expect from a commemorative coin but allows you to touch the coin and hold a genuine, iconic piece of history in the palm of your hand.
As I am sure you can appreciate, given all of the individual elements that have to be carefully curated for each individual coin, the edition limit as a consequence is incredibly low. In fact, only 300 of these coins have been produced, with number one fittingly being donated to The Royal British Legion themselves. Which means only 299 coins remain for collectors.
We do not expect these coins to be around for long. And remember, for each coin sold a donation will go straight to The Royal British Legion in support of all their work.
Available now – with a donation to The Royal British Legion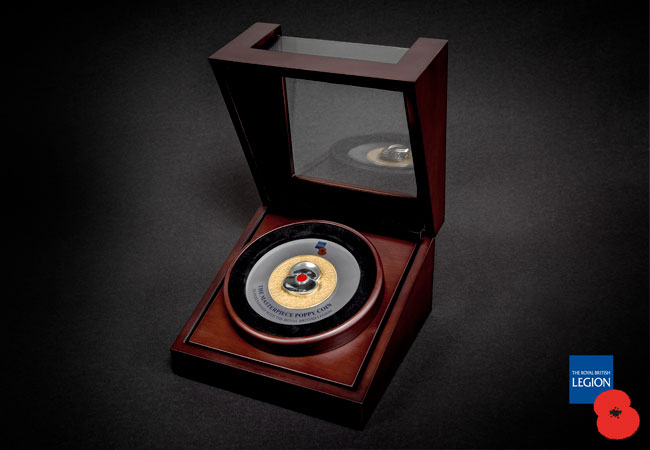 The 2020 Masterpiece 5oz Silver Proof Poppy Coin is available to own right now from The Westminster Collection, although they are expected to sell out quickly.
To further support the work of The Royal British Legion, a donation of £59.50 from the sale of each coin will go directly to the charity, helping them to continue to provide financial, social and life-long support to the Armed Forces community.
£1,100,000 Milestone
What's more, since our partnership began and through the sales of commemorative Remembrance and Poppy-themed coins, collectors have helped raise an incredible £1.1 Million for The Royal British Legion!
This is an achievement that everyone is immensely proud of, and we are hugely thankful to collectors for helping raise such an amazing amount.
If you'd like to find out more about the fantastic work that The Royal British Legion do and why we are so proud of this milestone £1.1 Million that has been raised for the charity, then click here to read more…
Click here to view the complete range of 2020 Remembrance Poppy coins issued in support of the Royal British Legion >>
Last month, I had a fantastic opportunity to get up close and personal to one of the world's most famous aircraft – the Spitfire!
The iconic Supermarine Spitfire was critical in defeating Luftwaffe air attacks during the Battle of Britain in 1940, and so to mark the 80th anniversary this year, I knew we had to arrange something unique to produce a truly special collectable coin worthy of the historic anniversary.
So on the 23rd July I drove up to the historic Duxford Aerodrome to have 1,000 brand new Proof £5 coins flown in an original WWII Spitfire.
Now the purpose of my visit was to have 1,000 Official Battle of Britain £5 coins flown in an original WWII Spitfire, but I was also able to talk to RAF Flight Lieutenant Antony 'Parky' Parkinson in great detail about his time in the RAF and as an ex-Red Arrow ahead of the Battle of Britain anniversary. You can see Parky discussing his career and the Spitfire in the video below…
Before Parky took the 'NH341' Spitfire to the air, I helped him secure the 1,000 Battle of Britain Spitfire £5 coins into the wing bays which would have once held the fighter plane's armaments while defending Britain in the skies 80 years ago. The space in the wing bays is extremely limited, hence the limited number of coins that were able to be taken to the sky.
Standing within a few feet as the famous Rolls Royce engine fired up, I watched in awe as the elegant, agile aircraft taxied along the runaway and gracefully took to the skies.
Although many 80th anniversary plans up and down the country have had to be cancelled, I am delighted to be able to give a limited number of collectors the opportunity to become the proud owner of the BRAND NEW Official Proof £5 coin that has been flown in an original WWII Spitfire plane. But that's not all, as I was also able to arrange for them to be personally hand-signed by Parky.
The brand new Spitfire £5 coin is a fantastic commemoration of the famous plane and I am grateful that I had the opportunity to mark the 80th anniversary of the Battle of Britain with such a fitting tribute.
So I'm sure you can appreciate what a genuinely rare collectable these will instantly become and demand is expected to exceed availability. If you wish to secure one for your collection, you need to act quickly by clicking here.
Thank you to Flight Lieutenant Antony Parkinson MBE and the rest of the team at Aerolegends for helping to take the Spitfire £5 coins to the sky and for giving me the opportunity to see this famous warbird in the flesh.
---
If you're interested, you'll need to be quick as over 50% have already been reserved. You can secure the Official Battle of Britain Proof £5 coin now for JUST £35 by clicking here >>
And remember, not only will your official Battle of Britain £5 Proof coin have been flown in an original WWII Spitfire, it is also one of just 1,000 coins that have been personally signed by Lieutenant Antony Parkinson 'Parky', MBE.
Fancy yourself as a history buff? Well, our latest video could be the perfect thing to test your knowledge!
You see this year marks the 80th anniversary of the Battle of Britain, and we've been busy compiling some interesting and hidden facts that you may (or may not) know about the battle…
Did you know all of these amazing facts or have you got some of your own? Let us know in the comments below!
---
If you're interested

Click here to see our brand new 80th Anniversary of the Battle of Britain coins >>