The Christmas countdown has started early here at the Westminster Collection.
And you can join the 1,000's of collectors who have already ordered the BRAND NEW festive 50p coins celebrating the most wonderful time of the year!
Featuring Father Christmas, a Christmas tree, Christmas pudding, Carol Singers and a Christmas cracker, they've proven to be an instant hit with collectors.
And in my latest video, I tell you why you NEED to add them to your collection this festive season…
---
If you're interested…

A new UK 50p has just been released!
The design pays tribute to 100 years since the discovery of insulin, which saved MILLIONS of lives around the world.
And in my latest video I tell you everything you need to know about this latest addition to the Innovation in science series!
---
If you're interested…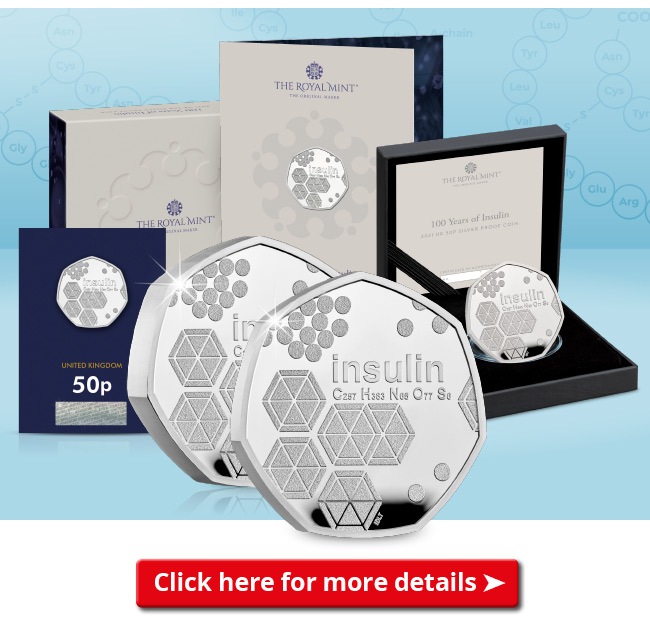 The Royal Mint have just released this year's Remembrance Day coin, however we're not expecting there to be enough coins for our collectors!
You see, even as an official distributor of Royal Mint coins, we have only been able to secure a tiny allocation of todays release.
As I'm writing this I can see we currently have JUST 144 Silver Proof, and ONLY 17 Silver Proof Piedfort coins in stock!
So if you're interested in adding this must-have Remembrance coin to your collection you'd best be QUICK, as our stock levels are dropping FAST.
Watch my latest video to find out everything you need to know.
---
If you're interested…