Posts Tagged 'British Isles Coins'

As 2022 draws to a close, it's the perfect opportunity to look back at some of the most popular UK and British Isles coins from the past 12 months.
But, I need YOUR HELP deciding which coin will be crowned the 2022 Coin of the Year.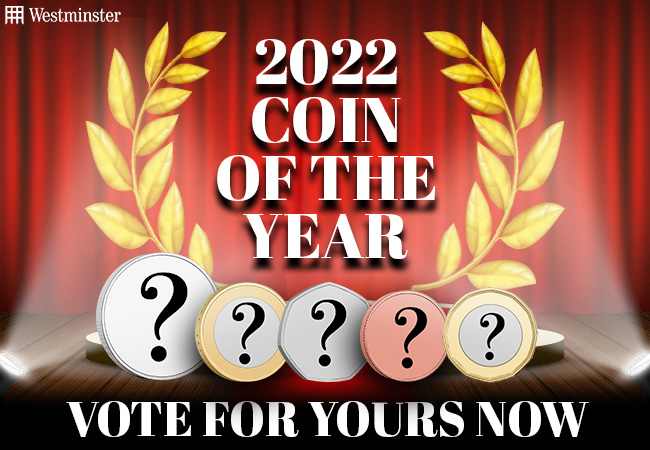 The results are in…
Watch our video to find out which coins made it into the top 5 >>
Missing any of these from your collection?
If you're missing any of the top 5 coins from your collection, you can still secure them here.
Did you know that on the jagged coast of the UK and the Channel Islands there are an estimated 251 Lighthouses? Each tower and the people who have lived and worked in them over the centuries have kept an untold number of ships and sailors safe.
This year marks the 250th anniversary of the birth of Robert Stevenson — the man who constructed some of the most important and iconic lighthouses in the British Isles.
Not only did he build lighthouses, but he also improved upon their design by inventing intermittent and flashing warning lights, undoubtedly saving the lives of many as the lights helped warn sailors of dangerous areas and guided them to safety.
To celebrate the amazing work of Robert Stevenson, a brand-new collection of Jersey £2 coins have been issued. These £2 coins have been beautifully designed by artist Tabitha Mary, and each features the image of an iconic lighthouse from around the UK and the British Isles.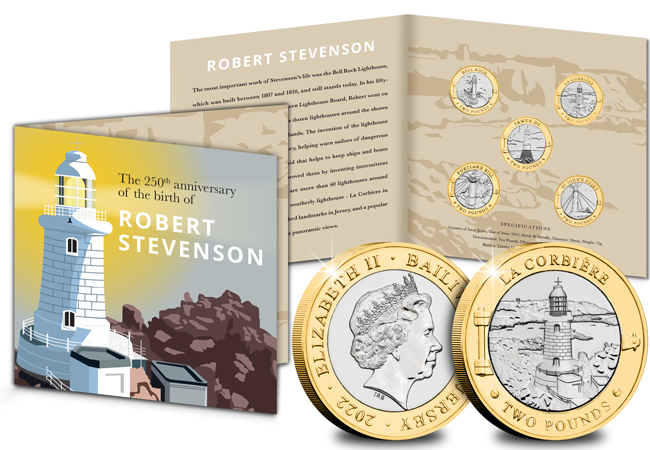 Continue reading to find out more about each of the iconic UK and British Isles lighthouses featured on this BRAND NEW set of coins…
Take a closer look at our set of Lighthouse £2 Coins below!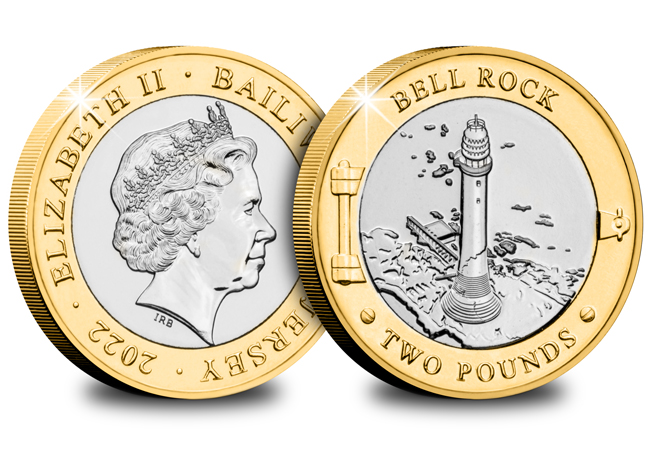 Bell Rock Lighthouse
The Bell Rock Lighthouse is situated off the Angus Coast in Scotland.
Designed by Robert Stevenson, it's the world's oldest working sea-washed lighthouse, established in 1811.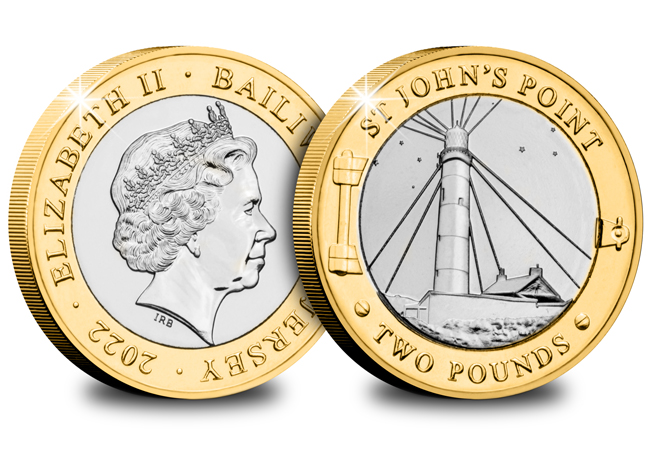 St. John's Point Lighthouse
St. John's Point is one of 65 active lighthouses on the Irish Coast and is a well-known beacon in the northeastern Irish Sea.
Built in 1844, it's the tallest lighthouse in Ireland, standing over 40 meters tall.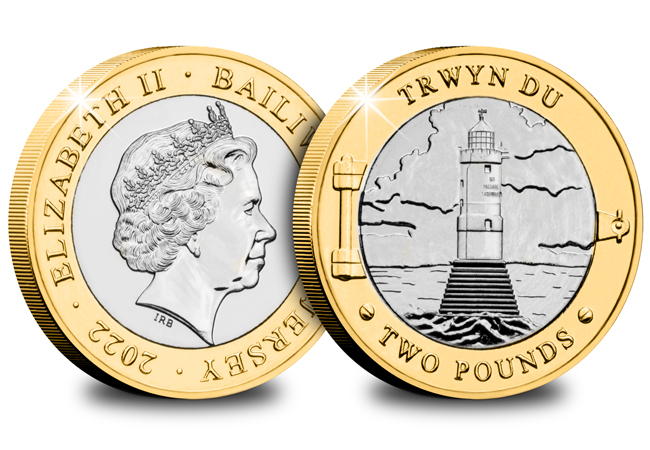 Trwyn Du Lighthouse
Situated in Wales, Trywn Du is also known as Penmon Lighthouse and marks the channel between Puffin Island and Penmon Point.
In 1996 the lighthouse was converted to run on solar power.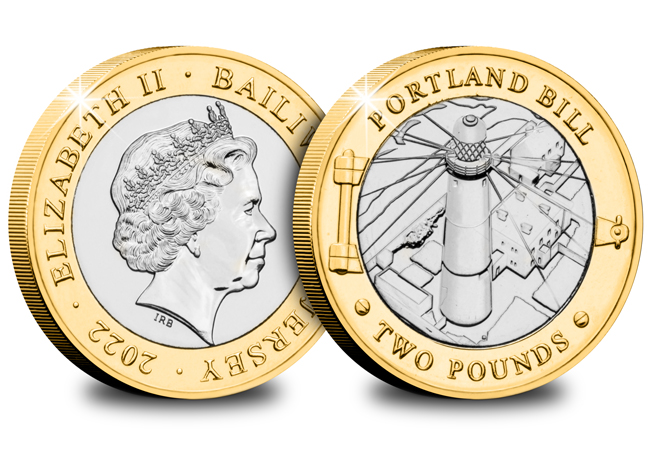 Portland Bill Lighthouse
Portland Bill is a functioning lighthouse on the Isle of Portland in Dorset.
Its distinctive red and white tower first shone its famous four flashes of light every twenty seconds on 11th January 1906 and has a range of 25 nautical miles.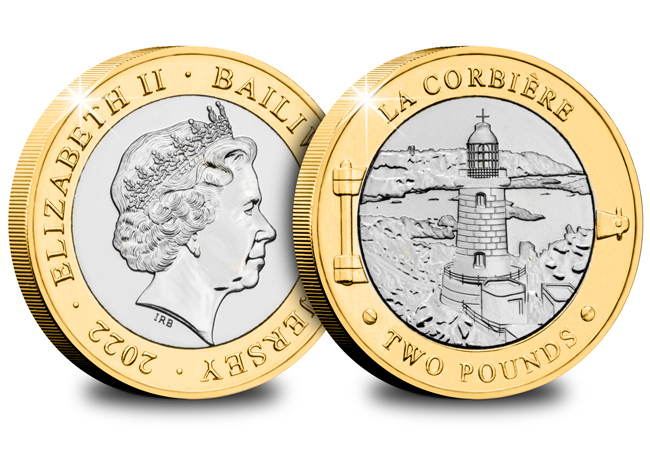 La Corbière Lighthouse
La Corbière lighthouse is a historic structure which was first lit in 1874.
It's one of the most significant monuments in Jersey and is located at the extreme southwestern point of the Bailiwick of Jersey. It is flanked by rocks and can be reached by a causeway.
This set has some rare collectable features you won't want to miss out on! Not only does each coin feature a never-before-seen porthole design around each lighthouse, but it also has an edition limit of only 2,022. This is extremely unusual for a BU £2 set, as usually there is no edition limit, making this collection one of the most limited £2 sets ever!
These stunning coins come in a presentation pack featuring artwork by the designer, making this a valuable piece to hand down to feature generations. I'm sure you'll agree that these are unlikely to be around for long.
Click here to secure your British Isles Lighthouse BU £2 collection today >>>
This year we mark the 40th Birthday of our future King, Prince William.
Coins that are being issued to mark this birthday are extremely important – when William eventually becomes King, coins issued for him during the Queen's historic reign are going to be highly sought after by collectors.
And now a brand new coin has been issued by Guernsey and features a fantastic new design by artist Quentin Peacock.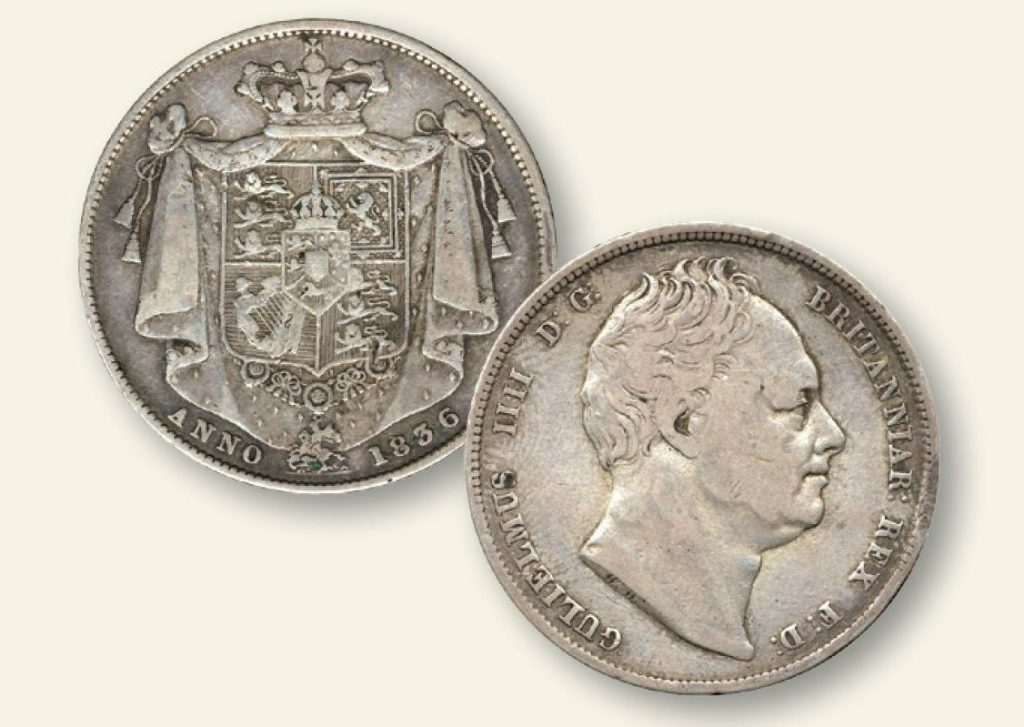 The design takes inspiration from the original Crown coins issued during the reign of the last King William – King William IV.
Any historic coin collector will be aware of this iconic important coin.
During the reign of William IV, the Royal Mint had two established and now legendary engravers – Benedetto Pistrucci and William Wyon. However, in 1820, Frenchman Jean Merlen arrived at the Mint.
Merlen's design is one of the most highly rated, yet strangely least well-known, reverse designs to grace a British coin. A facet that makes it particularly desirable to knowledgeable collectors.
The 'Crowned Shield' has only been seen a handful of times. In fact, the Crown Coin was only issued in 1831 and 1834, and never entered circulation! This, combined with the fact that William IV only reigned for 7 years, makes the William IV Crown one of the most sought after coins in British numismatic history!
And now Quentin Peacock has produced a fantastic new design to mark the 40th Birthday of our future King, Prince William – who is likely to be the first King William since the 1800s.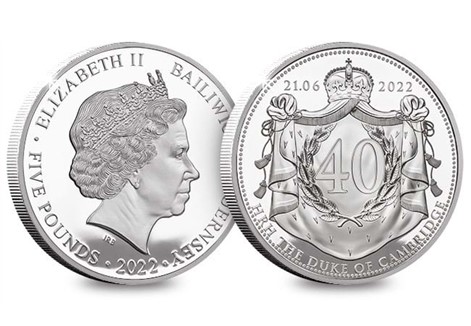 This brand new design features a crowned shield with '40' in the centre. It's a new design that pays homage to one of the most interesting and collectable coins in British history.
There might even be a few very lucky collectors out there with the opportunity to pair the two coins together!
We have a limited number of coins available in the British Isles Prince William 40th Birthday range, and you can secure yours now by following the link below.
---
If you're interested…

Click here to view the full range of Prince William 40th Birthday Coins >>