Posts Tagged 'British Isles Coins'
This year we mark the 40th Birthday of our future King, Prince William.
Coins that are being issued to mark this birthday are extremely important – when William eventually becomes King, coins issued for him during the Queen's historic reign are going to be highly sought after by collectors.
And now a brand new coin has been issued by Guernsey and features a fantastic new design by artist Quentin Peacock.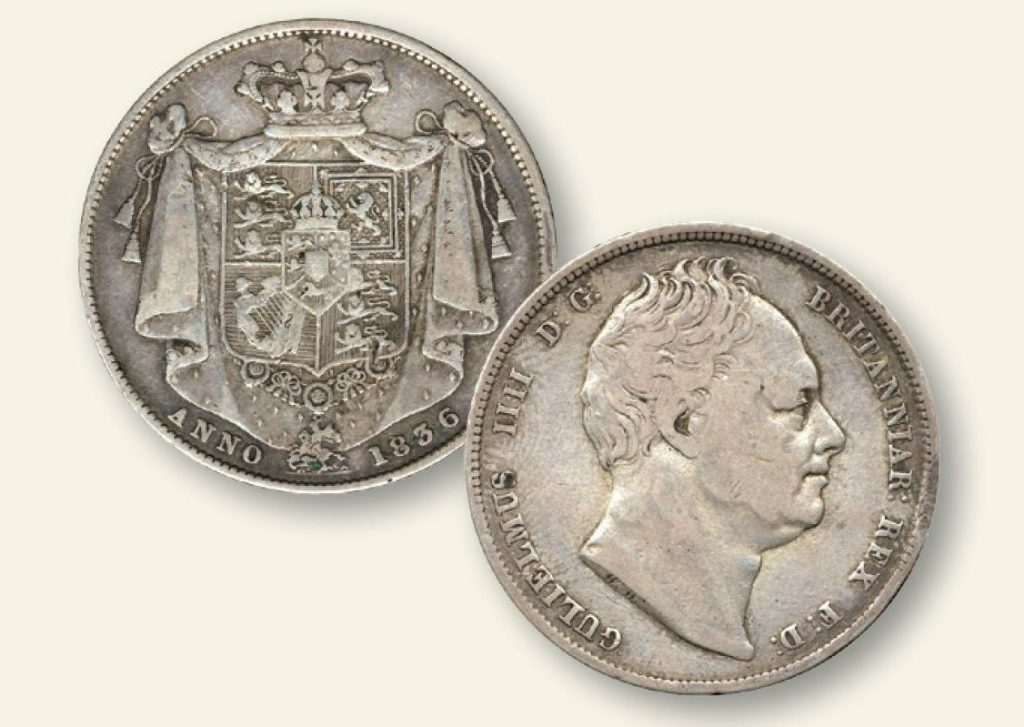 The design takes inspiration from the original Crown coins issued during the reign of the last King William – King William IV.
Any historic coin collector will be aware of this iconic important coin.
During the reign of William IV, the Royal Mint had two established and now legendary engravers – Benedetto Pistrucci and William Wyon. However, in 1820, Frenchman Jean Merlen arrived at the Mint.
Merlen's design is one of the most highly rated, yet strangely least well-known, reverse designs to grace a British coin. A facet that makes it particularly desirable to knowledgeable collectors.
The 'Crowned Shield' has only been seen a handful of times. In fact, the Crown Coin was only issued in 1831 and 1834, and never entered circulation! This, combined with the fact that William IV only reigned for 7 years, makes the William IV Crown one of the most sought after coins in British numismatic history!
And now Quentin Peacock has produced a fantastic new design to mark the 40th Birthday of our future King, Prince William – who is likely to be the first King William since the 1800s.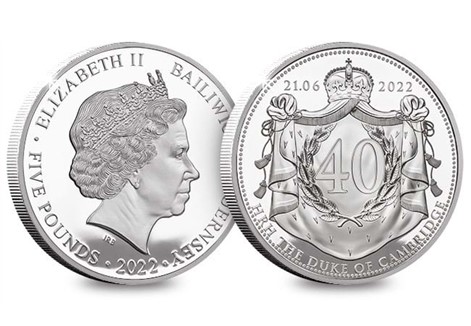 This brand new design features a crowned shield with '40' in the centre. It's a new design that pays homage to one of the most interesting and collectable coins in British history.
There might even be a few very lucky collectors out there with the opportunity to pair the two coins together!
We have a limited number of coins available in the British Isles Prince William 40th Birthday range, and you can secure yours now by following the link below.
---
If you're interested…

Click here to view the full range of Prince William 40th Birthday Coins >>
In a London based Reform Club, Phileas Fogg, was to place the biggest bet of his life.​​
Risking £20,000, Fogg and his recently hired valet, Jean Passepartout wagered they could travel the world in 80 days, with thanks to the new railroad in India.​​
Passing through exotic lands and dangerous locations, they seize whatever transportation is available, whilst racing against the clock.​​
In 2022, to celebrate the 150th anniversary of the first publication of Around the World in 80 Days, a brand-new collection of British Isles 50p coins has been issued.​
Authorised for release by Guernsey Treasury and fully approved by Her Majesty the Queen, this brand new issue is available in a range of specifications, the race is on to secure these coins for your collection… Click here to secure yours!
​Continue reading as we take you on a spectacular visual journey to five exotic destinations that Phileas Fogg travels to in the story, with the help of these brand new 50ps…​
The Around the World in 80 Days Coins​
London
Allahabad
Singapore​
Yokohama
San Francisco​
---
Have you read Jules Verne's famous tale of adventure, misfortune, and unexpected turns? Let us know in the comments below!​​
With the worldwide popularity of Around the World in 80 Days, spanning across generations, demand for these brand new 50p coins is sure to be high. Click here to view the entire range.​
---
​
Charles Dickens is widely regarded as the greatest novelist and social critic of the Victorian era. He created some of today's best-known 'classic' characters including Oliver Twist, Ebenezer Scrooge and Nicholas Nickleby, to name just a few.
And now, to mark 150 years since his passing, a brand new set of £2 coins has been issued for release by Jersey Treasury and fully authorised by Her Majesty the Queen.
The FIVE new British Isles coins, celebrate some of Dickens most famous works, of which a vast majority were based on events from his life. For example, after working in a blacking factory, both 'David Copperfield' and 'Great Expectations' were fictionalised.
Throughout his life, Dickens was a vocal critic against poverty and the Victorian social hierarchy. His novels gained unprecedented popularity during his lifetime, and by the 20th century, critics and scholars had recognised him as a literary genius.
Find out more about these BRAND NEW £2 coins below…
The COMPLETE Charles Dickens BU £2 Coin Collection
This remarkable collection features FIVE £2 coins, each struck to a Brilliant Uncirculated quality and depicting some of Dickens' most famous works, along with iconic lines from each book. The set includes:
Great Expectations "Ask no questions, and you'll be told no lies".
Oliver Twist "Please Sir, I want some more".
David Copperfield "Never do to-morrow what you can do today".
A Christmas Carol "God Bless Us, Every one!"
Charles Dickens himself "1812 Charles Dickens 1870".
What's more, the coins will come protectively housed in bespoke Charles Dickens packaging. This set is one of the only ways you can own all FIVE coins and demand is expected to be high. If you'd like to secure one for your collection for JUST £49.95 (+p&p) then click here >>>
The STRICTLY LIMITED Charles Dickens Silver Proof £2
The Silver Proof version of this stunning £2 coin features a specially commission illustration of literary legend himself, Charles Dickens, adorning the reverse. The coin has been struck to a flawless Proof finish out of .925 Sterling Silver with selective 24ct Gold-plating.
The Silver Proof editions are without a doubt the collector's favourite and almost always acquire fast sell-outs. With an edition limit of JUST 2,020 coins, time is short to secure one for your collection… Click here to guarantee yours >>>
The ULTIMATE Charles Dickens Silver Proof £2 Collection
This Silver proof set is by far the most limited way to own these coins. Not only are they strictly limited to JUST 995, but four of the coin designs, by illustrator Andy Walker, also feature full colour. This truly is the ultimate Charles Dickens £2 Coin Collection.
Sterling Silver, 24ct Gold-plating, full colour illustrations and only 995 available worldwide – Don't miss out on yours… Click here >>>
The Charles Dickens Stamp & Coin Set
If you're looking for something special, this Coin and Stamp Presentation is for you. This set features the Charles Dickens Brilliant Uncirculated £2 alongside the new 'Oliver Twist' stamp issued by Jersey.
Beautifully presented in a box, and carefully encased in protectively sealed numismatic capsules, only 500 collectors will be able to secure one… Click here to secure yours today >>>
---
If you're interested…
Charles Dickens remains not only one of the greatest novelists of the Victorian Era, but in the whole of British history, and these coins are already proving phenomenally popular.
To view the full range of coins and secure yours, please click here >>