This year, on the 14th of November, His Majesty King Charles III will celebrate his 75th birthday. This will be the first time a reigning British King has celebrated his 75th birthday in over 200 years.
Royal birthdays have held a significant place in the hearts of collectors for generations.
In a gesture to match the grandeur of the occasion – especially for collectors – a stunning coin range has been unveiled to mark the 75th birthday of King Charles III. This exquisite collection perfectly captures the essence of His Majesty in meticulous detail.
Continue reading below to explore the beautiful designs in all their glory.
---
Brand-new: King Charles III 75th Birthday Silver Proof £5
A prestigious piece of royal history, this brand-new £5 coin has been struck to the historic Crown specifications.
This remarkable release is strictly limited to JUST 995 collectors WORLDWIDE.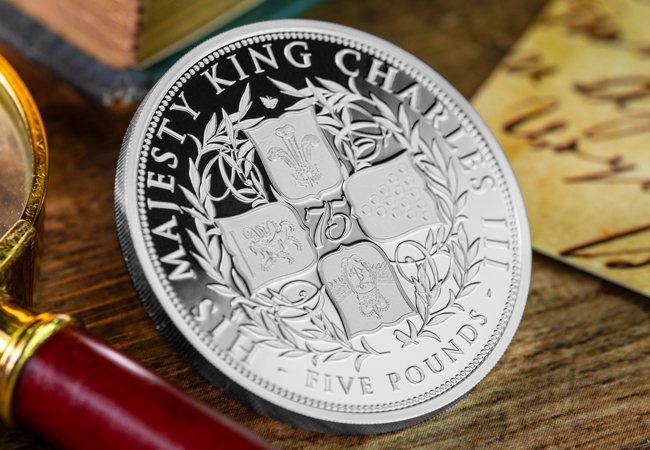 Secure your own King Charles III 75th Silver Proof £5 by clicking here >>>
---
Own the coin fit for a King: His Majesty's 75th Birthday Silver 5oz
This is the coin that's being gifted to King Charles III for his 75th birthday – you read that correctly!
Issued by Guernsey, this stunning coin is struck from 5oz of Pure Silver with selective 24 Carat Gold plating. Only 174 out of the total 175 edition limit have been made available for collectors, as number one has already been reserved for His Majesty.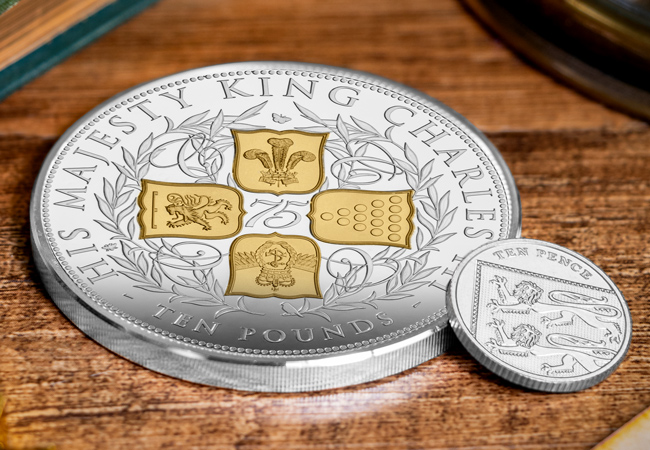 Click here to own this impressive silver tribute to His Majesty King Charles III >>>
---
Mark this historic milestone with the Gold Proof £5
The one-year-only design on the Gold Proof £5 has been fully approved by Buckingham Palace – with a strict edition limit of JUST 30.
Struck from solid Gold, the pristine Proof finish really showcases the specially commissioned design, featuring cruciform shields with symbols representing His Majesty's life – including the fleet Air Arm badge honouring His Majesty's service as a helicopter pilot in the Royal Navy.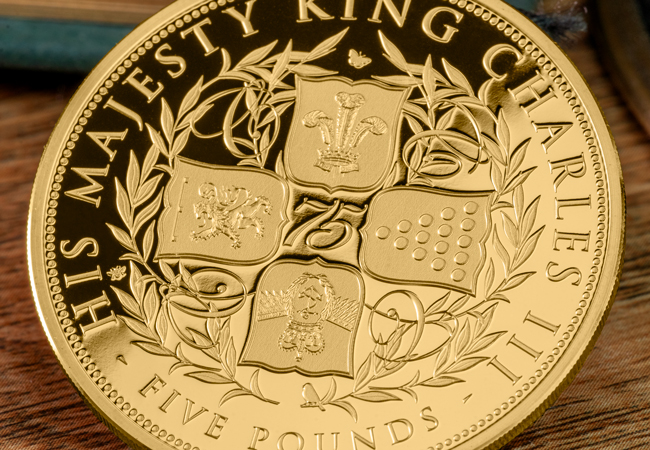 Click here to secure your own exclusive Gold Proof £5 – ONLY 30 available! >>>
---
A true work of art: King Charles III 75th Birthday Artist's Set
Issued to mark the first time in over two centuries that a reigning British King has reached the age of 75. The King Charles III 75th Birthday Artist's Set truly rises to this historic occasion.
It features an official 'Note from the Artist' signed by the reverse designer – Mike Guilfoyle, where he gives a fascinating insight into his creative process and inspiration.
Only 200 of these historic sets will ever exist – so only a select number of collectors will be able to own this exclusive set.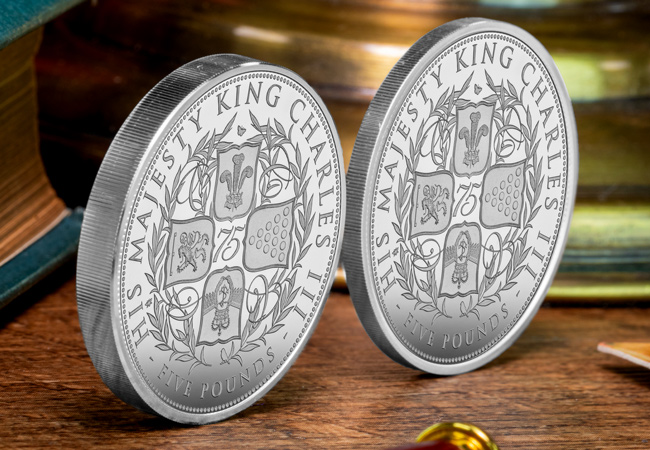 Click here to own one of these specially curated sets >>>
---
The ultimate King Charles III 75th Birthday issue: Proof £5 coin cover
The perfect way to mark the historic occasion, this exclusive release includes a £5 Proof coin alongside His Majesty's Coronation stamps, hand-stamped on his 75th birthday – the 14th of November 2023.
This makes it a true collector's dream, as once all the covers have been allocated, they will never be available again.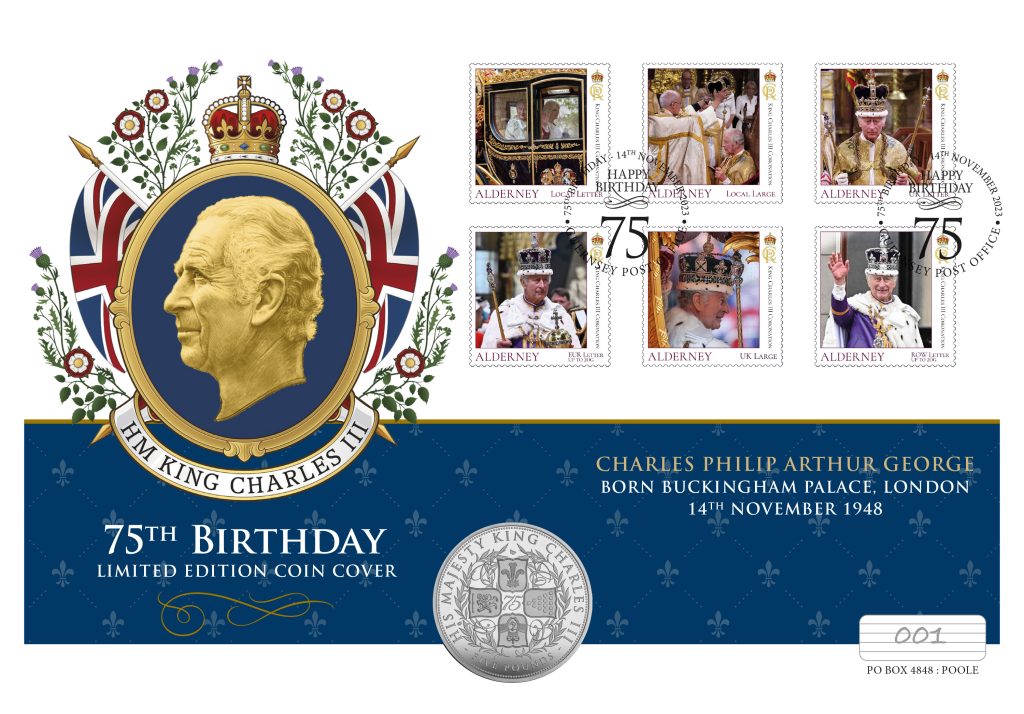 Click here to secure yours before the strict edition of JUST 495 is gone >>>
---
This really is a collection fit for a king – but there are even more brand-new releases to see, delve into the rest of the exclusive collection by clicking the link below!
Click here to explore the full King Charles III 75th Birthday Range >>>
Remembrance Sunday is an important time for the nation to honour the valour, sacrifice, and enduring spirit of all those who have served. Now as tribute, a remarkable Masterpiece has been released…
Introducing the Royal British Legion's 2023 Masterpiece Silver 5oz Coin
Click the black dots on the image above to learn about each of the key features of this year's masterpiece – and then continue reading below to get the full story!
Let's journey through the truly unique features of this brand new 'Masterpiece'.
At the heart of this stunning coin lies a tangible connection to one of the most iconic events of World War II – the Dambusters Raid. This year marked the 80th anniversary of the raid.
Let me explain. At the centre of the coin, you can see there is a Lancaster aircraft. This feature has been crafted with the metal from the starboard outer engine housing of Avro Lancaster PA474 – the same type of aircraft that participated in the historic mission!
This bridges the gap between past and present, allowing us to hold a piece of history in our hands.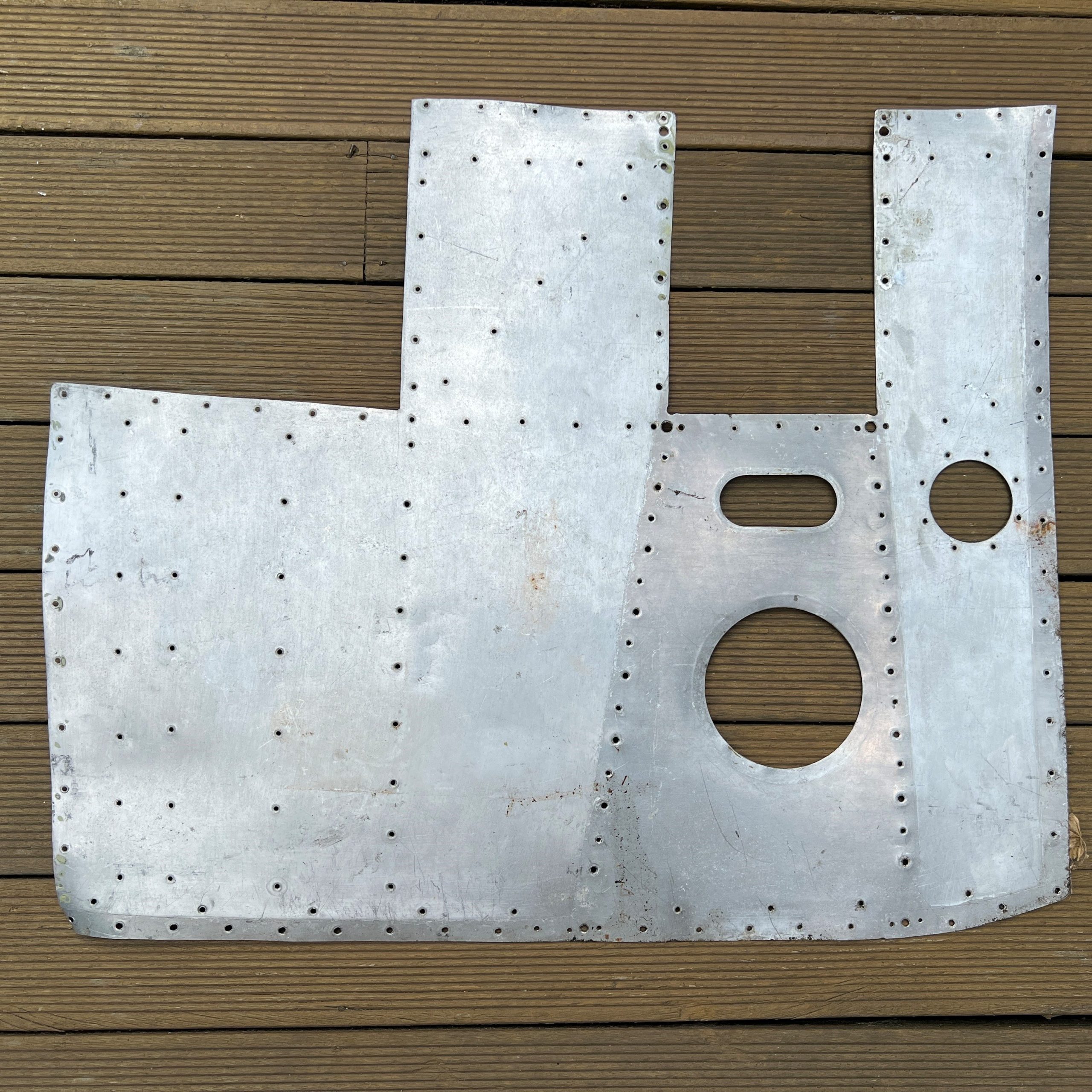 The artwork on the coin showcases a powerful scene – a Lancaster dropping the two petal Poppy® over The Mall – this touching image is inspired by the Battle of Britain Memorial Flight's tradition of dropping poppies to commemorate those who lost their lives fighting for our freedom. The scene pays tribute to the sacrifices of those that have fallen.
The original piece of Lancaster included in the Masterpiece is from the exact same plane that has participated in this symbolic act of Remembrance by the RAF Battle of Britain Memorial Flight.
Struck from pure Silver the 'Masterpiece' design is completed with the Lancaster being flanked by a Spitfire and a Hurricane – two legendary aircraft that played pivotal roles in defending the skies during WWII – representing the courage of the pilots who used them to fight for our freedom.
Look closely, and you'll discover another layer of significance in the coin's design. In the background, Buckingham Palace is also featured on the map. This stands as a poignant reminder of Royalty's role in difficult times for the nation – as well as a nod to the significant year the Royal family has had.
Click the video below to see the unboxing of the Masterpiece.
A donation to the Royal British Legion
The 2023 Masterpiece Silver Coin holds an opportunity for anyone passionate about helping veterans, to contribute to a noble cause. With each purchase – 10% of the sale will be donated to the Royal British Legion. This gesture not only enriches the value of the coin but also helps to ensure that the legacy of those who have served lives on through meaningful initiatives.
ONLY 250 AVAILABLE – secure yours while you can!
Each coin in this limited-edition release is accompanied by an individually numbered certificate – so you know which number you have secured out of the tiny worldwide edition limit of 250.
But that's not all – the coin also comes with an informational booklet that delves into the historical significance of each design element.
From the inclusion of an actual Lancaster plane fragment to the poignant artwork of aircraft, two petal Poppy, and royalty, every detail has been meticulously crafted to honour the sacrifices made by those who came before us.
By securing this coin, you not only possess a piece of history but also contribute to the Royal British Legion's vital work in supporting today's Armed Forces community.
As of this year, The Westminster Collection has raised a remarkable £1.25 million for the Royal British Legion through the creation of Remembrance and Poppy-themed coins – click here to read more about where your donations go >>
We have plenty more fantastic coins and commemoratives issued in support of the Royal British Legion just like today's new release so…
Click here for the range of 2023 Remembrance Poppy coins issued in support of the Royal British Legion >>
10% from the sale of this product will be paid to The Royal British Legion Trading Limited, which gives its taxable profits to The Royal British Legion (charity no. 219279) or Poppyscotland (Scottish charity SC014096).
Her Royal Highness Queen Elizabeth II committed herself to a life of royal duty, earning the affection of generations here in the United Kingdom, across the Commonwealth, and around the world.
To preserve her majesty's memory after her passing last year and the profound impact she made on countless lives, a breathtaking collection of memoriam coins has been unveiled – a testament to her tireless devotion to duty, and unwavering commitment to her people.
Each commemorative coin in this new collection serves as a token of remembrance – discover the intricate details and heartfelt symbolism woven into these coins.
View the key pieces below and delve into the depths of this magnificent collection.
---
Own the whole story with the In Memoriam Proof £5 Set
Introducing the 2023 British Isles 'In Memoriam' Proof £5 Set, a collection of three extraordinary coins commemorating the life and legacy of Queen Elizabeth II – featuring three £5 coins from Jersey, Guernsey, and the Isle of Man.
Strictly Limited to JUST 995 Collectors WORLDWIDE — That's a tiny number for such an important anniversary and a sell-out looks guaranteed.
Own a piece of history with this extraordinary tribute to a beloved Queen by clicking here >>
---
A touching tribute with the Silver Proof £5
Meticulously crafted from sterling silver to a stunning Proof finish, this new £5 features an original design by specialist heraldry artist, Neil Bromley.
What is so poignant about this design is the quote from the Shakespearean play Hamlet, "May flights of Angels sing thee to thy rest" which were the touching words expressed by her son King Charles in his speech on September 9th, the day after he acceded the throne.
Click here to secure a poignant reminder of Queen Elizabeth II's enduring legacy which redefined royalty >>
---
A reign to remember through the Silver Proof £5 set
In a heartfelt tribute to a reign which shaped history and touched countless lives, a British Isles Queen Elizabeth II 'In Memoriam' Silver Proof £5 Collection has been released, one year after Her Late Majesty's passing.
Each coin has been officially approved by Buckingham Palace and has been struck from Sterling Silver to a pristine Proof finish.
Featuring three unique designs, this brand-new set honours Her Late Majesty's extraordinary life, unwavering service and ever-lasting grace.
Click here to explore this limited-edition collection >>
---
A true gem for your collection – the stunning Silver 5oz
Struck from five ounces of Pure Silver, the 65mm diameter is the perfect way to show off this fantastic tribute.
Fully approved by Buckingham Palace, the Queen's funeral wreath of symbolic flowers: Rosemary, Geraniums, Dahlias, English Oak, and Roses are wonderfully depicted.
The Inscription 'In Loving and Devoted Memory' is taken directly from the handwritten card that accompanied the wreath.
Click here to secure the prestigious Silver 5oz Coin for your collection >>