Posts Tagged 'masterpiece coin'
The Westminster Collection is proud to reveal the Official RBL £5 Coin for 2023, featuring a fully approved, one-year-only design and issued in support of the Royal British Legion and our Armed Forces community.
Prices start from JUST £25 (+p&p) – discover the range below:
---
JUST £25: The 2023 Royal British Legion £5 Coin
This year's poignant design features the timeless and meaningful Royal British Legion Poppy® in vivid colour. It also features an intricately illustrated commemorative wreath and the Cenotaph – the United Kingdom's national war memorial in Whitehall – in the background. The inscription "Lest We Forget" is included along with the 2023 year date in Roman numerals.
You can secure yours for JUST £25. So feel proud and order yours today.
Click here to secure yours for JUST £25 >>
---
Official Silver Proof £5 Supports the Royal British Legion
One of the most anticipated releases this year, the 2023 Poppy® Silver Proof £5 Coin has been struck from Sterling Silver to a perfect Proof finish.
A strict edition limit of ONLY 4,995 has been confirmed. And with collectors eagerly awaiting the NEW Silver £5, high demand is expected.
Click here to secure yours with a deposit of JUST £19.90 >>
---
The Strictly Limited Poppy® Piedfort
ONLY 500 collectors in the world will be able to secure this impressive Piedfort specification saluting our servicemen and women.
Officially approved by His Majesty King Charles III himself, a swift sell out is expected. Place your reservation today with a deposit of JUST £24.50.
Click here to place your reservation >>
---
BRAND NEW Masterpiece features a GENUINE piece of Avro Lancaster
Simply put, the 2023 Poppy Masterpiece Silver 5oz Poppy Coin is one of the finest and most stunning pieces of minting collectors have seen in a long time.
Inspired by the story of the Dambusters Squadron who embarked on their legendary mission 80 years ago, the impressive design features a Lancaster Bomber dropping the Royal British Legion Poppy onto The Mall.
And that Lancaster Bomber has been crafted from a genuine piece of Avro Lancaster PA474. Click below to find out more.
Click here to place your reservation >>
---
Proudly supporting the Royal British Legion
Collectors like you have raised an incredible £1.25 MILLION for the Royal British Legion. And importantly, by ordering one of this year's remarkable coins, you'll be directly supporting the RBL, allowing the charity to continue its incredible work providing financial, social and life-long support to the Armed Forces community.
Click here to view the COMPLETE 2023 Royal British Legion Coin Range >>
Let me introduce you to a coin that speaks volumes…
Meticulously crafted from Pure Silver, the impressive King's Speech 5oz 100mm Coin has been issued to honour King Charles III's defining moment as Monarch.
Every word of the emotional and historic address he gave to the nation following the passing of Queen Elizabeth II feature on this coin – that's 977 words in total!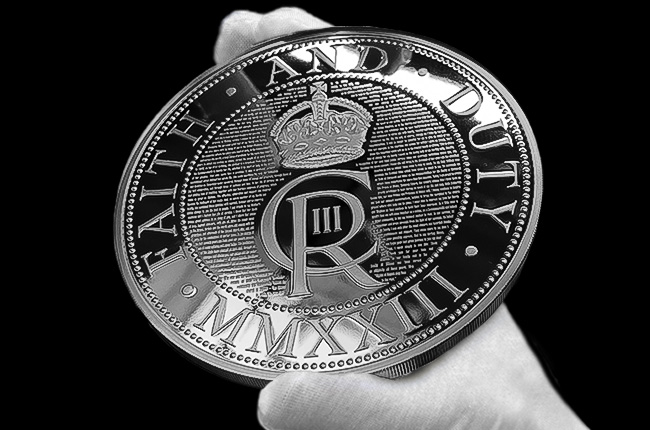 A Monarch's Defining Moment
On the 9th September 2022, just one day removed from Her Late Majesty's passing, King Charles III made the poignant speech. In the address he paid tribute to his mother and pledged to show the same unwavering commitment to duty.
And so, this coin not only commemorates King Charles III's first ever speech as Monarch but it also honours the incredible reign of Queen Elizabeth II.
Relive the King's Speech…
The King's Speech Pure Silver 5oz Coin is a true numismatic masterpiece, one that has seen incredible demand from collectors worldwide.
In fact its Pure Gold Counterpart, priced at a staggering £59,995, had an edition limit of JUST 5.
Making a Masterpiece
The King's Speech Silver 5oz is an impressive combination of artistic expression and technical prowess.
The delicate process of striking 977 words onto a coin has been achieved using the process of micro-engraving. Every single word has been meticulously engraved onto the die, a painstaking process that requires remarkable precision and expertise. Skilled artisans devoted countless hours to ensuring that each letter has been flawlessly etched.
Once the micro-engraving is complete, the die is ready to undergo the next step in the coin production process. With force and finesse, it is expertly struck multiple times, employing immense pressure to achieve the pristine Proof finish which brings the micro-engraved words to life.
Of course, fitting a 9 minute speech onto a coin presented a major challenge. That's why each coin has been struck from FIVE OUNCES of Pure Silver and measure at an incredible 100mm.
With its minted design, lustrous silver content and the sheer significance of the occasion it commemorates, this coin is an absolute must-have for collectors worldwide.
If you're interested…
A strict edition limit of 750 has been set. For one of the most remarkable coins we've ever seen, that simply will not be enough…

Let me introduce you to one of the most expensive coins I've ever seen…
Just 5 of these Half Kilo Gold coins have been commissioned to celebrate the Coronation of King Charles III on 6 May 2023 and they are priced at a staggering £59,995!
It's also one of the largest Gold coins I've ever seen, measuring an immense 100mm in diameter.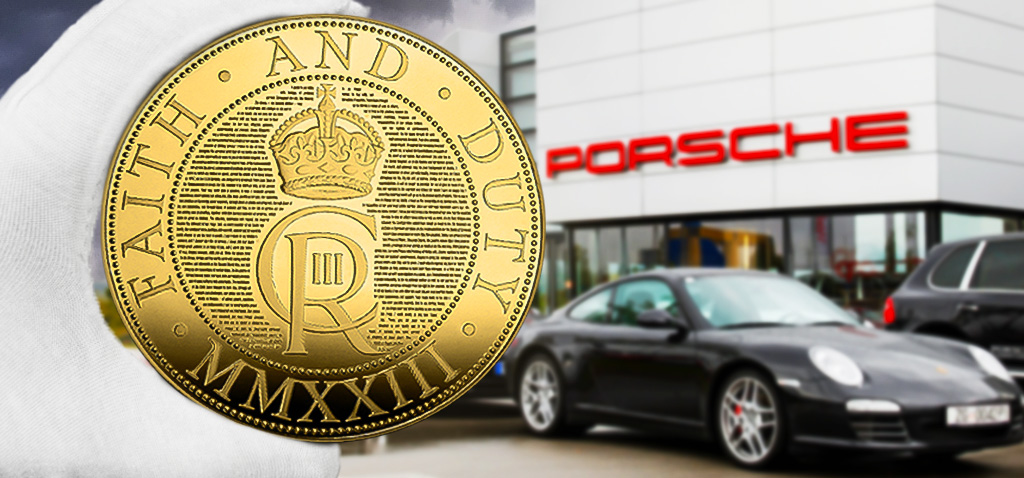 And it needs to be because the coin contains the entirety of King Charles III's first-ever speech as monarch.
On screens across the world, His Majesty paid tribute to his mother and revealed his vision and desires for this forthcoming reign.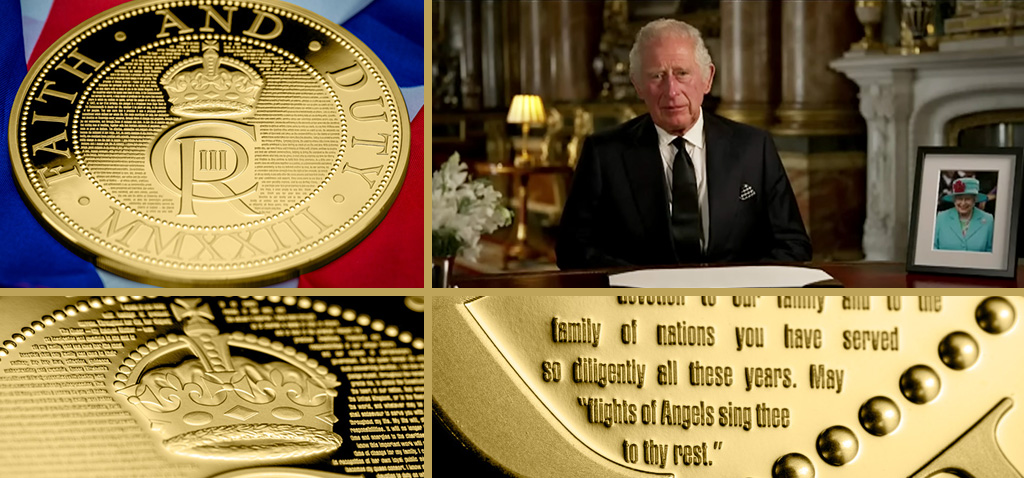 All 977 words he spoke to the nation following the death of his mother. It started:
I speak to you today with feelings of profound sorrow. Throughout her life, Her Majesty The Queen – my beloved Mother – was an inspiration and example to me and to all my family, and we owe her the most heartfelt debt any family can owe to their mother; for her love, affection, guidance, understanding and example. Queen Elizabeth's was a life well lived; a promise with destiny kept and she is mourned most deeply in her passing. That promise of lifelong service I renew to you all today…

King Charles III's First Speech. 9th September 2022.
But that's not even a tenth of it.
So even with the large 100mm canvas, it still took something special to fit 977 words onto the coin.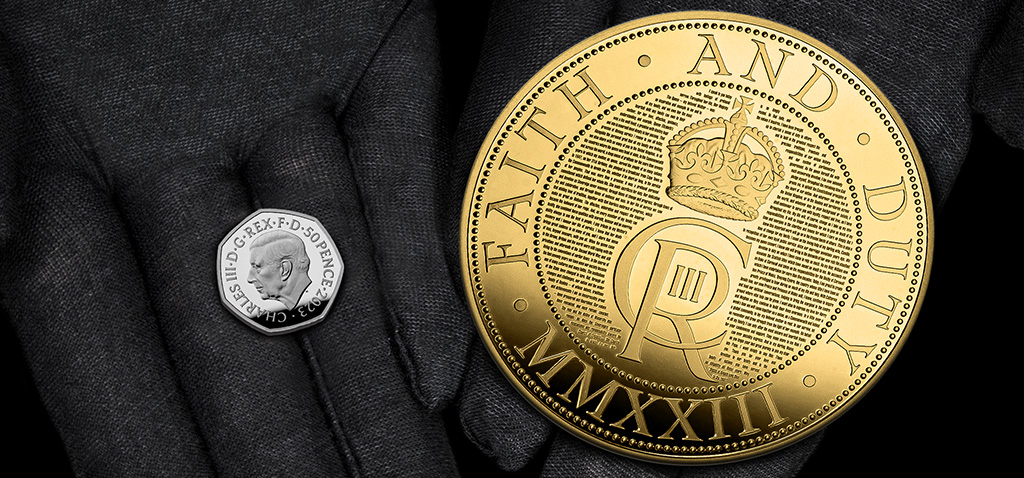 Crafted to the highest standard, the coin features Charles III's cypher under a crown and the words "FAITH AND DUTY", but it's the other 977 words that capture the attention.
His Majesty's speech has been reproduced using incredible micro-engraving.
How do you fit 977 words on a coin?
It's a painstakingly precise process, but one that results in one of the most impressive coins issued for the Coronation.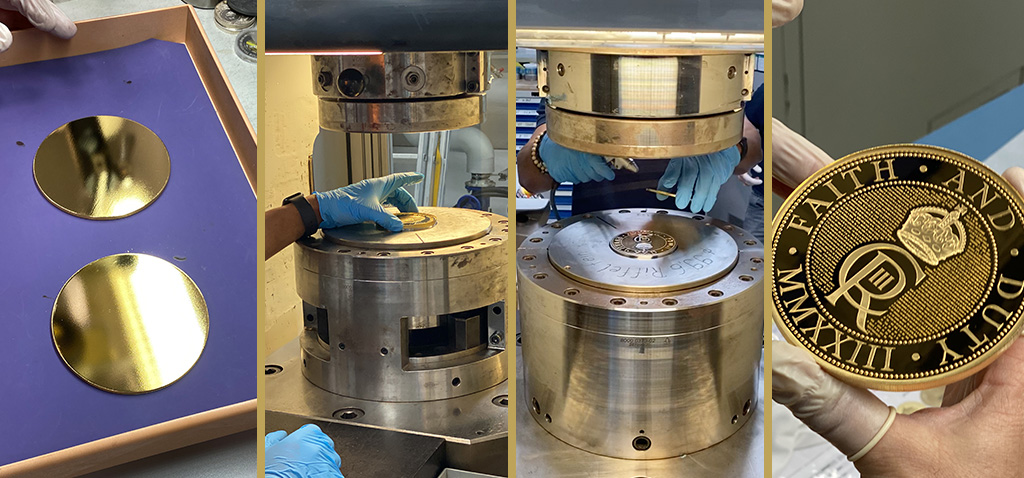 And with just 5 ever to be produced, it's as close to a piece of art as you're going to find for a Coronation coin.
The exclusivity, the size, the gold content and the complexity of the minting give the coin a price-tag that you'd expect to see on a brand new Porsche…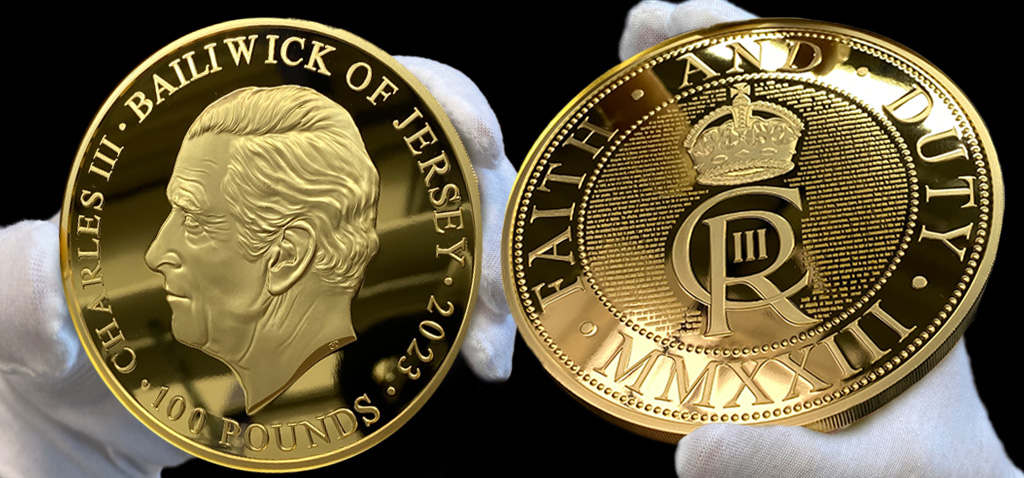 £59,995 to be one of just 5 collectors in the world to own this remarkable coin.
Own the same coin, but for a hundreth of the price…
You have the opportunity to secure this extraordinary coin at just one-hundredth of the price…
Introducing the King's Speech 100mm Silver 5oz Coin…
This spectacular coins embody the same level of intricacy and artistry as their Gold counterparts, showcasing every minute detail with flawless precision.
And they're incredibly limited, with an edition limit of just 750.
Watch the video below and see for yourself the impeccable craftsmanship of this regal masterpiece.
Click here to make one yours before it's too late with an initial payment of just £69.50 (+p&p) >>