Posts Tagged 'Royal British Legion Poppy Coin'
The Westminster Collection is proud to reveal the Official RBL £5 Coin for 2023, featuring a fully approved, one-year-only design and issued in support of the Royal British Legion and our Armed Forces community.
Prices start from JUST £25 (+p&p) – discover the range below:
---
JUST £25: The 2023 Royal British Legion £5 Coin
This year's poignant design features the timeless and meaningful Royal British Legion Poppy® in vivid colour. It also features an intricately illustrated commemorative wreath and the Cenotaph – the United Kingdom's national war memorial in Whitehall – in the background. The inscription "Lest We Forget" is included along with the 2023 year date in Roman numerals.
You can secure yours for JUST £25. So feel proud and order yours today.
Click here to secure yours for JUST £25 >>
---
Official Silver Proof £5 Supports the Royal British Legion
One of the most anticipated releases this year, the 2023 Poppy® Silver Proof £5 Coin has been struck from Sterling Silver to a perfect Proof finish.
A strict edition limit of ONLY 4,995 has been confirmed. And with collectors eagerly awaiting the NEW Silver £5, high demand is expected.
Click here to secure yours with a deposit of JUST £19.90 >>
---
The Strictly Limited Poppy® Piedfort
ONLY 500 collectors in the world will be able to secure this impressive Piedfort specification saluting our servicemen and women.
Officially approved by His Majesty King Charles III himself, a swift sell out is expected. Place your reservation today with a deposit of JUST £24.50.
Click here to place your reservation >>
---
BRAND NEW Masterpiece features a GENUINE piece of Avro Lancaster
Simply put, the 2023 Poppy Masterpiece Silver 5oz Poppy Coin is one of the finest and most stunning pieces of minting collectors have seen in a long time.
Inspired by the story of the Dambusters Squadron who embarked on their legendary mission 80 years ago, the impressive design features a Lancaster Bomber dropping the Royal British Legion Poppy onto The Mall.
And that Lancaster Bomber has been crafted from a genuine piece of Avro Lancaster PA474. Click below to find out more.
Click here to place your reservation >>
---
Proudly supporting the Royal British Legion
Collectors like you have raised an incredible £1.25 MILLION for the Royal British Legion. And importantly, by ordering one of this year's remarkable coins, you'll be directly supporting the RBL, allowing the charity to continue its incredible work providing financial, social and life-long support to the Armed Forces community.
Click here to view the COMPLETE 2023 Royal British Legion Coin Range >>
Thank you for helping raise £1.25m for the Royal British Legion.
For nearly 20 years, we've had the privilege of working in partnership with the Royal British Legion.
Each year we've created Remembrance and Poppy-themed coins and commemoratives to raise funds and awareness for the charity.
The 2022 RBL Poppy Masterpiece Coin

The RBL Centenary Silver 50p Set

The RBL Poppy Shaped Commemorative

The RBL Centenary Gold £5 Coin

The 2021 RBL Poppy Masterpiece

The 2019 Gold Proof Poppy Coin

The 2019 RBL Poppy Masterpiece

The High Relief Poppy Silver Coin

The 2018 RBL Poppy Masterpiece

The 2017 RBL Poppy Masterpiece Coin
Through the sales of these coins and commemoratives, collectors have helped raise a remarkable £1.25 MILLION for the Royal British Legion!
We are extremely proud of this achievement, and hugely thankful to our collectors raised such an incredible amount.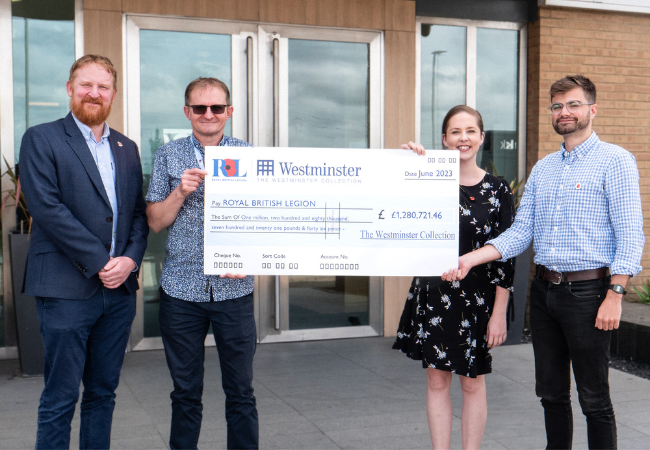 In addition to raising funds for RBL over the years, we've also had the opportunity to find out more about their incredible work for the Armed Forces Community.
And earlier this month, when we presented RBL with a cheque for £1.25 million, we had the pleasure of meeting Robert Benham, Regional Lead – Admiral Nursing – Hampshire.
Delivered in partnership with Dementia UK, Admiral Nurses give one-to-one support and expert advice for people living with a diagnosis of dementia, their families and their carers. The effects of dementia can be devastating for the whole family, but Admiral Nurses help to ease the burden and reassure families that they are not alone.
---
Where do your donations go?
£1.25 million raised by The Westminster Collection for the Royal British Legion could enable it's dedicated frontline advisors to help over 7,590 people in the Armed Forces community and their families get access to the help that they need.
Every day, RBL Case Officers provide practical and emotional one-to-one support, helping Serving and ex-Serving personnel, and their families, to get the help they deserve. The needs of the Armed Forces community are becoming more complex and can include a wide range of issues such as employment, finances, or housing; RBL Case Officers are ready to help and advise whatever the issue.
The funds raised by The Westminster Collection can help people like Lawrence.
Following seven years in the Army, Lawrence was medically discharged after injuring his spine whilst weightlifting.
After an exemplary military career Lawrence found himself struggling to adapt to civilian life.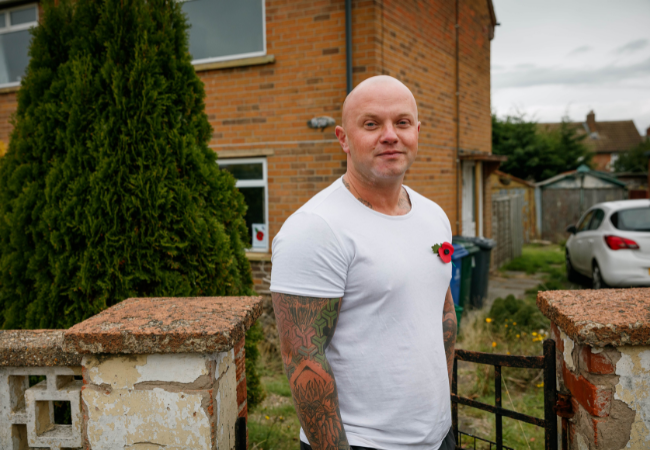 To help Lawrence get the support he needed his fiancée Danielle advised him to get in touch with the Royal British Legion.
He was contacted by one of the RBL's local Case Officers, Paul James, who was able to get Lawrence the mental health support he needed.
In December 2020, when Lawrence was unable to work due to Covid-19, his debt suddenly spiralled by almost 400%. But the RBL's Benefits, Debt and Money Advice team (BDMA) were able to help.
Lawrence said: "They [the RBL] have helped me sort out both my mental health and my financial health. I'm debt-free and looking forward to starting a new career, I cannot thank them enough."
To find out more about the Royal British Legion, click here.
---
What's next for our partnership?
We're excited to see our longstanding partnership with the Royal British Legion continue later this year when we'll be launching the latest additions to our Official RBL Poppy coins and commemoratives range.
Enter your details below to sign up for the latest updates…
Here at The Westminster Collection, we've had the privilege of working in partnership with the Royal British Legion for over a decade.
Each year, we issue bespoke coins and commemoratives for the RBL Poppy Appeal and Remembrance Day.
And we're incredibly proud to have so far raised over £1 million for the Royal British Legion.
Unboxing the 2022 RBL Poppy Masterpiece
The Masterpiece is a remarkable coin and this year, creating the Masterpiece has more of a personal touch than ever before.
Each coin has been meticulously painted by hand, making each one unique.
Never has the name "Masterpiece" been more appropriate. Each coin is a work of art, but how do you go about creating 350 pieces of unique artwork?
"The 2022 Masterpiece Poppy Coin is a timeless token of Remembrance. Not only is this coin a poignant reminder of all those who have served and sacrificed, but it also helps the Royal British Legion continue to be there for today's Armed Forces community, no matter what."
Charles Byrne , Director General of the Royal British Legion
One of a Kind – Creating a Masterpiece
This year's Masterpiece coin has been expertly designed by Beata Kulesza-Damaziak. Beata has a studio in Warsaw, Poland, designing sculptures, book covers and has produced many coin designs.
Beata's design has been struck in high relief on 5oz Pure Silver blanks, with different heights of relief applied to give a real depth to the design.
Keen-eyed observers will see a map of the Falklands on the very bottom layer, with a total of 40 poppies poignantly sitting on top to mark the 40th anniversary of the Falklands War.
The largest and 40th poppy sits proudly in the middle of the coin. It's that poppy that elevates the coin to status of "Masterpiece".
Every single coin has had that poppy hand-painted by artist Adam Taylor, making each one unique.
Most colour on coins these days is printed using high-speed pad-printing machines or using modern UV printing techniques. Adam has used traditional model-painting techniques on the coins, which means each one has unique brush-strokes and subtle differences in the colours.
Adding acrylic paint to the high relief poppy gives it that iconic red colour and further enhances the coin design. The time, care and attention required on a project such as this, truly does make each one of the 350 a one-off.
Adam dedicated hour upon hour to these coins, adding the personal touches to make each one a true Masterpiece.
Secure your hand-painted, one of a kind RBL Poppy Masterpiece Coin here>>