Posts Tagged 'Numismatic'
November 4th 1922, in Thebes, Egypt, English archaeologist Howard Carter discovered the greatest treasure in Egyptology. The tomb of ancient Egyptian King Tutankhamun.
The excavation was slow and cautious. It wasn't until 16th February 1923 that the third doorway was opened, revealing the Burial Chamber.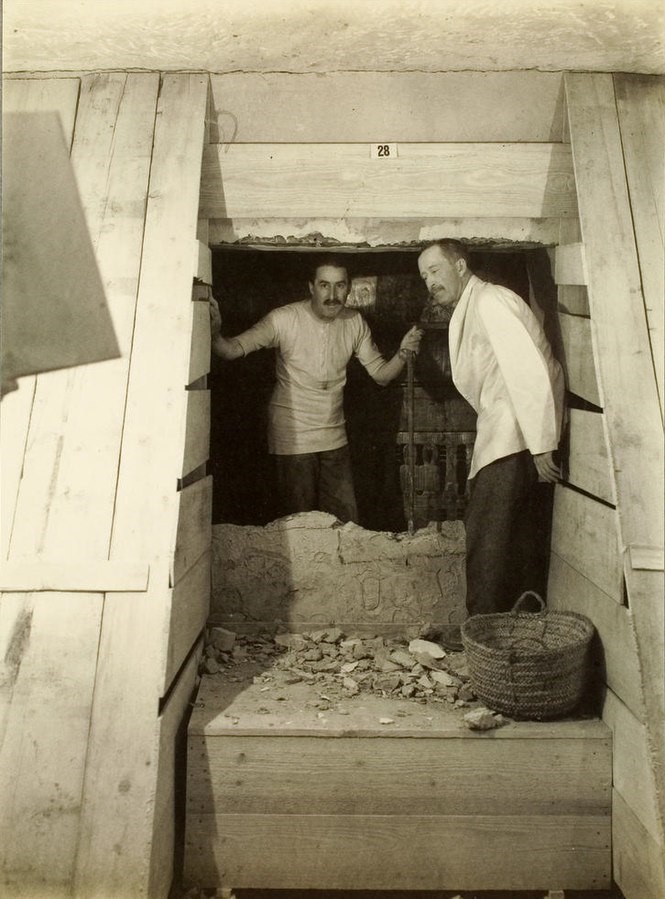 The chamber not only contained the perfectly preserved sarcophagus of Tutankhamun, but also remarkable treasures untouched for more than 3,000 years.
And now, to mark the centenary of this incredible discovery, a collection of new 50ps has been authorised by the Isle of Man Treasury.
But most importantly, these are the FIRST coins to feature the new official British Isles portrait of King Charles III.
Five Tutankhamun 50ps authorised by the Isle of Man Treasury
To celebrate the extraordinary treasures found within King Tutankhamun's Tomb, you can now secure these FIVE new Brilliant Uncirculated 50ps.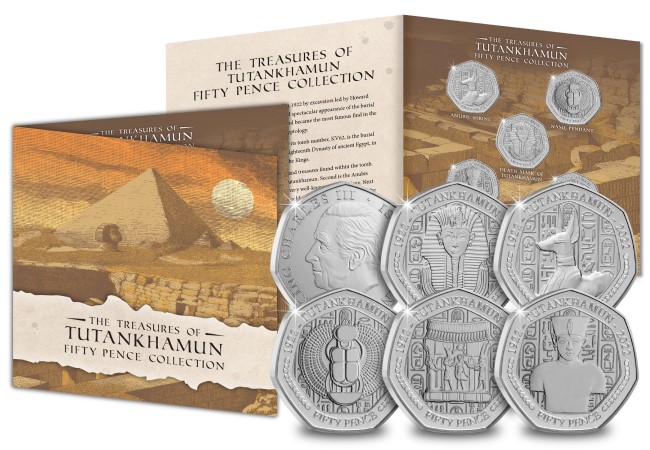 Featuring five iconic designs carefully curated by Joe Cummings that represent artefacts and treasures found within King Tutankhamun's tomb. These include; the famous death mask of Tutankhamun, Anubis Shrine, the Name Pendant, a corselet, and a model of the torso of Tutankhamun.
Your coins will arrive in a detailed presentation pack to keep your coins safe for years to come.
Don't miss out, sure ALL FIVE for just £34.95 (+p&p) >>>
Limited Edition Silver Proof 50p set restricted to JUST 795 Collectors WORLDWIDE
JUST 795 Silver Proof Sets are available worldwide. Considering The Royal Mint's Silver Proof Tutankhamun £5 has an edition limit of 1922, how long can 795 sets possibly last?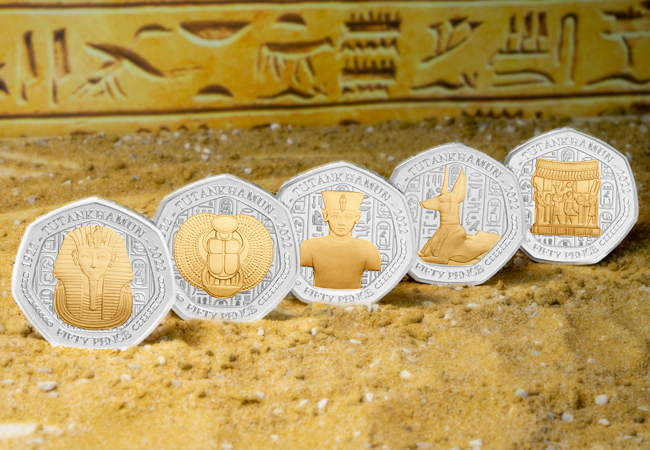 Each 50p in this FIVE-coin set has been struck from 925/1000 Silver to a pristine Proof finish. What's more, with the addition of 24ct Gold-plating, it comes protectively housed in a deluxe presentation box.
The ULTIMATE Presentation of Stamps and Coins – with the addition of vivid colour print!
Just 495 Brilliant Uncirculated 50ps feature a colour finish for use within this Ultimate Stamp and Coin Cover.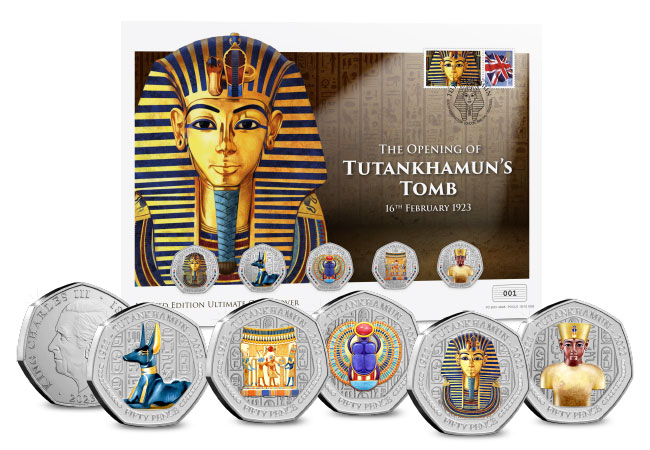 These covers will be officially postmarked by the Royal Mail on the 16th February 2023 – the 100th anniversary of the Opening of the Tomb.
And with ONLY 495 of these covers available worldwide, many collectors are sure to miss out.
This is the smallest edition presentation you'll find – from a collector's point of view, the decision is obvious. You can only secure the NEW 50ps with colour and Official Royal Mail Philatelic label in a set like this, and we guarantee you won't find a smaller edition anywhere else.
Click here to secure the ULTIMATE Presentation for just £70 (+p&p) >>>
JUST 195 Available Worldwide – The DOUBLE DIAMETER Tutankhamun 50p struck from One Ounce of Pure Silver
Perhaps the most recognisable treasure discovered within Tutankhamun's tomb was his iconic Death Mask. This mask's incredible detail features on this BRAND NEW 50p with the brand new portrait of the King.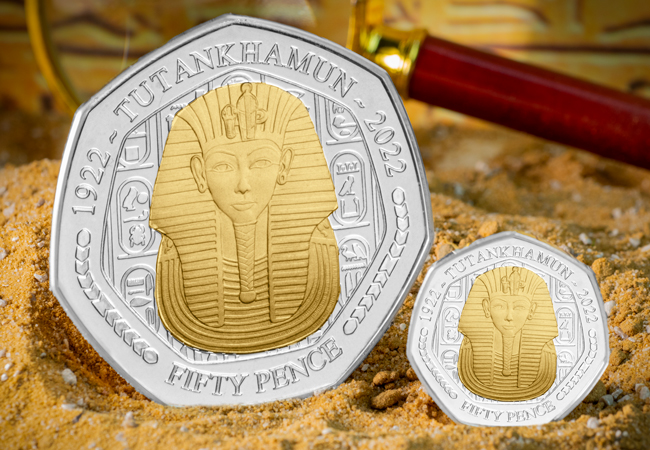 This impressive 50p has been struck to a DOUBLE DIAMETER size from 1oz of Pure Silver. That's twice the size of a standard 50p and almost four times heavier!
Due to this rare and complicated striking technique, these remarkable coins take a little longer to produce than the rest of the collection.
This coin is available to pre-order now.
Click here NOW to pre-order one of JUST 195 Available WORLDWIDE with a deposit of just £19.50 >>>
As the FIRST coins to feature the new British Isles King Charles III portrait designed by renowned coin designer, Glyn Davies, these are expected to be extremely popular with knowledgeable collectors.
And with such low edition limits, I would suggest acting quickly to secure yours before stock runs out.
If you want something extra special, there are also gold specifications available within the collection.
Click here to browse the full range of 'The Discovery of Tutankhamun's Tomb' 50p releases starting from JUST £6.99 >>
The Berlin Wall is perhaps the most iconic symbol of the Cold War. A tall concrete barricade that divided the citizens of Germany for almost three decades. Numerous people risked their lives to cross the wall, whether digging tunnels underneath, flying over in a hot air balloon, or even driving cars under checkpoint barriers! But in 1989 that all changed when the world watched a press conference that all went a bit wrong…
A press conference that went wrong
For many months throughout 1989, there was mounting pressure on the government to adjust the restrictions around the boarder wall in Berlin. On the evening of November 9th 1989, the East German Party leader held a press conference announcing some loosening of the restrictions. But he hadn't been briefed properly.
Gunter Schabowski broadcast the relaxing of some of the travel laws, but when asked when the freedom of movement would happen, he simply shrugged his shoulders, glanced at his notes, and said "right away."
And that was it. A single moment, the most iconic in recent history, caused by an accident.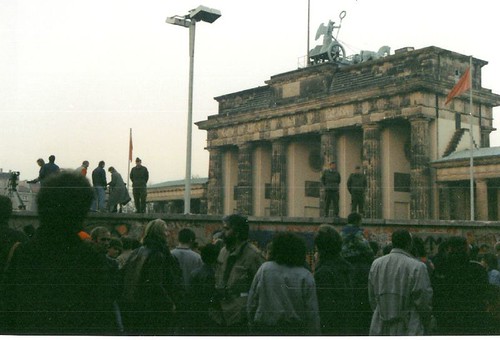 After almost 30 years of physical separation, crowds of people swarmed to the Berlin Wall checkpoints in anticipation of reuniting with loved ones and passing into the West freely.
Because of the confusion, the East German border guards had not been warned and were utterly overwhelmed by the crowds. At first they were told to stamp passports with symbols that effectively revoked East German citizenship, but as the crowds grew larger it became clear that unless lethal force was used, that the wall was no longer impassable. And no one was willing to give that order.
The Night the wall fell
That evening saw celebrations throughout Berlin, with people climbing the wall and taking pickaxes and hammers to break it apart and pull it down. Pieces and fragments of the wall were chipped away, with many pocketing pieces as souvenirs.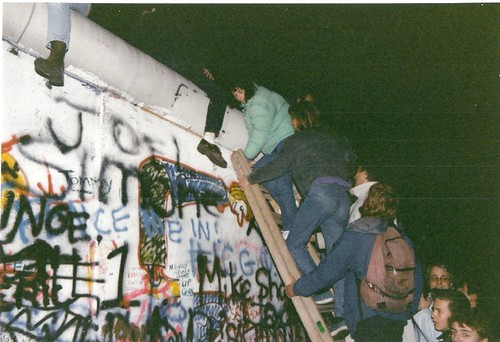 Families and loved ones reunited, as those from East Berlin were greeted with flowers and food. After years with limited contact, media censorship and restrictions, the people of Berlin were free to travel as and where they wanted.
The official reunification
Almost a year later, on 3rd October 1990, the German flag was raised over the Brandenburg Gate in Berlin. It symbolised the moment at which the two German countries were finally reunified as the unification treaty became official.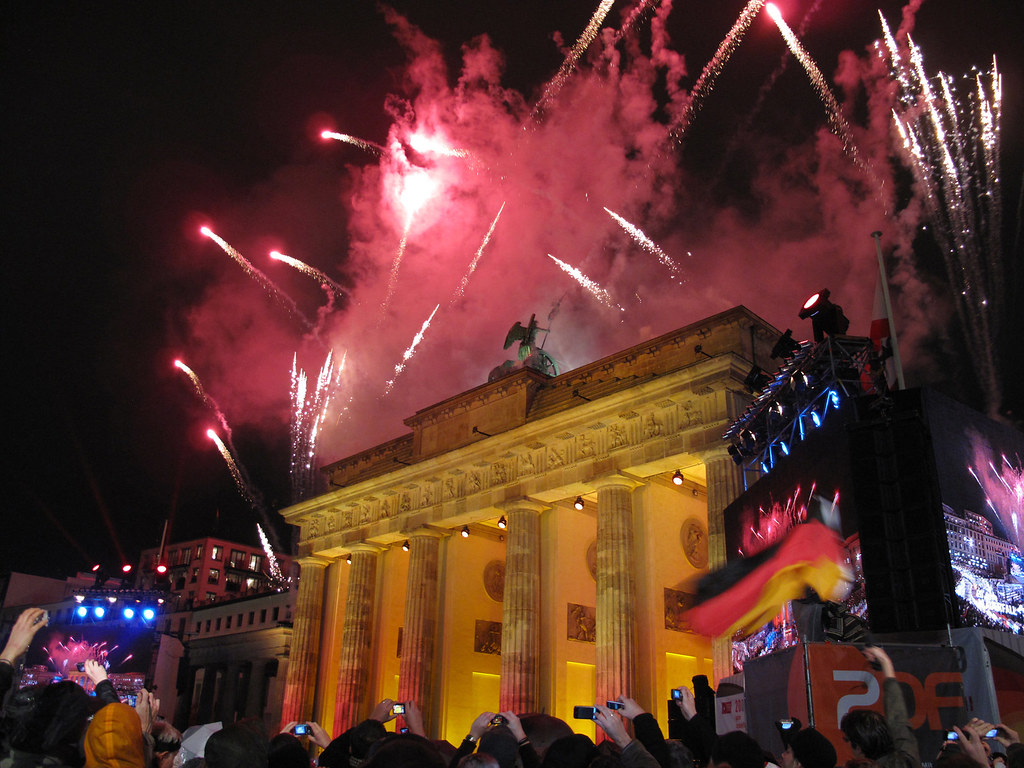 Every year the German Day of Unity is celebrated throughout the country, with fireworks, meals, concerts speeches, and of course commemoratives. This year marks the 30th anniversary, and despite the coronavirus restrictions around the world, the people of Germany will still be celebrating and remembering the moment the country was untied again.
---
If you're interested…
Today you can commemorate the historic moment in which Germany was brought together again by owning THREE commemorative coins alongside an original piece of the Berlin Wall in the Reunification of Germany Collection.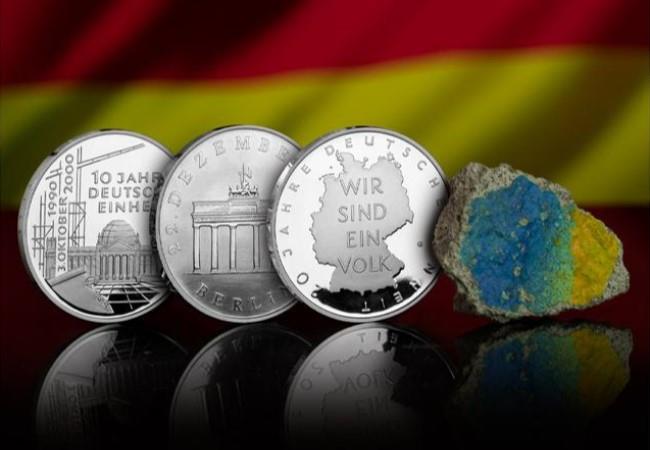 This collection has a tiny edition limit of JUST 200. Considering the anniversary this year, and the popularity of difficult to source one-off historic products like this, the edition limit is expected to sell out completely.
The Gold Sovereign is undoubtedly one of the most famous gold coins in the world. It's a classic piece of coinage that is coveted the world over and is highly sought after every year by thousands of collectors.
But have you heard of a Piedfort Sovereign? They're incredibly rare and are some of the most highly sought-after issues I've ever seen – demand for the first UK Piedfort Sovereign was so high that it sold out within 24 hours!
Now, in its 165th year, the Perth Mint has created numismatic history by releasing the first ever Australian Piedfort Sovereign.
Crucially, there are three key reasons why this limited edition coin is set to be the most collectable and sought-after Sovereign ever issued…
1. It's a piece of numismatic history
The Australian Sovereign is as close to a well-kept coin secret as you're going to find. It's been struck every year since 1855 to the same exact specification as the UK Sovereign.
Importantly, this is the very first time the Australian Sovereign has been struck to a Piedfort specification. This makes it a significant piece of numismatic history, as it is the first-of-its-kind to ever be struck.
But it's not only the Piedfort specification that makes this coin historically significant. The classic Australian Sovereign design features a special one-year-only "165" privy mark, to mark the 165th anniversary of the first Australian Sovereign. The Sovereign is the 'King of Coins' so this superior issue couldn't be a more fitting tribute.
These two facts alone make this issue incredibly desirable and will make it a priority for collectors in the future.
2. Superior, highly collectable specification
In the 12th century Piedforts were considered prestige pieces and ownership was often used to signify a person's wealth and power. Today, Piedforts continue to be limited issues and striking of such pieces is reserved strictly for the most important events.
Struck on double thickness blanks, Piedforts are twice the weight and contain twice the amount of precious metal as their standard coin counterparts. They're some of the finest examples of coin craftsmanship you'll ever see.
What's more, they have tiny edition limits and consequently fast sell-out rates. This makes them some of the most collectable coins around.
3. Sell-out all but guaranteed
I saved the most significant point for last. You see, when the very first UK Piedfort Sovereign was released in 2017, with an edition limit of 3,500, it completely sold out within 24 hours at the Mint.
Compare this to the very first Australian Piedfort Sovereign, with a worldwide edition limit of 350 coins. Yes, you read that correctly, JUST 350 single Australian Piedfort Sovereigns have been issued – that's a mere TENTH of the number of UK Piedfort Sovereigns that sold out in 24 hours.
The high demand of Piedfort Sovereigns suggests that we are looking at a record-breaking sell-out.
---
If you're interested…
As official Perth Mint distributors we have been fortunate to secure a limited number of these limited edition Sovereigns for UK collectors. Just 350 have been issued worldwide, making it ten times rarer than the first ever UK Piedfort Sovereign that sold out within 24 hours of release.
Considering that this coin is a numismatic 'first' very few will make their way out of Australia, meaning your chances of owning one are very limited. Don't hesitate, click here for more information >>