When I first heard the story behind the 1955 4 Paisa coins I could hardly believe it. They're genuinely some of the most incredible coins I've ever seen.
The Nepalese 4-Paisa coin was minted from spent brass World War II rifle bullet casings left by the famous Gurkha soldiers.
This is the fascinating story behind their minting…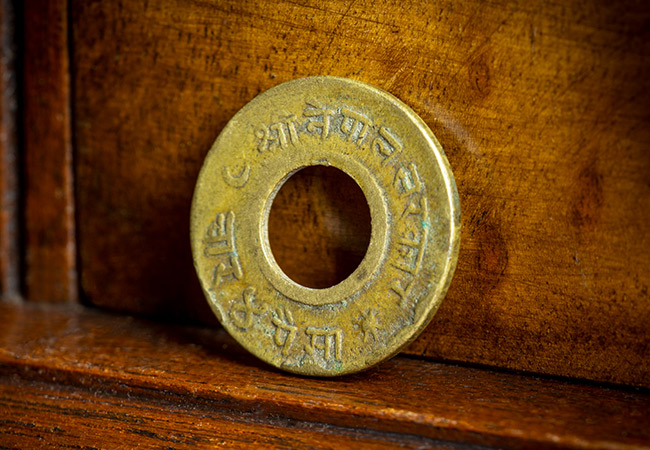 The story of these coins originates from the battlefields of Asia. After the war in the East was over, a General in the Nepalese army discovered a number of empty cartridge cases that had been stored in a government unit behind Tangal Palace in Kathmandu.
These used rifle cartridges came from Gurkha and Nepalese soldiers fighting for the Allies on the Assam and Burma fronts where they had valiantly battled the Japanese. Although it is not clear by whom or for what purpose the used cartridges had been collected from the WWII battlefields, it seems that they had been forgotten and left to rust.
It's incredible that these pieces of history could simply be forgotten, so the General decided to find a way of paying tribute to the soldiers who had left them behind.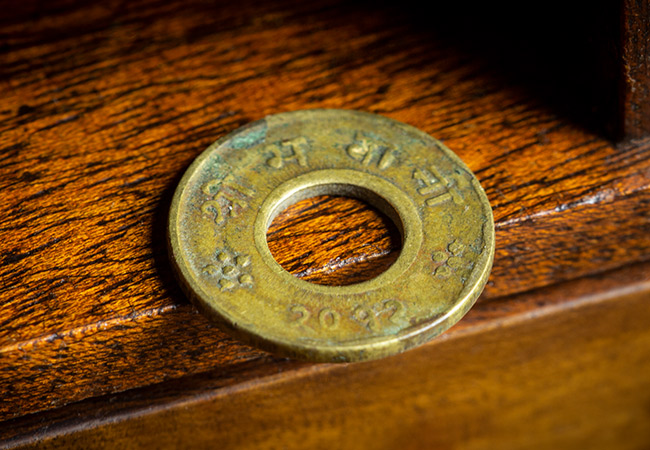 It just so happened that the General who discovered these casings was related to the head of the Government Mint in Nepal. The General suggested to the Mint that these used cartridges should be struck into coins as a way of paying homage to the Gurkha soldiers.
Gurkhas advance through a smokescreen up a steep slope, 16 March 1943

Gurkhas in action with a 6-pdr anti-tank gun, 16 March 1943
So, in 1955 the 4 Paisa coin was duly minted from these very cartridge shells which had once been in the middle of the intense fighting of WWII. They now stand as a lasting tribute to the brave Gurkha regiment that fought so valiantly for the Allies.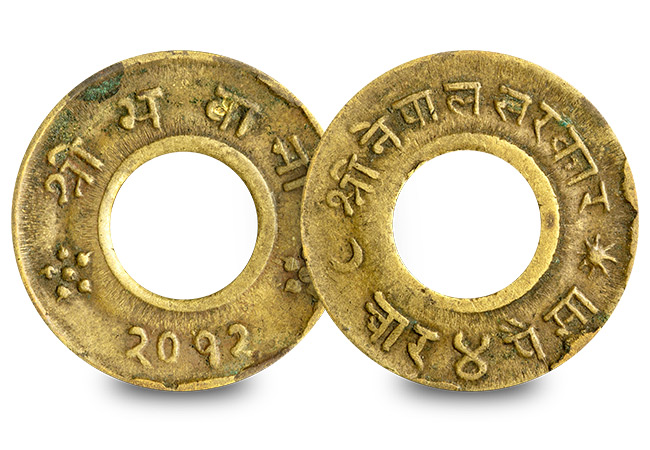 ---
And what's more, they also hold huge significance as a numismatic collector's piece. As the number of empty shells was extremely limited, these incredible coins were issued for just one-year-only before the supply was completely exhausted.
The story behind these coins is incredible – not only were they struck from genuine bullet shells, but were also minted to pay tribute to one of the most highly respected fighting forces in the world.
---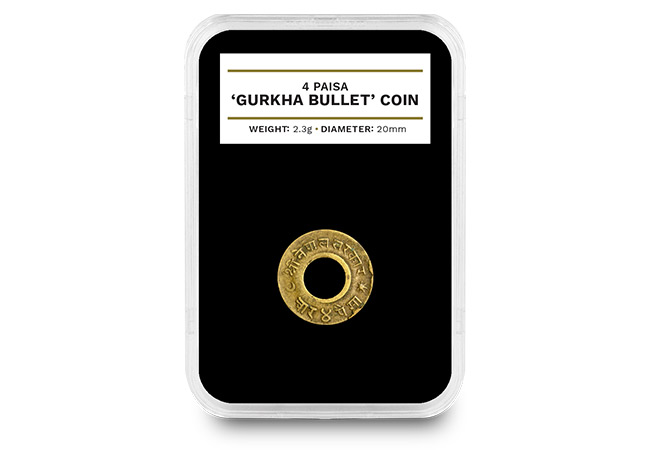 If you're interested…
Today you have the chance to own one of these Gurkha Bullet coins for JUST £24.99 (+p&p). Act now to secure this incredible piece of history for your collection!
Revealed for the first time today, Royal Mail are set to release 15 new MARVEL stamps, to celebrate 80 years since the founding of MARVEL Comics, and its irrefutable impact on British culture.
Scheduled for release on 14 March 2019, the new stamps will feature 10 of the best loved characters from Marvel's illustrious history, including Spider-Man, Iron Man, Hulk, Thor, Black Panther, and Doctor Strange, as well as an exclusive Miniature Sheet like no other – five bonus Marvel stamps that form part of a ten-panel never-before-seen comic book strip in which the Mad Titan, Thanos, launches a deadly attack on the world.
The stamps are Royal Mail's first ever MARVEL Comics stamp issue, and are likely to prove immensely popular with the British public, and collectors throughout the world!
Here's your first look at the new stamps alongside a bit of info about each one…
Spider-Man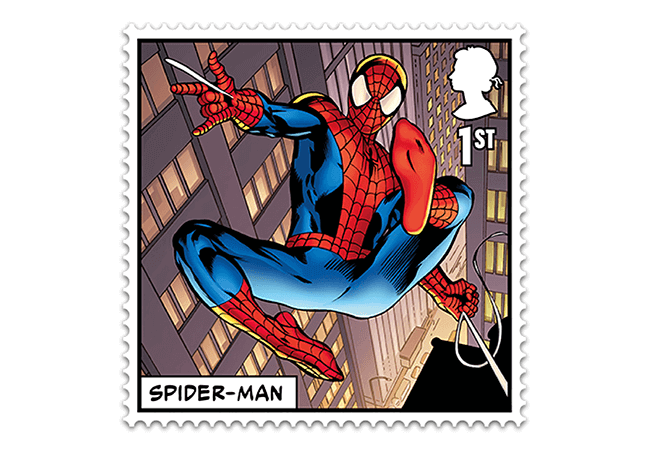 Peter Parker is Spider-Man, New York's amazing web-slinging hero. Bitten by a radioactive spider as a teenager, Peter Parker gained arachnid-like abilities and, after his Uncle Ben was murdered, swore to use his abilities to help others – having realised that with great power comes great responsibility.
Captain Marvel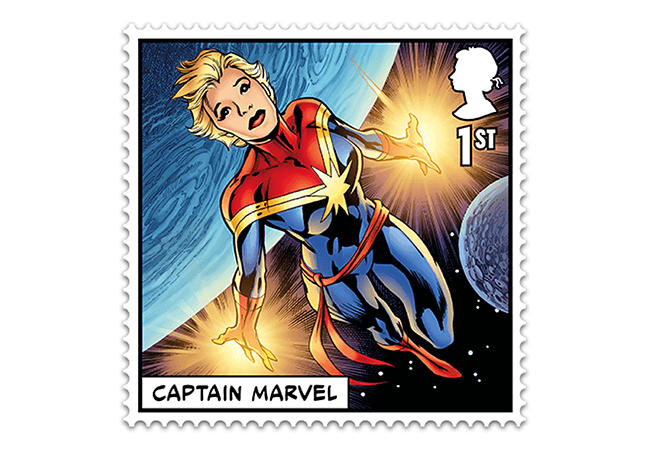 Carol Danvers was an Air Force officer when she met Kree hero Captain Mar-vell. After her DNA mixed with his during an explosion, she gained super powers and took the name Ms Marvel. Following the original's death, Carol took on the mantle of Captain Marvel to honour his legacy.
Hulk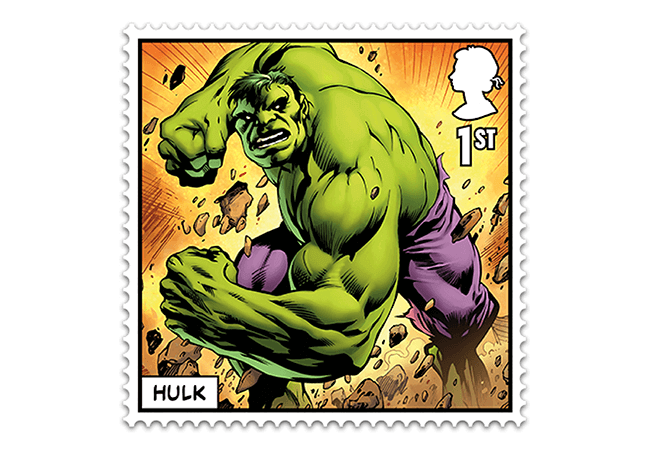 When mild-mannered scientist Bruce Banner was bombarded by radiation from a gamma bomb, he was transformed into the incredible Hulk. The green-skinned behemoth is one of the planet's most powerful and misunderstood heroes – feared by a world he has saved numerous times.
Captain Britain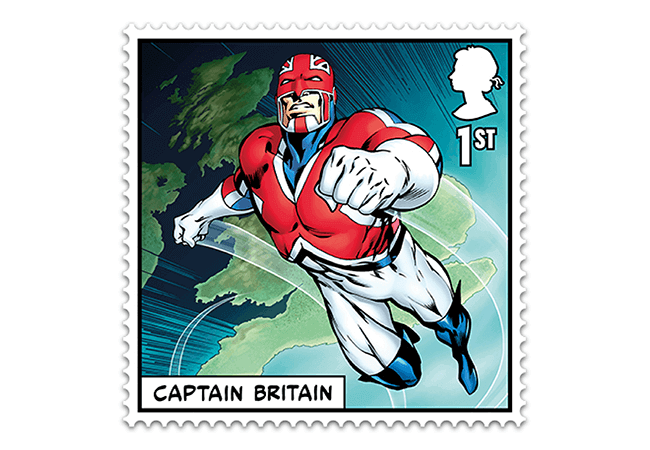 Brian Braddock was chosen by Merlyn to be Britain's greatest protector. Granted amazing powers, Brian became Captain Britain. He soon learned he was part of a multidimensional Captain Britain Corps and has fought alongside Excalibur and the Avengers to keep his country – and the world – safe from harm.
Doctor Strange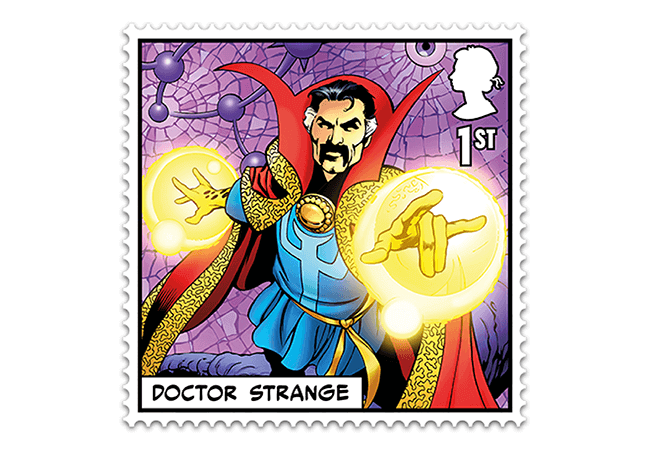 Once a brilliant yet vain surgeon, Stephen Strange sought out the help of the Ancient One when his hands were badly damaged in a car crash. Strange's path led him to become a Master of the Mystic Arts and Earth's Sorcerer Supreme, protecting the world from evil forces.
Peggy Carter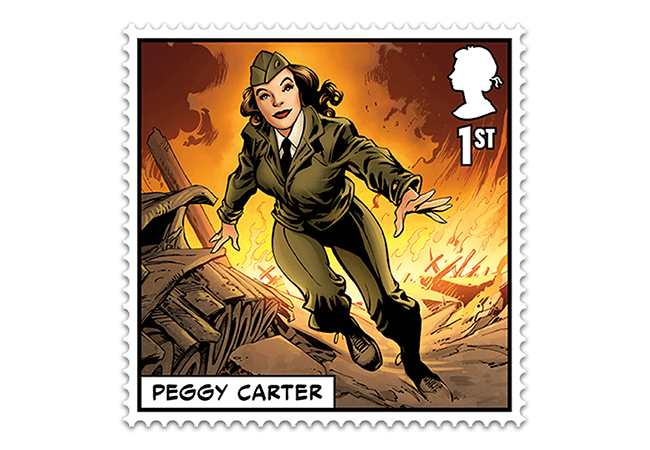 Peggy Carter was working for the French Resistance in the Second World War when she met and fell in love with Captain America. The two fought the Axis powers together before they were separated by the war. Peggy went on to become a leading agent of S.H.I.E.L.D. (Strategic Homeland Intervention, Enforcement and Logistics Division).
Iron Man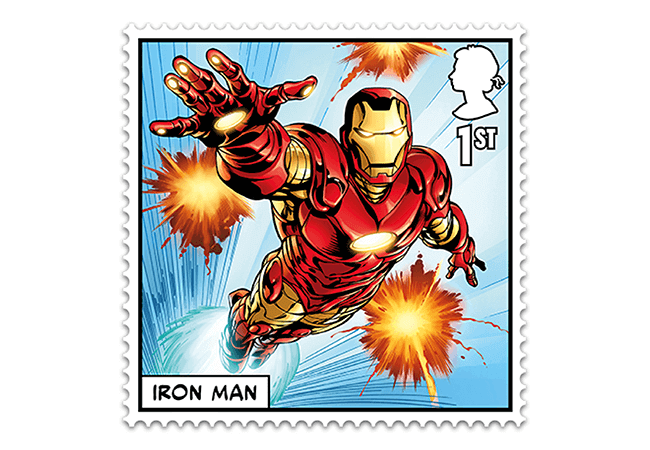 When terrorists captured billionaire inventor Tony Stark, they forced him to create weapons. With shrapnel near Stark's heart endangering his life, Stark tricked the terrorists, building a suit of powered armour to defeat them. It was the birth of the armoured Avenger – the invincible Iron Man.
Union Jack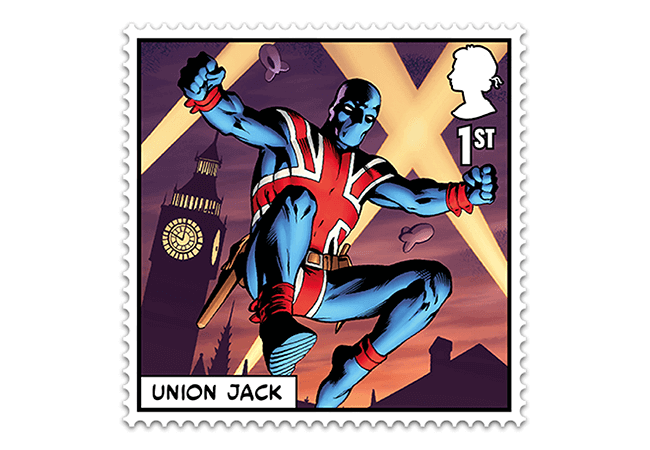 The original Union Jack was Lord James Falsworth, who fought in the First World War. When his descendant refused to take on the role, the mantle was passed to Joey Chapman, a working-class hero from Manchester, who has gone to fight alongside the Knights of Pendragon and the Invaders.
Black Panther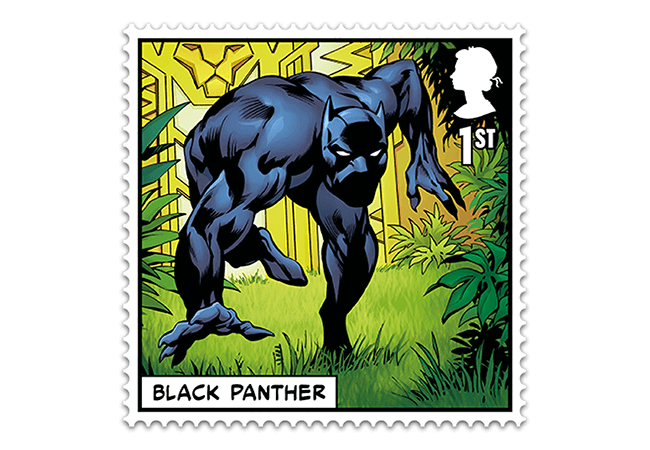 T'Challa is the Black Panther, ruler of the technologically advanced African nation of Wakanda and protector of its valuable vibranium supply. T'Challa first travelled to America to learn more about that country's heroes and soon became a leading member of the Avengers.
Thor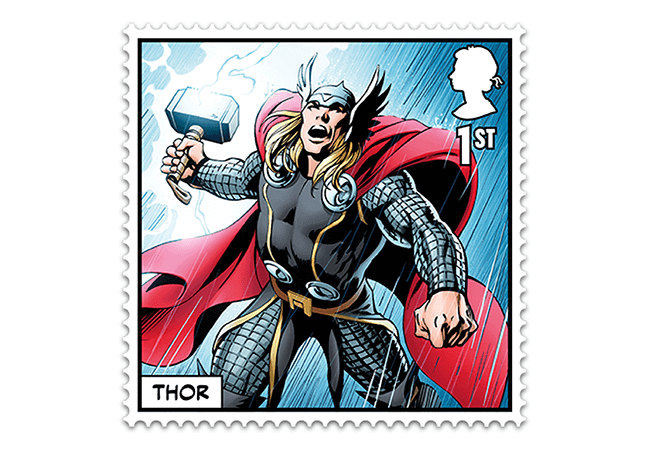 Thor is the Norse God of Thunder. Once cast out of Asgard for his pride, he was trapped on Earth as the injured doctor, Donald Blake. Thor's banishment is long ended and now he protects both Earth and Asgard as an Avenger.


The new and official UK MARVEL Stamps are sure to be a [HULK] SMASH with collectors
Generations have grown up with these timeless superheroes in comic books and more recently in hugely successful movies, and Royal Mail are celebrating this beloved pop-culture theme with original artwork by renowned British illustrator Alan Davis – long-time artist for MARVEL Comics.
Many of the classic superheroes celebrated in the new stamp issue were created in the 1960s, and in the 1970s a UK MARVEL imprint was created for British fans. 'Captain Britain Weekly' was launched in 1976, featuring the adventures of the first MARVEL UK superhero, closely followed by another British character, Union Jack. Both these take their place in the ranks of superheroes in the stamps.
This BRAND NEW set of Royal Mail Stamps are officially licensed and approved by MARVEL and feature a stunning set of 10 First Class stamps in the form of never-seen-before illustrations by renowned MARVEL Comics artist Alan Davis, including an original and exclusive comic book story contained in the miniature sheet, which is sure to be a must have for all MARVEL comic-strip fans and collectors alike.
This original, never-seen-before story with a unique British twist (look out for Trafalgar Square and the Gherkin!) has been specially written and designed by MARVEL and will only ever be available on the Miniature Sheet.
---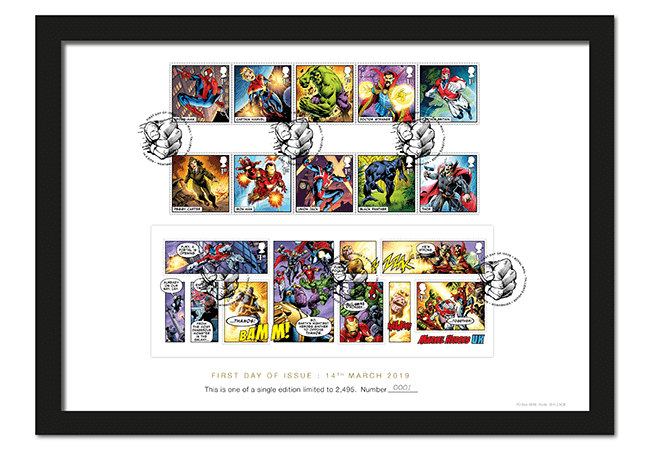 If you're interested…
You can reserve all of the new MARVEL Comics Stamps right now on a Limited Edition Collector Card – Professionally Framed and ready to hang. Click here for details>>>
2019 marks 75 years since the Normandy Landings which took place on 6th June 1944, also known as D-Day. It was the largest seaborne invasion in history. The operation laid the foundations of the Allied victory on the Western Front and the subsequent liberation of Nazi-controlled Europe.
Three of the most influential people during Operation Neptune (AKA D-DAY), and World War II in its entirety, were Winston Churchill, Field Marshal Bernard Montgomery and of course, King George VI. Each of these historical figures played a vital role in the Allied victory and delivering speeches that inspired the nation and boosted morale in the trenches and on the battlefield. Below we take a look at the part they played, as well as those monumental speeches.
WINSTON CHURCHILL
For Winston Churchill, D-Day 6th June 1944 was the culmination of four years of struggle, hardship and frustration. Shortly after the evacuation of Dunkirk in 1940, Churchill had started planning for the invasion of Europe. At the time it was no more than a dream, with Britain expecting an imminent invasion by Germany. With the entry of the USA into the war, Stalin urging the opening of a second front and Britain's growing military power and confidence, the dream became a reality. Churchill had rallied his stricken country. Now he was about to lead them to victory.
"We shall go on to the end, we shall fight in France, we shall fight on the seas and oceans, we shall fight with growing confidence and growing strength in the air, we shall defend our Island, whatever the cost may be, we shall fight on the beaches, we shall fight on the landing grounds, we shall fight in the fields and in the streets, we shall fight in the hills; we shall never surrender, and even if, which I do not for a moment believe, this Island or a large part of it were subjugated and starving, then our Empire beyond the seas, armed and guarded by the British Fleet, would carry on the struggle, until, in God's good time, the New World, with all its power and might, steps forth to the rescue and the liberation of the old".
Winston Churchill – 4th June 1944
Field Marshal BERNARD MONTGOMERY
By D-Day, Field Marshall Montgomery had proved to be a great and inspirational leader, one of the finest and most experienced battlefield generals of World War II. In 1942 he was made commander of the 8th Army and led them to victory in North Africa and on into the invasion of Italy. For D-Day, and the subsequent battle for Normandy, Montgomery was made commander of all Allied ground forces. Despite setbacks, he once again showed his outstanding qualities of leadership. On 4th May 1945 Montgomery accepted the German surrender at Luneburg Heath. He later served as NATO's Deputy Supreme Allied Commander until 1958.
"On the eve of this great adventure I send my best wishes to every soldier in the Allied team. To us is given the honour of striking a blow for freedom which will live in history; and in the better days that lie ahead men will speak with pride of our doings. We have a great and a righteous cause. Let us pray that "The Lord Mighty in Battle" will go forth with our armies, and that his special providence will aid us in the struggle. I want every soldier to know that I have complete confidence in the successful outcome of the operations that we are now about to begin. With stout hearts, and with enthusiasm for the contest, let us go forward to victory".
General Bernard Montgomery – 5th June 1944
KING GEORGE VI
On 6th June 1944 George had been King just eight years, ascending the throne in December 1936. For almost five of those years his country had been at war. Despite coming unexpectedly to the throne and his pronounced speech impediment, he had proved a popular and inspirational leader. He remained in Britain to face the horrors of the blitz and the hardships of war with his people, a calming and steadfast figure through the years of peril. On the evening of D-Day, George VI spoke to the people of Britain and the Empire and Commonwealth of the need to pray, not now for survival, but for victory.
"At this historic moment surely not one of us is too busy, too young, or too old to play a part in a nationwide, a worldwide vigil of prayer as the great Crusade sets forth. If from every place of worship, from home and factory, from men and women of all ages and many races and occupations, our intercessions rise, then, please God, both now and in the future not remote, the predictions of an ancient song may be fulfilled: "The Lord will give strength unto His people, the Lord will give His people the blessing of peace".
King George VI – 6th June 1944
---
To mark the 75th anniversary we are proud to announce we have issued a strictly limited Brilliant Uncirculated £2 Coin Set – click here to see more information on the D-Day 75th Anniversary Leaders Three Coin Set >>