Posts Tagged 'Isle of Man'
Prepare to be transported into the world of artistic ingenuity as we present a captivating interview with Steve Wyse, an esteemed Honorary Member of the Guild of Railway Artists. Join us in exploring the creative process, inspiration, and meticulous attention to detail that culminated in the exquisite designs gracing the freshly minted History of British Railways £2 Sets, creating a bridge between history and numismatic art.
Tracing Tracks: Unveiling the History of British Railways BU and Silver £2 Coin Sets
In the annals of British history, the year 1923 marks a pivotal moment that reshaped the nation's railway landscape forever. A convergence of 120 regional railway companies gave rise to four prominent entities, as a result of the Railway Act of 1921.
Now, in a splendid tribute to this transformative event, special Brilliant Uncirculated and Silver Proof £2 Coin sets have been issued.
This extraordinary coin collection stands as a tribute to an era when steam and steel connected cities, fuelled the Industrial Revolution, and united the kingdom.
Click the circles below to find out more about the design and the sets:
Each gleaming £2 coin encapsulates the essence of a bygone era, immortalising five of the most iconic locomotives that once traversed the British countryside. Encased in special presentation packs, these coins are elevated by the artistic brilliance of Steve Wyse, an Honorary Member of the Guild of Railway Artists. Through his skillful renderings, the spirit of each locomotive comes alive, inviting you to relive the golden age of rail travel.
But for those who seek the pinnacle of numismatic excellence, we invite you to take a step further. Behold the History of British Railways Silver Proof £2 Coin Set—a masterpiece that merges history, artistry, and exclusivity.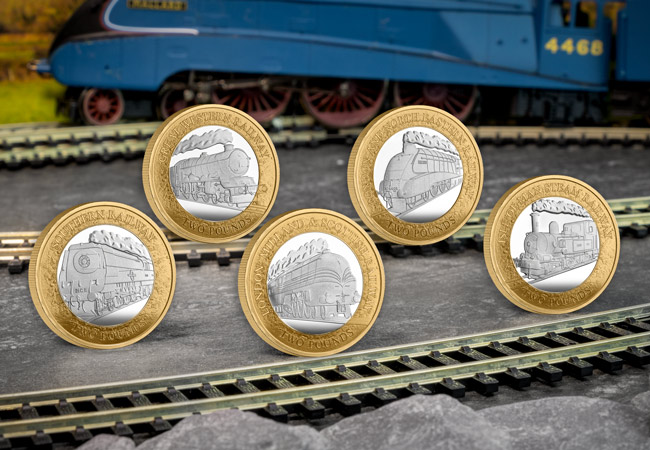 Limited to just 295 sets worldwide and meticulously struck from Sterling Silver, each coin has been crafted with precision and minted to perfection. These sterling silver coins are a stunning homage to the railway heritage.
Each coin is a portal to the past, an ode to innovation, and a salute to the journeys that shaped a nation. Choose your piece of history and become a guardian of the tracks that connect the past to the present.
This year marks the 90th anniversary since Peter Pan author, JM Barrie, gifted his rights in Peter Pan to Great Ormond Street Hospital.
To commemorate this generous gift, earlier this year we launched a range of Peter Pan 50p coins in partnership with Great Ormond Street Hospital Charity, the Isle of Man Treasury and Tower Mint.
These magical 50p's really captured the imagination of collectors and the demand experienced since their release has been unprecedented.
Incredibly this has meant in just a matter of months, through the sales of these Peter Pan 50p coins, that collectors have helped raise over £250,000 for Great Ormond Street Hospital Children's Charity!
This is an achievement that everyone is immensely proud of, and we are hugely thankful to collectors for helping raise such an amazing amount to support Great Ormond Street Hospital Charity and the seriously ill children from across the UK who are cared for there.
To celebrate this important occasion, Managing Director, Ian Glen, and Karen Brooks, Head of Product Development, went along to Great Ormond Street Hospital to present them with the £250,000 cheque!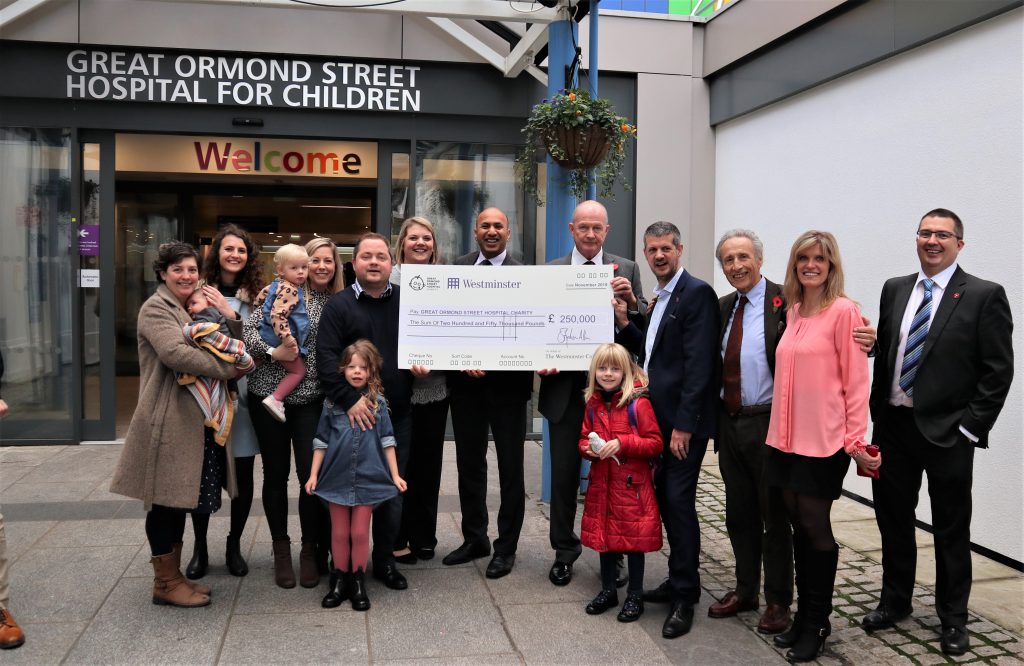 "We would like to thank all of the collectors who have raised such a considerable amount of money for Great Ormond Street Hospital. It has been a real privilege to work alongside the Great Ormond Street Hospital Charity, the Isle of Man Treasury and Tower Mint in such a worthwhile coin issue."

Ian Glen – Managing Director, The Westminster Collection
"Everyone at Great Ormond Street Hospital Children's Charity is thrilled and incredibly grateful that The Westminster Collection, The Tower Mint and the Isle of Man Government chose to celebrate the 90th anniversary of JM Barrie's gift of the rights of Peter Pan to Great Ormond Street Hospital by issuing a special Peter Pan collection. It's wonderful to see how much the general public and avid collectors have come together in support of this special collection. The funds raised will have a huge impact on the lives of seriously ill children from across the United Kingdom."

Amit Aggarwal – Director, Great Ormond Street Hospital Charity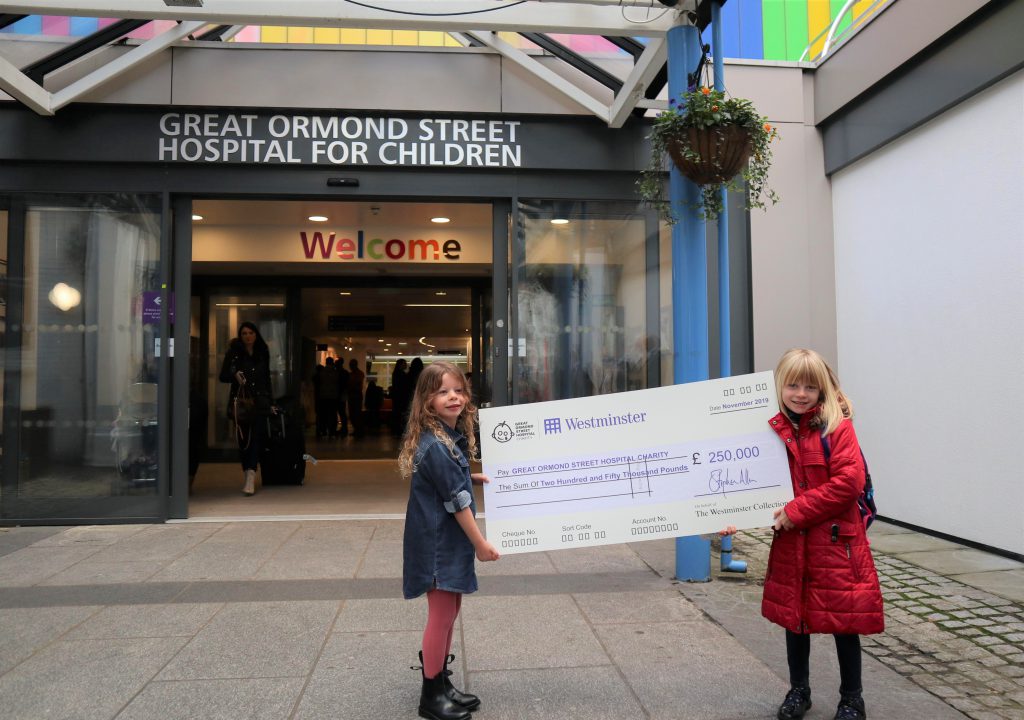 "I work in such a special industry, and I get see so much and meet so many people, but I never thought I would be able to connect my daughters syndrome to such a great cause, as well as contribute such an amazing amount to Great Ormond Street Hospital which will support all of the incredible work they do. The Westminster Collection and the Isle of Man have achieved so much for all involved, and I am a very proud dad!"

Elliot Dawson – Director at Tower Mint & Dad of Olivia Dawson (pictured above)
---
We are delighted to see our range of Peter Pan commemoratives grow in recent months and expand the opportunities for collectors to support Great Ormond Street Hospital Children's Charity. If you'd like to take a look at the full range, you can do so by clicking here.
To find out more about Great Ormond Street Hospital and the fantastic work they do, click here.
Can you believe that this year marks the 50th anniversary since the very FIRST Moon Landing?
50 years since Neil Armstrong took the first ever steps on the Moon's surface and spoke those famous words: "That's one small step for a man, one giant leap for mankind"
To this day, it is not only considered as one of mankind's greatest ever achievements but also one of the most important moments in history.
There have been a number of incredible coins released across the world to celebrate this 50th anniversary and unsurprisingly collector demand has been extremely high.
If you're yet to secure the perfect piece to commemorate the occasion then I have some good news! As I've spent some time looking through the new releases and have handpicked my top 5 Moon Landing 50th Anniversary coins. Read on to find out why each of them would make a great addition to any collection…
The FIRST EVER British Isles Black Proof £5 Coin
Now what makes this coin particularly special, is the fact that it is the FIRST EVER Black Proof British Isles coin to be issued. This is an extremely rare finish to feature on any coins and it has as such proven a hit with collectors.
Adding to this is the selective colouring that has been used to highlight the design which contrasts magnificently against the black proof finish. Images really don't do it justice! Only 995 coins have been issued worldwide, a significantly low amount given the occasion. Order yours today to avoid missing out >>
The Silver Proof £5 Coin with one of the most striking designs ever seen…
This new Isle of Man Silver Proof £5 Coin has just been authorised for release by the Palace and features one of the most striking designs I've ever seen.
Struck to the official UK £5 Silver specification, the reverse features an Astronaut with a reflection of planet Earth in the visor which is brought to life in full colour detail. It is coin craftsmanship at its very best. Find out more about this official release here >>
Introducing the FIRST EVER Plateau Minted Coin
This is an opportunity to own a collecting first – the Moon Landing 50th Anniversary Plateau Minting Coin. If you're wondering what plateau minting is, let me explain. Domed coins have been around for some time now, but never before has a Mint succeeded in successfully striking a plateau area on the peak of the dome. That is until now!
But that's not all. As the coin has been struck with a variation of sophisticated techniques and finishes, in particular the skilful alignment of both Proof and Matt finishes. You really have to see this coin to fully appreciate it. Take a more detailed look by clicking here >>
The ULTIMATE Space Collection – featuring EIGHT Moon Landing coins!
If one single coin is not enough, then I have the perfect solution for you. This is perhaps the ULTIMATE Space collection, featuring eight commemorative coins that have been issued from across the world.
It's difficult to not be instantly impressed when you open the deluxe wooden presentation case. As you'll find a mix of modern coins with special minting techniques, historic coins and even some intriguing designs like you've never seen before. This is certainly one not to miss, especially as it comes complete with an Apollo 11 commemorative plaque! Click here to find out more about this incredible collection >>
Chance to own the WORLD'S FIRST domed coin presented in a Silver Bar
Much like Apollo 11, this new commemorative is a WORLD FIRST. As this is the first time a domed coin has been set into a solid 2oz Silver Bar – the combination of different minting techniques on display is out of this world.
Not only that, but the US Silver Proof Moon Landing Dollar featured in the Silver Bar is the second ever in the Mint's history to be curved – one side is domed, the other concave. The first commemorative curved coins to be minted by the US completely sold out in less than two weeks – and all signs suggest this will prove just as popular.
There's so much more to tell about this incredible piece so click here to find out all about it. But please note, we have just 50 available exclusively for our UK collectors so you'll need to be quick if you'd like to secure one for your collection.
---
But that is by no means all. We have a whole range of incredible coins and commemoratives that have been issued to celebrate this important 50th anniversary. You can take a sneak peek at some of the pieces below or check out the full range by clicking here >>