Posts Tagged 'Isle of Man'
This year marks the 90th anniversary since Peter Pan author, JM Barrie, gifted his rights in Peter Pan to Great Ormond Street Hospital.
To commemorate this generous gift, earlier this year we launched a range of Peter Pan 50p coins in partnership with Great Ormond Street Hospital Charity, the Isle of Man Treasury and Tower Mint.
These magical 50p's really captured the imagination of collectors and the demand experienced since their release has been unprecedented.
Incredibly this has meant in just a matter of months, through the sales of these Peter Pan 50p coins, that collectors have helped raise over £250,000 for Great Ormond Street Hospital Children's Charity!
This is an achievement that everyone is immensely proud of, and we are hugely thankful to collectors for helping raise such an amazing amount to support Great Ormond Street Hospital Charity and the seriously ill children from across the UK who are cared for there.
To celebrate this important occasion, Managing Director, Ian Glen, and Karen Brooks, Head of Product Development, went along to Great Ormond Street Hospital to present them with the £250,000 cheque!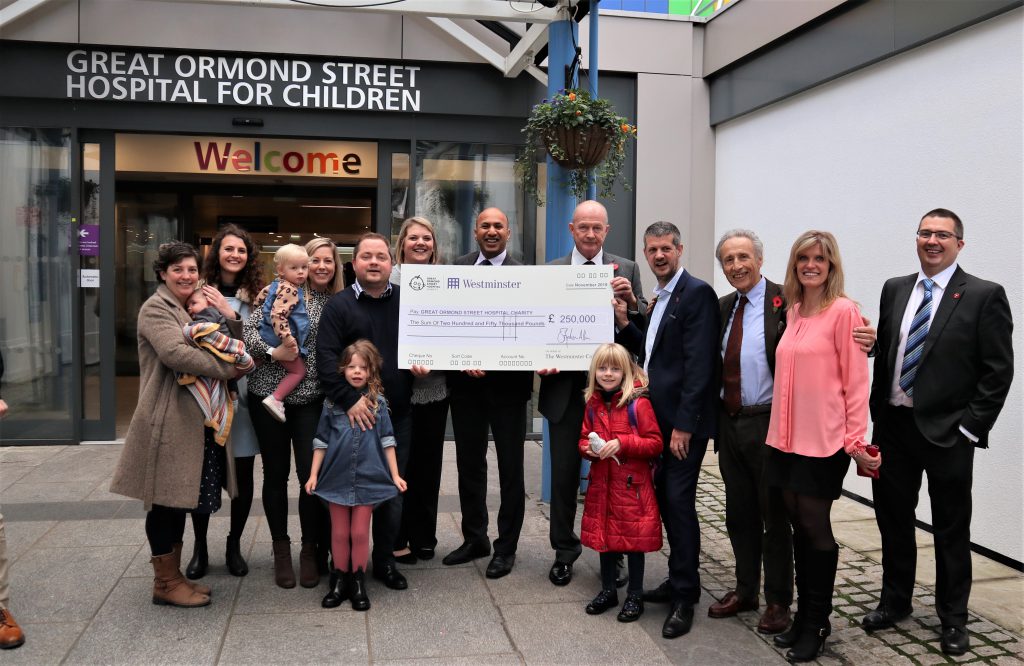 "We would like to thank all of the collectors who have raised such a considerable amount of money for Great Ormond Street Hospital. It has been a real privilege to work alongside the Great Ormond Street Hospital Charity, the Isle of Man Treasury and Tower Mint in such a worthwhile coin issue."

Ian Glen – Managing Director, The Westminster Collection
"Everyone at Great Ormond Street Hospital Children's Charity is thrilled and incredibly grateful that The Westminster Collection, The Tower Mint and the Isle of Man Government chose to celebrate the 90th anniversary of JM Barrie's gift of the rights of Peter Pan to Great Ormond Street Hospital by issuing a special Peter Pan collection. It's wonderful to see how much the general public and avid collectors have come together in support of this special collection. The funds raised will have a huge impact on the lives of seriously ill children from across the United Kingdom."

Amit Aggarwal – Director, Great Ormond Street Hospital Charity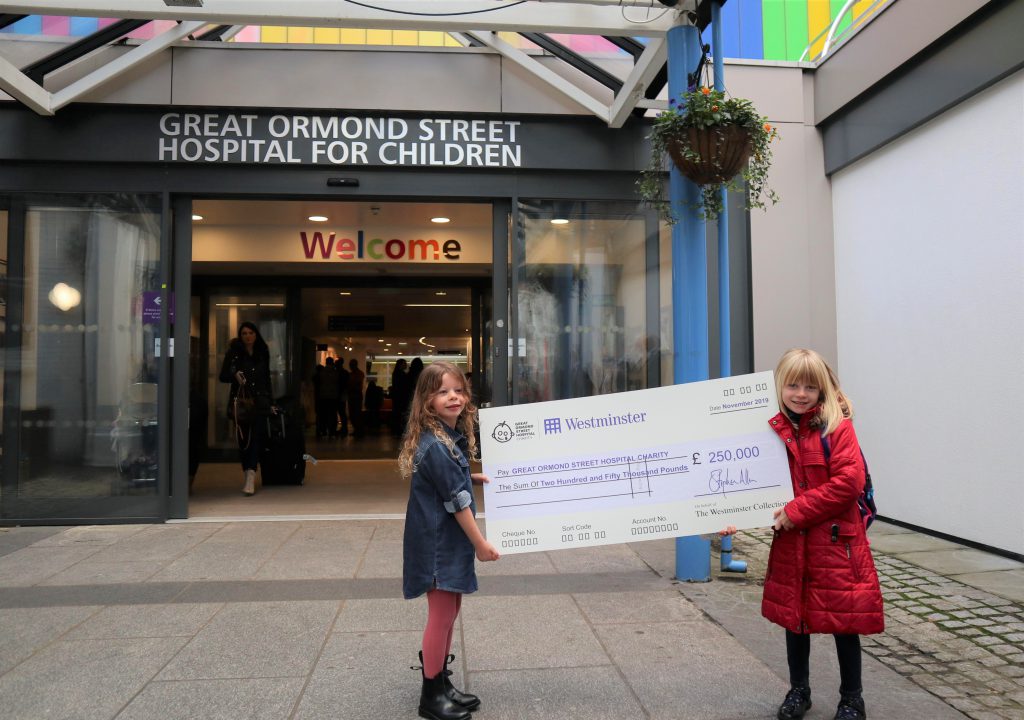 "I work in such a special industry, and I get see so much and meet so many people, but I never thought I would be able to connect my daughters syndrome to such a great cause, as well as contribute such an amazing amount to Great Ormond Street Hospital which will support all of the incredible work they do. The Westminster Collection and the Isle of Man have achieved so much for all involved, and I am a very proud dad!"

Elliot Dawson – Director at Tower Mint & Dad of Olivia Dawson (pictured above)
---
We are delighted to see our range of Peter Pan commemoratives grow in recent months and expand the opportunities for collectors to support Great Ormond Street Hospital Children's Charity. If you'd like to take a look at the full range, you can do so by clicking here.
To find out more about Great Ormond Street Hospital and the fantastic work they do, click here.
Can you believe that this year marks the 50th anniversary since the very FIRST Moon Landing?
50 years since Neil Armstrong took the first ever steps on the Moon's surface and spoke those famous words: "That's one small step for a man, one giant leap for mankind"
To this day, it is not only considered as one of mankind's greatest ever achievements but also one of the most important moments in history.
There have been a number of incredible coins released across the world to celebrate this 50th anniversary and unsurprisingly collector demand has been extremely high.
If you're yet to secure the perfect piece to commemorate the occasion then I have some good news! As I've spent some time looking through the new releases and have handpicked my top 5 Moon Landing 50th Anniversary coins. Read on to find out why each of them would make a great addition to any collection…
The FIRST EVER British Isles Black Proof £5 Coin
Now what makes this coin particularly special, is the fact that it is the FIRST EVER Black Proof British Isles coin to be issued. This is an extremely rare finish to feature on any coins and it has as such proven a hit with collectors.
Adding to this is the selective colouring that has been used to highlight the design which contrasts magnificently against the black proof finish. Images really don't do it justice! Only 995 coins have been issued worldwide, a significantly low amount given the occasion. Order yours today to avoid missing out >>
The Silver Proof £5 Coin with one of the most striking designs ever seen…
This new Isle of Man Silver Proof £5 Coin has just been authorised for release by the Palace and features one of the most striking designs I've ever seen.
Struck to the official UK £5 Silver specification, the reverse features an Astronaut with a reflection of planet Earth in the visor which is brought to life in full colour detail. It is coin craftsmanship at its very best. Find out more about this official release here >>
Introducing the FIRST EVER Plateau Minted Coin
This is an opportunity to own a collecting first – the Moon Landing 50th Anniversary Plateau Minting Coin. If you're wondering what plateau minting is, let me explain. Domed coins have been around for some time now, but never before has a Mint succeeded in successfully striking a plateau area on the peak of the dome. That is until now!
But that's not all. As the coin has been struck with a variation of sophisticated techniques and finishes, in particular the skilful alignment of both Proof and Matt finishes. You really have to see this coin to fully appreciate it. Take a more detailed look by clicking here >>
The ULTIMATE Space Collection – featuring EIGHT Moon Landing coins!
If one single coin is not enough, then I have the perfect solution for you. This is perhaps the ULTIMATE Space collection, featuring eight commemorative coins that have been issued from across the world.
It's difficult to not be instantly impressed when you open the deluxe wooden presentation case. As you'll find a mix of modern coins with special minting techniques, historic coins and even some intriguing designs like you've never seen before. This is certainly one not to miss, especially as it comes complete with an Apollo 11 commemorative plaque! Click here to find out more about this incredible collection >>
Chance to own the WORLD'S FIRST domed coin presented in a Silver Bar
Much like Apollo 11, this new commemorative is a WORLD FIRST. As this is the first time a domed coin has been set into a solid 2oz Silver Bar – the combination of different minting techniques on display is out of this world.
Not only that, but the US Silver Proof Moon Landing Dollar featured in the Silver Bar is the second ever in the Mint's history to be curved – one side is domed, the other concave. The first commemorative curved coins to be minted by the US completely sold out in less than two weeks – and all signs suggest this will prove just as popular.
There's so much more to tell about this incredible piece so click here to find out all about it. But please note, we have just 50 available exclusively for our UK collectors so you'll need to be quick if you'd like to secure one for your collection.
---
But that is by no means all. We have a whole range of incredible coins and commemoratives that have been issued to celebrate this important 50th anniversary. You can take a sneak peek at some of the pieces below or check out the full range by clicking here >>
This year, Her Majesty the Queen celebrates her Sapphire Coronation Anniversary – 65 years since she was crowned at Westminster Abbey in 1953.
As the world's longest reigning living monarch, she will be the first monarch in British history to celebrate a Sapphire Coronation, an historic achievement to be recognised as part of her record-breaking reign.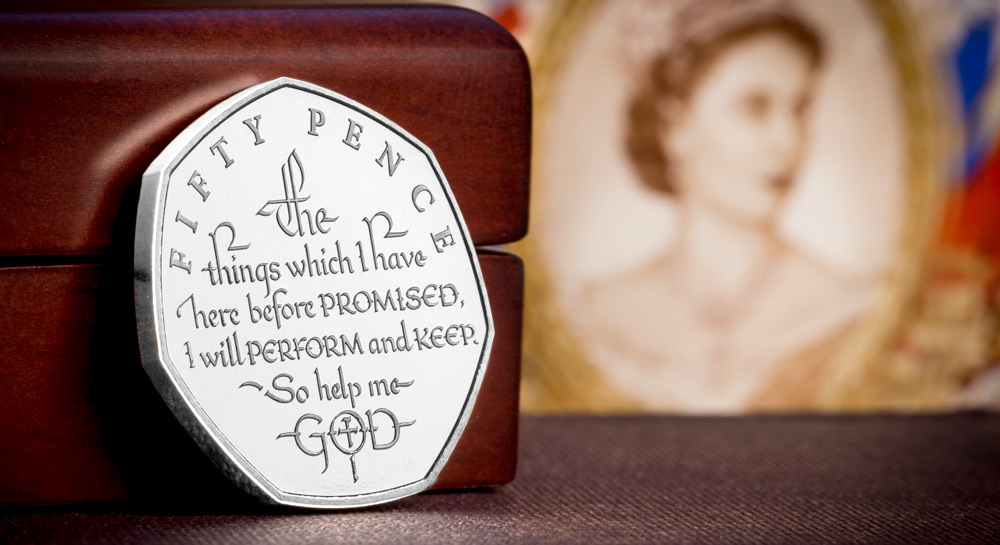 Elizabeth ascended the throne at the age of 25, upon the death of her father, King George VI in 1952. After a year's mourning period, she was crowned Queen in a coronation ceremony steeped with tradition. Millions tuned in to listen to the ceremony on the radio and, for the first time ever, the proceedings were able to be watched on live television.
In celebration of the Sapphire Coronation, a limited set of special commemorative 50p coins have just been officially approved by Buckingham Palace.
Fittingly, the first coin is engraved with the words of the Coronation Oath,
The things which I have here before promised, I will perform and keep. So help me God.
The other four 50p coins each feature a different element of the Coronation: The St Edwards Crown, The Orb, The Gold State Coach and The Imperial State Crown.

The UK's most collectable coins…
The 50p coin has rapidly become the UK's most collectable coin, spurred on by the release of the Olympic 50p coins, the Platinum Wedding Anniversary and more recently, the incredible demand for the Beatrix Potter 50p coins.
Most importantly, each of the five coins in the Sapphire Coronation 50p Coin Set have been authorised by the Isle of Man Treasury, have full legal status AND a very limited number will enter circulation in the Isle of Man.
British Isles 50p coins like this rarely turn up in UK change, which is bound to make these some of the most sought-after circulating coins around.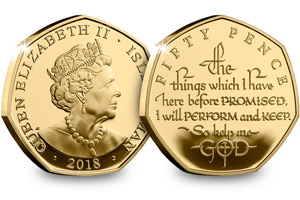 The coins are all available now from The Westminster Collection, struck to a range of specifications, from Brilliant Uncirculated through Silver Proof, right up to a stunning 22 Carat Gold piece.
---
Due to its very limited nature, we will contact you directly to discuss owning the Gold Proof 50p.
Please complete the form below:
---
If you're interested…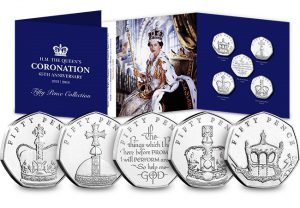 The 50p Set to mark the Queen's 65th Coronation anniversary is available to purchase in Superior Brilliant Uncirculated collector's quality.