Posts Tagged 'locomotive'
When I think of the world's most famous steam locomotive, only one name springs to mind – Flying Scotsman.
And as we approach the 100th anniversary since it was introduced to the railway, we can reflect on its remarkable history with The Royal Mint's BRAND-NEW UK 2023 Flying Scotsman £2 coin.
But first, let's travel back an entire century to see where it all began…
Doncaster, 1923
Built in Doncaster 100 years ago, Flying Scotsman was the first locomotive of the newly formed London and North Eastern Railway. It went into service on 24 February 1923 and was designed by Sir Nigel Gresley as part of the A1 class – the most powerful locomotives used by the LNER at the time.
In 1928, Flying Scotsman was redesigned with a revised corridor. This meant the crew could take over service without the locomotive having to stop, reducing the journey time from London to Edinburgh by eight hours!
As a result, Flying Scotsman hauled the first-ever non-stop service from London to Edinburgh on 1 May 1928.
By 1934, Flying Scotsman was the first locomotive in the UK to reach 100mph on rails. It was also the first locomotive to circumnavigate the globe in 1989 – both remarkable feats at the time!
Flying Scotsman retired in 1963 but returned to the tracks in 2022, hauling a limited number of steam excursions just prior to its 100th anniversary.
The UK 2023 Flying Scotsman £2 Coin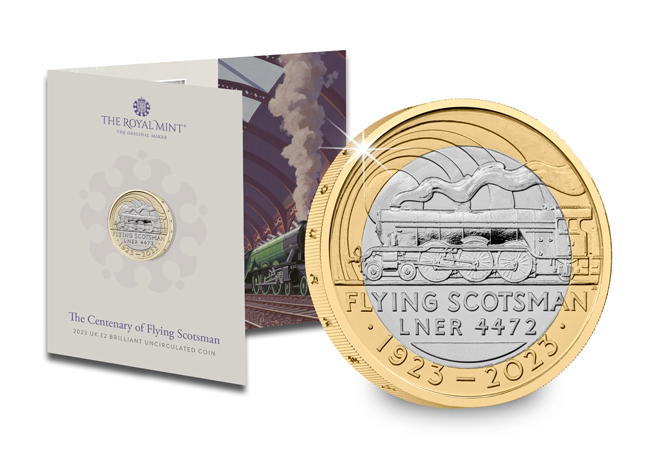 In celebration of 100 years since the world's most famous steam locomotive took to the tracks, The Royal Mint have released a very special £2 commemorative coin.
Depicting a nostalgic side-on view of the locomotive during one of its many rail journeys, the coin features a thoughtfully crafted design by John Bergdahl.
What's more, your £2 comes available in Brilliant Uncirculated, Silver Proof, Silver Piedfort or Gold Proof quality!
And interestingly, it has been more than two decades since The Royal Mint last released a colour-printed UK £2 commemorative coin. So, this range marks a special moment for the £2 coin, as it includes a colour-printed Silver Proof AND Silver Proof Piedfort edition!
But with just limited numbers available, you must act now to secure yours!
Locomotive enthusiasts LISTEN UP…
As in my latest unboxing video I take a closer look at a commemorative that features a genuine piece of the world famous Flying Scotsman.
It's been meticulously hand-sculpted into the shape of the world famous locomotive and precision set into a deluxe SUPERSIZE 70mm Medal.
Whether you're a collector, locomotive enthusiast OR both, this is a video that you can't afford to miss!
And considering that we currently have JUST 48 remaining from the TINY 250 worldwide edition limit, if you're interested… you'd best be quick in ordering yours!
---
If you're interested…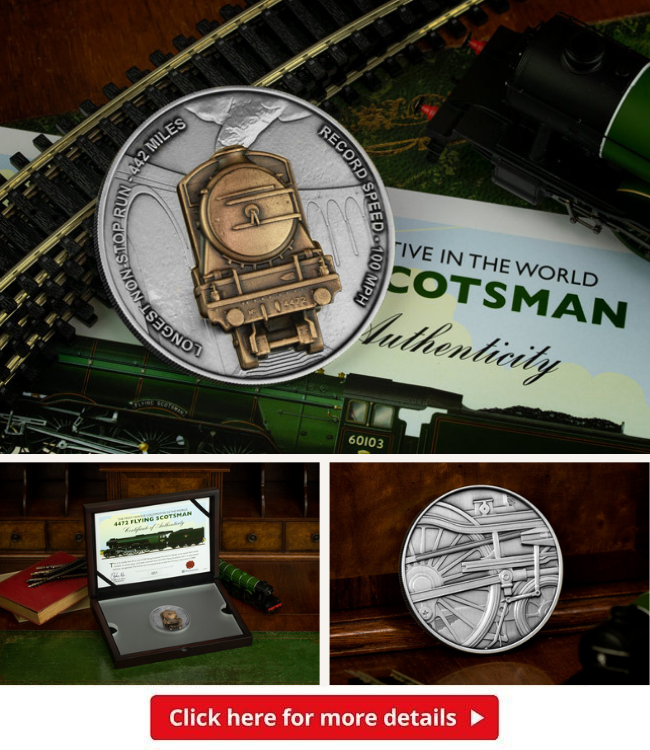 On 24th February 1923, the Flying Scotsman left the works for the very first time. Now, exactly ninety years later, to mark this very special anniversary, I decided to re-trace the famous locomotive's most historic journey, from London to Edinburgh, taking with me 750 specially designed Flying Scotsman covers.
As Philatelic Manager at The Westminster Collection, part of my job is to come up with unique and innovative ways to add value to our commemorative stamp products. Last year, for example, I arranged for a small number of covers to be carried on board one of the ships taking part in the River Thames Pageant for the Queen's Diamond Jubilee. It proved an instant hit with collectors.
So there I was on the 2.45pm train to Edinburgh. Got my ticket, my overnight bag and those all-important covers. Before boarding, I arranged for the Royal Mail English Definitive Stamps on the cover to be postmarked 'London' 24th February, and then we were off!
I've no idea what the weather was like in 1923 but today, unusually, it got warmer the further north. After just 4 hours 39 minutes, we arrived at our destination, Edinburgh's Waverley Station. No delays, no leaves on the line and no replacement bus service, it had definitely been a lot quicker than that first 1923 journey!
To complete the Flying Scotsman cover, the following morning before starting my return journey to London, I made my way to Royal Mail's Edinburgh Postmarking Office to have the second cancellation applied to a set of Scottish Royal Mail Definitive Stamps – this Edinburgh postmark was dated 25th February.
Due to the cover's uniqueness and the fact that this one-day-only journey on 24th February 2013 will never be repeated, no more covers will ever be available once all 750 have been sold.
Order your Flying Scotsman Carried Silver Coin Cover here. The accompanying Certificate of Authenticity confirms it is one of just 750 that travelled from London to Edinburgh on the exact anniversary date.
For a full range of Flying Scotsman Commemoratives – click here.