When I think of the world's most famous steam locomotive, only one name springs to mind – Flying Scotsman.
And as we approach the 100th anniversary since it was introduced to the railway, we can reflect on its remarkable history with The Royal Mint's BRAND-NEW UK 2023 Flying Scotsman £2 coin.
But first, let's travel back an entire century to see where it all began…
Doncaster, 1923
Built in Doncaster 100 years ago, Flying Scotsman was the first locomotive of the newly formed London and North Eastern Railway. It went into service on 24 February 1923 and was designed by Sir Nigel Gresley as part of the A1 class – the most powerful locomotives used by the LNER at the time.
In 1928, Flying Scotsman was redesigned with a revised corridor. This meant the crew could take over service without the locomotive having to stop, reducing the journey time from London to Edinburgh by eight hours!
As a result, Flying Scotsman hauled the first-ever non-stop service from London to Edinburgh on 1 May 1928.
By 1934, Flying Scotsman was the first locomotive in the UK to reach 100mph on rails. It was also the first locomotive to circumnavigate the globe in 1989 – both remarkable feats at the time!
Flying Scotsman retired in 1963 but returned to the tracks in 2022, hauling a limited number of steam excursions just prior to its 100th anniversary.
The UK 2023 Flying Scotsman £2 Coin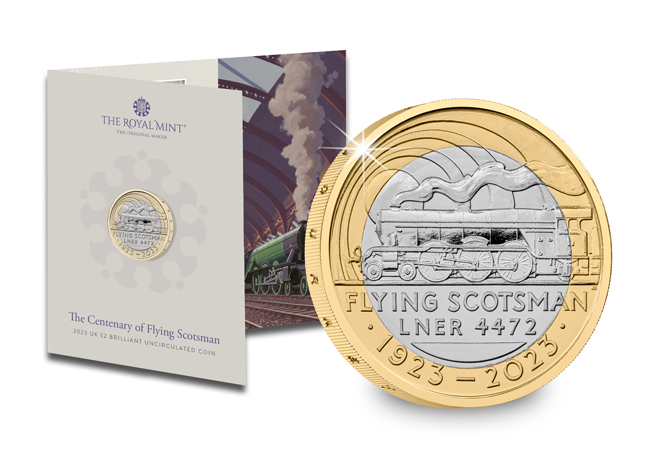 In celebration of 100 years since the world's most famous steam locomotive took to the tracks, The Royal Mint have released a very special £2 commemorative coin.
Depicting a nostalgic side-on view of the locomotive during one of its many rail journeys, the coin features a thoughtfully crafted design by John Bergdahl.
What's more, your £2 comes available in Brilliant Uncirculated, Silver Proof, Silver Piedfort or Gold Proof quality!
And interestingly, it has been more than two decades since The Royal Mint last released a colour-printed UK £2 commemorative coin. So, this range marks a special moment for the £2 coin, as it includes a colour-printed Silver Proof AND Silver Proof Piedfort edition!
But with just limited numbers available, you must act now to secure yours!
Locomotive enthusiasts LISTEN UP…
As in my latest unboxing video I take a closer look at a commemorative that features a genuine piece of the world famous Flying Scotsman.
It's been meticulously hand-sculpted into the shape of the world famous locomotive and precision set into a deluxe SUPERSIZE 70mm Medal.
Whether you're a collector, locomotive enthusiast OR both, this is a video that you can't afford to miss!
And considering that we currently have JUST 48 remaining from the TINY 250 worldwide edition limit, if you're interested… you'd best be quick in ordering yours!
---
If you're interested…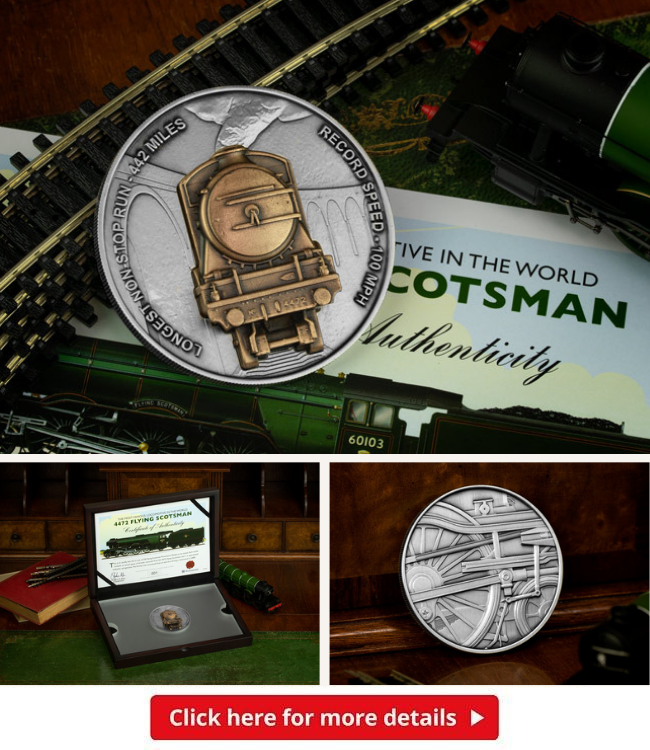 First constructed in 1923, the LNER Class A3 4472 became a flagship locomotive for the London and North Eastern Railway (LNER), and due to its notable service on the London to Edinburgh Flying Scotsman line, the train itself became known as The Flying Scotsman.
Over its long career, The Flying Scotsman set two world records; one for being the first steam locomotive to be officially authenticated at reaching 100mph, and then setting a record for the longest non-stop run by a steam locomotive when it ran 422 miles whilst in Australia.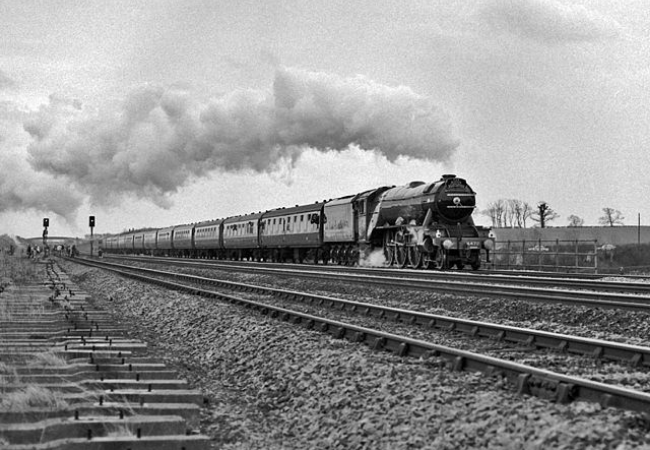 The Flying Scotsman was retired from active service in 1963 after covering over 2.08 million miles, and was bought by several private owners, before finally being purchased by the National Railway Museum in 2004 for £2.3 million.
After a couple of years of failed uses as a charter train due to various mechanical issues, in 2006 The Flying Scotsman entered the National Railway Museum's workshops to begin a large scale overhaul and restoration project.
The complete restoration of the locomotive took ten years to complete – during which time the A4 boiler was replaced with a spare A3 boiler which matched up to the locomotive's original specifications. Other issues were encountered during the restoration, including misaligned frames, and cracking throughout the frame and cylinders.
Finally, in January of 2016, The Flying Scotsman's restoration was fully completed and returned to active service wearing its Wartime Black livery.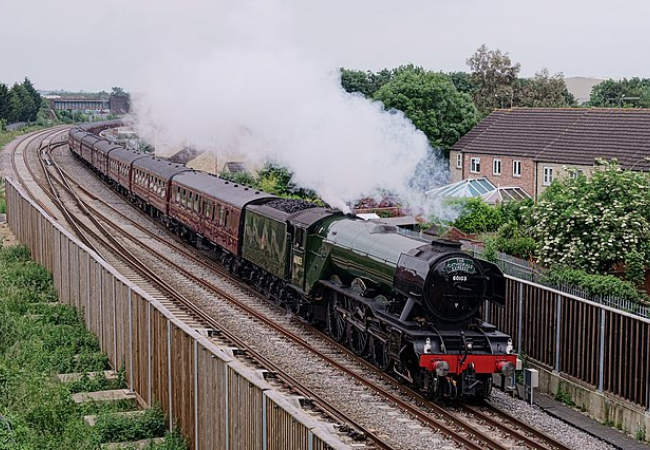 As part of this restoration, the left trailing front bogie axle-boxes had to be replaced. These axle boxes were each stamped with '103' – the number The Flying Scotsman ran under in post-war years, and as such would've covered hundreds of thousands of miles whilst fitted to the famous locomotive.
These axle boxes were then melted down into ingots, before being commissioned by The Westminster Collection to be cast into miniature sculptures of The Flying Scotsman for use in a special commemorative issue…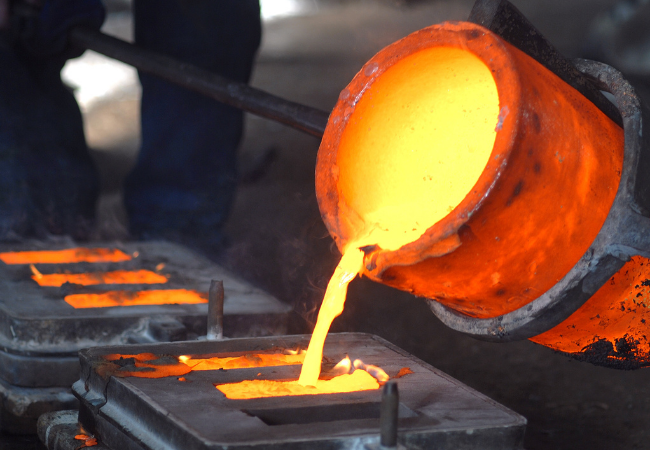 ---
The BRAND NEW Flying Scotsman Provenance Commemorative
And now, a small number of collectors have the chance to own a BRAND NEW Commemorative featuring an ACTUAL piece of The Flying Scotsman…
This incredible commemorative features an original piece of The Flying Scotsman, cast into the shape of the iconic locomotive and meticulously precision set into a deluxe SUPERSIZE 70mm commemorative.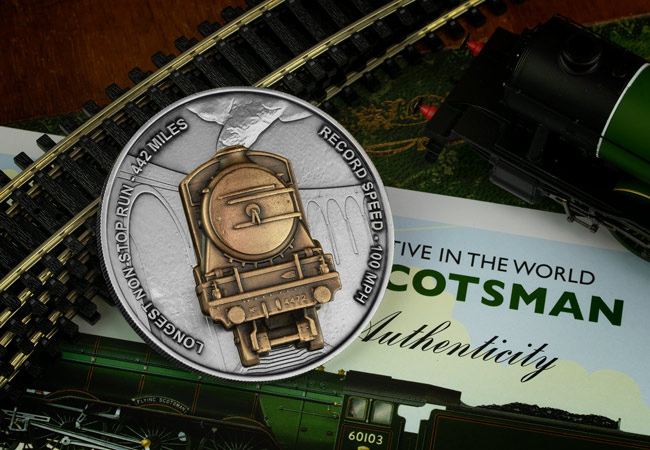 Even without the piece of The Flying Scotsman, this commemorative is a work of engineering art in its own right. Combined with the original piece of Flying Scotsman, it becomes a piece of locomotive history…
Only 250 lucky collectors have the chance to own this special new commemorative. The last Provenance commemorative that featured a piece of Hawker Hurricane SOLD OUT in a matter of weeks. Click here to secure your Flying Scotsman Provenance Commemorative while you can!