Locomotive enthusiasts LISTEN UP…
As in my latest unboxing video I take a closer look at a commemorative that features a genuine piece of the world famous Flying Scotsman.
It's been meticulously hand-sculpted into the shape of the world famous locomotive and precision set into a deluxe SUPERSIZE 70mm Medal.
Whether you're a collector, locomotive enthusiast OR both, this is a video that you can't afford to miss!
And considering that we currently have JUST 48 remaining from the TINY 250 worldwide edition limit, if you're interested… you'd best be quick in ordering yours!
---
If you're interested…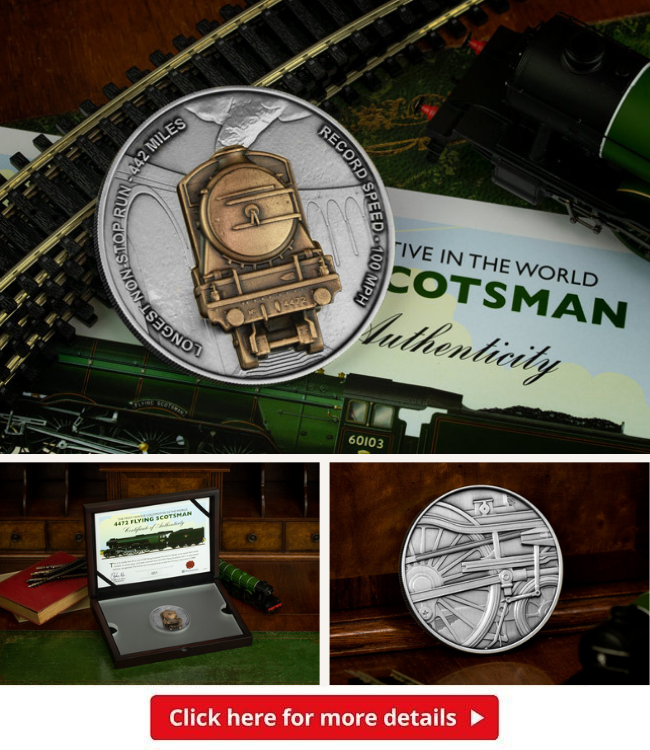 First constructed in 1923, the LNER Class A3 4472 became a flagship locomotive for the London and North Eastern Railway (LNER), and due to its notable service on the London to Edinburgh Flying Scotsman line, the train itself became known as The Flying Scotsman.
Over its long career, The Flying Scotsman set two world records; one for being the first steam locomotive to be officially authenticated at reaching 100mph, and then setting a record for the longest non-stop run by a steam locomotive when it ran 422 miles whilst in Australia.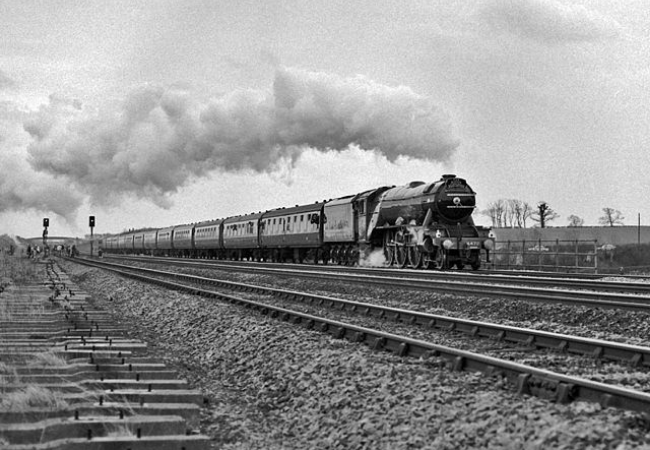 The Flying Scotsman was retired from active service in 1963 after covering over 2.08 million miles, and was bought by several private owners, before finally being purchased by the National Railway Museum in 2004 for £2.3 million.
After a couple of years of failed uses as a charter train due to various mechanical issues, in 2006 The Flying Scotsman entered the National Railway Museum's workshops to begin a large scale overhaul and restoration project.
The complete restoration of the locomotive took ten years to complete – during which time the A4 boiler was replaced with a spare A3 boiler which matched up to the locomotive's original specifications. Other issues were encountered during the restoration, including misaligned frames, and cracking throughout the frame and cylinders.
Finally, in January of 2016, The Flying Scotsman's restoration was fully completed and returned to active service wearing its Wartime Black livery.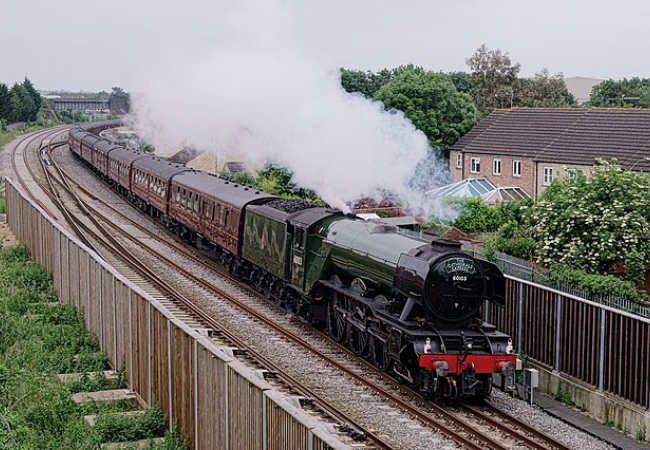 As part of this restoration, the left trailing front bogie axle-boxes had to be replaced. These axle boxes were each stamped with '103' – the number The Flying Scotsman ran under in post-war years, and as such would've covered hundreds of thousands of miles whilst fitted to the famous locomotive.
These axle boxes were then melted down into ingots, before being commissioned by The Westminster Collection to be cast into miniature sculptures of The Flying Scotsman for use in a special commemorative issue…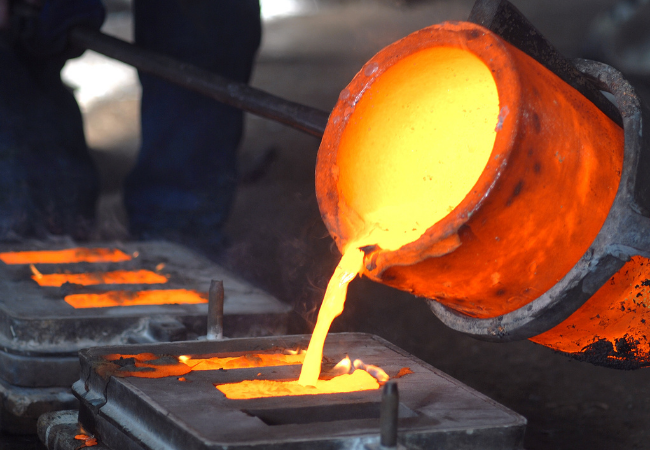 ---
The BRAND NEW Flying Scotsman Provenance Commemorative
And now, a small number of collectors have the chance to own a BRAND NEW Commemorative featuring an ACTUAL piece of The Flying Scotsman…
This incredible commemorative features an original piece of The Flying Scotsman, cast into the shape of the iconic locomotive and meticulously precision set into a deluxe SUPERSIZE 70mm commemorative.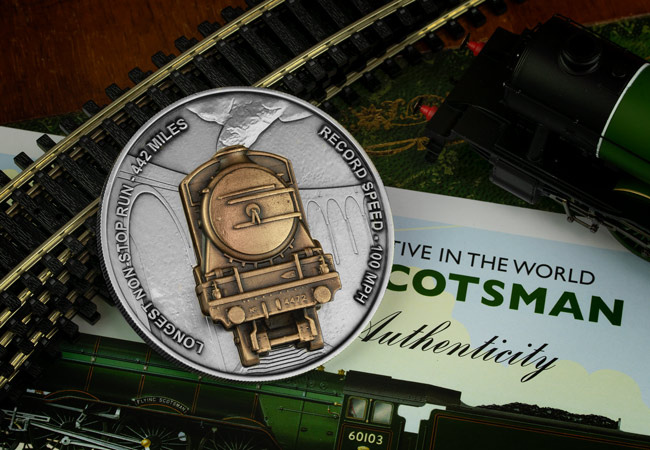 Even without the piece of The Flying Scotsman, this commemorative is a work of engineering art in its own right. Combined with the original piece of Flying Scotsman, it becomes a piece of locomotive history…
Only 250 lucky collectors have the chance to own this special new commemorative. The last Provenance commemorative that featured a piece of Hawker Hurricane SOLD OUT in a matter of weeks. Click here to secure your Flying Scotsman Provenance Commemorative while you can!
On 24th February 1923, the Flying Scotsman left the works for the very first time. Now, exactly ninety years later, to mark this very special anniversary, I decided to re-trace the famous locomotive's most historic journey, from London to Edinburgh, taking with me 750 specially designed Flying Scotsman covers.
As Philatelic Manager at The Westminster Collection, part of my job is to come up with unique and innovative ways to add value to our commemorative stamp products. Last year, for example, I arranged for a small number of covers to be carried on board one of the ships taking part in the River Thames Pageant for the Queen's Diamond Jubilee. It proved an instant hit with collectors.
So there I was on the 2.45pm train to Edinburgh. Got my ticket, my overnight bag and those all-important covers. Before boarding, I arranged for the Royal Mail English Definitive Stamps on the cover to be postmarked 'London' 24th February, and then we were off!
I've no idea what the weather was like in 1923 but today, unusually, it got warmer the further north. After just 4 hours 39 minutes, we arrived at our destination, Edinburgh's Waverley Station. No delays, no leaves on the line and no replacement bus service, it had definitely been a lot quicker than that first 1923 journey!
To complete the Flying Scotsman cover, the following morning before starting my return journey to London, I made my way to Royal Mail's Edinburgh Postmarking Office to have the second cancellation applied to a set of Scottish Royal Mail Definitive Stamps – this Edinburgh postmark was dated 25th February.
Due to the cover's uniqueness and the fact that this one-day-only journey on 24th February 2013 will never be repeated, no more covers will ever be available once all 750 have been sold.
Order your Flying Scotsman Carried Silver Coin Cover here. The accompanying Certificate of Authenticity confirms it is one of just 750 that travelled from London to Edinburgh on the exact anniversary date.
For a full range of Flying Scotsman Commemoratives – click here.