When I think of the world's most famous steam locomotive, only one name springs to mind – Flying Scotsman.
And as we approach the 100th anniversary since it was introduced to the railway, we can reflect on its remarkable history with The Royal Mint's BRAND-NEW UK 2023 Flying Scotsman £2 coin.
But first, let's travel back an entire century to see where it all began…
Doncaster, 1923
Built in Doncaster 100 years ago, Flying Scotsman was the first locomotive of the newly formed London and North Eastern Railway. It went into service on 24 February 1923 and was designed by Sir Nigel Gresley as part of the A1 class – the most powerful locomotives used by the LNER at the time.
In 1928, Flying Scotsman was redesigned with a revised corridor. This meant the crew could take over service without the locomotive having to stop, reducing the journey time from London to Edinburgh by eight hours!
As a result, Flying Scotsman hauled the first-ever non-stop service from London to Edinburgh on 1 May 1928.
By 1934, Flying Scotsman was the first locomotive in the UK to reach 100mph on rails. It was also the first locomotive to circumnavigate the globe in 1989 – both remarkable feats at the time!
Flying Scotsman retired in 1963 but returned to the tracks in 2022, hauling a limited number of steam excursions just prior to its 100th anniversary.
The UK 2023 Flying Scotsman £2 Coin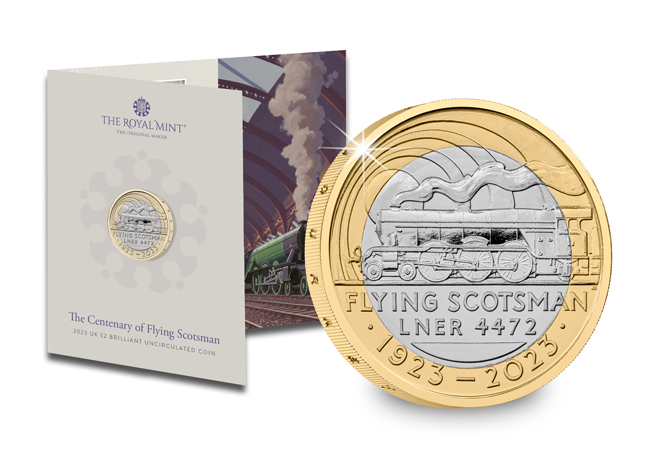 In celebration of 100 years since the world's most famous steam locomotive took to the tracks, The Royal Mint have released a very special £2 commemorative coin.
Depicting a nostalgic side-on view of the locomotive during one of its many rail journeys, the coin features a thoughtfully crafted design by John Bergdahl.
What's more, your £2 comes available in Brilliant Uncirculated, Silver Proof, Silver Piedfort or Gold Proof quality!
And interestingly, it has been more than two decades since The Royal Mint last released a colour-printed UK £2 commemorative coin. So, this range marks a special moment for the £2 coin, as it includes a colour-printed Silver Proof AND Silver Proof Piedfort edition!
But with just limited numbers available, you must act now to secure yours!