Posts Tagged 'train coin'
Prepare to be transported into the world of artistic ingenuity as we present a captivating interview with Steve Wyse, an esteemed Honorary Member of the Guild of Railway Artists. Join us in exploring the creative process, inspiration, and meticulous attention to detail that culminated in the exquisite designs gracing the freshly minted History of British Railways £2 Sets, creating a bridge between history and numismatic art.
Tracing Tracks: Unveiling the History of British Railways BU and Silver £2 Coin Sets
In the annals of British history, the year 1923 marks a pivotal moment that reshaped the nation's railway landscape forever. A convergence of 120 regional railway companies gave rise to four prominent entities, as a result of the Railway Act of 1921.
Now, in a splendid tribute to this transformative event, special Brilliant Uncirculated and Silver Proof £2 Coin sets have been issued.
This extraordinary coin collection stands as a tribute to an era when steam and steel connected cities, fuelled the Industrial Revolution, and united the kingdom.
Click the circles below to find out more about the design and the sets:
Each gleaming £2 coin encapsulates the essence of a bygone era, immortalising five of the most iconic locomotives that once traversed the British countryside. Encased in special presentation packs, these coins are elevated by the artistic brilliance of Steve Wyse, an Honorary Member of the Guild of Railway Artists. Through his skillful renderings, the spirit of each locomotive comes alive, inviting you to relive the golden age of rail travel.
But for those who seek the pinnacle of numismatic excellence, we invite you to take a step further. Behold the History of British Railways Silver Proof £2 Coin Set—a masterpiece that merges history, artistry, and exclusivity.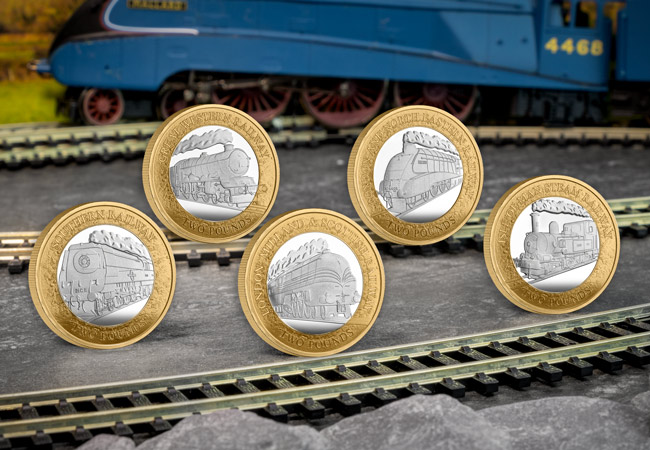 Limited to just 295 sets worldwide and meticulously struck from Sterling Silver, each coin has been crafted with precision and minted to perfection. These sterling silver coins are a stunning homage to the railway heritage.
Each coin is a portal to the past, an ode to innovation, and a salute to the journeys that shaped a nation. Choose your piece of history and become a guardian of the tracks that connect the past to the present.
When I think of the world's most famous steam locomotive, only one name springs to mind – Flying Scotsman.
And as we approach the 100th anniversary since it was introduced to the railway, we can reflect on its remarkable history with The Royal Mint's BRAND-NEW UK 2023 Flying Scotsman £2 coin.
But first, let's travel back an entire century to see where it all began…
Doncaster, 1923
Built in Doncaster 100 years ago, Flying Scotsman was the first locomotive of the newly formed London and North Eastern Railway. It went into service on 24 February 1923 and was designed by Sir Nigel Gresley as part of the A1 class – the most powerful locomotives used by the LNER at the time.
In 1928, Flying Scotsman was redesigned with a revised corridor. This meant the crew could take over service without the locomotive having to stop, reducing the journey time from London to Edinburgh by eight hours!
As a result, Flying Scotsman hauled the first-ever non-stop service from London to Edinburgh on 1 May 1928.
By 1934, Flying Scotsman was the first locomotive in the UK to reach 100mph on rails. It was also the first locomotive to circumnavigate the globe in 1989 – both remarkable feats at the time!
Flying Scotsman retired in 1963 but returned to the tracks in 2022, hauling a limited number of steam excursions just prior to its 100th anniversary.
The UK 2023 Flying Scotsman £2 Coin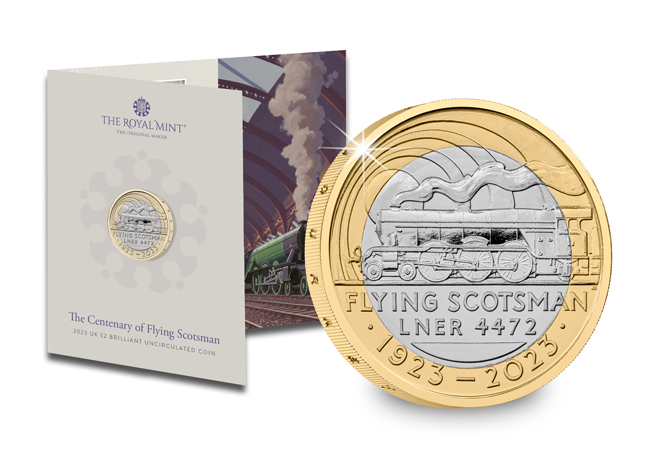 In celebration of 100 years since the world's most famous steam locomotive took to the tracks, The Royal Mint have released a very special £2 commemorative coin.
Depicting a nostalgic side-on view of the locomotive during one of its many rail journeys, the coin features a thoughtfully crafted design by John Bergdahl.
What's more, your £2 comes available in Brilliant Uncirculated, Silver Proof, Silver Piedfort or Gold Proof quality!
And interestingly, it has been more than two decades since The Royal Mint last released a colour-printed UK £2 commemorative coin. So, this range marks a special moment for the £2 coin, as it includes a colour-printed Silver Proof AND Silver Proof Piedfort edition!
But with just limited numbers available, you must act now to secure yours!
Richard Trevithick was born in a small Cornish mining village in 1771 and was surrounded by engineering at an early age, which paved the way for him to become the pivotal inventor and engineer who was responsible for inventing the first ever working steam locomotive…
During his school years, Trevithick paid little attention in class and instead focused on sports; however he also had a natural aptitude for arithmetic, and always managed to get to the correct answer using unconventional methods.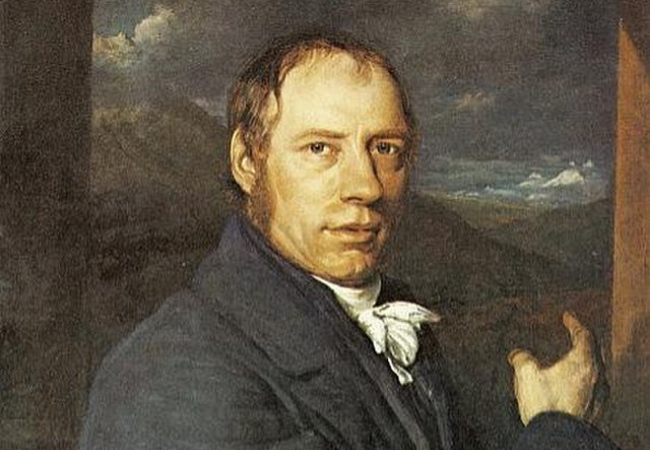 During his time working in the mining community, Trevithick began to pioneer the use of high-pressure steam, and started building and modifying steam engines around this principle. As time went on, and boiler technology improved, Trevithick realised this now allowed for the safe production of high-pressure steam; which meant engines could be smaller and more economical to run.
Trevithick's early applications of high-pressure steam ranged from stationary engines to steam-road locomotives. In 1802, Trevithick built his first steam locomotive for the Coalbrookdale Ironworks in Shropshire.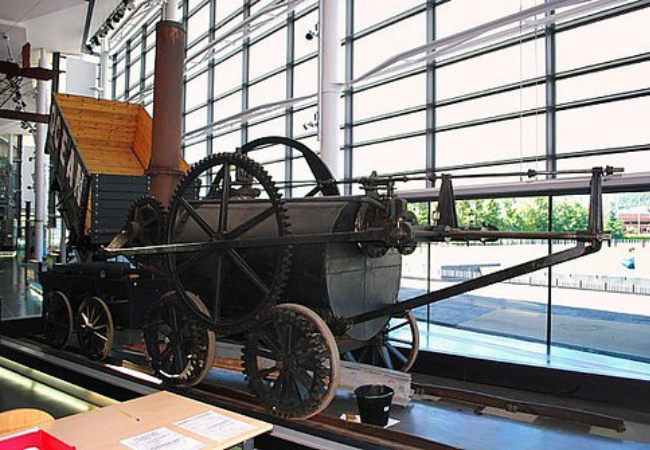 In 1804, the first officially recorded steam-hauled railway journey took place when another one of Trevithick's locomotives hauled a train from the Pen-y-Darren Ironworks in Merthyr Tydfil to Abercynon in South Wales.
Trevithick's inventions were responsible for revolutionising the mining industry and he became a well-respected figure in both mining and engineering circles because of it. Trevithick even had some involvement in the early development of the Thames Tunnel, and several different nautical projects, however the successful first working steam locomotive remains his most well-known claim to fame.
---
Now commemorated on a BRAND NEW range of coins
And now, a portrait of Richard Trevithick features on a BRAND NEW range of coins, exclusive for Westminster Collectors.
This is the first time a portrait of this pivotal inventor and engineer from our history has been featured on a British Isles coin, and the edition limits for each of the three specifications this coin has been issued in, are very low…
You can explore this coin range using the link below – however, with such low edition limits on each of this coins specifications, you'll need to act fast if you want to add one to your collection!