Revealed for the first time today, Royal Mail are set to release 15 new Harry Potter stamps, to celebrate the global-success of the hit film series, filmed in the UK, and featuring a star studded cast brimming with home-grown talent.
Scheduled for release on 16 October 2018, the new stamps feature some of the most popular characters including Harry, Hermione, Ron, Ginny and Neville Longbottom, and five Hogwarts professors contained on a Special Miniature Sheet. Also appearing on the stamps are portkeys and the most iconic modes of transport – the Hogwarts Express, Hagrid's bike, the Knight Bus and the Triwizard Cup.
Some Special Features on the stamps include the official Harry Potter font denoting the '1st' Class service. There's also a little extra magic and intrigue to both the stamps and the Miniature Sheet which can be seen under UV light…
Here's your first look at the new stamps alongside a bit of info about each one…

Hermione Granger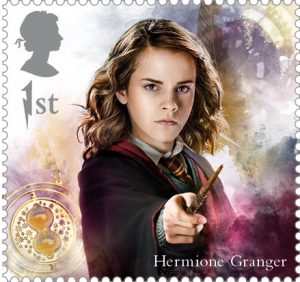 Hermione is considered by many at Hogwarts to be the brightest witch of her age. On her many adventures with Harry and Ron, it is often thanks to Hermione's educated mind, grasp of logic and quick thinking that the trio safely escapes.


Hogwarts Express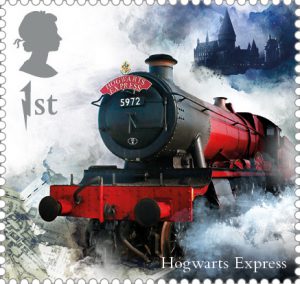 The Hogwarts Express train is used by pupils of Hogwarts School of Witchcraft and Wizardry. The steam train runs between King's Cross station in London and the village of Hogsmeade, from where the children reach Hogwarts by boat. Access to the train by wizards and witches can only be gained by running at speed through a brick wall to Platform Nine and Three-Quarters.


Harry Potter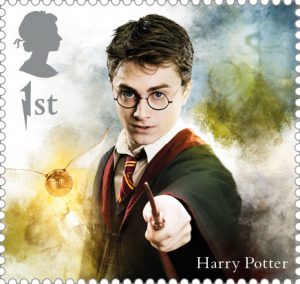 On his 11th birthday, Harry Potter learns that he has been accepted to Hogwarts School of Witchcraft and Wizardry. Harry and his friends, Ron and Hermione, brave the challenges of school life while facing the increasing threat of the dark forces led by Lord Voldemort. As Voldemort returns to power, Harry realises that only he can stop the Dark Lord.


Flying Ford Anglia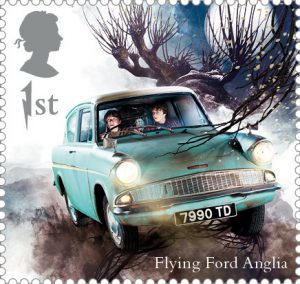 In Harry Potter and the Chamber of Secrets, the Weasley twins and Ron 'borrow' the car to rescue Harry through his bedroom window in the Dursleys' house. Later on, having missed the Hogwarts Express, Harry and Ron take the car on a precarious journey to Hogwarts.


Ron Weasley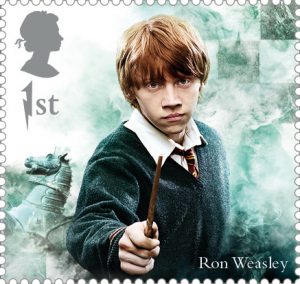 From the moment they meet on the Hogwarts Express train, Ron becomes Harry's best friend. Ron supports Harry on all of his risky adventures – often at the wheel of the Flying Ford Anglia – even when it means facing his worst fear: spiders.


Hagrid's Motorbike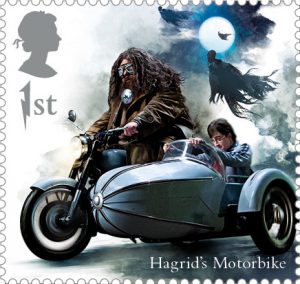 Riding a flying motorbike formerly owned by Sirius Black, Hagrid and Harry endure a hazardous journey while being pursued by Lord Voldemort and several Death Eaters in Harry Potter and the Deathly Hallows – Part 1.


Ginny Weasley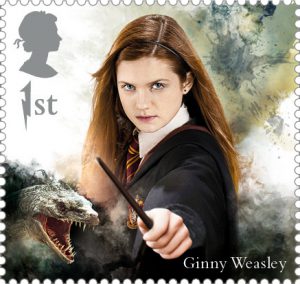 Younger sister of Ron Weasley, Ginny spends much of her first year at Hogwarts writing in Tom Riddle's diary and unknowingly doing the Dark Lord's bidding. In her fourth year, Ginny joins Dumbledore's Army and eventually makes her feelings for Harry known.


Triwizard Cup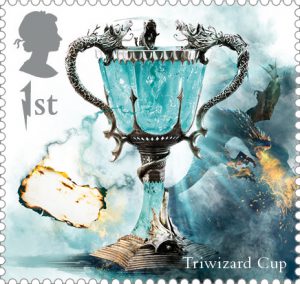 The Triwizard Cup is a trophy awarded to the winner at the end of the third and final task of the Triwizard Tournament. When Harry Potter competes in the Triwizard Tournament, a Death Eater turns the Cup into a Portkey to instantly transport the winner to the graveyard where Lord Voldemort is waiting.


Neville Longbottom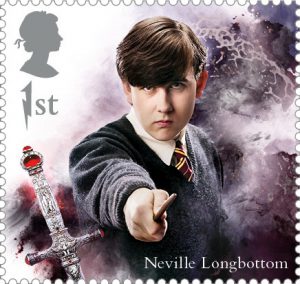 Neville Longbottom is known as a good-natured but accident-prone boy with an aptitude for Herbology. As the Dark Lord rises to power, Neville bravely joins Dumbledore's Army and ultimately plays an integral role in the destruction of Lord Voldemort.


Knight Bus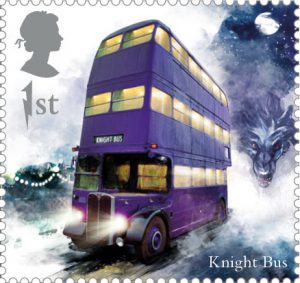 Described by its conductor as "Emergency transport for the stranded witch or wizard", the Knight Bus appears in Harry Potter and the Prisoner of Azkaban. It collects Harry and his trunk from the side of the road after he flees Privet Drive following an altercation with Mr Dursley's sister.


---
If you're interested…
You can reserve all of the new Harry Potter stamps right now on a limited edition Collector Card – professionally framed and ready to hang. Click here for details >>>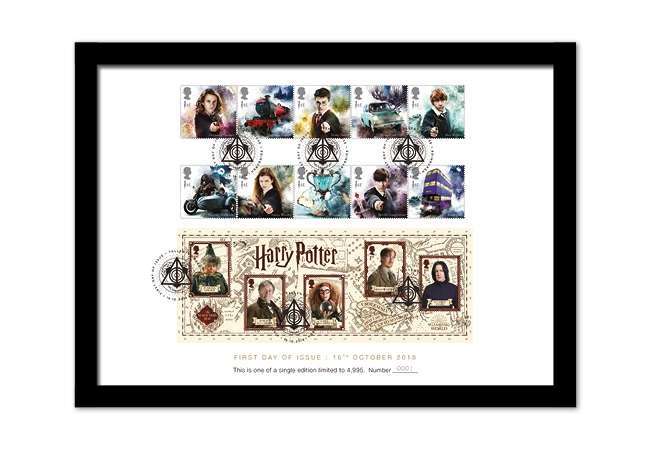 Pink Floyd, David Bowie, the Beatles. Giants of the international music scene, and most importantly, all home-grown talent.
That's why all of these artists have been commemorated at one point by Royal Mail, with their own set of official postage stamps, featuring a selection of their most famous albums.
But what I, and many others like me, love most about the original albums is the artwork that adorns their covers. The prism on Pink Floyd's The Dark Side of the Moon. The Beatles crossing Abbey Road – two of the most famous images in British popular culture.
And I know I'm not alone when I say "they don't make them like they used to!" But it's true.
My point is that after vinyl fell out of fashion (it still pains me!), many of these classic albums, these heavyweights of British culture, ended up in lofts, given to charity shops or just binned! Criminal! The fact is they should be presented, shown-off and displayed – like the pieces of art they are.

Framed Vinyl Classics
This was the driving force behind Framed Vinyl Classics. To give vinyl its place back in the home. Definitive tributes to some of the greatest artists and albums the UK has ever produced.
With our background in stamps, we were able to pair together the stamp and matching classic vinyl album to make a genuinely superb wall display. Giving each iconic cover the place it deserves in your home or office.

Multiple Sell-outs
So we can't say we've been surprised by how popular they have been with collectors. Because we collect them too. Editions for The Dark Side of the Moon, Ziggy Stardust and Abbey Road have all SOLD OUT, catapulting Framed Vinyl Classics from humble beginnings as art for enthusiasts to a genuine piece of must-have memorabilia for the fans.
First Look – Brand New Releases
Now, after listening to many requests for other albums, I'm very pleased to be able to show you for the very first time, more definitive tributes to some other of the all time classic Brit artists. The Clash, Led Zeppelin, Blur, Coldplay and Mike Oldfield are now available to order – all set to worldwide editions of JUST 250. Click here to see all the available presentations >>>
If you click on one the links above or below, you'll view a gallery of all the past and present Framed Vinyl Classics. Some have sold out of their strictly limited worldwide editions, some are on their way to doing just that, and some, like today, are brand-new – hot off the press.
And what further adds to the limited status of each framed presentation – the element highly desired by collectors – are the official postage stamps. Not only are they among the few issues to feature album covers, but some of the stamps are extremely scarce and are only available on the secondary market – you can't get them from the post office and won't see them on your letters.
You see, the stamps for the new presentations were released back in 2010, as part of Royal Mail's Classic Album Covers issue. Significantly, these stamps were issued before Facebook and Google – and the more effective means of showing these fantastic commemoratives direct to the fans. In other words, many fans of these bands probably still aren't aware these delightful pieces of memorabilia even exist! Which I guess makes this, a bit of an inside track (no pun intended).
One final point of interest to collectors, many of these stamps are so limited that Stanley Gibbons, the authority on everything stamp related, state that the Classic Album Covers stamps have increased in value by over 100% since their release, whilst the Beatles stamps from 2007 have increased in value by whopping 200%!*
But don't just take my word for it, nor the hundreds of collectors who have snapped up their own Framed Vinyl Classic. See for yourself by clicking the link here and view the Framed Vinyl Classics gallery.
* Stanley Gibbons, Collect British Stamps 2016.
---
If you're interested…
Revealed for the first time today, Royal Mail are set to release 8 new STAR WARS stamps, to mark the release of the new film in the popular sci-fi franchise, The Last Jedi.
Scheduled for release on 12th October 2017, the new stamps will feature beloved 'Aliens and Droids' from the complete saga, including one never-before-seen image of the mysterious Supreme Leader Snoke, and one brand-new character, Porg.
The stamps are Royal Mail's second STAR WARS stamp issue, following on from the successful 'Heroes and Villains' release in 2015, ahead of the premiere of the first film in the new trilogy, The Force Awakens.
---
Here's your first look at the new stamps alongside a bit of info about each one…
MAZ KANATA
Location: Takodana / Maz's castle exterior
Ships: Kylo Ren's command shuttle / First Order TIE fighters
Secondary character: HURID-32
Deep within the fringes of the galaxy lies a secret castle hideaway presided over by the wise, boisterous figure of Maz Kanata. Over a thousand years old and an ex-pirate herself, Maz holds court within the galaxy's underworld: smugglers, bounty hunters and thieves. Maz has also been a friend to Jedi, and her castle contains secrets that tell of one Luke Skywalker.
CHEWBACCA
Location: Starkiller Base
Ships: Millennium Falcon
Secondary character: Chewbacca
Faithful co-pilot and companion to Han Solo for many years, Chewbacca was one of the heroes of the Rebellion. Brought back into the orbit of the Resistance after many years of freelance adventuring, Chewbacca witnesses the tragic death of his best friend, Han Solo. All he has left is his ship, the Millennium Falcon, and a new companion, a Force-attuned loner named Rey.
SUPREME LEADER SNOKE
Film: The Last Jedi
Ships: Star Destroyer / First Order TIE fighters
Secondary character: Praetorian Guard
A shadowy figure who leads the First Order, Snoke trained Kylo Ren in the dark side of the Force. He orders the creation of a giant planet-sized superweapon called Starkiller to destroy the New Republic government and commands Ren to hunt down the last Jedi Knight, Luke Skywalker. Next, he issues a chilling command: Ren is ready to complete his training…
PORG
Location: Ahch-To
Ships: Millennium Falcon
Secondary character: Beaks
Small, flightless birds called porgs are native to the remote planet Ahch-To, where Luke Skywalker is living in exile. The planet is covered with water and rocky islands and is home to the ruins of the first Jedi Temple, where porgs have peacefully made their home. The birds are ill-prepared for the arrival of strangers when Rey and Chewbacca land there in the Millennium Falcon.
BB-8
Location: Jakku
Ships: First Order TIE fighters
Secondary character: Luggabeast / Teedo / BB-8
The plucky droid named BB-8 is a loyal companion to Resistance fighter Poe Dameron in the fight against the First Order. Assigned to Poe to provide flight assistance when piloting his X-wing fighter, BB-8 is separated from his master in a deadly battle with Kylo Ren. Forced to seek new allies, the droid runs into a scavenger named Rey and a renegade stormtrooper called Finn.
R2-D2
Location: Coruscant / Grievous's flagship interior
Ships: Jedi starfighters
Secondary character: R2-D2
This trusty little droid has had an adventurous life, first on board Queen Amidala's ship during the Battle of Naboo, then in the Clone Wars alongside Anakin Skywalker, and with Luke Skywalker in the fight against the Empire. In recent years, R2-D2 has been in a state of semi-retirement, secretly harbouring the only map that pinpoints the whereabouts of Luke Skywalker.
C-3PO
Location: Tatooine / Jabba's Palace exterior
Ships: Death Star II
Secondary character: Jabba the Hutt / C-3PO
As a boy on Tatooine, Anakin Skywalker built a protocol droid as a helper for his mother. C-3PO became an expert in matters relating to diplomacy, but he was not equipped for a life of excitement, danger and adventure. Thrust into battles during the Clone Wars and the Rebellion against the Empire, this reticent, nervous droid has time and again helped his friends save the day.
K-2SO
Location: Scarif
Ships: U-Wing / X-wings
Secondary character: Pao
A reprogrammed Imperial security droid with a bluntly honest way of talking, K-2SO is firmly on the side of the Rebel Alliance in the fight against the Empire. K-2SO's ability to blend in when doing reconnaissance work behind Imperial lines is a distinct advantage. He can pilot many types of spaceship and scan and access Imperial communications systems.
---
The Force is strong with Royal Mail's official Star Wars stamps
Brilliantly rendered in exquisite detail by British Artist Malcolm Tween, the 8 stamps depict the most popular 'Aliens and Droids' featured in the iconic blockbuster films.
Two of the stamps feature exclusive never-before-seen images of two characters; one – Supreme Leader Snoke – we've seen briefly before, whilst the other – Porg – is a brand new character from the new film.
Incorporated into each stamp is a secondary character and scene forming unique images that can be found nowhere else.
The four 'droid' stamps utilise UV ink to emphasise some of the design features of the stamp. These will come visible only under a UV light.
---
If you're interested…
You can reserve all of the new Star Wars stamps right now on a limited edition Collector Card – professionally framed and ready to hang.