Revealed for the first time today, Royal Mail are set to release 15 new MARVEL stamps, to celebrate 80 years since the founding of MARVEL Comics, and its irrefutable impact on British culture.
Scheduled for release on 14 March 2019, the new stamps will feature 10 of the best loved characters from Marvel's illustrious history, including Spider-Man, Iron Man, Hulk, Thor, Black Panther, and Doctor Strange, as well as an exclusive Miniature Sheet like no other – five bonus Marvel stamps that form part of a ten-panel never-before-seen comic book strip in which the Mad Titan, Thanos, launches a deadly attack on the world.
The stamps are Royal Mail's first ever MARVEL Comics stamp issue, and are likely to prove immensely popular with the British public, and collectors throughout the world!
Here's your first look at the new stamps alongside a bit of info about each one…
Spider-Man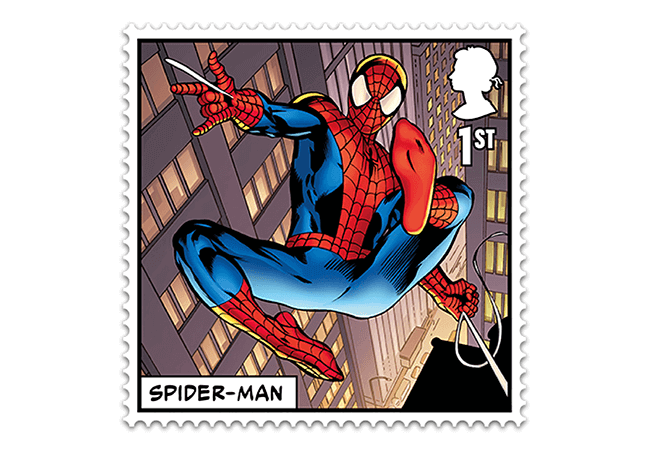 Peter Parker is Spider-Man, New York's amazing web-slinging hero. Bitten by a radioactive spider as a teenager, Peter Parker gained arachnid-like abilities and, after his Uncle Ben was murdered, swore to use his abilities to help others – having realised that with great power comes great responsibility.
Captain Marvel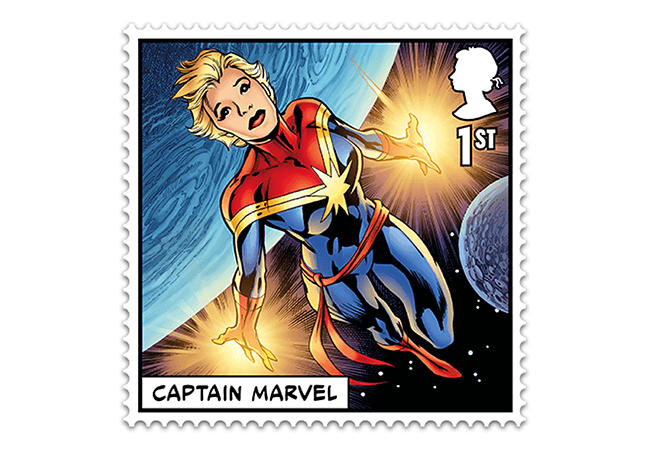 Carol Danvers was an Air Force officer when she met Kree hero Captain Mar-vell. After her DNA mixed with his during an explosion, she gained super powers and took the name Ms Marvel. Following the original's death, Carol took on the mantle of Captain Marvel to honour his legacy.
Hulk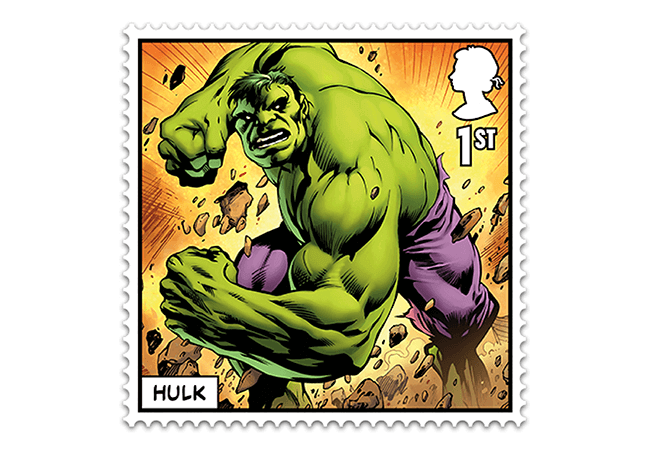 When mild-mannered scientist Bruce Banner was bombarded by radiation from a gamma bomb, he was transformed into the incredible Hulk. The green-skinned behemoth is one of the planet's most powerful and misunderstood heroes – feared by a world he has saved numerous times.
Captain Britain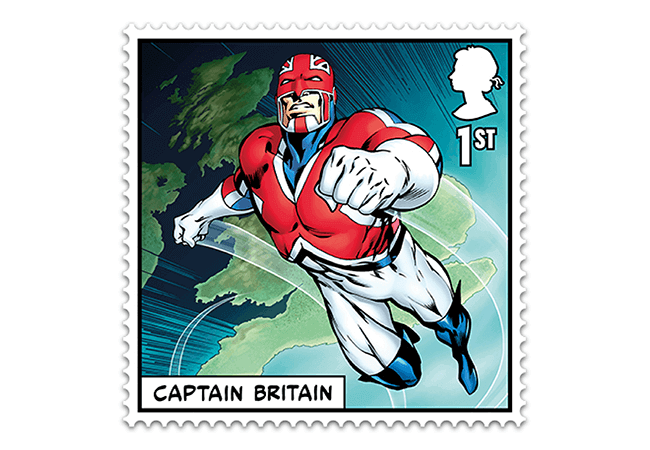 Brian Braddock was chosen by Merlyn to be Britain's greatest protector. Granted amazing powers, Brian became Captain Britain. He soon learned he was part of a multidimensional Captain Britain Corps and has fought alongside Excalibur and the Avengers to keep his country – and the world – safe from harm.
Doctor Strange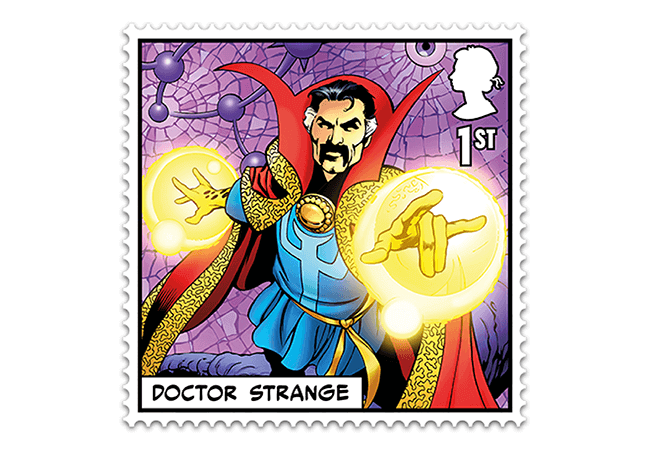 Once a brilliant yet vain surgeon, Stephen Strange sought out the help of the Ancient One when his hands were badly damaged in a car crash. Strange's path led him to become a Master of the Mystic Arts and Earth's Sorcerer Supreme, protecting the world from evil forces.
Peggy Carter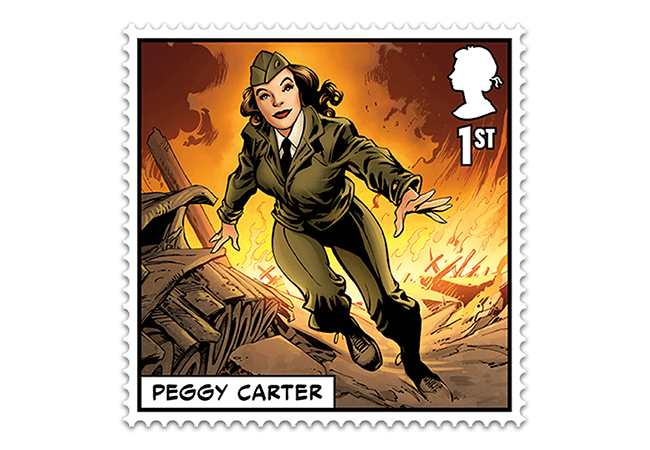 Peggy Carter was working for the French Resistance in the Second World War when she met and fell in love with Captain America. The two fought the Axis powers together before they were separated by the war. Peggy went on to become a leading agent of S.H.I.E.L.D. (Strategic Homeland Intervention, Enforcement and Logistics Division).
Iron Man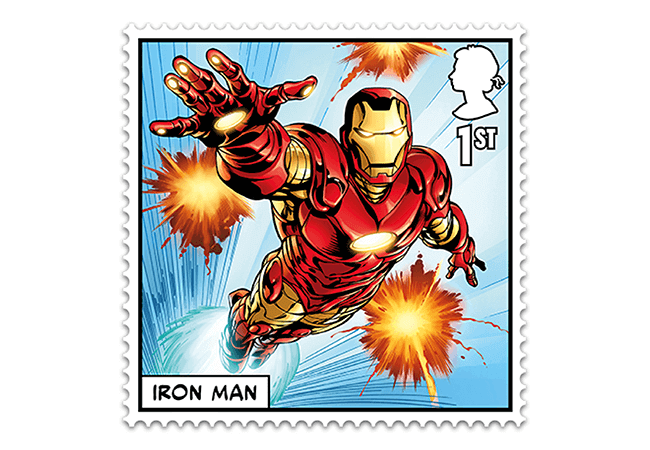 When terrorists captured billionaire inventor Tony Stark, they forced him to create weapons. With shrapnel near Stark's heart endangering his life, Stark tricked the terrorists, building a suit of powered armour to defeat them. It was the birth of the armoured Avenger – the invincible Iron Man.
Union Jack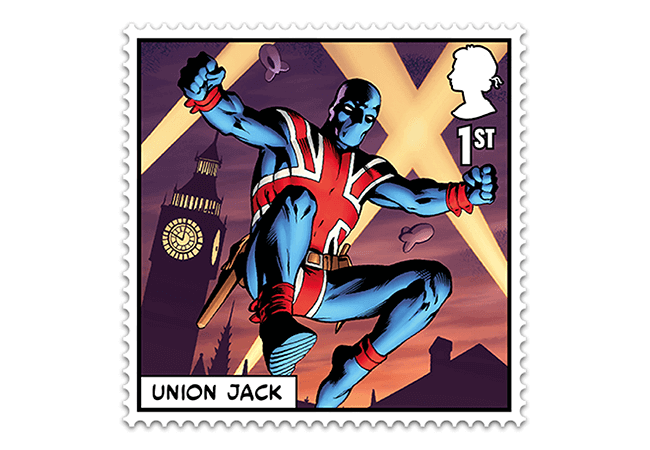 The original Union Jack was Lord James Falsworth, who fought in the First World War. When his descendant refused to take on the role, the mantle was passed to Joey Chapman, a working-class hero from Manchester, who has gone to fight alongside the Knights of Pendragon and the Invaders.
Black Panther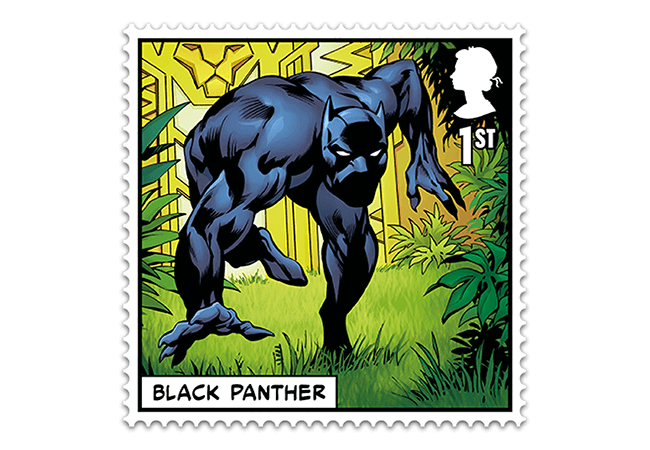 T'Challa is the Black Panther, ruler of the technologically advanced African nation of Wakanda and protector of its valuable vibranium supply. T'Challa first travelled to America to learn more about that country's heroes and soon became a leading member of the Avengers.
Thor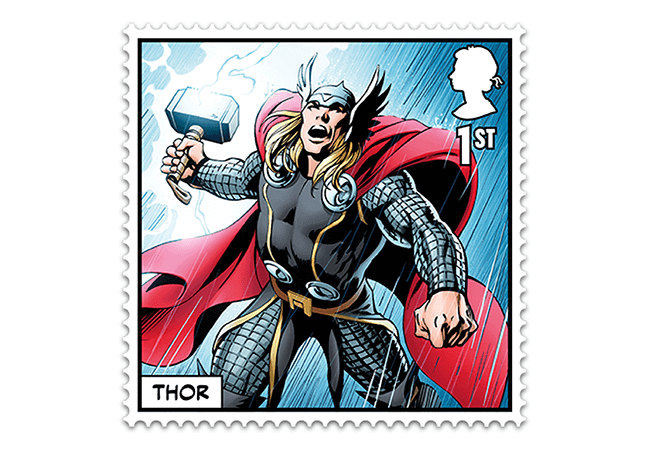 Thor is the Norse God of Thunder. Once cast out of Asgard for his pride, he was trapped on Earth as the injured doctor, Donald Blake. Thor's banishment is long ended and now he protects both Earth and Asgard as an Avenger.


The new and official UK MARVEL Stamps are sure to be a [HULK] SMASH with collectors
Generations have grown up with these timeless superheroes in comic books and more recently in hugely successful movies, and Royal Mail are celebrating this beloved pop-culture theme with original artwork by renowned British illustrator Alan Davis – long-time artist for MARVEL Comics.
Many of the classic superheroes celebrated in the new stamp issue were created in the 1960s, and in the 1970s a UK MARVEL imprint was created for British fans. 'Captain Britain Weekly' was launched in 1976, featuring the adventures of the first MARVEL UK superhero, closely followed by another British character, Union Jack. Both these take their place in the ranks of superheroes in the stamps.
This BRAND NEW set of Royal Mail Stamps are officially licensed and approved by MARVEL and feature a stunning set of 10 First Class stamps in the form of never-seen-before illustrations by renowned MARVEL Comics artist Alan Davis, including an original and exclusive comic book story contained in the miniature sheet, which is sure to be a must have for all MARVEL comic-strip fans and collectors alike.
This original, never-seen-before story with a unique British twist (look out for Trafalgar Square and the Gherkin!) has been specially written and designed by MARVEL and will only ever be available on the Miniature Sheet.
---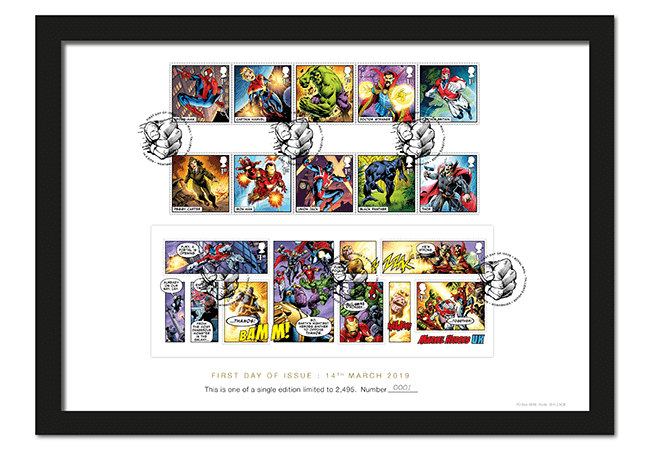 If you're interested…
You can reserve all of the new MARVEL Comics Stamps right now on a Limited Edition Collector Card – Professionally Framed and ready to hang. Click here for details>>>
Revealed for the first time today, Royal Mail are set to release 15 new Harry Potter stamps, to celebrate the global-success of the hit film series, filmed in the UK, and featuring a star studded cast brimming with home-grown talent.
Scheduled for release on 16 October 2018, the new stamps feature some of the most popular characters including Harry, Hermione, Ron, Ginny and Neville Longbottom, and five Hogwarts professors contained on a Special Miniature Sheet. Also appearing on the stamps are portkeys and the most iconic modes of transport – the Hogwarts Express, Hagrid's bike, the Knight Bus and the Triwizard Cup.
Some Special Features on the stamps include the official Harry Potter font denoting the '1st' Class service. There's also a little extra magic and intrigue to both the stamps and the Miniature Sheet which can be seen under UV light…
Here's your first look at the new stamps alongside a bit of info about each one…

Hermione Granger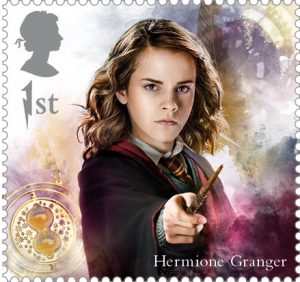 Hermione is considered by many at Hogwarts to be the brightest witch of her age. On her many adventures with Harry and Ron, it is often thanks to Hermione's educated mind, grasp of logic and quick thinking that the trio safely escapes.


Hogwarts Express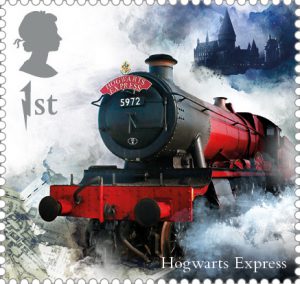 The Hogwarts Express train is used by pupils of Hogwarts School of Witchcraft and Wizardry. The steam train runs between King's Cross station in London and the village of Hogsmeade, from where the children reach Hogwarts by boat. Access to the train by wizards and witches can only be gained by running at speed through a brick wall to Platform Nine and Three-Quarters.


Harry Potter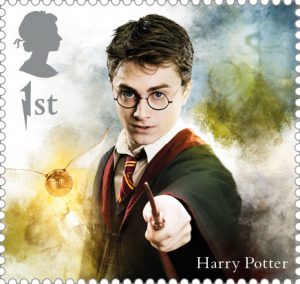 On his 11th birthday, Harry Potter learns that he has been accepted to Hogwarts School of Witchcraft and Wizardry. Harry and his friends, Ron and Hermione, brave the challenges of school life while facing the increasing threat of the dark forces led by Lord Voldemort. As Voldemort returns to power, Harry realises that only he can stop the Dark Lord.


Flying Ford Anglia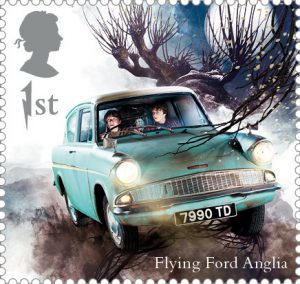 In Harry Potter and the Chamber of Secrets, the Weasley twins and Ron 'borrow' the car to rescue Harry through his bedroom window in the Dursleys' house. Later on, having missed the Hogwarts Express, Harry and Ron take the car on a precarious journey to Hogwarts.


Ron Weasley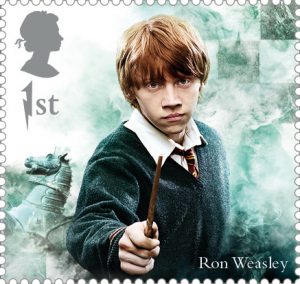 From the moment they meet on the Hogwarts Express train, Ron becomes Harry's best friend. Ron supports Harry on all of his risky adventures – often at the wheel of the Flying Ford Anglia – even when it means facing his worst fear: spiders.


Hagrid's Motorbike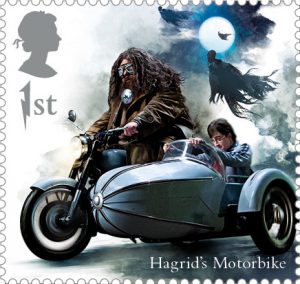 Riding a flying motorbike formerly owned by Sirius Black, Hagrid and Harry endure a hazardous journey while being pursued by Lord Voldemort and several Death Eaters in Harry Potter and the Deathly Hallows – Part 1.


Ginny Weasley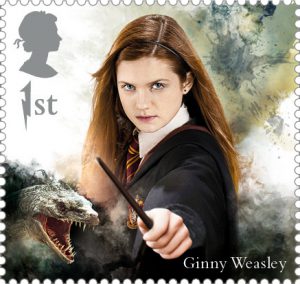 Younger sister of Ron Weasley, Ginny spends much of her first year at Hogwarts writing in Tom Riddle's diary and unknowingly doing the Dark Lord's bidding. In her fourth year, Ginny joins Dumbledore's Army and eventually makes her feelings for Harry known.


Triwizard Cup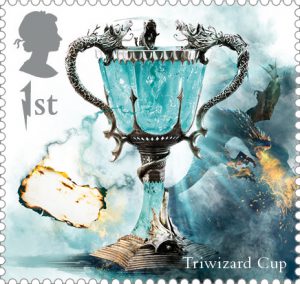 The Triwizard Cup is a trophy awarded to the winner at the end of the third and final task of the Triwizard Tournament. When Harry Potter competes in the Triwizard Tournament, a Death Eater turns the Cup into a Portkey to instantly transport the winner to the graveyard where Lord Voldemort is waiting.


Neville Longbottom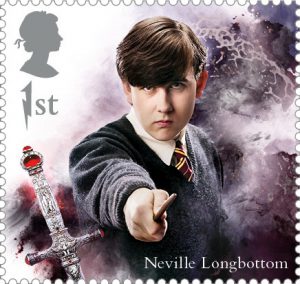 Neville Longbottom is known as a good-natured but accident-prone boy with an aptitude for Herbology. As the Dark Lord rises to power, Neville bravely joins Dumbledore's Army and ultimately plays an integral role in the destruction of Lord Voldemort.


Knight Bus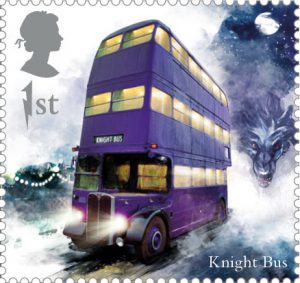 Described by its conductor as "Emergency transport for the stranded witch or wizard", the Knight Bus appears in Harry Potter and the Prisoner of Azkaban. It collects Harry and his trunk from the side of the road after he flees Privet Drive following an altercation with Mr Dursley's sister.


---
If you're interested…
You can reserve all of the new Harry Potter stamps right now on a limited edition Collector Card – professionally framed and ready to hang. Click here for details >>>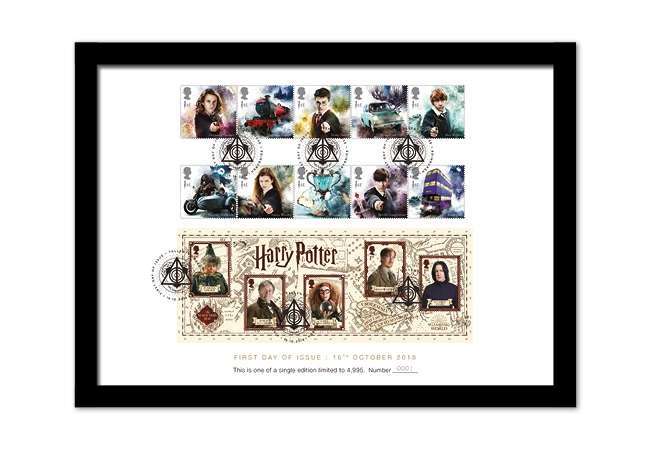 Pink Floyd, David Bowie, the Beatles. Giants of the international music scene, and most importantly, all home-grown talent.
That's why all of these artists have been commemorated at one point by Royal Mail, with their own set of official postage stamps, featuring a selection of their most famous albums.
But what I, and many others like me, love most about the original albums is the artwork that adorns their covers. The prism on Pink Floyd's The Dark Side of the Moon. The Beatles crossing Abbey Road – two of the most famous images in British popular culture.
And I know I'm not alone when I say "they don't make them like they used to!" But it's true.
My point is that after vinyl fell out of fashion (it still pains me!), many of these classic albums, these heavyweights of British culture, ended up in lofts, given to charity shops or just binned! Criminal! The fact is they should be presented, shown-off and displayed – like the pieces of art they are.

Framed Vinyl Classics
This was the driving force behind Framed Vinyl Classics. To give vinyl its place back in the home. Definitive tributes to some of the greatest artists and albums the UK has ever produced.
With our background in stamps, we were able to pair together the stamp and matching classic vinyl album to make a genuinely superb wall display. Giving each iconic cover the place it deserves in your home or office.

Multiple Sell-outs
So we can't say we've been surprised by how popular they have been with collectors. Because we collect them too. Editions for The Dark Side of the Moon, Ziggy Stardust and Abbey Road have all SOLD OUT, catapulting Framed Vinyl Classics from humble beginnings as art for enthusiasts to a genuine piece of must-have memorabilia for the fans.
First Look – Brand New Releases
Now, after listening to many requests for other albums, I'm very pleased to be able to show you for the very first time, more definitive tributes to some other of the all time classic Brit artists. The Clash, Led Zeppelin, Blur, Coldplay and Mike Oldfield are now available to order – all set to worldwide editions of JUST 250. Click here to see all the available presentations >>>
If you click on one the links above or below, you'll view a gallery of all the past and present Framed Vinyl Classics. Some have sold out of their strictly limited worldwide editions, some are on their way to doing just that, and some, like today, are brand-new – hot off the press.
And what further adds to the limited status of each framed presentation – the element highly desired by collectors – are the official postage stamps. Not only are they among the few issues to feature album covers, but some of the stamps are extremely scarce and are only available on the secondary market – you can't get them from the post office and won't see them on your letters.
You see, the stamps for the new presentations were released back in 2010, as part of Royal Mail's Classic Album Covers issue. Significantly, these stamps were issued before Facebook and Google – and the more effective means of showing these fantastic commemoratives direct to the fans. In other words, many fans of these bands probably still aren't aware these delightful pieces of memorabilia even exist! Which I guess makes this, a bit of an inside track (no pun intended).
One final point of interest to collectors, many of these stamps are so limited that Stanley Gibbons, the authority on everything stamp related, state that the Classic Album Covers stamps have increased in value by over 100% since their release, whilst the Beatles stamps from 2007 have increased in value by whopping 200%!*
But don't just take my word for it, nor the hundreds of collectors who have snapped up their own Framed Vinyl Classic. See for yourself by clicking the link here and view the Framed Vinyl Classics gallery.
* Stanley Gibbons, Collect British Stamps 2016.
---
If you're interested…