Queen Elizabeth II has graced UK stamps for 70 years, but now we're coming to the end of an era; Royal Mail have released their final commemorative stamp issue with the Queen's silhouette, celebrating the centenary of the world's most famous locomotive – Flying Scotsman.
So, before we steam ahead towards the BRAND-NEW Flying Scotsman editions, let's take a look back at Queen Elizabeth II's iconic 70-year reign in UK postage…
The beginning of Queen Elizabeth II stamps
1953 marked the beginning of Her Majesty's Reign and the introduction of the Wildings – a series of definitive postage and revenue stamps featuring Dorothy Wilding's portrait of Queen Elizabeth II, which were used up until 1967.
The first four stamps to be issued within this series were for Her Majesty's 1953 Coronation, presented in the colours of Carmine-Red, Ultramarine, Deep Yellow-Green and Deep Grey-Blue.
Commemorative stamps were then introduced during the 1950s and early 1960s. However, the Postmaster General, Tony Benn, proposed a new criteria outlining what could appear on them. From 1965, it was decided that all GB stamps had to include a small silhouette of the Queen based on the coinage head of Mary Gillick, which then became the standard.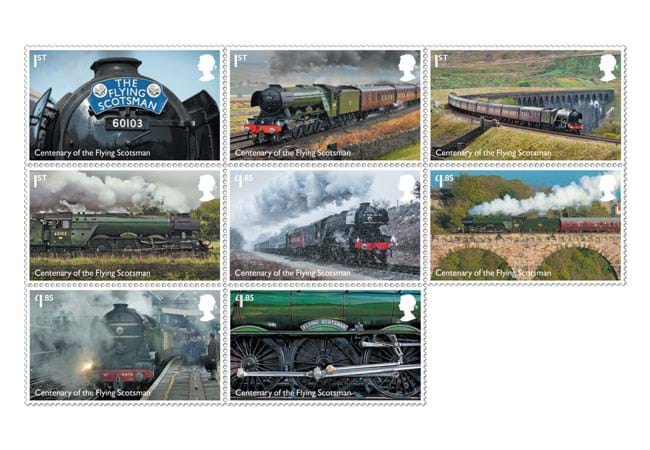 Two once-in-a-lifetime tributes
And now, Royal Mail have issued twelve commemorative editions featuring Flying Scotsman.
Not only are they the official UK stamps to mark the centenary of the world's most famous locomotive, but they will also be the last to show the Queen's silhouette after 70 years – marking two incredible moments in British history!
These nostalgic editions portray the steam locomotive travelling through North Yorkshire, Northumberland, Berwick-on-Tweed and London's Victoria Station. Inspired by poster artwork from the 1920s and 1930s, Royal Mail's spokesman David Gold intends for them to evoke "the golden age of steam travel".
Your chance to celebrate both!
To pay tribute to such monumental moments in history, a limited-edition coin and stamp cover has been released, comprised of The Royal Mint's Official UK 2023 Flying Scotsman £2 in Brilliant Uncirculated Quality along with Royal Mail's BRAND-NEW Flying Scotsman stamps.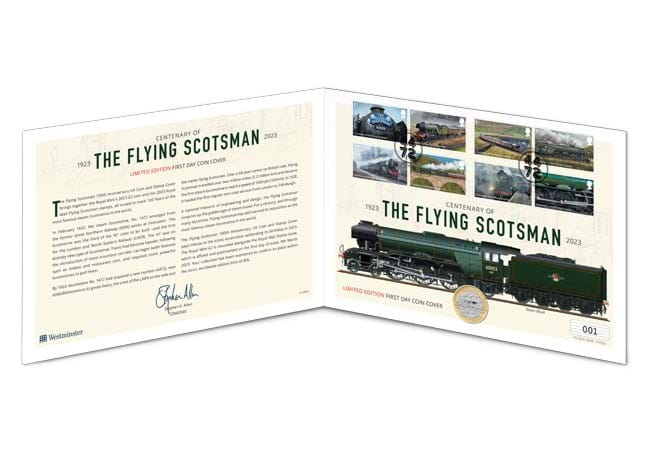 But considering these are the last UK stamps to feature Queen Elizabeth II, we are predicting insatiable demand – and we have already seen sell-outs at The Royal Mint for the Flying Scotsman coin range.
All steams ahead! Click here to secure one for your collection now >>
Queen Elizabeth II acceded to the throne on 6th February 1952. During her remarkable 70-year reign, she celebrated seven jubilees and was the first British monarch to receive a Platinum Jubilee. As our country's longest reigning monarch, Her Late Majesty's legacy cannot be overstated.
And today, a handful of collectors will be given a rare and unique opportunity to reflect on her most remarkable milestones with an exclusive ready-made collection. But considering how sought-after her commemoratives have become, this is why you don't want to miss out…
Extraordinary demand for Her Majesty's collectables
Queen Elizabeth II's influence on the collecting world has been immeasurable. And nearly six months after her sad passing, we are still witnessing excessive demand for commemoratives of her reign.
In fact, her signed Christmas cards are being sold for thousands on the secondary market, and her official UK coins are now selling out years later!
So, here's your opportunity to get ahead of the crowd and take a shortcut to becoming an official UK stamp collector with one click of a button…
The Official UK Queen Elizabeth II Jubilee Stamp Collection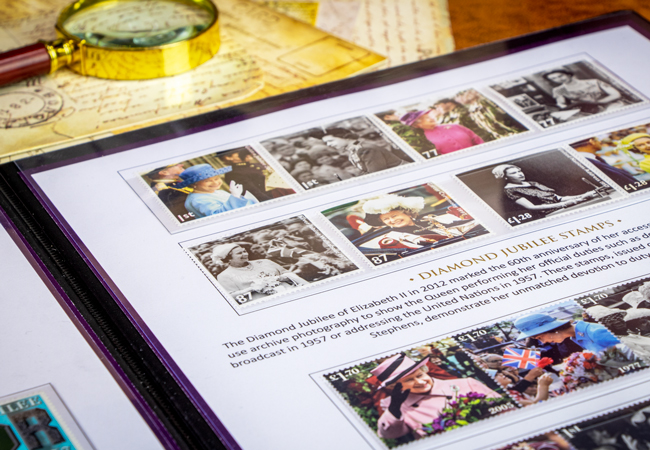 This traditional piece is essential for any collection. At a time more poignant than ever to collect Her Majesty's commemoratives, this is the perfect way to preserve her extraordinary legacy…
Comprised of the official UK stamps from her Silver, Golden, Diamond and Platinum Jubilee, this complete collection takes you on a journey through the most remarkable milestones of our longest reigning monarch.
Housed in a luxury folder preserving the stamps' pristine condition, your collection dedicates an entire historical retelling of each Jubilee to all the special UK stamp sets released for each celebration in 1977, 2002, 2012 and 2022.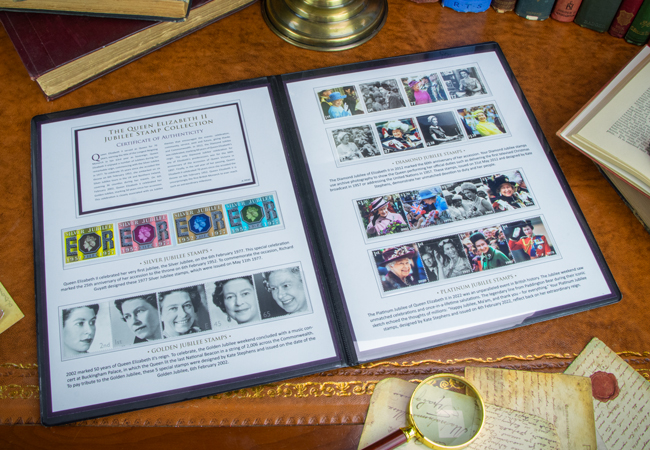 A shortcut to getting your stamp collection started
We are offering to do the hard-work for you by giving away this rare shortcut to becoming a serious stamp collector.
What's more, this collection is the key to saving you precious time and pennies. So, take the shortcut and own the entire collection with one click of a button!
And considering Queen Elizabeth II collectables are scarcer than ever, this is the easiest way to secure the entire range of Jubilee stamps in one complete collection. But with just a handful of collections available, make sure you don't miss out on securing such a unique traditional piece…
When a new monarch is crowned, collectors rush to find the perfect memento to commemorate the event.
For Queen Elizabeth II's coronation back in 1953, a huge range of coronation themed memorabilia was created, including some flagship coin issues. And some of these collectibles fetch hefty sums on the secondary market.
Sought-after Coronation Dishes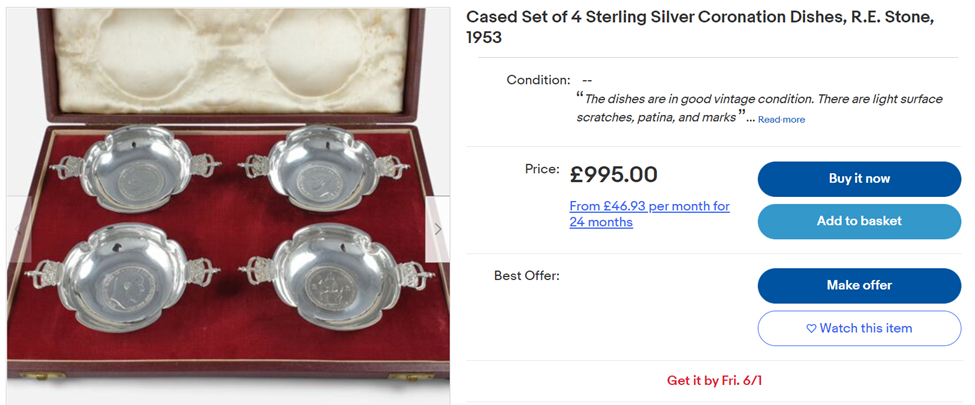 This set of silver 1953 coronation dishes by renowned silversmith, R. E. Stone are cast in the shape of the Royal Crown.
The bases are set with various coronation coins including a 1902 Edward VII crown, a 1935 George V crown, a 1937 George VI crown and a 1953 Elizabeth II crown.
A complete cased set of 4 of these coronation dishes in good condition have been listed on eBay for nearly £1,000! Always be cautious when purchasing collectibles on secondary sites – the best way to check the value of an item is to search sold listings on eBay.
Paragon Coronation Wall Plate and Royal Doulton Cup
Trays, plates and mugs were some of the most popular souvenirs issued to commemorate Queen Elizabeth II's 1953 Coronation.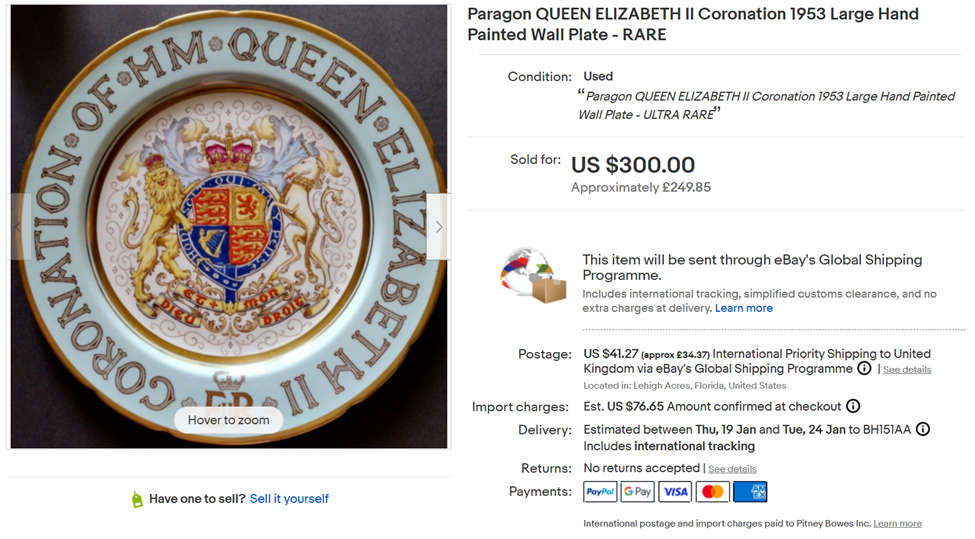 Listed as 'ultra rare', this hand painted 1953 Coronation wall plate by China manufacturer Paragon recently sold for nearly £250 on eBay.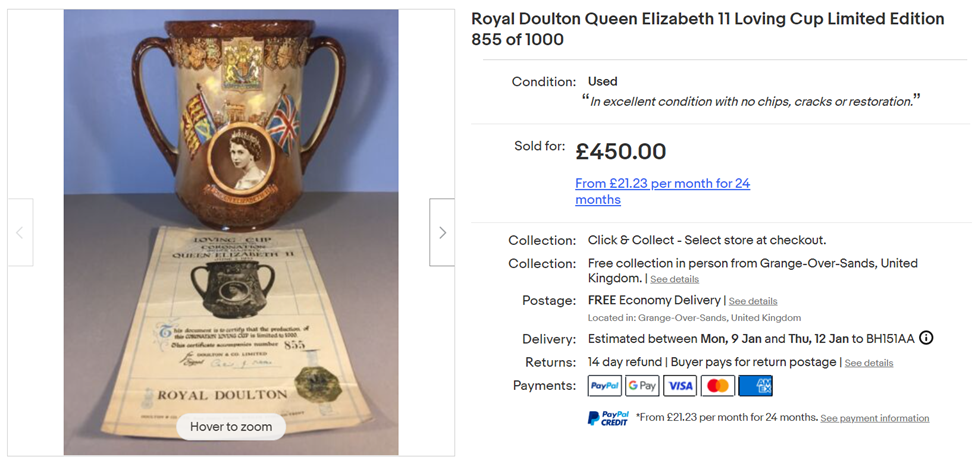 This stunning piece of Royal memorabilia recently sold for £450 on the secondary market. The Royal Doulton Queen Elizabeth II Loving Cup was listed with its original certificate, certifying that it was number 855 in an edition limit of 1,000. Edition limits play a huge role in driving collecting demand, so it's no surprise that this cup proved so sought-after.
Original 1953 Coronation Ticket
Original tickets to Queen Elizabeth II's Coronation are extremely sought after by collectors. Their time sensitivity makes them extremely limited.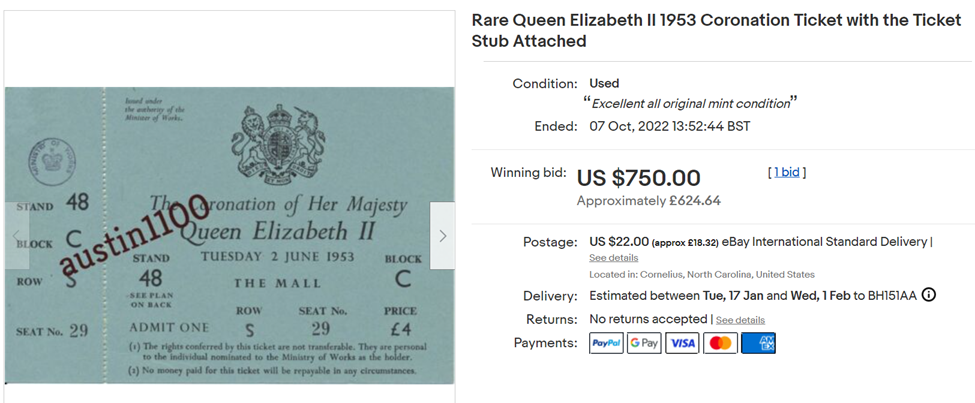 Coronation tickets without the stub attached range in price online from £200-£240. However, this official ticket with the stub still attached recently sold on eBay for more than £620!
Coronation Souvenir Biscuit Tin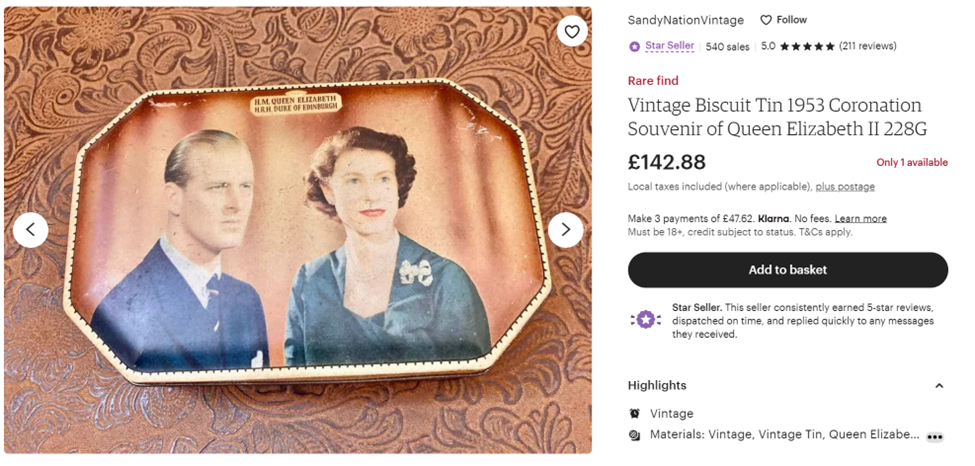 This vintage biscuit tin featuring a young Queen Elizabeth II and Prince Phillip was issued to mark the 1953 coronation.
These tins have been listed online for more than £142. Confectionery company George W. Horner also produced other coronation products such as toffee tins and mint tins.
---
Do you own any original 1953 coronation memorabilia? We're expecting demand to be extremely high for King Charles III coronation collectibles.
---
Sign-up for the latest news about King Charles III Coronation coins
Don't miss out on owning the very first King Charles III coronation collectibles. Sign up for all the latest updates below.
We will only use your details to contact you about King Charles III Coronation products.
Privacy Policy.