As I'm sure you already know, this year Her Majesty marks her 95th Birthday. This is an incredible milestone and an important moment in British history that has been rightfully remembered on some fantastic commemoratives.
But there's one particular issue that, for me, stands heads and shoulders above the rest…
Introducing the Diamond Masterpiece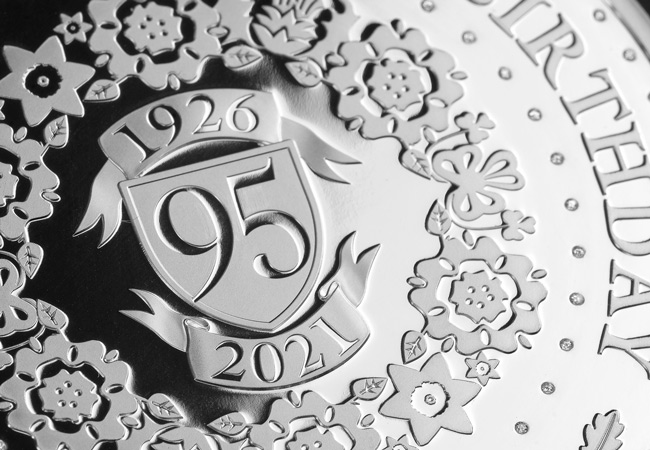 The name 'Masterpiece' really is appropriate for this coin, and I would almost say that it hardly does justice to this incredible release which is the pinnacle of craftsmanship. Cutting edge minting techniques and materials have been used to create this special commemorative.
Containing NINETY FIVE Actual Diamonds – one for each year of Her Majesty's life
The coin itself has been struck to an incredible 65mm from FIVE OUNCES of .999 PURE SILVER. The coin is fully approved by Buckingham Palace and the Queen and is the perfect heirloom for you and your family to commemorate the occasion.
And around the outside of the designs are 95 diamonds representing the years of Her Majesty's life. This is an incredible feature and a real feat of numismatic innovation.
As I am sure you can appreciate, given all of the individual elements that have to be carefully curated for each individual coin, the edition limit as a consequence is incredibly low. In fact, only 195 of these coins have been produced.
JUST 195 AVAILABLE – secure yours while you can!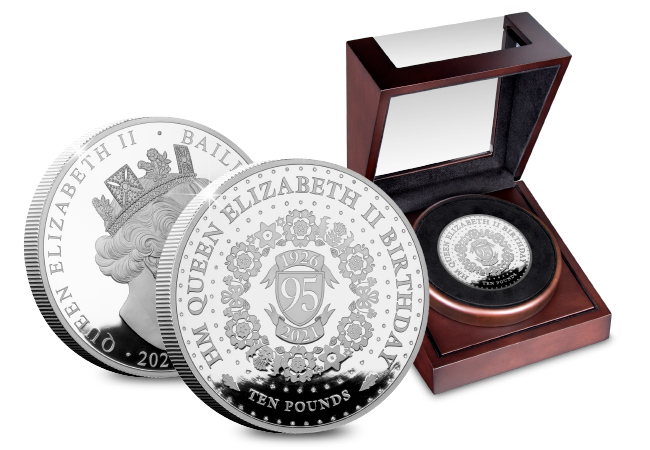 The Queen's 95th Birthday Diamond Masterpiece Coin is available to own right now from The Westminster Collection, although these numismatic masterpieces are expected to sell out quickly.
This morning, not just one but SIX brand new British Isles 50p coins were released to celebrate Her Majesty's 95th Birthday.
They feature six portraits of the Queen charting the years of her reign, and in my latest video I take a closer look and tell you EVERYTHING you need to know...
---
If you're interested…

Since 1952, the Queen has celebrated her official birthday on a different date each year. In fact, for the past five years alone she has celebrated her birthday on the 8th, 9th, 10th, 11th and 13th June, and next week she will celebrate her birthday on the 12th!
Now you're probably wondering how this can be… and that's because the Queen actually has two birthdays every year.
The first is on the actual day the Queen was born – 21st April 1921 – meaning that in April this year she marked her 95th birthday, although the celebrations were far more muted than normal.
Currently the reigning monarch's second birthday is an official birthday on the second Saturday in June – a practice that dates back as far as 1748.
When King George II was the sovereign, the annual military procession (which later became the 'Trooping the Colour' parade) became synonymous with celebrating the monarch. However, King George II's birthday was in October, and since good weather couldn't be guaranteed for the annual parade in autumn, he decided to mark the date in the summer instead when there was a better chance of good weather.
And so, the tradition to celebrate the monarch's birthday in the summer stuck, and each summer the Queen gets the chance to celebrate her birthday again!
This year 12th June will mark a particularly special birthday for the Queen. Turning 95 is a milestone achievement – less than 1% of the population reach this impressive age, so it's no wonder that the Queen's June birthday is set to be an important moment for the country and collectors alike.
And with the Queen's 95th birthday being such a milestone achievement, many commemoratives were issued to mark the occasion in April. Since then we have seen repeated sell-outs.
But there's one commemorative that has been issued specifically to mark the Queen's official birthday that only 750 collectors will have the chance to own.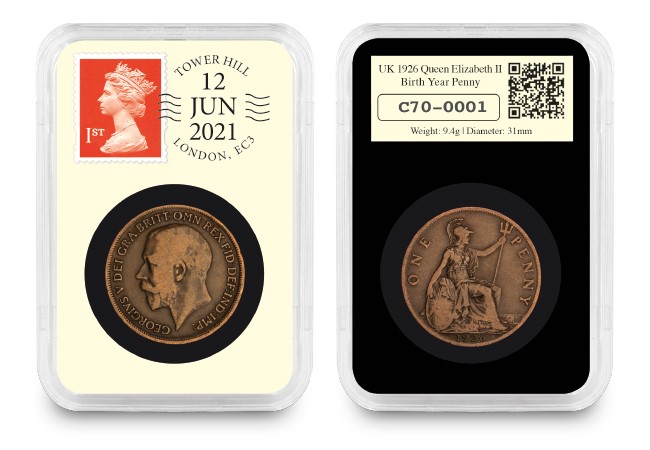 The Queen's Official 95th Birthday Penny DateStampTM is set to be released on the 12th June. Most notably, this commemorative contains an original penny struck in 1926, the year the Queen was born. Each one has been individually capsulated and postmarked with the Queen's official 95th birthday – 12th June 2021. What's more, the one day only postmark ensures that the edition limit is guaranteed and that no more can ever be produced.
With such a limited number available, this DateStampTM issue is sure to be another sell-out as collectors aim to pay tribute to the Queen's milestone birthday and her longevity. You can be one of them today by clicking the link below.
---
If you're interested:
You can pay tribute to our longest reigning monarch by pre-ordering the Queen's Official 95th Birthday Penny DateStampTM here. Only 750 will ever be issued, so you'll need to be quick.