As I'm sure you know, this year we celebrate the milestone 95th birthday of our monarch, Queen Elizabeth II.
This is a crucial moment in our country's history. She is longest reigning head of state that the UK, and in fact the world, has ever seen. Amazingly, 81% of the British population has been born following her coronation, so she is the only monarch that the majority of us have ever known.
This makes her reign one of the most important and impressive in Britain's history.
To mark this momentous occasion The East India Company has issued a special limited edition Gold Proof Sovereign that's frankly the most important gold coin in the world right now.
You'll understand when you see the design and the edition limit. These two things are going to make this Sovereign one of the most sought-after gold coins in history, and the very pinnacle for all collectors looking to mark the Queen's birthday…
Nostalgic Mary Gillick Portrait
It goes without saying that Sovereigns are one of the most collected coins in the world. Known in the 19th century as 'the chief coin of the world' it has maintained its global reputation for accuracy, integrity and beauty.
Whilst the reverse of this Sovereign depicts the iconic image of St George slaying the dragon, it's the obverse that's going to have collectors rushing to secure this coin.
You see, The East India Company has been given special permission to use the very first official portrait of the Queen by Mary Gillick on this coin's obverse, making this the first time it has been seen on a Sovereign for over 50 years.
Significantly, the Gillick portrait was the first effigy of Her Majesty to be used on UK coin. This nostalgic effigy, emphasising the Queen's youth and vitality, represents the beginning of her reign and is the perfect tribute to her impressive reign and legacy.
Over Ten Times Rarer than the UK Proof Sovereign
Importantly, the East India Company Gold Proof Sovereign is struck to the same exacting standards as the UK sovereign – in 7.98 grams of 22 Carat Gold. All that differs is the design and – crucially – the edition limit.
It has a strict single coin worldwide edition limit of 750, which when compared to the significantly higher UK 2021 Gold Proof Sovereign edition limit of 7,995 makes this coin over TEN times more limited.
What's more the UK 2021 Gold Proof Sovereign was also issued specially to mark the 95th birthday of Her Majesty the Queen, and it completely SOLD OUT at the Mint inside nine weeks of release!
The Most Important Gold Coin in the World Right Now
It's clear that there is high demand this year for commemoratives marking the Queen's birthday – and it's only February!
Whilst I suspect we will see many more commemoratives for Her Majesty's 95th birthday, this Sovereign is undoubtedly the most significant. Frankly, it's the most important gold coin you can find right now in the world.
The scarcity of these Sovereigns alone will make them highly sought-after amongst collectors, but when you consider the historic use of the Mary Gillick portrait – not seen on a coin for 50 years! – I'm sure they will be at the top of every collector's must-have list.
Especially if the sell-out of the UK 2021 Sovereign is anything to go by, these coins will be snapped up in a flash.
---
If you're interested…
It's clear that any collector looking to secure one of these rare coins will have to take urgent action.
As an Official Distributor of The East India Company, we are lucky to have a limited number of these significant Sovereigns available for Westminster Collection collectors.
But with so few available, and demand for Queen Elizabeth II commemoratives already at an all-time high, we do not expect that we have enough coins to go around. Therefore, these coins are offered on a strict first-come, first-served basis.
Each year, The Royal Mint marks important British anniversaries, events or accomplishments on our coins and today I'm delighted to reveal the UK's new coin designs for 2021.
What's more, you have the opportunity today to secure them in a variety of different presentations or specifications – I'm sure there is something for everyone.
Simply read on to discover how you can be one of the first UK collectors to add these coins to your collection…
FIVE new UK commemorative coins
The Royal Mint has just announced the five new commemorative coins for 2021, issued to mark a variety of occasions and landmark anniversaries that we'll see over the coming year:
The Queen's 95th Birthday £5 – marking Her Majesty the Queen's 95th birthday which she'll celebrate on 21st April 2021.
Sir Walter Scott £2 – celebrating the 250th anniversary of his birth and his literary legacy.
H. G. Wells £2 – commemorating the life and works of the renowned sci-fi author in the 75th anniversary of his passing.
John Logie Baird 50p – marking the 75th anniversary of his passing as well as his ground-breaking contributions to science.
Decimal Day 50p – a tribute to the greatest biggest change in British currency in over 1,000 years that took place 50 years ago.
The five new commemorative coins are accompanied by the eight definitive coins from the 1p to the £2, all newly dated for 2021. The coins in the set feature the Jody Clark effigy of Queen Elizabeth II, all except for one…
Special Decimal Day 50p obverse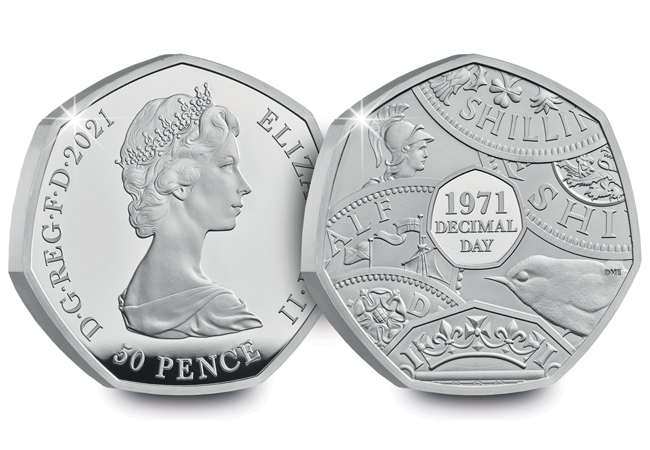 In this landmark year where we celebrate the 50th anniversary of decimalisation, the Decimal Day 50p in the Annual Set has a very special and nostalgic design feature, which is sure to excite collectors.
You see, this coin – the only one in the set – features the Arnold Machin effigy on its obverse. This is the second effigy of the Queen to feature on UK coinage, and was introduced specially for the first decimal coins – it's a fitting tribute to decimalisation!
Significantly, the only way you can own this special coin is by owning the complete Annual Set – you won't find it anywhere else.
UK 2021 Annual Coin Set BU Pack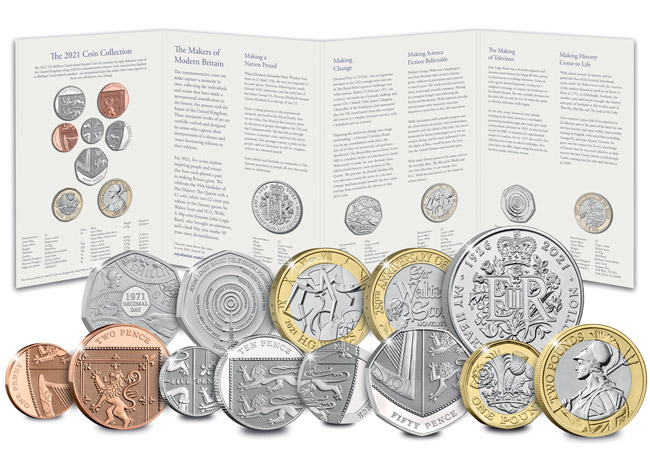 To give as many collectors as possible the chance to own these highly sought-after coins, The Royal Mint has issued them in Brilliant Uncirculated quality, which is coveted by collectors as it means each coin is free from any marks you would find on circulated coins.
In this BU Pack you'll find the five brand new commemorative coins alongside the eight definitive coins from the 1p to the £2, all newly dated for 2021.
Each one is protectively encapsulated in its attractive original packaging from The Royal Mint to preserve its quality for generations to come. What's more, you can secure this BU Pack for The Royal Mint's official issue price of just £55 (+p&p). Click here to find out more >>
This set of coins is also available as a CERTIFIED BU Commemorative Coin Set for £40 (+p&p). Click here to find out more >>
UK 2021 Annual Collector Proof Coin Set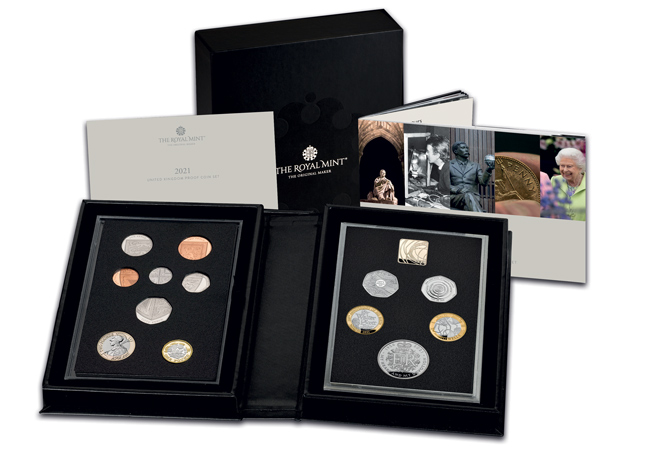 Whilst being struck from base metal, the coins in this set have been struck to a stunning superior Proof finish. This set also includes the five new commemorative coins alongside the eight definitive coins from the 1p to the £2, all newly dated for 2021.
Just 7,000 sets have been released worldwide in this limited edition presentation – that's under half the edition limit of previous issues that have completely sold out. So, it's expected this set will be extremely sought-after.
You can order the UK 2021 Annual Collector Proof Coin Set here with a down payment of just £31 (+p&p) followed by 4 further interest-free instalments – that's the Royal Mint issue price. Click here to find out more >>
UK 2021 DateStamp™ Specimen Set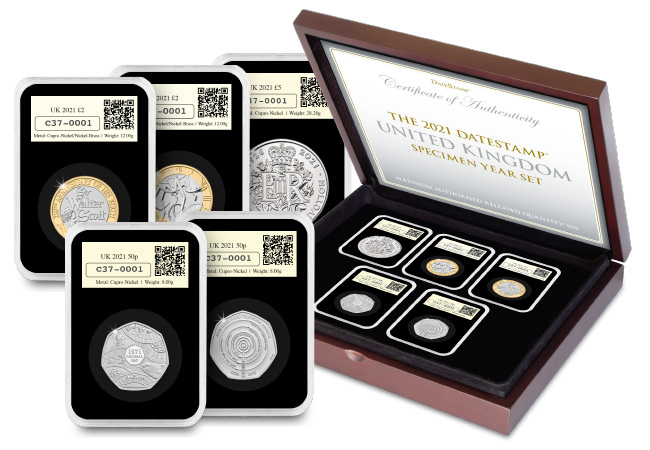 The most limited way to own the five new 2021 commemorative coins is by securing the UK 2021 DateStamp™ Specimen Set. In fact, JUST 995 collectors worldwide can own this unique set.
What truly sets the 2021 Specimen Year Set apart from all other 2021 Annual Sets is the fact that it is forever set in time by the official Royal Mail postmark that marks the coins' first day of release – 1st January 2021.
Each coin is struck to the highly desirable Brilliant Uncirculated quality, and come individually presented in tamper-proof capsules. What's more, each set has a unique serial number, confirming its place in the tiny edition limit, and you can even register your set online to guarantee its provenance!
This annual set has a track record of completely selling out within a matter of days, so if you want to secure a set for yourself you'll need to be quick. You can reserve yours with a deposit of just £22. Click here to find out more >>
Whether it's in person or virtually this Christmas, we are ready to start singing from the hymn sheet as one of our favourite times of year approaches. And to make it even better, we can now reveal with great excitement our brand new Christmas Carol 50p Coins!
The tradition of singing Christmas Carols during the festive period dates back to the 19th century. In fact, it is believed that the Christmas Carol Service was invented in Truro by Edward White Benson, who later became the Archbishop of Canterbury.
These stunning new festive 50p coins celebrate some of the most renowned Christmas carols and I'm sure there are many of us, myself included, with very fond memories of singing carols throughout the festive season.
The FIVE new coins have been issued by Guernsey Treasury and are fully authorised by Her Majesty the Queen. Each feature a specially commissioned design by artist Jo Goodberry (you may remember she designed the incredibly popular Pantomime 50ps last year), including; Away in a Manger, Hark the Herald Angels Sing, O Little Town of Bethlehem, While Shepherds watched their flocks, and We Three Kings.
So whether you're looking for the new centrepiece for your collection, you're an avid 50p collector, or you're looking for the perfect Christmas gift for a loved one, I'm sure you'll love these new 50p coins.
Find out more about the different ways you can own these wonderful Christmas Carol 50p Coins below:
The Christmas Carol 50p Brilliant Uncirculated Coin Collection Pack
Over the last couple of years, new 50p coins have launched a whole new generation of collectors and so demand for these latest 50ps is expected to be very high. The coins will arrive ready to display in a customised presentation pack. You can secure the complete set of FIVE TODAY for only £30.00!
The Limited Edition 2020 Christmas Carol Silver Proof 50p Coin Collection
The coins you can see here have all been struck from .925 Solid Silver to a pristine Proof finish and feature selective colour printing. Importantly, this set is one of the only ways you can own all five of these designs. None will be released individually. With an extremely limited worldwide mintage of JUST 2,020 they're not expected to be available for long.
Click here to secure yours today >>
The 2020 Christmas Carol 50p Christmas Card
The new Brilliant Uncirculated 'Hark the Herald' Christmas 50p is the only coin from the collection to be available on its own within this stunning Christmas card. What better way is there to wish family and friends a very Merry Christmas? Priced at just £7.99 it's the perfect way to get ahead with your Christmas shopping this year.
The Christmas Carol Ultimate 50p Coin Cover
The ULTIMATE Stamp and Coin Cover is also available for pre-order. Featuring all five coins in Brilliant Uncirculated quality, this cover has been carefully paired with the elusive 1982 Royal Mail Christmas Carol stamps. These stamps are not easy to get hold of, and only 750 covers are being released worldwide with a postmark on the first day of Advent – 1st December 2020.
---
Prices start from just £7.99 so if you're interested please click here to see the whole range >>