Posts Tagged 'numismatics'
The Royal Mint have officially released a brand-new series of coins, taking collectors on a journey through an incredible legacy of cinematic history.
From the 60s, all the way through the noughties to present day, the new seven-coin series features none other than the suave and sophisticated, James Bond.
The 60's
The first coin starts us off in the swinging 60s, with 'You Only Live Twice'. The classic gun sight background and iconic 007 logo adorns the reverse, alongside an excellent depiction of autogyro 'Little Nellie' and Sean Connery's adaptation of James Bond in the driver's seat.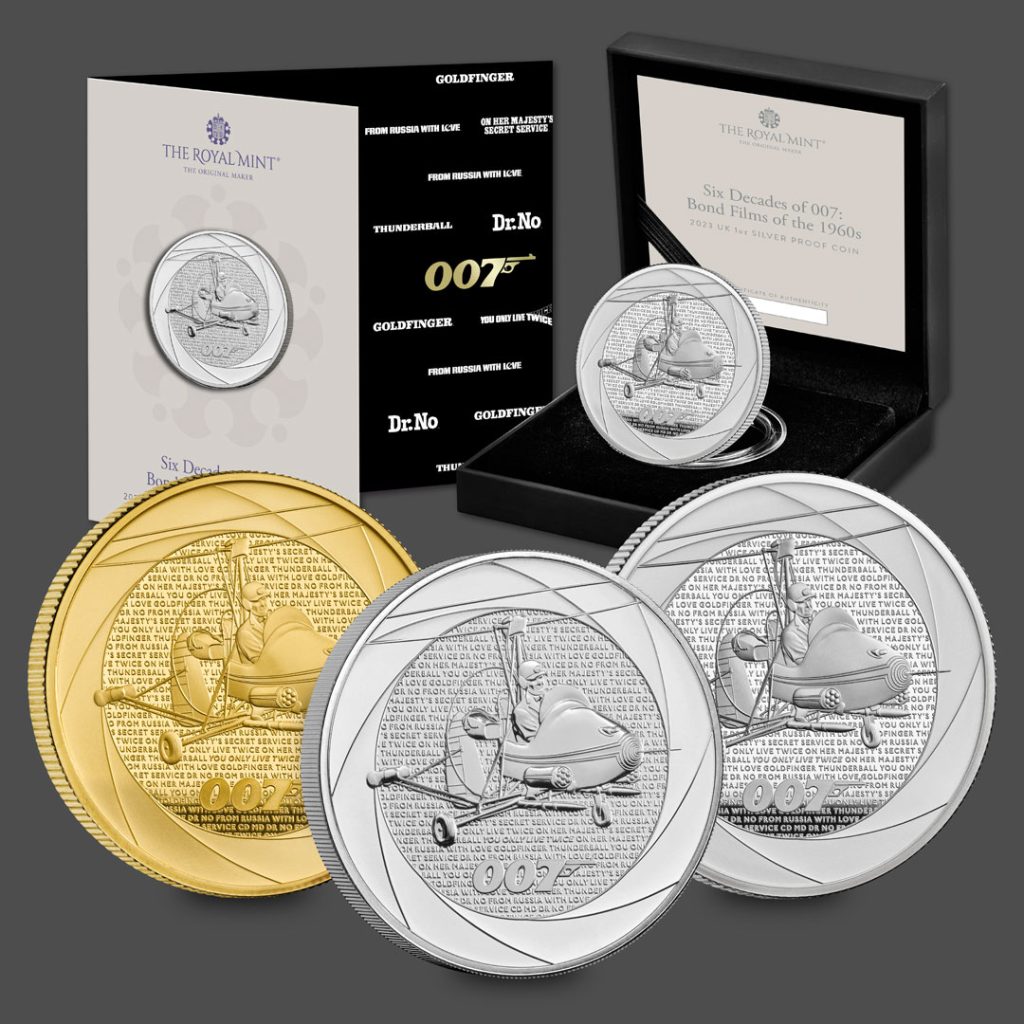 The Edition Limit
The Silver Proof edition of this coin – by far the most popular with collectors – has an edition limit of just 4,007 (do you see what they did there?). Now, let me put this into perspective…
In 2020, The Royal Mint released three, 1oz Silver Coins for James Bond – the first of its kind – each with an edition limit of 7,007 coins. All three coins completely sold out.
These coins are now highly desired by collectors. In fact, securing them on the secondary market can be a real chore given the scarcity and collectability of any piece of Bond memorabilia.
So, with an edition limit that is almost HALF that of the sell-out coins, these new coins are virtually guaranteed to be snapped up.
How you can secure yours
Should you wish to secure the limited Silver Proof version of this coin, or perhaps the Brilliant Uncirculated coin in official Royal Mint packaging, you can click here >>
What's more, by securing your coin today you can be added to the Priority List, which will give you priority access to all future coins in 'Decades of Bond £5 coin series'…

Christmas is just round the corner, and before you know it, you'll be singing Jingle Bells, drinking mulled wine and digging your way through boxes and boxes of chocolates.
But, what else does that mean most importantly?
A whole selection of Christmas 50ps!
FIVE brand new Father Christmas 50p coins have just been issued by Jersey for Christmas 2023. Take a look at the video below…
Collectors have been rushing to secure their favourite specifications and Christmas coin releases notoriously have sold out way in advance of Christmas in previous years.
So if we've put you in the festive mood, click here to view our whole range >>
PLEASE NOTE: The Father Christmas Colour BU 50p Set is already SOLD OUT.
---
The Father Christmas BU 50p Set
Beautifully made up of each of the brand new Father Christmas 50ps, this set arrives in a bespoke festive presentation pack. It's one of the only ways to own all five of these coins as a complete set.
Each 50p has been struck to a superior Brilliant Uncirculated Quality. So whether for family, a fellow collector, or as an early Christmas gift to yourself – this is a MUST-HAVE set.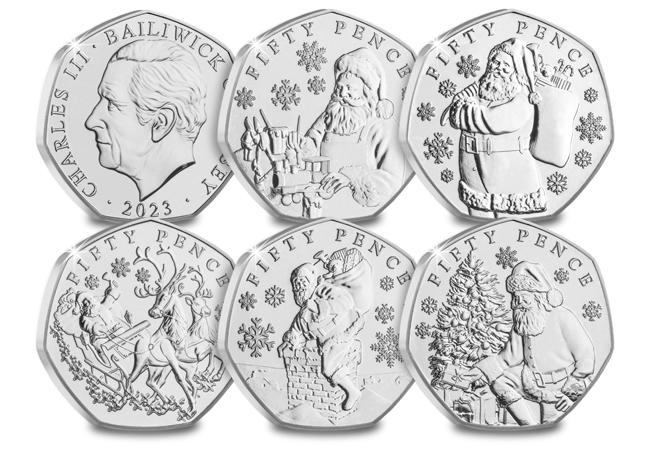 ---
The Father Christmas Silver Proof 50p Set
It wouldn't be Christmas without a Silver Proof 50p set.
Each 50p design has been brought to life through vivid colour printing in this set, standing out with a stunning Proof Finish.
The set arrives in a deluxe Presentation Case, alongside an individually numbered Certificate of Authenticity. With just 500 sets available worldwide, this is a rare gift giving opportunity.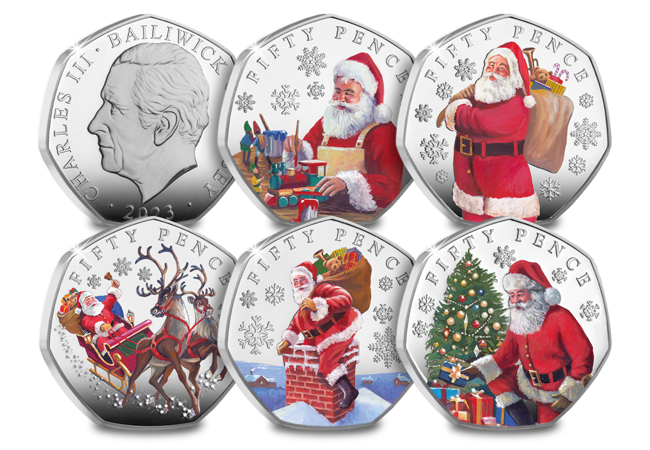 ---
The Father Christmas BU 50p Christmas Cards
The perfect Christmas card to give to family and friends.
This Brilliant Uncirculated 50p coin arrives safely encapsulated in a winter scene Christmas card, ready for you to fill with your own personalised message.
Available in non-colour and colour!
Click here to secure your colour BU 50p card >>
Click here to secure your non-colour BU 50p card >>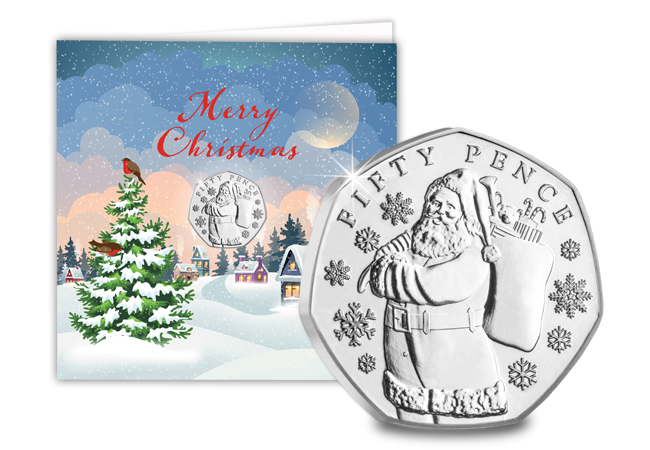 ---
The Father Christmas Mint Masters Set
What makes this 50p set so special?
Consisting of TEN brand new 50p coins, the Mint Masters set features the Silver Proof Colour and a Mint Masters EXCLUSIVE – the non-colour Silver Proof 50ps paired with them.
Only 100 collectors will be able to say they own both of these stunning Silver sets in a deluxe wooden presentation case, also arriving with a signed Christmas card by the artist responsible for your Father Christmas 50p designs, David Young.
Click here to find out more >>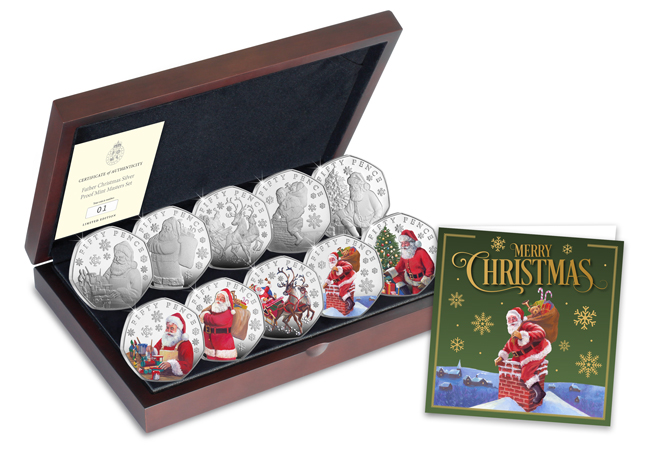 ---
Remember, you can also view the whole range by clicking here >>
When you think of the original pioneers of computer science, names like Charles Babbage and Alan Turing might come to mind.
But what if we were to tell you that there was someone else who played a pivotal role in building the foundations of modern computing – Ada Lovelace.
Nicknamed 'The Enchantress of Numbers' by Charles Babbage himself, Ada Lovelace is the next innovator in science to be honoured on a brand-new UK £2.
First, let me take you back…
A Mathematical Talent
Ada Lovelace was born in Victorian England and quickly gained an interest in mathematics and science. At the age of just 18, Ada's mathematical talent secured her a working position alongside 'The Father of Computers' himself, Charles Babbage.
This allowed Ada to focus her work on something revolutionary: Babbage's Analytical Engine – the first ever computer.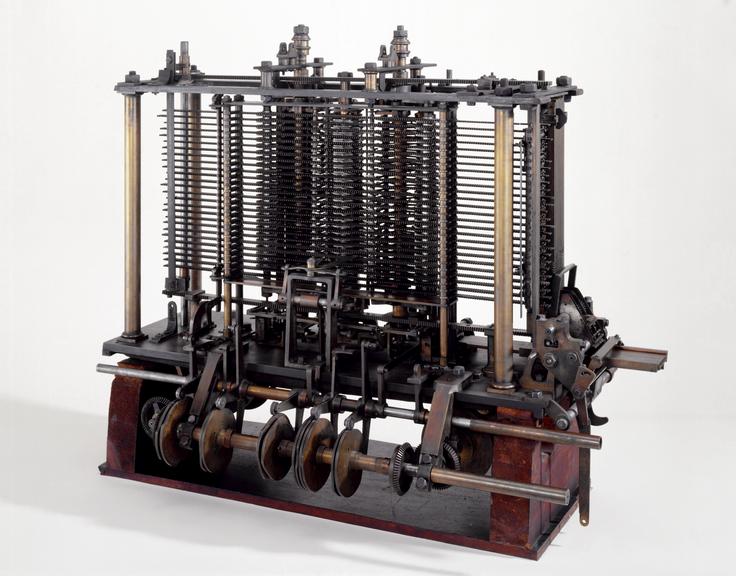 A Visionary of the Computer Age
At the time, Charles Babbage and other scientists only focused on the numerical and calculating abilities of the famous Analytical Engine. But, Ada Lovelace had other ideas…
She was a critical thinker and knew that the computer had the possibility to go beyond number-crunching; she interpreted the machinery further than anyone else was even considering at the time…
Ultimately, she concluded that the Analytical Engine could manipulate more than just numbers. In fact, it could be used for letters, symbols, and most importantly – instructions.
This built the foundations of modern computing as we very know it.
Ada Lovelace's revolutionary contributions were revealed to the industry in 1843 in the form of seven 'Notes'. In these Notes, Lovelace provided comprehension, calculations and inputs about the machine and its abilities – resulting in her title as the first ever computer programmer.
And now, to honour such a revolutionary mindset, Ada Lovelace is being celebrated on a brand-new UK £2 coin.
The Ada Lovelace £2 Coin Range
Commemorating Ada's contributions to computer science, she's earnt herself a well-deserved place in The Royal Mint's popular Innovation in Science coin series.
With a design that depicts the original punch cards that were used to programme the Analytical Engine, the coin's reverse also reads a quote from Lovelace herself – "a discoverer of the hidden realities of nature".
What's more, this UK £2 coin range comes in a range of specifications…
From the collector's favourite – Brilliant Uncirculated quality – to the stunning Silver Proof and Silver Piedfort specifications, there's something for everyone.
But be warned – with extremely low edition limits and even less for Westminster Collectors, you'll have to act fast to secure yours!
Click here to view the full range and celebrate one of the most remarkable minds in British history >>