Posts Tagged 'numismatics'
From an Astronaut, Pirate or Knight we're sure nobody will want to miss this upcoming release!
That's because we're delighted to confirm that a brand new collection of British Isles 50p coins are set to feature the bowler hatted everyman – Mr Benn!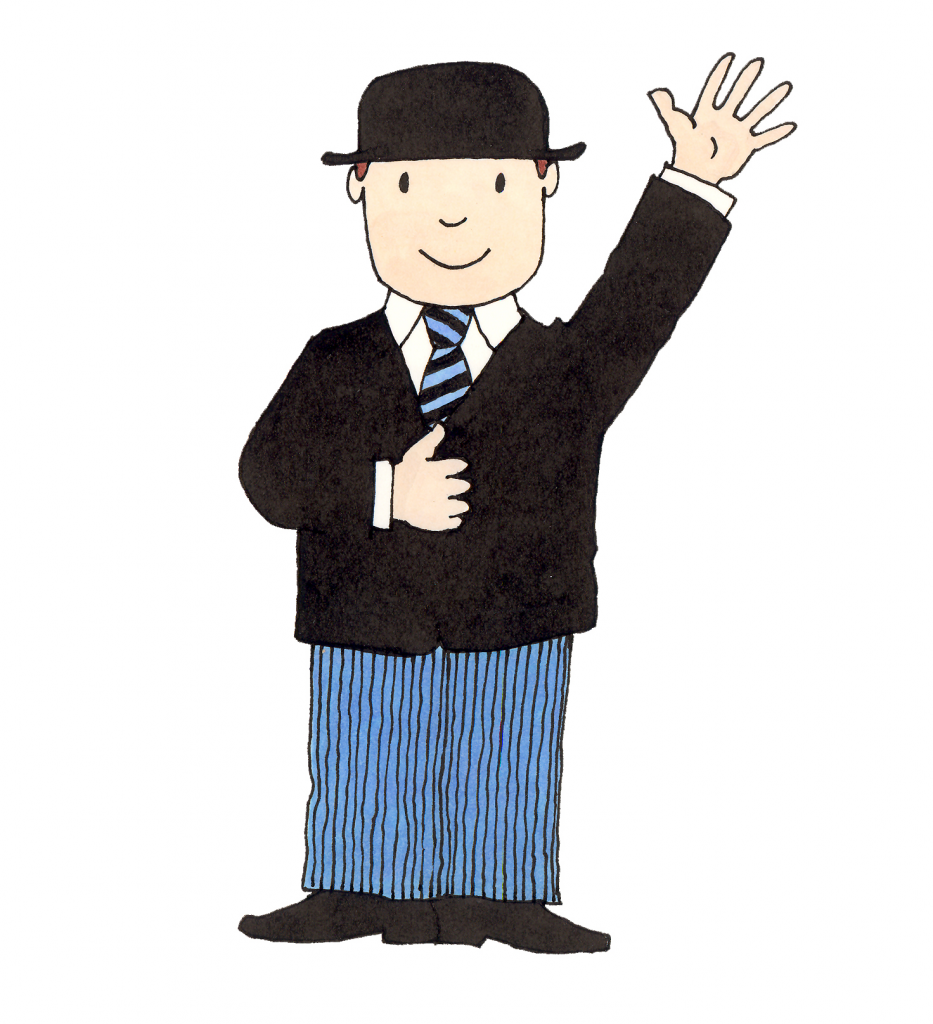 Here's what we know so far…
To celebrate Mr Benn's 50th birthday this year, a number of official 50p coins will be released, authorised by Guernsey Treasury.
We can't confirm any other details at the moment except there will be a single Mr Benn Anniversary coin with a design inspired by the logo. There will also be a collection of FIVE Silver Proof coins, featuring stunning colour print!
The coins are due for release in April so it isn't long until we can see them for ourselves.
If you want to be kept up to date, and first in the know the release of these brand new Mr Benn 50p coins, then register your interest below. We will only contact you with regards to this launch, your details will not be used for any other purposes.
Register your interest:
The Gold Sovereign is undoubtedly one of the most famous gold coins in the world. It's a classic piece of coinage that is coveted the world over and is highly sought after every year by thousands of collectors.
But have you heard of a Piedfort Sovereign? They're incredibly rare and are some of the most highly sought-after issues I've ever seen – demand for the first UK Piedfort Sovereign was so high that it sold out within 24 hours!
Now, in its 165th year, the Perth Mint has created numismatic history by releasing the first ever Australian Piedfort Sovereign.
Crucially, there are three key reasons why this limited edition coin is set to be the most collectable and sought-after Sovereign ever issued…
1. It's a piece of numismatic history
The Australian Sovereign is as close to a well-kept coin secret as you're going to find. It's been struck every year since 1855 to the same exact specification as the UK Sovereign.
Importantly, this is the very first time the Australian Sovereign has been struck to a Piedfort specification. This makes it a significant piece of numismatic history, as it is the first-of-its-kind to ever be struck.
But it's not only the Piedfort specification that makes this coin historically significant. The classic Australian Sovereign design features a special one-year-only "165" privy mark, to mark the 165th anniversary of the first Australian Sovereign. The Sovereign is the 'King of Coins' so this superior issue couldn't be a more fitting tribute.
These two facts alone make this issue incredibly desirable and will make it a priority for collectors in the future.
2. Superior, highly collectable specification
In the 12th century Piedforts were considered prestige pieces and ownership was often used to signify a person's wealth and power. Today, Piedforts continue to be limited issues and striking of such pieces is reserved strictly for the most important events.
Struck on double thickness blanks, Piedforts are twice the weight and contain twice the amount of precious metal as their standard coin counterparts. They're some of the finest examples of coin craftsmanship you'll ever see.
What's more, they have tiny edition limits and consequently fast sell-out rates. This makes them some of the most collectable coins around.
3. Sell-out all but guaranteed
I saved the most significant point for last. You see, when the very first UK Piedfort Sovereign was released in 2017, with an edition limit of 3,500, it completely sold out within 24 hours at the Mint.
Compare this to the very first Australian Piedfort Sovereign, with a worldwide edition limit of 350 coins. Yes, you read that correctly, JUST 350 single Australian Piedfort Sovereigns have been issued – that's a mere TENTH of the number of UK Piedfort Sovereigns that sold out in 24 hours.
The high demand of Piedfort Sovereigns suggests that we are looking at a record-breaking sell-out.
---
If you're interested…
As official Perth Mint distributors we have been fortunate to secure a limited number of these limited edition Sovereigns for UK collectors. Just 350 have been issued worldwide, making it ten times rarer than the first ever UK Piedfort Sovereign that sold out within 24 hours of release.
Considering that this coin is a numismatic 'first' very few will make their way out of Australia, meaning your chances of owning one are very limited. Don't hesitate, click here for more information >>
Whether you love them or hate them, it's fair to say that when the Bank of England issued the very first polymer banknotes, UK currency was revolutionised. As well as refreshing the designs of the notes, these polymer versions were considered a cleaner, safer and stronger alternative.
In 2016 it was the £5 that received the first makeover, and Winston Churchill was selected to feature on the note. Jane Austen soon followed on the £10 note and now, as chosen by the British public, renowned artist JMW Turner graces the new £20 polymer note.
But it's not only the design that makes this note special. You see, the Bank of England have described this note as the most secure banknote yet. So, I'm of course curious to see what special security features have been worked into the design of our newest banknote…
Britain's most secure banknote
Before the revolutionary polymer £20 came along, there were over 2 billion £20 paper notes in circulation. The sheer volume of them made the £20 note Britain's most used, and consequently most forged, banknote.
So it's understandable that the need to make it difficult to counterfeit was at the forefront of the designer's mind! The result? A whole host of special features that make it harder to forge and stand out from other notes in circulation.
Let's take a closer look at some of the security features incorporated into the design: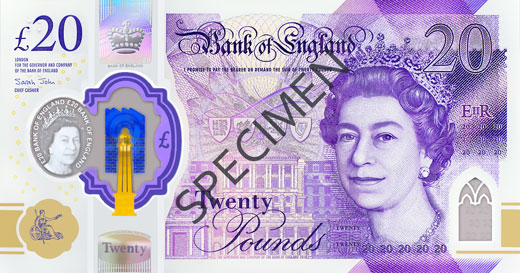 Transparent windows – the foil in the large see-through window is blue and gold on the front, and silver on the back. Plus, there's a second, smaller window in the bottom corner.
Changing holograms – the hologram beneath the large clear pane will alternate between reading 'Twenty' and 'Pounds' depending on what way you tilt the note.
The Queen's portrait in the transparent window – the Queen's portrait is printed on the window with '£20 Bank of England' printed twice around the edge.
Foil patches – a silver foil patch contains a 3D image of the coronation crown. There is a second purple foil patch which contains the letter 'T'.
Ultra-violet technology – under UV light, the number '20' appears in bright red and green on the front of the note, against a duller background.
Raised dots – you'll find three clusters of raised dots in the top left hand corner. This tactile feature helps blind and partially sighted people identify the value of the note.
JMW Turner design
When choosing the design for the £20 note, the Bank of England were spoilt for choice. They received over 29,000 nominations submitted by the general public. And the choice to select JMW Turner makes him the first British artist to ever feature on a UK banknote.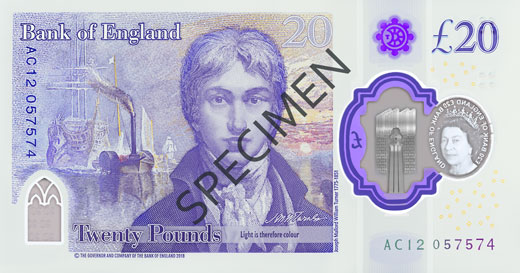 The note itself features Turner's 1799 self-portrait, which is currently housed in the Tate Modern in London. And behind this you'll notice one of his most recognisable works – The Fighting Temeraire. This famous painting is a tribute to the ship that played a pivotal role in in Nelson's victory at the Battle of Trafalgar in 1805.
The final nod to Turner in the design comes from the quote "light is therefore colour", alongside the signature taken from his will. The quote is taken from a lecture Turner gave in 1818 and is a reference to his innovative use of light, shade, colour and tone.
What do you think about the new £20 Polymer note? Let us know in the comments!
---
If you're interested…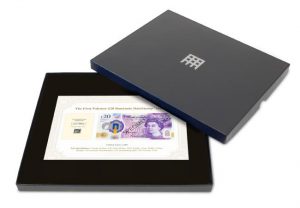 If you're looking for a way to own this significant, revolutionary piece of British currency, then look no further than the UK 2020 £20 Polymer Banknote DateStamp™ issue. Each DateStamp™ issue has been postmarked by Royal Mail with the note's first day of release – 20th February 2020 – forever ensuring its provenance.
First issues are always valued by collectors and by owning the DateStamp™ issue you will be one of just 2,500 collectors able to forever mark the date the new £20 polymer banknote entered circulation. We have a limited number available, so click here to find out more >>