Posts Tagged 'numismatics'
Almost 50 years ago, the ten bob note was in every wallet, purse and pocket in Britain. The 10 Shilling banknote would have been recognisable to every schoolchild in Britain, a fact that certainly isn't the case today!
Worth the equivalent of 50p, back then it would have bought you 6 pints of beer, 10 loaves of bread, or 17 pints of milk. It's hard to imagine a 50p going so far these days!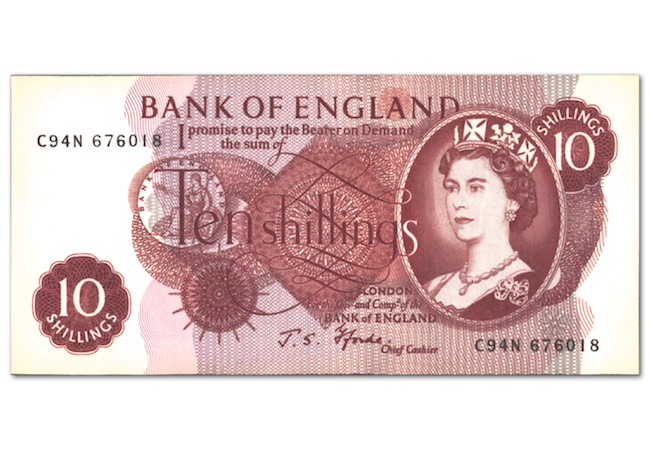 The 10 Shilling banknote was the smallest denomination note ever issued by the Bank of England. The denomination was first issued as a banknote by the Treasury during the First World War as an emergency currency and was then issued as a generally circulating note by the Bank of England from 1928.
However, in 1966 when the decision was made to convert Britain's coinage to a decimal currency it sadly meant saying goodbye to the well-loved 10 Shilling Note.
Under this new system, there was no place for the 10 bob note. It was decided that the new decimal replacement should be issued as a coin, the main reason being that notes had an average lifetime of about five months so it was inefficient to keep replacing a note with such a low denomination.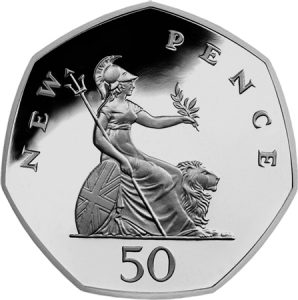 As a result, the first ever 7-sided coins was introduced in 1969 – the now instantly recognisable 50p coin. The two currencies co-existed for around a year, but finally, on 22nd November 1970, the old 10 bob note ceased to be legal tender.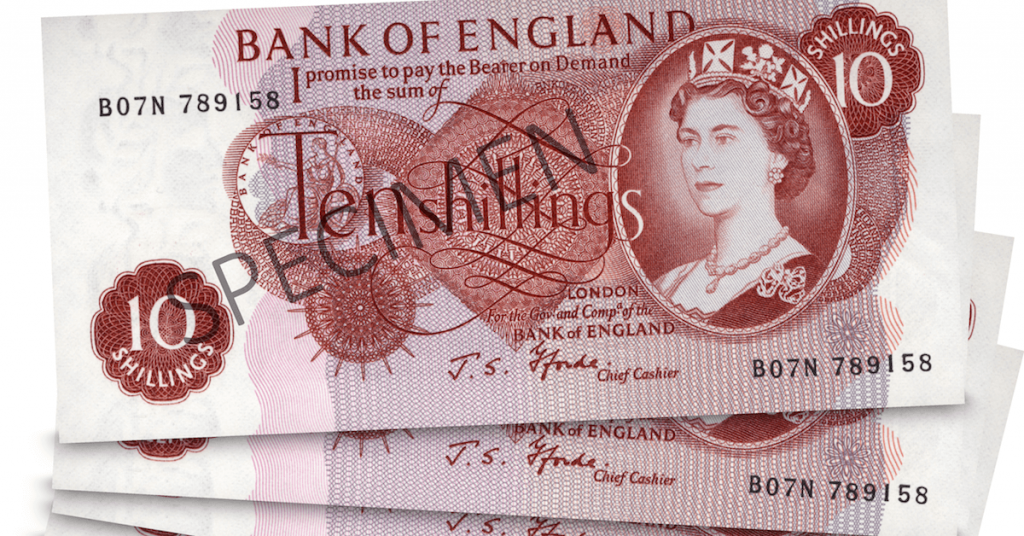 Almost 50 years on, the 50p is now a staple of British culture and one of the most collectable coins internationally. The 10 bob note stands as an important reminder of the pre-decimal coinage our generation grew up with and also of one of the most significant moments in the history of British currency – decimalisation.
---
If you're interested…
Today you have the opportunity to own a FINE SILVER reproduction of the 10 Shilling Banknote for JUST £45. But with limited stock available, you will need to act quickly to secure this perfect piece of nostalgia…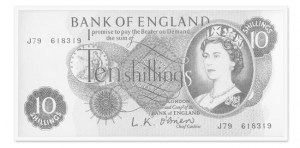 Click here to order your FINE SILVER reproduction 10 Shilling Note >>>
100 years ago this year, at 11 o'clock on 11th of November, the guns of war finally fell silent. The First World War was over.
While many fathers, sons, uncles and brothers came home, millions lay where they fell, on the Battlefields of Europe. Those who were lucky enough to be identified were placed in makeshift graves, often only identified by a rifle placed in the earth with his steel helmet placed on top as a final memorial.
To commemorate the Armistice Centenary, The Royal Canadian Mint have issued a remarkable new coin that honours each and every fallen soldier.
Struck in the shape of a WWI Brodie Helmet, it is more deeply curved surface than any other concave or convex-shaped coin I've seen before. The design is so unique in fact, that the Mint have kept the minting technique a closely guarded secret.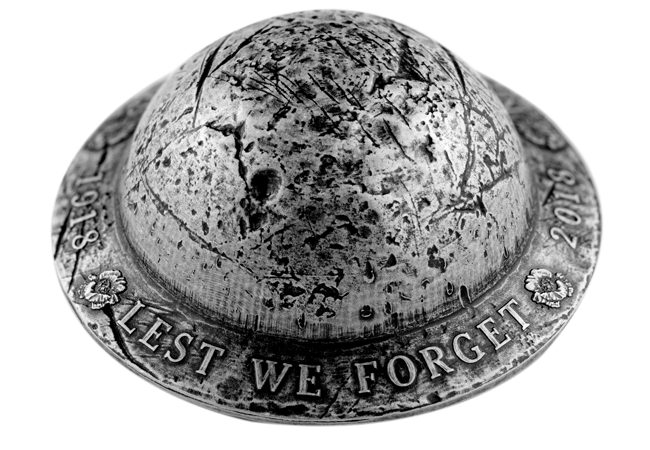 Although the original helmet would have been cast from Steel, this coin has been struck in the very finest .9999 or "four nines" silver, this is the purest grade of silver available. The Royal Canadian Mint is one of the very few Mints in the world with enough minting expertise able to strike coins with this incredible high relief finish. It's an exceptional feat of craftsmanship.
What's more the attention to detail is outstanding, each coin has been given a final antique finish and there are even engraved cracks and markings which complete the helmet's battle-worn appearance. A reminder of the hardships endured by those who fought.
The amount of 2018 Silver 'Helmet-Shaped' coins available is very low. A worldwide edition limit of just 6,500 has been set by the Mint, but of course many of these won't even make it out of Canada. Without any doubt, this has to be one of the most collectable issues ever struck.
The First World War will always be known as one of Man Kind's darkest hours but poignant issues like this one allow us to remember those who have made the ultimate sacrifice.
---
If you're interested…
We have just 500 WWI Lest We Forget Silver 'Helmet-Shaped' coins available for UK collectors, but to get one you'll have to act quickly.
Click here for more details >>
George VI stands out as one of the most popular and interesting monarchs in British history.
After the shock abdication of his brother, he courageously led the country through World War Two and became a national hero. His story has since been famously portrayed in the Oscar winning 2010 film, The King's Speech, and the popular TV series The Crown.
Just as interesting as his reign itself, were the coins that were issued during his 16 years on the throne. Only two Crown coins were issued, but both are extremely significant in British numismatic history and mark important changes for our coinage…


1937 Coronation Crown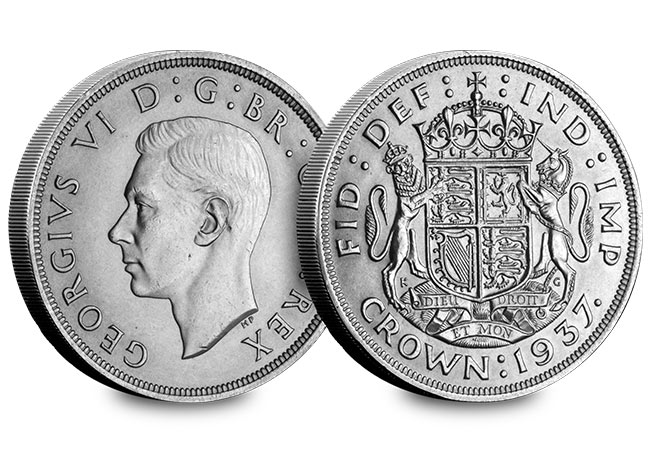 It has been a tradition held by many British monarchs to issue a Crown coin in their coronation year, however, this tradition was a difficult one to maintain for George VI's coronation in 1937.
That's because it was decided that George VI's Coronation would be on the same day that was planned for his brother Edward VIII before his infamous abdication. With a race against the clock to strike a coin for the Coronation, a new portrait was hurriedly prepared and quickly engraved before the ceremony.
What makes this coin so important for collectors is that it was the last ever Coronation Crown struck in Silver by The Royal Mint.


1951 Festival of Britain Crown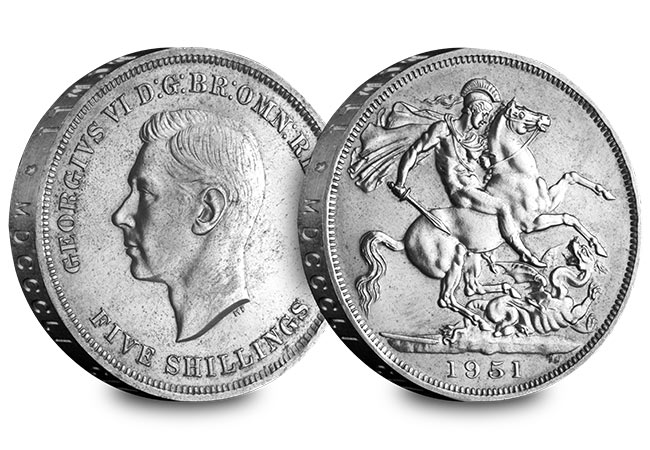 The only other Crown coin issued during the reign of George VI was struck in 1951 to mark the Festival of Britain. To commemorate this hugely popular event, The Royal Mint decided to issue a brand new coin.
This specially issued coin was the first ever Crown struck in cupro-nickel and was the first Crown issued to commemorate a non-royal event.

Since this coin, The Royal Mint have issued many Crowns commemorating non-royal events of national significance and in doing so have created one of the most popular numismatic collecting themes internationally. This coin marks the start of this famous collecting trend that has transformed commemorative coins in Britain and across the world.


Both of these significant coin issues are now over 65 years old and as a result are becoming increasingly difficult to acquire.
However, I would consider them key coins for any Royal or 20th century coin collection because of the popular monarch that issued them and the important moments they mark for British numismatic history.
---
If you're interested…
We have a limited number of George VI Crown Pairs available for collectors. However, with such limited stock available I suggest you act now if you want to add these two extremely significant coins to your collection.
Click here for more details >>>