Posts Tagged 'numismatics'
Do you know what links an assassination attempt by walking cane, white wedding dresses, and Buckingham Palace?
It's a tricky one, but I bet you wouldn't have guessed that the answer is actually Queen Victoria. As Britain's second longest reigning monarch, Queen Victoria holds an important place in our history books. Therefore, as we celebrate the bicentenary of her birth this year, it seems only fitting that I shared the seven things I bet you didn't know about her…
Victoria was the first monarch to live at Buckingham Palace
After becoming Queen at the age of just 18, Victoria moved out of her childhood home in Kensington and into Buckingham Palace. Victoria's mother had enforced a very strict regime during Victoria's childhood and this move, was in part, to escape her mother's control. The palace remains the official residence of her Great-Great-Granddaughter Queen Elizabeth II.
Victoria survived EIGHT assassination attempts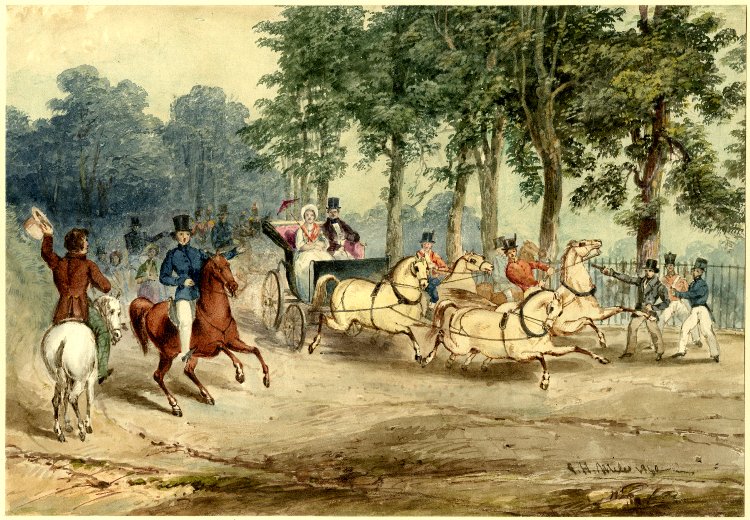 There were eight attempts on Victoria's life throughout her reign, including shots fired at her whilst she was travelling in her royal carriage, an intrusion into Buckingham palace grounds by a man with a pistol, and even a blow to the head with a walking cane!
Victoria broke tradition and proposed to her husband
Royal protocol dictated that only monarchs could propose to their spouse. Therefore, Prince Albert could not propose to Victoria and instead she asked him to marry her within a year of becoming Queen. Although Victoria hated pregnancy and childbirth, she and Albert had 9 children and 42 grandchildren together.
She's responsible for white wedding dresses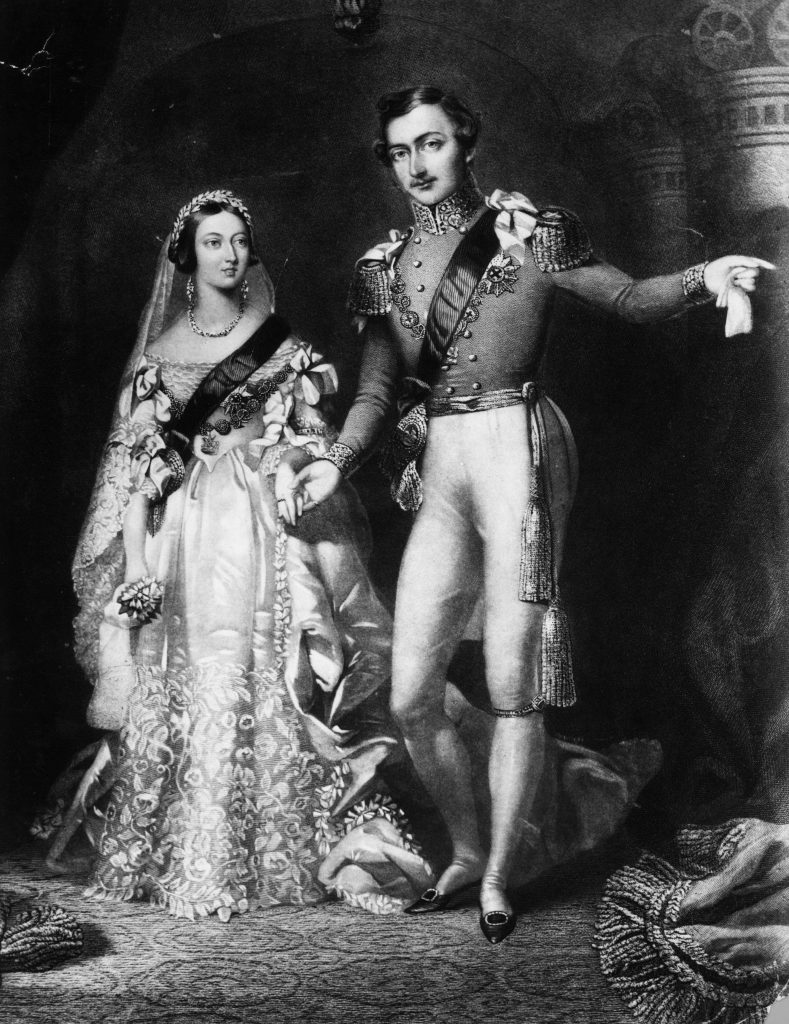 Victoria is said to have started the trend of white wedding dresses. During the 1800s wedding dresses were not always white but Victoria chose this colour to show off the lace on her dress. She also specified that no one else was to wear white at her wedding– a tradition that remains firm today.
And royal brides carrying myrtle in their bouquets
It's said that Prince Albert's grandmother gifted Victoria with a sprig of myrtle, which she then planted at her estate, Osbourne House. Victoria's daughter and Queen Elizabeth II have both carried myrtle in their bouquets from the myrtle bush planted by Queen Victoria.
Victoria spoke a lot of languages
Victoria had strong German roots and was a native speaker of the language – it's even been reported that she had to be taught to speak English without a German accent! Victoria also spoke French, Italian, and Latin.
In her later years, as Empress of India, she grew close with an Indian servant in her household called Abdul Karim. He taught her Hindustani and Urdu so that she could communicate with other Indian servants in her household.
Her portrait remains to this day the longest that has adorned our circulating coinage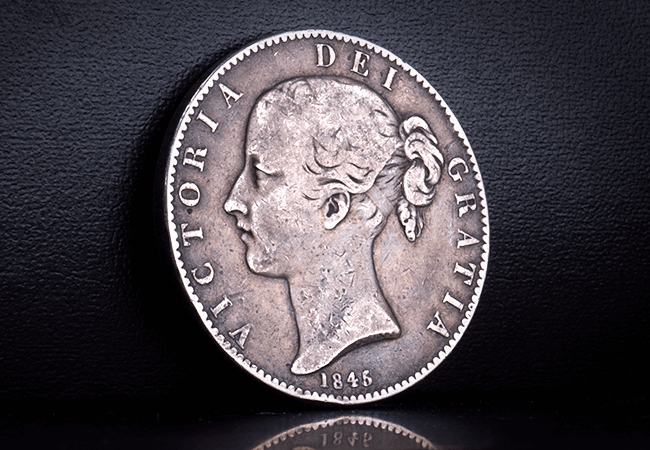 The first coin portrait of Victoria's reign depicted a young queen at the start of her royal journey. It was called the 'Young Head portrait' and was issued on the first coins of her reign. This portrait was issued on coins from 1838-1895 and is the longest that a portrait has circulated on British coins for.
Queen Victoria ruled over the world's largest empire and millions of people around the world were connected by the coins that were issued throughout her sovereignty.
These coins with Victoria's image, and the stories behind the portraits, provide us with a vital link to discover this incredible era of history.
On the 24th May we celebrate 200 years since Queen Victoria was born. This blog marks the first in a series commemorating the bicentenary and I look forward to sharing more of the captivating stories behind Victoria's rule.
---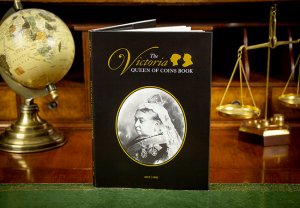 If you're interested…
Exclusive to the Westminster Collection: You can now explore the captivating tale of Victoria's life through the coins and portraits issued during her reign with the Queen of Coins book. Click here to secure yours today>>>
In August 1914, the British economy was in turmoil because of the instability brought on by the oncoming war on the continent. Bankers and politicians were desperately looking for ways to secure Britain's finances and prevent the banks from collapsing.
So to buy time to look for a solution, the government extended the national bank holiday on 3rd August to include Tuesday 4th, Wednesday 5th and Thursday 6th August – making this the longest bank holiday in British history!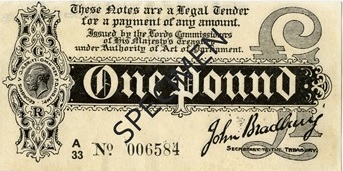 The government decided that a large supply of banknotes had to be made available for the values of £1 and 10 shillings, making it easy for the public to make small transactions and to dissuade the hoarding of precious metal coins. However, The Bank of England was not able to prepare and print the required number of notes quickly enough, so the government took the unprecedented step of deciding to issue the notes itself.
These banknotes became known as the Treasury banknotes and were unlike anything the British public had ever seen. Until this point the lowest denomination banknote was £5, and in those days this was such a large sum that many people would never have seen or used a banknote before.
That means that these Treasury notes now stand out as the first widely circulated banknotes in England.

And what's more, the Treasury notes featured a portrait of King George V. Nowadays we're used to seeing Her Majesty on our banknotes, but the Treasury notes were the first British notes to feature a portrait of the monarch. In fact, Bank of England notes would not display an image of the monarch until 1960.
Treasury notes played a vital role in keeping the economy moving during the First World War and for the first time in England and Wales, paper money became normal currency used by ordinary people.
These notes were born out of Britain's longest bank holiday and now stand as some of the most interesting banknotes in notaphily history!
---
If you're interested…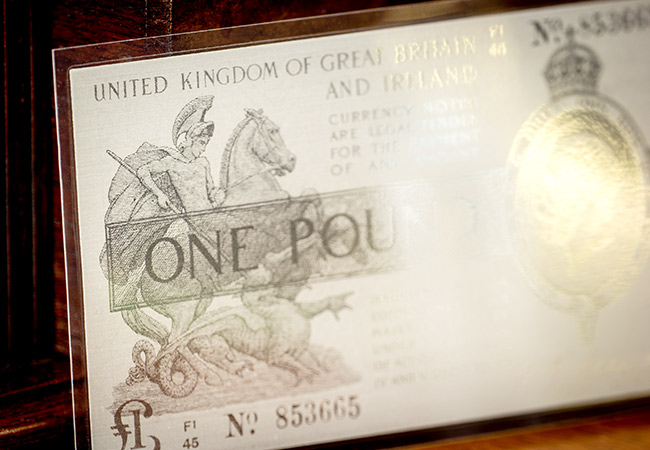 Today you have the opportunity to own a FINE SILVER reproduction of the 3rd issue Treasury Note. Act now to secure this perfect banknote commemorative.
Click here to order your FINE SILVER reproduction Treasury Note now >>>
British coinage has had its fair share of fascinating tales over the years. When searching for coins, I'm always seeking to find classic coins whose numismatic interest and history mean that they will forever be sought-after pieces.
Which is why, with the help of my UK coin specialist, I've decided to narrow down what I believe to be six of the most interesting and collectable UK historic silver coins issued over the past 200 years.
Read below to discover the stories of six coins that cover some of the most important events in British numismatic history – including influential design changes, mistaken introductions and controversial issues.

---
The Great Recoinage Shilling – George III Bull Head Silver Sixpence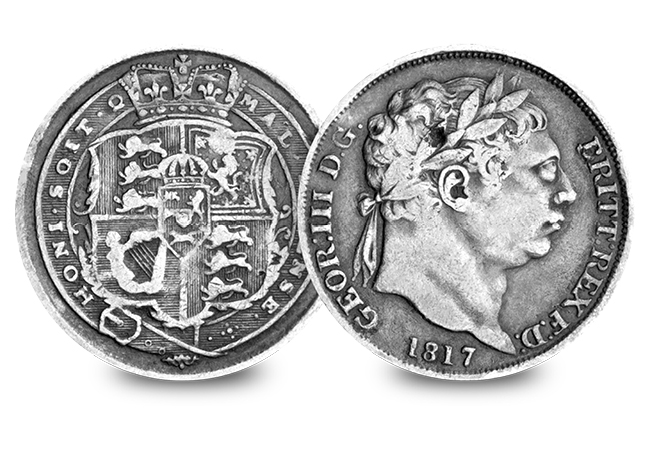 1816 marked one of the most important moments in the history of British coinage – The Great Recoinage. For Georgian Britain, it was a change as big as Decimalisation for you or me. The George III Bull Head Sixpence was introduced as part of an attempt to re-stabilise the currency following economic difficulties caused by both the French Revolutionary and Napoleonic Wars and marks one of the most important moments in British numismatic history.
The Coin of the Colonies – Victoria Silver Three Halfpence
During the 1800s demand grew for British coinage from all across the globe, with over 25% of the world's population using coins bearing Queen Victoria's portrait. The British three halfpence was a silver coin produced for circulation in the British colonies with a denomination which had never been seen in mainland Britain before. What makes this coin so interesting is that it has no indication of what country it was minted for, which meant that it could be used across most of the globe!
The Longest 'Reigning' Portrait – Victoria Young Head Shilling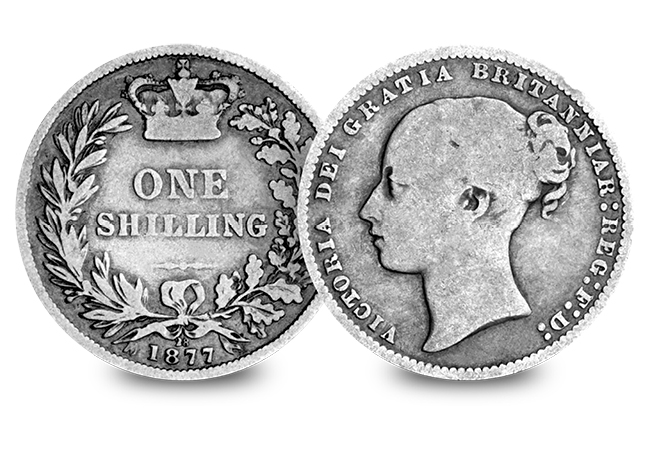 The first effigy to feature on Queen Victoria's coinage was the Young Head portrait featuring a particularly youthful and charming portrait of the young Queen. The Victoria Shilling featured the Young Head portrait from 1839 to 1887, which is the longest period a single portrait has ever featured on a British circulation coin.
The Withdrawn Sixpence Pair – 1887 Victoria Silver Sixpences
In 1887, new coin designs were issued to mark Queen Victoria's Golden Jubilee. Surprisingly, the new design of the Silver Sixpence shared the same design as the Gold Half Sovereign. Of course, it didn't take long for crafty opportunists to start coating the Silver Sixpence in gold paint and passing them off as the far more valuable Half Sovereign. The authorities hastily withdrew the Sixpence and a quick redesign took place with 'SIX PENCE' written across the middle of the coin.
The Rocking Horse Crown – 1935 George V Silver Crown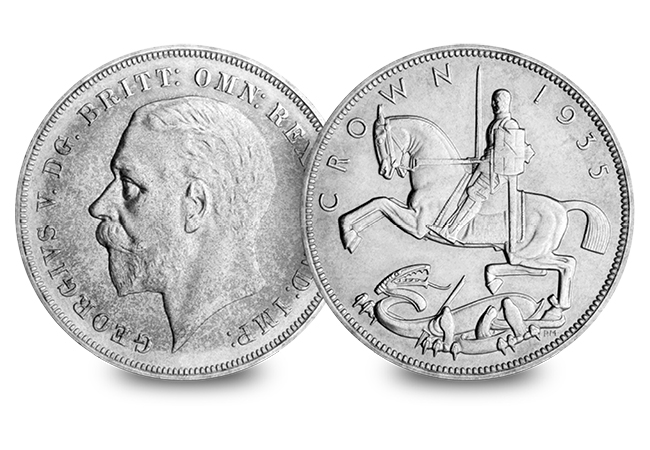 The 'Rocking Horse' Crown was issued for just one-year-only in 1935 to celebrate the Silver Jubilee of George V. Significantly, this special Silver Jubilee Crown was the first-time a commemorative crown was ever struck and started what is now one of the most popular numismatic collecting trends ever seen. Despite its significance, this coin caused controversy when it was first issued, with many traditionalists disliking the art deco reinterpretation of the iconic St. George and the Dragon design.

---
Each of these coins has unique story that makes them all must haves for any collector with an interest in historic UK coins. We're certainly lucky to live in a nation with such a rich numismatic history!

However, these coins are now historic artefacts in their own right, and considering that many have been melted down over the past two centuries for their valuable silver content, they are now extremely rare.

I'm sure you'll agree, that considering the fantastic history along with the scarcity of all six of these coins, they can all be considered amongst the most interesting and collectable UK Silver coins of the past 200 years.
---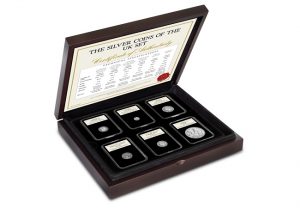 If you're interested…

Understandably, it is extremely difficult to build up a stock of these fascinating coins. But working with my extensive network of suppliers, I have been able to put together 22 sets of these iconic silver coins to now offer to my collectors. But with such limited numbers available you will need to act now if you want to add these fascinating coins to your collection.