Posts Tagged 'numismatics'
Earlier this year we received some incredible news, something that we would have never anticipated so soon, we hit another incredible company milestone.
Through the sales of commemorative Remembrance and Poppy-themed coins, collectors have helped raise an incredible £1.1 Million for The Royal British Legion!
This is an achievement that everyone is immensely proud of, and we are hugely thankful to collectors for helping raise such an amazing amount.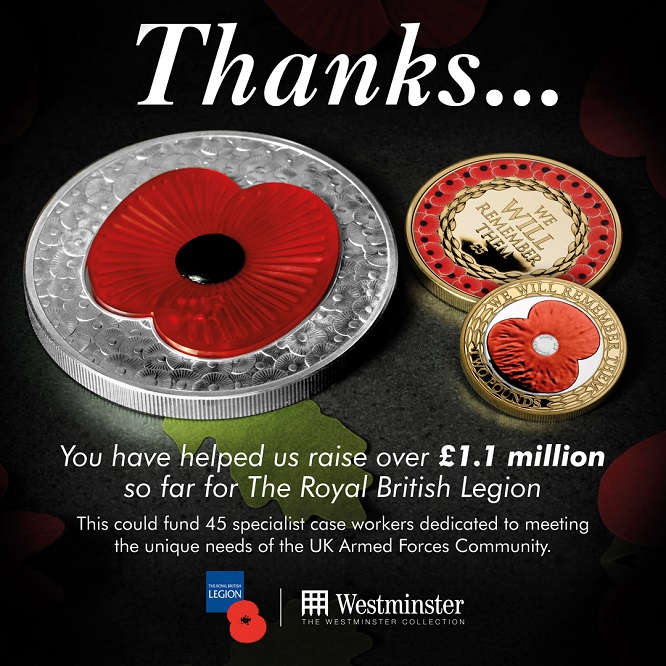 £1.1 Million raised means you could have funded 45 specialist case workers dedicated to meeting the unique needs of the UK Armed Forces Community.
We are delighted to see that our 16 years partnership with The Royal British Legion has raised such an amazing amount to support the Armed Forces community and their families.
This of course is no doubt in-part due to the fantastic reception that the 2019 Remembrance Day coins received when they were issued last year, including the First Official Remembrance Poppy £2 Coin.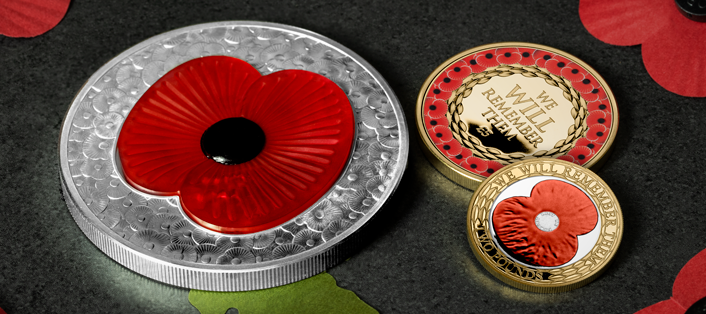 We are all excited to see our longstanding partnership continue later this year when we'll launch our brand new range of Poppy commemorative coins. If you're interested in finding out about when they go on sale then make sure you like us on Facebook or follow us on Instagram, where we announce all of our latest release news!
If you'd like to find out more about the fantastic work that The Royal British Legion do and why we are so proud of this milestone £1.1 Million that has been raised for the charity, then read on…
---
The Royal British Legion provides lifelong support to serving and ex-serving personnel and their families. People need help for many different reasons. They may be facing employment issues or financial difficulties, or may need help related to housing, homelessness or living independently. They may face mental and physical health challenges, need care in later life or need help building local community connections. Whatever issues people face, the Legion's staff and volunteers are trained so they can direct enquiries to the most appropriate service. And, if there is ever a reason that they can't help, the Legion's vast network of partner charities and organisations means that they will know someone who can.
To find out more about The Royal British Legion, please click here.
This year we mark the 75th anniversary of VE Day. The day which marked the end of World War II in Europe and brought long-awaited peace to our nation.
To commemorate this historic anniversary, and one of the most important dates of the 20th century, not one, not two… BUT SEVEN BRAND NEW 50p coins have been authorised for release.
Watch Adam and Yasmin in our latest video where they went LIVE to find out everything you need to know about these brand new 50ps.
---
If you're interested

Each year, The Royal Mint marks important British anniversaries, events or accomplishments on our coins and today I'm delighted to reveal the UK's new coin designs for 2020.
What's more, you have the opportunity today to secure them in a variety of different presentations or specifications – I'm sure there is something for everyone.
Simply read on to discover how you can be one of the first UK collectors to add these coins to your collection…
FIVE new UK commemorative coins
The Royal Mint has just announced the five new commemorative coins for 2020, issued to mark a variety of occasions and landmark anniversaries that we'll see over the coming year:
King George III £5 – marking the 200th anniversary of the end of King George III's reign
VE Day £2 – commemorating the 75th anniversary of VE day, signalling the end of WWII
Agatha Christie £2 – celebrating "100 years of Mystery", the centenary of her debut mystery novel
Mayflower £2 – marking the 400th anniversary of the Mayflower's maiden voyage to The New World
Team GB 50p – a tribute to Team GB ahead of the 2020 Olympic Games due to be held in Tokyo
UK 2020 Annual Coin Set BU Pack
To give as many collectors as possible the chance to own these highly sought-after coins, The Royal Mint has issued them in Brilliant Uncirculated quality, which is coveted by collectors as it means each coin is free from any marks you would find on circulated coins.
In this BU Pack you'll find the five brand new commemorative coins alongside the eight definitive coins from the 1p to the £2, all newly dated for 2020.
Each one is protectively encapsulated in its attractive original Royal Mint packaging to preserve its quality for generations to come. What's more, you can secure this BU Pack at the Royal Mint issue price of just £55 (+p&p). Click here to find out more >>
This set of coins is also available as a CERTIFIED BU Commemorative Coin Set for £40 (+p&p). Click here to find out more >>
UK 2020 Annual Collector Proof Coin Set
Whilst being struck from base metal, the coins in this set have been struck to a stunning superior Proof finish. This set also includes the five new commemorative coins alongside the eight definitive coins from the 1p to the £2, all newly dated for 2020.
Just 7,000 sets have been released worldwide in this limited edition presentation – that's under half the edition limit of previous issues that have completely sold out. So, it's expected this set will be extremely sought-after.
You can order the UK 2020 Annual Collector Proof Coin Set here with a down payment of just £31 (+p&p) followed by 4 further interest-free instalments – that's the Royal Mint issue price. Click here to find out more >>
UK 2020 DateStamp™ Specimen Set
The most limited way to own the five new 2020 commemorative coins is by securing the UK 2020 DateStamp™ Specimen Set. In fact, JUST 995 collectors worldwide can own this unique set.
What truly sets the 2020 Specimen Year Set apart from all other 2020 Annual Sets is the fact that it is forever set in time by the official Royal Mail postmark that marks the coins' first day of release – 1st January 2020.
Each coin is struck to the highly desirable Brilliant Uncirculated quality, and come individually presented in tamper-proof capsules. What's more, each set has a unique serial number, confirming its place in the tiny edition limit, and you can even register your set online to guarantee its provenance!
This annual set has a track record of completely selling out within a matter of days, so if you want to secure a set for yourself you'll need to be quick. You can reserve yours with a deposit of just £22. Click here to find out more >>