The 19th century saw many political changes, but there was always one constant: women were not allowed to vote in national elections.
It took decades and many different campaign groups to raise awareness of the inequality. In fact, it wasn't until 1918 that women over thirty were granted the right to vote.
But now, over 100 years later, we can reflect on the brave work of the Suffragettes who have shaped the modern world into what is today.
Read on to learn about the importance of the Suffragettes movement and how you can preserve their story for generations to come with this Historic Collection…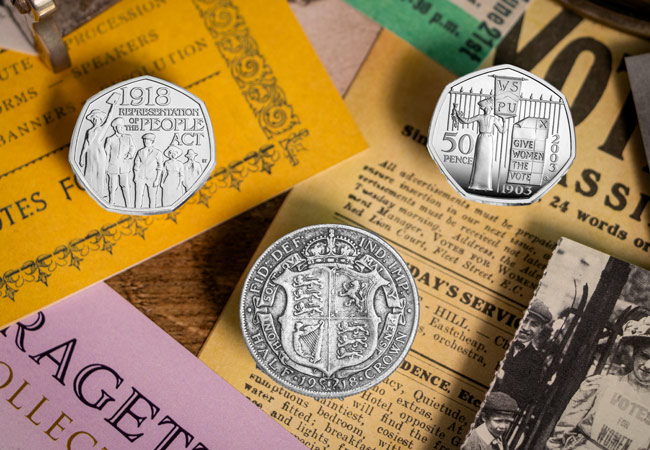 Who were the Suffragettes and What Did They Do?
Following the 1867 vote, the London Society for Women's Suffrage was formed to peacefully protest for the right for women's votes. In 1897, their group expanded to form the National Union of Women's Suffrage Societies (NUWSS). This campaign group was led by Millicent Fawcett, the sister of Elizabeth Garrett-Anderson, the first female doctor in the UK.
After little success from both groups, Emmeline Pankhurst and her daughters Christabel and Sylvie, formed the Women's Social and Political Union (WSPU) in 1903. They became known as the Suffragettes, as they used harsher, more direct tactics to raise awareness.
The movement saw great success, granting women over thirty the right to vote as part of the Representation of the People Act in 1918.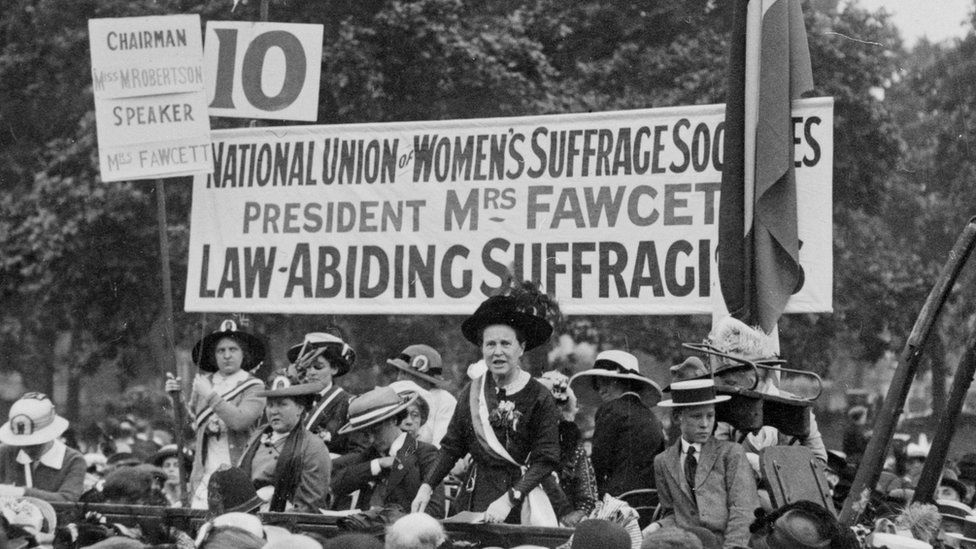 The SELL-OUT Royal Mint Coins
In 2003, The Royal Mint issued a Silver Proof 50p coin to commemorate the centenary of the establishment of the Women's Social and Political Union.
Even with an edition limit of 15,000, they all swiftly sold-out at The Mint.
Following this success, The Royal Mint issued a new UK 50p in 2018, this time marking 100 years since the passing of the Representation of the People Act, and it was just as popular.
In fact, all of the 2018 Representation of the People Act 50p coin specifications are no longer available at The Mint.
But today, you can secure BOTH coins in a complete Suffragettes collection alongside an extra special historic coin…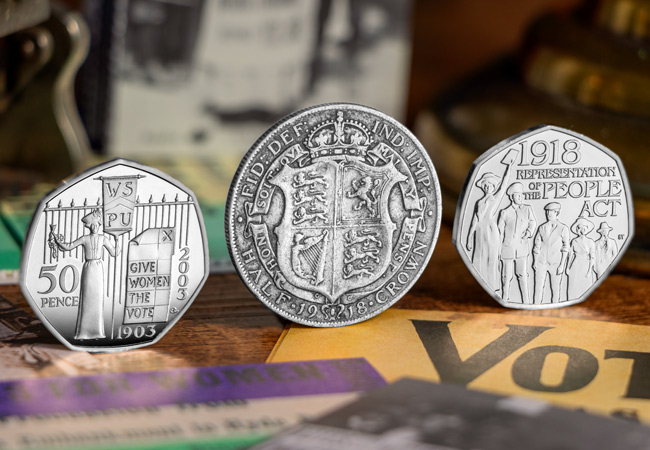 The Historic 1918 Half Crown
Also included in this Suffragettes Historic Collection is a genuine UK 1918 Half Crown. Struck from Sterling Silver, this coin was issued in the year that the Representation of the People Act was passed.
But, considering this coin was also struck in the final year of World War One, they are extremely scarce and rarely appear on the secondary market.
Suffragettes Memorabilia
But this collection doesn't stop there, as this historic set also houses replicas of Suffragettes memorabilia, truly transporting you back to the time when women made history.
Whether it's a 1915 Votes for Women newspaper, Suffragettes Membership card, jail letter, a relic of Emily Davidson's tragic demise at Epsom, or even the flyer of the Buckingham Palace protest – these replicas capture the most poignant moments of the Suffragettes movement.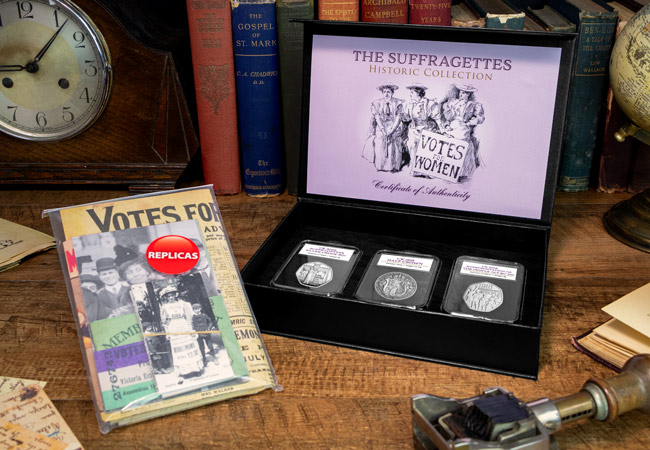 Secure yours Suffragettes Collection NOW!
Considering these coins are either no longer available to buy from the Mint or extremely hard to source on the secondary market, this collection was nearly impossible to create.
And with just 41 remaining, this is one you don't want to miss out on.
Queen Elizabeth II acceded to the throne on 6th February 1952 and celebrated her Coronation on 2nd June 1953 at Westminster Abbey.
During her remarkable 70-year reign, Queen Elizabeth II enjoyed seven jubilees and was the first British monarch to receive a Platinum Jubilee.
And as we approach one year since her sad passing, just a handful of collectors will be able to preserve these remarkable milestones with four Silver coins…
Housed in one complete collection, you can secure the sought-after Silver Proof £5 coins issued by The Royal Mint to celebrate Elizabeth II's Silver, Golden, Diamond, and Platinum Jubilees.
And considering how sought-after her commemoratives have become, here's why you don't want to miss out…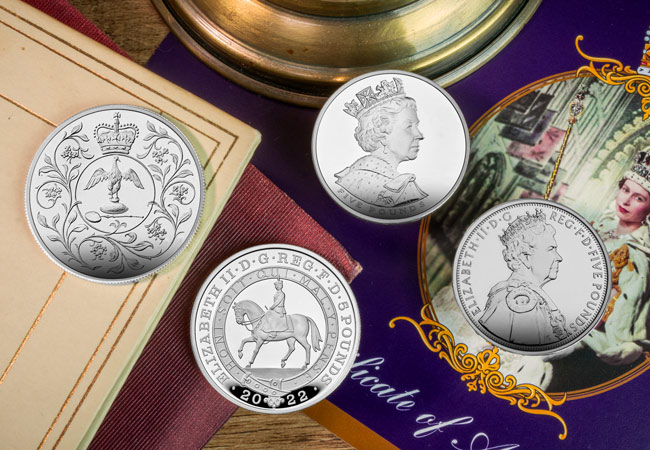 NO LONGER AVAILABLE AT THE MINT
Queen Elizabeth II's influence on the collecting world has been immeasurable. And nearly a year after her sad passing, we are still witnessing excessive demand for commemoratives from her reign.
So today you can get ahead of the crowd and take a shortcut to securing four Silver Proof coins from her most significant Jubilees.
The release of Silver Crowns is renowned as the traditional way to celebrate historic royal occasions, and each one features a unique commemorative portrait of Elizabeth II either on horseback or a classic depiction of the young monarch.
But, 3/4 of these coins are no longer available to buy from The Mint, so this could be your last chance…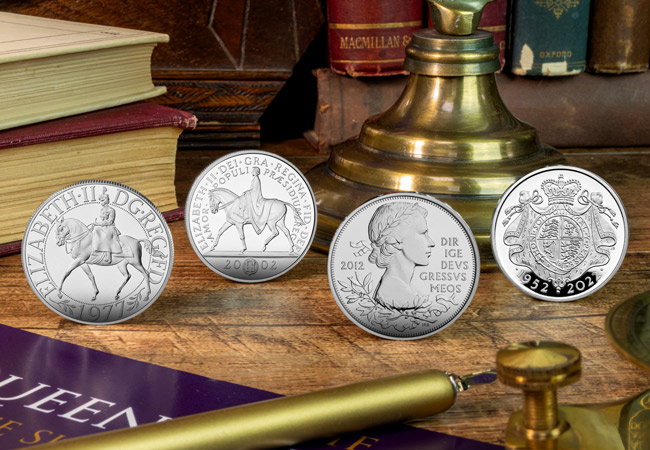 The UK Queen Elizabeth II Jubilee Silver Crown Collection
This exceptional set is essential for any collection. At a time more poignant than ever to collect Her Majesty's commemoratives, this is the perfect way to preserve her extraordinary legacy…
Comprised of the UK Silver Proof £5 coins issued in celebration of her Silver, Golden, Diamond and Platinum Jubilee from 1977, 2002, 2012 and 2022, this complete collection takes you on a journey through the most remarkable milestones of our longest reigning monarch.
Housed in a luxury presentation box with a certificate of authenticity, this could be your last chance to secure these Silver coins as three of them are off-sale from The Mint…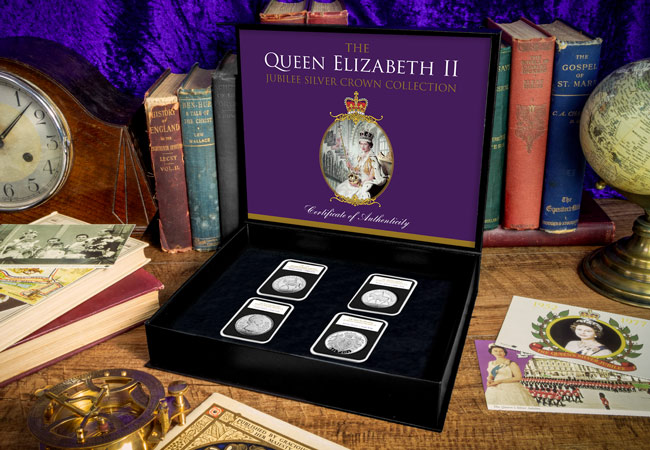 Your Last Chance?
Considering there is only one coin still available to buy from The Royal Mint, this could be your last chance to secure all of them in one complete pristine collection.
But considering Queen Elizabeth II collectables are scarcer than ever, this is the easiest way to secure the most sought-after Jubilee coins in with just a few clicks of a button!
However, only a tiny number of collections are available, so make sure you don't miss out on securing such a rare set…
Click here to own your Queen Elizabeth II Jubilee Silver Proof £5 coin collection now >>
When you think of the original pioneers of computer science, names like Charles Babbage and Alan Turing might come to mind.
But what if we were to tell you that there was someone else who played a pivotal role in building the foundations of modern computing – Ada Lovelace.
Nicknamed 'The Enchantress of Numbers' by Charles Babbage himself, Ada Lovelace is the next innovator in science to be honoured on a brand-new UK £2.
First, let me take you back…
A Mathematical Talent
Ada Lovelace was born in Victorian England and quickly gained an interest in mathematics and science. At the age of just 18, Ada's mathematical talent secured her a working position alongside 'The Father of Computers' himself, Charles Babbage.
This allowed Ada to focus her work on something revolutionary: Babbage's Analytical Engine – the first ever computer.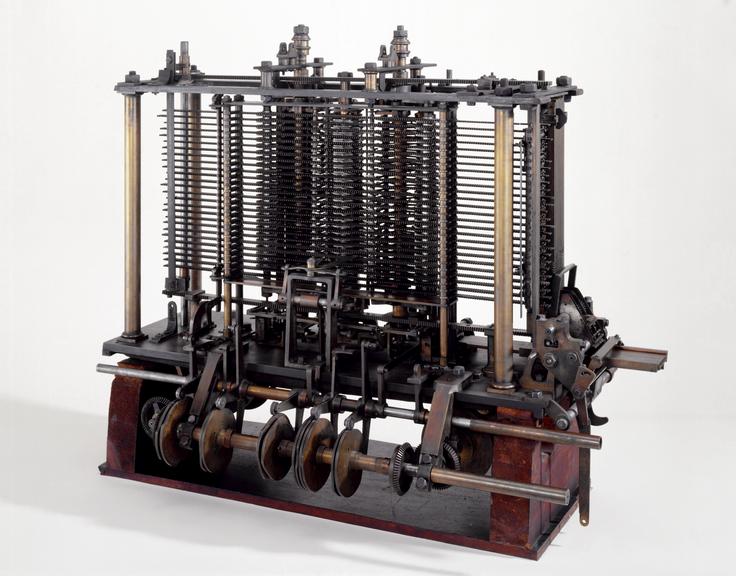 A Visionary of the Computer Age
At the time, Charles Babbage and other scientists only focused on the numerical and calculating abilities of the famous Analytical Engine. But, Ada Lovelace had other ideas…
She was a critical thinker and knew that the computer had the possibility to go beyond number-crunching; she interpreted the machinery further than anyone else was even considering at the time…
Ultimately, she concluded that the Analytical Engine could manipulate more than just numbers. In fact, it could be used for letters, symbols, and most importantly – instructions.
This built the foundations of modern computing as we very know it.
Ada Lovelace's revolutionary contributions were revealed to the industry in 1843 in the form of seven 'Notes'. In these Notes, Lovelace provided comprehension, calculations and inputs about the machine and its abilities – resulting in her title as the first ever computer programmer.
And now, to honour such a revolutionary mindset, Ada Lovelace is being celebrated on a brand-new UK £2 coin.
The Ada Lovelace £2 Coin Range
Commemorating Ada's contributions to computer science, she's earnt herself a well-deserved place in The Royal Mint's popular Innovation in Science coin series.
With a design that depicts the original punch cards that were used to programme the Analytical Engine, the coin's reverse also reads a quote from Lovelace herself – "a discoverer of the hidden realities of nature".
What's more, this UK £2 coin range comes in a range of specifications…
From the collector's favourite – Brilliant Uncirculated quality – to the stunning Silver Proof and Silver Piedfort specifications, there's something for everyone.
But be warned – with extremely low edition limits and even less for Westminster Collectors, you'll have to act fast to secure yours!
Click here to view the full range and celebrate one of the most remarkable minds in British history >>