Posts Tagged 'The Westminster Collection'
The Royal Proclamation confirming the new coin has been passed, and that means production can officially begin.
Plans to release special Brexit coins was first announced by former chancellor Philip Hammond in last year's Budget. But this is the first confirmation from The Royal Mint that the coin is indeed going ahead.
I don't know about you, but this coin story is one I've been watching for a while. And as such, I suspect it will be one of the most eagerly anticipated issues we've seen for a while!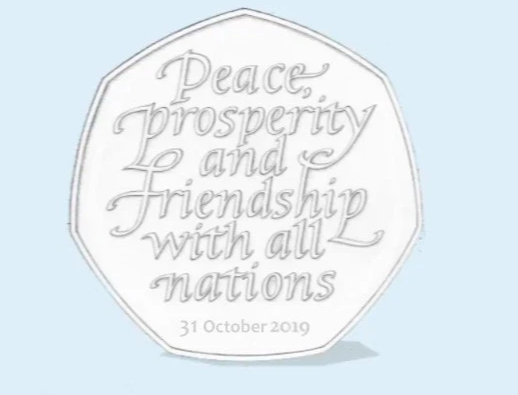 Few details are known about the design of the coin, but we do know that it will feature the inscription: "Peace, prosperity and friendship with all nations", as well as the historic date the UK is due to leave the EU – 31 October 2019.
A 50p coin was struck when the UK joined the European Economic Community in 1973 and when the UK held the presidency of the EU in 1998. So it only seems fitting one is released to also mark the UK's departure from the EU. And by marking such a pivotal event in our history, this coin will surely be sought-after by collectors in years to come.
Whilst not many details have been released by The Royal Mint, there are rumours that up to 10 million coins will be struck and put into circulation, 3 million of which will be ready for 31st October – news that will surely delight collectors, who could be finding these coins in their change as early as Halloween.
We do not yet know whether special collector versions of this coin will be available. Though we have our fingers crossed that there will be!
If you want to be kept up to date with news of the Brexit coin as we approach 31st October, then register your interest below. We'll then contact you as soon as we know more, and let you know how you can get your hands on one.
Ancient Greek civilisation provided the foundations for Western culture. One of the empire's most recognised legacies is Greek mythology, which had an extensive influence on arts and literature in the West. Greek myths tended to describe the lives of Greek Gods including their births, victories in battle, love affairs and their connection to certain city-states.
One artifact which pays homage to Greek mythology is Ancient Greek coinage. Greek currency was the first to be minted on an imperial scale and has influenced commerce across the world.
Coins were hugely important as a medium of exchange and an important store of value and source of prestige. Greek coins used a combination of figures, symbols and inscriptions to symbolise each ruler's territory. Each city state in Ancient Greece was said to be protected by a certain character from Greek mythology and one of the most identifiable features of Greek coinage are the Gods and Goddesses which are struck on many of the coins of the time.
I have taken a look at some of the most famous myths that were struck on coins from the time, some over 2,000 years old!
Zeus 'King of the Gods'
Issued in the 2nd century BC this coin depicts Zeus the chief of the gods and believed to be the ruler of mankind. It's believe that Zeus saved his brothers, Poseidon and Hades, after they had been eaten by their father Cronus. The three of them divided creation between them. As the Father God, Zeus was the dispenser of good and evil and the upholder of morality.
Hercules 'Son of Zeus'
Alexander the Great often issued coins depicting himself dressed as Hercules, wearing a headdress made of the scalp of the Nemean lion – one of Hercules' "12 tests". Hercules is famed for being the strongest of all mortals. However, his physical power was offset by a lack of intelligence and strong emotions. Many of Hercules' great deeds occurred while doing penance for stupid acts done in anger or carelessness.

Apollo 'God of Music'
This coin is an example of one of many coins issued depicting Apollo, the son of Zeus. Apollo is considered a complex god of many things including music, poetry, art, oracles, archery, plague, medicine, sun, and knowledge. He is often depicted playing the lyre and is represented as an ever youthful god.

Ares 'God of War'
Issued in the 1st Century BC this coin depicts Ares, the God of war and violence. Fittingly the reverse of this coin features a sword. Ares was a superior fighter in battle and caused great bloodshed and destruction, but he also had a reputation for being cowardly.
The Dioscuri 'Patron Saint of Sailors'
This coin features the Dioscuri; the twin brothers of Castor and Pollux. Pollux, the son of Zeus, was immortal but Castor was mortal. When Castor was murdered, Pollux asked his father Zeus if he could share his immortality with his brother. So they transformed into the constellation Gemini, able to travel back and forth between Olympus and Hades. They are also known as protectors of sailors, able to calm the seas and winds in storms.
Gorgon 'Medusa'
Medusa was the only mortal of the three powerful winged Gorgon sisters. It is believed that Medusa was transformed into a monster by Athena. Medusa's hair was made of snakes, although it is depicted as wild leaves on this coin, and she was said to be able to turn people to stone with a glance. She was killed by the hero Perseus, who used the metal of his shield as a mirror to avoid eye contact with Medusa.
Histiaea 'Patron Saint of Histiaea'
This small silver coin is known as a "tertobol" and weighs just over 2 grams. It pictures Histiaea, the nymph, on both the obverse and reverse. Histiaea was named after the ancient city of Histiaea on the second largest Greek island, Euboea. Mythical Naiads lived in the lakes here and being immortal, were invited to the assemblies of the gods on Mount Olympus.

Poseidon 'God of the Sea'
Poseidon was worshipped as the god of the sea, earthquakes and horses. Poseidon is often portrayed with his best known weapon, the trident, which he used to shake the earth and create storms, causing devastating earthquakes and tsunamis. It is this trident that is featured on the reverse of this coin. The coin was issued by the Syracuse in the 3rd Century BC, as Poseidon was greatly important to them as a maritime city/state.
Tyche 'Goddess of Cities'
Tyche was the personification of fortune and controlled the luck and prosperity of a city. On this coin she is depicted with a crown of city walls and the reverse depicts a cornucopia, a symbol of good fortune. Tyche was said to have carried a large horn containing riches, which she would sporadically spread to individuals and cities. When no cause could be discovered for events such as floods, droughts or political upheaval, they were often attributed to Tyche.
---
If you're interested…
Now you have the chance to own The Zeus 'King of Gods' Bronze Coin, which is over 2000 years old. How many people can say they own a piece of ancient history whose story has had such impact on the world today?
So if you want one, click here for details before they sell out.
Britain showed itself as a nation of nostalgic coin lovers as the release of the new Peter Rabbit Silver Proof 50p brought the numismatic net to a standstill.
At one point The Royal Mint had over 50,000 people in a queue to access its website and The Westminster Collection also saw record traffic – with all hands on deck to keep the servers running.
All available Peter Rabbit coins were sold out before the newspapers even ran a story – and collectors who got in early were left feeling like they won the lottery.
30,000 coins gone in just a few hours
The pandemonium echoed the release of the 2016 Peter Rabbit 50p, which also caused a collecting frenzy but was limited to 15,000 coins. This year's issue has an edition limit of 30,000 but the demand was also amplified.
The coin was fully allocated across the board by 4pm, but the queues were still long as collectors changed their focus to the Brilliant Uncirculated editions of the coin. Savvy buyers were desperate to bag what will go down in history as one of the UK's most sought-after coins.
Beatrix Potter coins are big news
The lucky few that secured the 2016 coin for £55 now own a coin that changes hands for up to £400 on Ebay. This year's coin has already started appearing in auctions, and whatever happens it looks like the £60 retail price will turn out to be a bargain.
Undoubtedly a few speculators got in there but with demand so high it was literally first come, first served – leveling the playing field and making getting a coin a real achievement for anyone.
Did you manage to secure a 2017 Peter Rabbit Silver Proof 50p? If you were one of the lucky ones, let us know in the comments!
---
We still have stock of the collector edition Certified Brilliant Uncirculated 2017 Peter Rabbit 50p available. Click here now to secure yours – you will also have the chance to pre-order the other three coins in the series.